There's a certain break-over point in the 23- to 24-foot range where a center console can be reasonably fished not just on calm days, but also when it's a bit snotty on the Bay. At that same point the boat can be run through the inlet, and used in pursuit of oceanic pelagics when there's an appropriate weather-window. That point is exactly where the Cobia 240 CC sits, and if you want a boat that's small enough to be easily handled and reasonably priced, yet large enough to take on bigger seas and broader horizons, this is one you'll want to check out.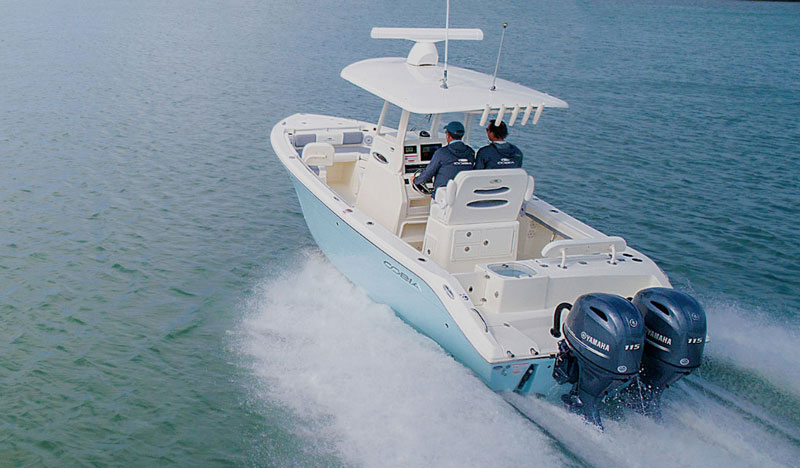 The 240 CC has a 28-gallon livewell in the transom (baby-blue, oval, and with a clear viewing hatch), a pair of 33-gallon insulated fishboxes in the deck, four gunwale-mount rodholders, under-gunwale rodracks, and five rocket launchers across the hard top (plus integrated fore and aft spreader lights) with an option to add a couple kingfish-mount holders angled off the sides. A must-have item Cobia for some reason considers optional (and adds about $300 to the price tag) is the raw water washdown.
One unusual fishy perk is the optional helm seat/tackle station upgrade, which is seriously sweet. It gets you a double-wide Llebroc seat (read: uber-comfortable) with fold-down bolsters and arm rests, has a swing-down footrest, and sits atop a molded base with two stowage drawers and an integrated tacklebox in the back. It's rare to find such an arrangement on center consoles this size, and gives you the feel and the fishability of a larger boat.
Thanks to being right in the heart of this transitional size range, the Cobia 240 CC also gives you the option to choose between running with single outboard or twins. Some folks might argue that you need twins to even consider entering the ocean, but we say that's outdated hogwash. Today's outboards are so much more reliable than those made a couple decades ago that you can hardly even compare the old-tech beasts with modern motors, and a single Yamaha V-6 Offshore F300 on the back of this boat gets you some rather stellar performance on top of that reliability. At a 27-mph cruise (3500 rpm) you can get an eyebrow-raising three mpg, which means the boat has a range of well over 300 miles with a 10-percent fuel reserve. Goose the throttle up to 4500 rpm and you'll run in the upper 30s while getting about 2.5 mpg, and at wide-open the boat comes darn close to the 50-mph mark (49.3 mph according to Yamaha's performance bulletin, which in our experience is within a couple tenths of a mph of our own findings every time we compare them). Still, having said all that if you want the peace of mind twins can provide, running with a pair of F115s (add about three grand) or F150s (add more like five) is an option.
Some of the other surprising big-boat-ish features that were rolled out when this model was introduced include a front-opening console door that makes accessing the head compartment easy, and a three-sided enclosure integrated with extruded pipework supports that are integrated into the console itself. That means there are no toe-stubbing pipe feet on the deck, you have better protection at the helm, and the whole console and top arrangement just plain looks slick.
You want to go jigging for stripers one day, casting for cobia the next, and chunking for tuna the day after that? You don't want to buy a boat that costs more than a house, you don't want one too big for single-handing, and you don't want one that requires multiple gas-chugging powerplants? Yup – you know what we're going to say next – then the Cobia 240 CC is a boat you'll want to check out.
Cobia 240 CC Specifications
LOA – 23'7"
Beam – 8'10"
Displacement – 3500 lbs.
Draft (hull) – 1'5"
Transom Deadrise – 21.5 degrees
Fuel Capacity – 125 gal
Max HP – 300
Area Dealers – Off The Hook Yacht Sales, Grasonville, MD (410) 609-9893.