Drone fishing is all the rage in some areas, but Raymarine has just introduced an entirely new way to fish with a drone - from your boat. We here at FishTalk got a first-hand look at Raymarine Axiom UAV integration, during the 2018 Miami International Boat Show last week.  And trust us, people, when we say this is a really cool way to go fishing.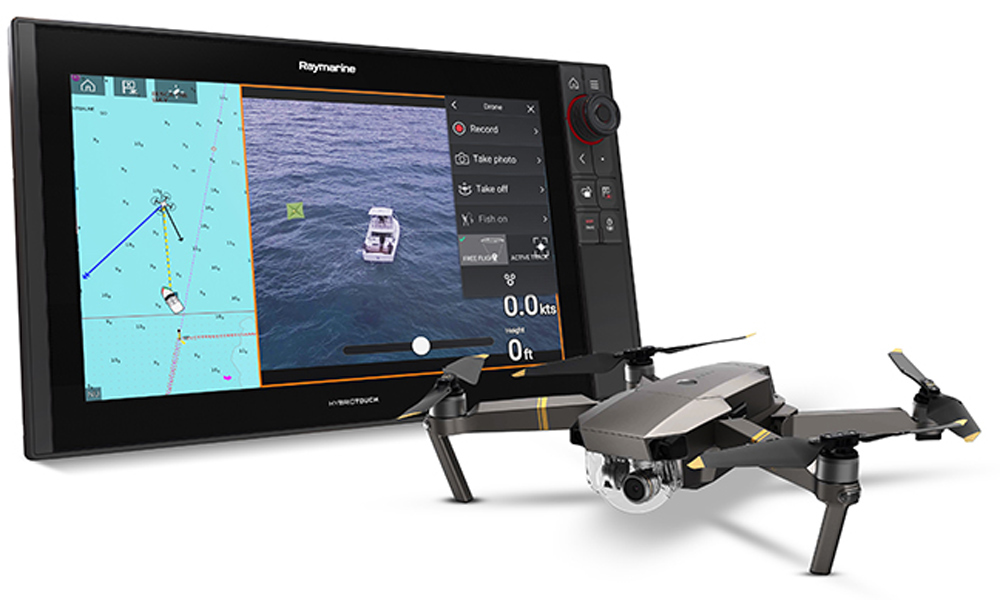 If you read FishTalk regularly, you probably already know a bit about the new Raymarine Axiom system, which we talked about in Hot New Fishing Gear, June 2017. These units have quad-core processors and some serious computing power, which has left Raymarine free to experiment with some new and unusual ideas. The latest is linking up your drone with the Axiom. The drone works via RF, which gives it plenty of range, but the controller always remains in your hands - which means it's relatively close to the Axiom, when you're on your boat. Using WiFi, the Axiom and controller can communicate, bumping the drone's data stream directly to your MFD. Net result? The view from the drone's camera is displayed right on your helm station MFD. You also get some basic on-screen controls over the drone. Currently, there are launch, track, and recording functions and the Raymarine developers on board our test boat told us that in the coming months, they believe you'll be able to instruct the drone to lock in on the boat and circle it, or move back and forth over the cockpit in a semi-circle. So you can launch the drone when you hook up with that monster marlin, then record the ensuing battle from multiple angles as your drone pans the skies above.
On the chartplotter screen, you can see the position of the drone. You can also see the direction its camera points in and its direction of travel when it's not hovering in place. Seeing both screens at once you'll not only be able to record battles, but even use the drone for fish-spotting, sort of like your own private spotting plane that shoots you a live video feed alongside its position data. 
Believe it or not, Raymarine plans to make the software update including this functionality free to Axiom owners and future buyers. They do note, however, that this system is "BYOD" (bring your own drone). Drones that can currently fish with the Axiom include the DJI Spark and Mavic UAVs. Check out this incredibly cool video which was shot at the show, including take-offs, drone fishing views, Axiom views, and even a fish they spotted from above.
Raymarine says the software will be all set for full-blown drone fishing in the spring. Check out Raymarine, to learn more.