by Lenny Rudow
The term "hybrid" is vastly over-used in the world of boats, but in the case of the new Everglades 253cc center console, the term fits. This hard-core fishboat is intended to cross over between bay boat and offshore fishing machine, and while no dual-purpose boat can be "best" at any one thing, this model gets about as close as one can hope for.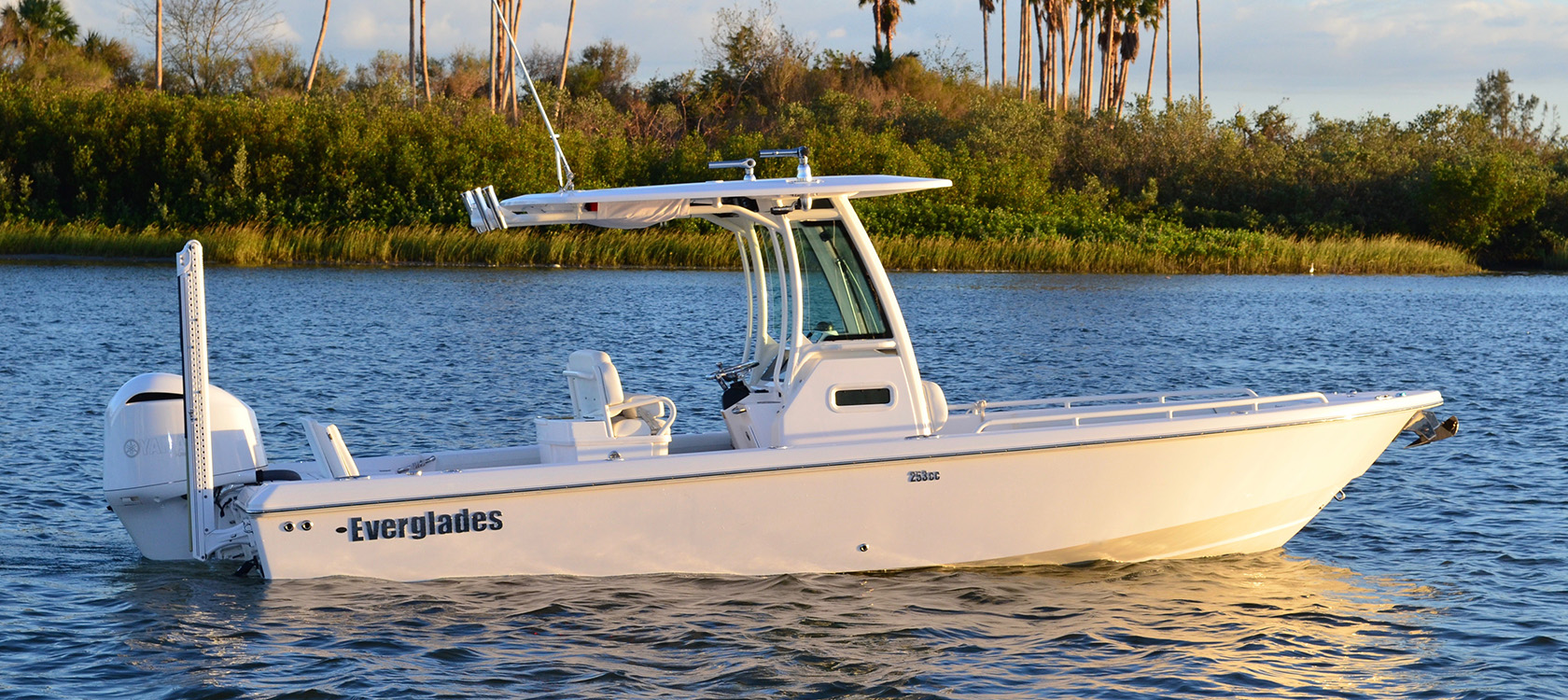 From the bay boat angle, the 253cc offers such perks as relatively low gunwales, raised casting decks (that do double-duty as seating and have stowage underneath), built-in tackle boxes, a 69-gallon fishbox in the deck and a 26-gallon livewell. It also has a relatively shallow draft (1'2" with the engine up), which means you'll have no problem sneaking into those tight cuts and creeks of the Tangier, or easing along the shallow rip-rapped banks of bay tributaries to cast top-water at daybreak.
Naturally, many of these fishy features also come in handy in the ocean, but offshore the part of this boat's hybrid equation can be summed up with a single word: competence. Unlike many dedicated bay boats, with their relatively flat bottoms, the 253cc has 20-degrees of transom deadrise. Running fore and aft, the bottom's average deadrise is 30-degrees. Now add to that Everglade's "RAMCAP" construction technique, which consists of closed-molding high-density foam that's encased between a bonded hull and deck liner. This results in a structure that not only cleaves open waves but also feels solid as a rock while doing so. Anyone who's ever ridden an Everglades through rough seas can tell you about it, and is almost surely a fan. (Read the review of an Everglades 325cc on PropTalk, for another perspective on this construction method).
Other components of the boat are just as stout. Yes, you probably already know that Everglades don't come cheap (plan on spending $150K or so and then some for a 253cc, depending on how jazzed up you get it), but where that cost goes is evident. Grab the pipework and give it a yank—the over-sized, powder-coated aluminum structure won't move one iota. Check out the wiring harnesses, and note that they're made with tinned-copper wire, heat-shrink protection at connections, and waterproof Deutsch plugs. Peek at the rodholders, and see how they're bedded and through-bolted instead of merely being screwed down. The examples go on and on—when it comes to construction quality, you're just not going to top it.
What about performance? This boat's relatively large and heavy for a single engine application, yet with a single Yamaha V-6 Offshore F300 it still cruises in the mid 30's and breaks 45 MPH at top-end. The best cruising efficiency of 2.9 MPG comes at 3500 RPM and 26.0 MPH. Yeah, right—as if you could hold back and force yourself to go that slow when the fish are waiting. But either way, with 100 gallons of fuel in the tank this not only means you have the range to zip out to the wrecks for sea bass and flounder, but on the right days even the canyons are within shooting distance. Hybrid, indeed.
Everglades 253 cc Specifications:
LOA – 24'9"
Beam – 8'6"
Displacement – 5,250 lbs
Draft – 1'4"
Transom deadrise – 20 degrees
Fuel Capacity – 100 gal
Water capacity – 20 gal.
Max HP – 300
Area Dealers – Annapolis Boat Sales,1629 Postal Rd, Chester, MD, 410/604-6962 or www.annapolisboatsales.com. They also have a Berlin location, which can be reached at 410/973-2552. Capt. Max King's Marine, 3829 Shore Dr, Virginia Beach, VA 23455, 757/460-2201 or www.captainmaxking.com.