Route 83 leads from points north into Maryland, until it takes you right into the heart of Baltimore — and all along the way, this major artery brings multiple angling opportunities. Freshwater aficionados will take an exit ramp heading for the reservoirs, but if you're up for some salty metro-angling, just keep heading south until you hit the Patapsco River. Ready to hit the road? Let's go on a fishing trip. Several, actually.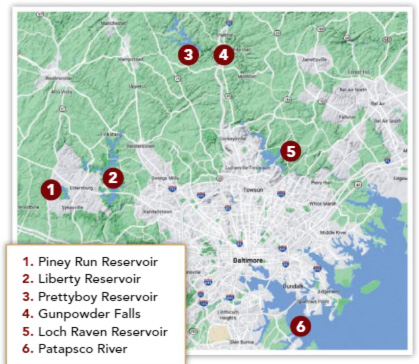 Freshwater Fishing
Heading south down Rt. 83 first brings you into the area of Prettyboy Reservoir, one of the "big three" Baltimore bodies of freshwater known collectively as the Baltimore Reservoirs. At about 1500 acres this is a large lake, and like all the water supply reservoirs in the area, has boating restrictions that don't allow for transients (to prevent the spread of invasive species). Also note that for the same reason, any live bait you use has to be purchased from a Maryland-certified bait and tackle shop. However, there are many places you can pull off the road, park, and walk the shorelines. At the bridge on Beckleysville Road and along Spook's Hill Road including at the boat ramp and around Frog Hollow Cove are some of the better-known access points, though many other pull-offs can be located all around the lake. (Just make sure you head out by dark, as many of these areas are open sunrise to sunset, only, and you can get a parking ticket after hours).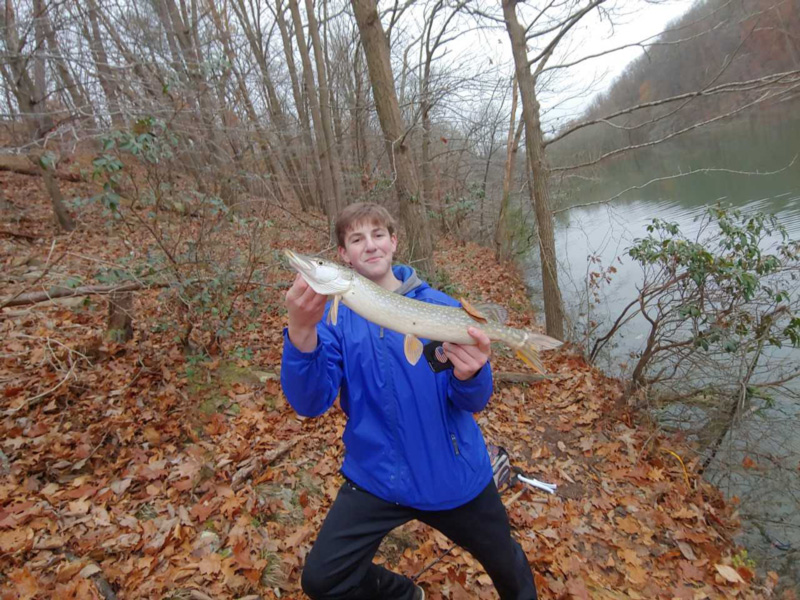 Prettyboy is known for its crystal-clear waters, and as a result you should come armed with light fluorocarbon leaders and small-profile lures like tube jigs and Ned rigs. Once the sun is high in the sky it's usually best to probe deep waters off points and sharp drop-offs, as fish here rarely stay shallow during the mid-day hours. You can expect to encounter panfish, largemouth bass, smallmouth bass, and walleye, and you may also luck into hybrid stripers or tiger musky.
Travel Tip: The nearby towns of Manchester, Greenmount, and Hampstead have most of the amenities you'll need for a day of fishing plus restaurants and fuel stops. For overnight accommodations, you'll need to either travel a bit farther west into Westminster, or keep heading south down 83 for a few more miles until you reach Hunt Valley. And in that case, you'll be within easy casting distance of…
Loch Raven Reservoir covers 2400 water-acres and while the shoreline fishing here can be excellent, also has the added attraction of boat and kayak rentals at the Loch Raven Fishing Center off Dulaney Valley Road. Hours of operation change depending on the season, so visit the Baltimore County webpages to learn the specifics for when you plan to visit. Without a boat, however, you still have a ton of options here. There are fishing platforms along the Dulaney Valley Road bridge, and over a dozen public parking areas you can scope out at the map posted on the DNR's Loch Raven Reservoir Cooperative Wildlife Management Area page.
Unlike its sibling reservoirs, Loch Raven has large weedbeds of hydrilla that grow thick during the warmer months of the year. The weeds hold fish including bass and panfish, particularly during the summer months. As it dies back in the fall, the edges of the weedbeds often produce a mix of torpedo-shaped northern pike and chain pickerel. Local sharpies favor casting large jerkbaits and swimbaits to target these toothy predators from the shorelines. They may also be found around the bridges, but as a general rule of thumb bass and especially crappie will be the take along the bridge pilings.
Travel Tip: Between Hunt Valley, Cockeysville, Lutherville, and Timonium, in this area you'll have essentially unlimited options for amenities, restaurants, and hotels of all different prices and levels of excellence, within a few minutes' drive of the lake. Golfers looking for a mixed vacation of fishing and hitting the greens will want to check out this area carefully, as there are also a number of very nice courses within a five-mile radius of these population centers.
BONUS HOTSPOT: Prettyboy and Loch Raven are connected by the Upper Gunpowder Falls, which creates an excellent tailwater trout fishery that goes year-round. Brown and rainbow trout can be found here, and are stocked in some places to give the action a shot in the arm. There's a catch-and-release only area at Gunpowder Falls State Park-Masemore Road, and a put-and-take area that can be accessed by the Sparks Bank Nature Center and along the Torrey C. Brown (Northern Central Railroad) Trail.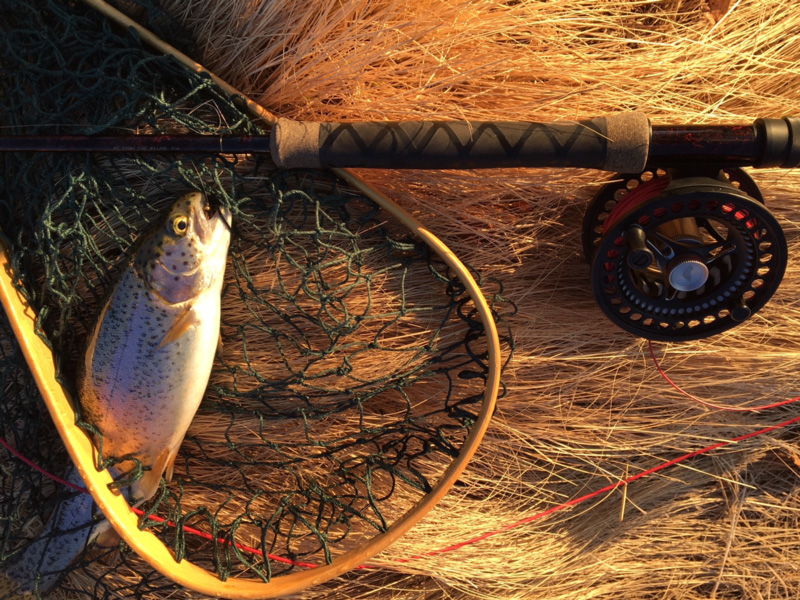 To get to the largest of the Baltimore reservoirs, Liberty, you'll want to exit off of 83 at Belfast Road, link up with Butler Road, and head for Reisterstown. From there you can hit this 3100-acre lake via Nicodemus Road and the Deer Park Bridge, which has a dedicated fishing platform running its length, or cross the lake and utilize one of the eight different access points with parking. Visit the Liberty Reservoir Public Access Map at arcgis.com to plan your moves.
Liberty has the aforementioned species plus "regular" striped bass, however, it's better known for having some of the finest walleye fishing around. Sheer drop-offs and deep waters (Liberty's average depth is 59 feet and it hits 144 feet at its deepest) mean that casting jumbo shiners weighted down with a split-shot and then fished with an open spool — give at least a five-count before setting the hook —can produce some excellent catches from the shoreline. During the spring months very early and very late in the day, walleye can also be found in the shallows where they'll strike blade-baits and swimbaits.
Though it's tiny in comparison to the Baltimore reservoirs, don't let 300-acre Piney Run Reservoir escape your notice. It has healthy populations of bass and crappie, plus yellow perch, tiger musky, and even a few striped bass. There are boat, kayak, and canoe rentals at the park, and shoreline anglers will love the long, roomy fishing pier which runs along the shoreline to the south of the boat ramps. The park planted brush-piles within casting distance of the pier, and if you send out a minnow on a shad dart suspended below a bobber, you can enjoy absolutely stellar crappie fishing.
Travel Tip: Liberty and Piney Run are easily accessible from the same hotels and restaurants located near Loch Raven. However, you can also find amenities of all kinds even closer by in Reisterstown and Owings Mills. If you want a more hometown experience, consider heading a few miles farther south and visiting Ellicott City. There are hotels and bed and breakfasts nearby, and over 65 shops, galleries, salons, historic sites, and cafes and fine dining in the old town center. Regardless of where you fish, this is a great place to spend a post-angling evening.
Saltwater Fishing
You'd like to get in some slightly saltier action? Simply continue heading down 83 until it takes you right into Baltimore, MD. The metro-fishing in the Patapsco is regularly underrated, though anyone who paid attention to the FishTalk fishing reports in 2020 will remember that for a good chunk of the season the Key Bridge area and all around the mouth of the river was one of the top striper zones in the Upper Bay — and for several weeks, provided the best action on schoolies in the entire Chesapeake. Boats can be launched at the Canton Waterfront Park, Middle Branch Park, and Fort Armistead Park, all of which are sizable facilities that can handle boats of all types. Shoreline anglers also have a shot at stripers, perch, and catfish, casting from the public piers and shorelines at Middle Branch, Fort Armistead, Fort Smallwood Park (which has a 380-foot pier that's quite popular with the locals), and the numerous access points and parks on Bear Creek and the north shoreline at the mouth of the river (see the DNR Public Angler Access Map for details).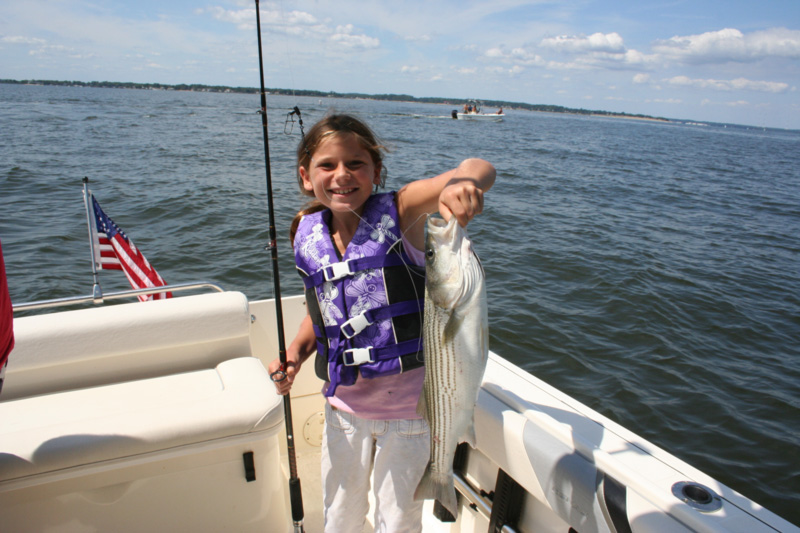 Anglers launching boats in these waters will find endless structure along the shoreline of the Patapsco that's ideal for light tackle casting; try the classic six-inch white or chartreuse soft plastic on a half-ounce jighead or crankbaits for rockfish, and cast small spinners and spinnerbaits for the perch. Using bloodworm bits on a bottom rig to catch spot and then live-lining them on 8/0 circle hooks is often highly effective during the summer and fall months. And boat and shoreline anglers alike will discover that a cut chunk of menhaden or spot won't sit around on bottom for long in any of these areas, before a catfish finds it. Of course, the Patapsco is also Baltimore's gateway to the Chesapeake and there are countless striper hotspots within range of a boat launched in the city. It's a run of around 10 miles to Swan Point, 12 miles to Love Point, and 14 miles to the Chesapeake Bay Bridge, from the mouth of the river.
Travel Tip: Obviously, the city of Baltimore has a wide selection of hotels (though trailer-boaters should call ahead to make sure trailers can be accommodated) and every sort of restaurant from fast food to fine dining. Just as important, Baltimore also has a number of bait and tackle shops that carry everything an angler's heart could desire.
Which of these many fishing hotspots will be your final destination, as you take your road trip down Route 83? That's your call, of course. But we can say one thing for sure: no matter what sort of fishing you enjoy, this roadway is a great avenue to your next angling adventures.