Every year Boating Writers International (BWI)  holds an annual writing contest to recognize the best quality journalism in the marine field, and last year – in it's first year of publication – FishTalk Magazine won first place in the Boat and Engine Care and Maintenance category (for 10 Winterizing Disasters: Don't Do This) and third place in the Columns category (for Notes From the Cockpit). This year, once again FishTalk made a showing in the contest as Judges awarded a second place win in the Gear, Electronics, and Product Review category.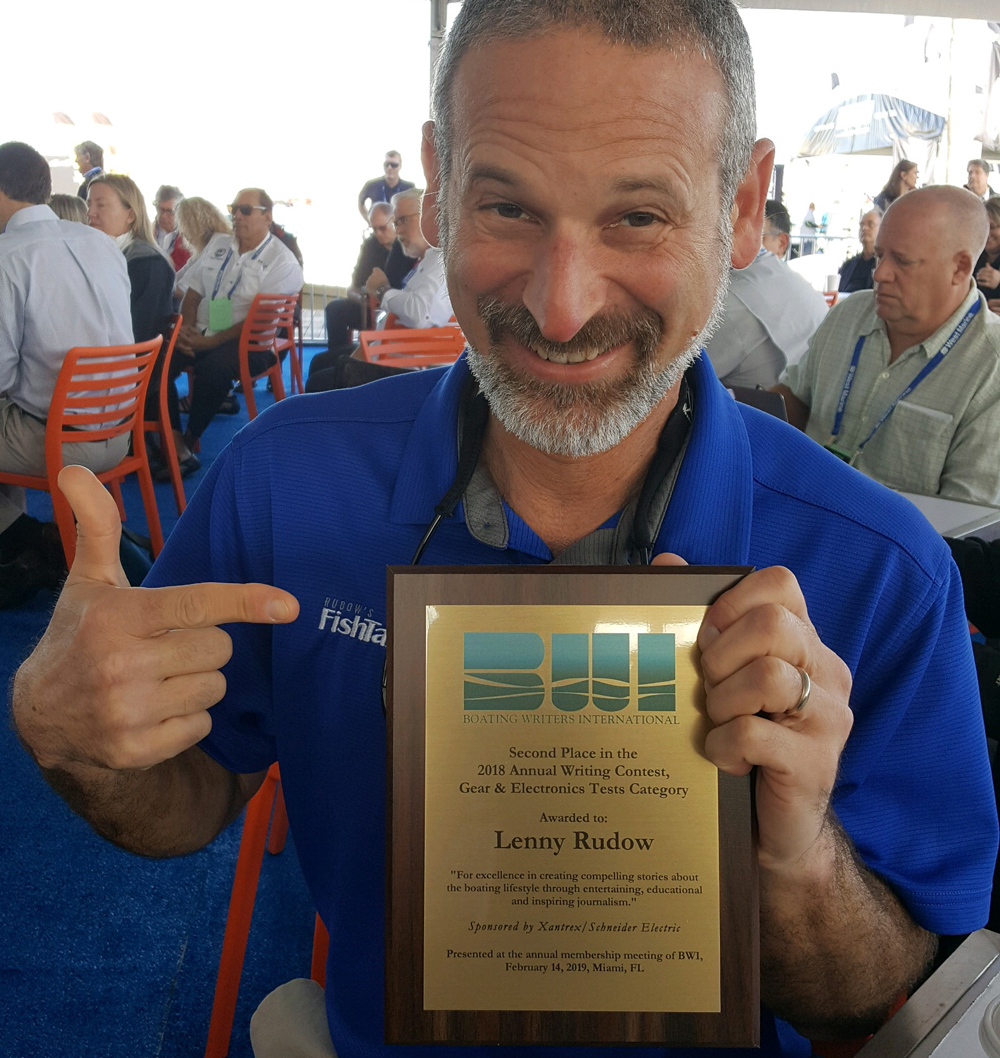 The winning story, Fishing Tackle Myths, Debunked! focused on fishing tackle lore that's been accepted as common knowledge, but has been proven inaccurate during on-the-water testing. FishTalk was also awarded a Certificate of Merit (signifying it was a top contender, scoring within 95-percent of the winners) in the Video category for its Cape Horn 27 XS Review video.
"Our mission in life is to help anglers catch more, bigger fish, and how the heck can people become better anglers when there's so much misinformation out there?" asks FishTalk Magazine Editor and Angler in Chief Lenny Rudow. "We all hear so much about things like fishing line wear, the 'invisibility' of fluorocarbon, the 'silent' nature of electric trolling motors, and the sounds fishfinders make underwater – but the testing we've done has proven much of the conventional wisdom to be false. Or at the very least, quite misunderstood. And unfortunately, in the modern age social media tends to spread misinformation even faster than the truth. How's an angler supposed to know? That's where we come in, and that's why we published this article."
Rudow says it's gratifying to be recognized by BWI, and it only strengthens his resolve to keep working and work harder in the future to help Mid-Atlantic anglers catch more, bigger fish.
"It's what we thrive on," he says. "We'd be publishing articles like this, awards or not. Still, it is really cool that someone noticed."
Sister publication Spinsheet Magazine was also recognized in the contest, garnering a Certificate of Merit in the Environmental Awareness and Education category for the article Volvo Ocean Racers Test the Water, by Cynthia Houston.
FishTalk Magazine focuses on providing accurate, how-to/where-to fishing information to Mid-Atlantic region and Chesapeake Bay anglers and is 100-percent dedicated to fishing and fishing alone. The staff of FishTalk also produces weekly fishing reports published at FishTalkMag.com, and enjoys tossing chum at their office-mates from Spinsheet publishing who don't fish.