Most people don't think of a pontoon boat for a fishing boat, at least not prior to running across one like the Angler Qwest, which is bedecked with dozens of rodholders, livewells, and the like. Even then, your average V-hull owning fisherman is likely to scoff at the notion. We did, too – until we tried some pontoon boat fishing. Would you believe, it was excellent in every regard? We were uber-comfy sitting in the luxurious seats, had tons of elbow room, and caught plenty of fish. There are, of course, numerous down-sides to using a pontoon boat for a fishing boat. But there are also plenty of serious advantages. Ready to take a look at each?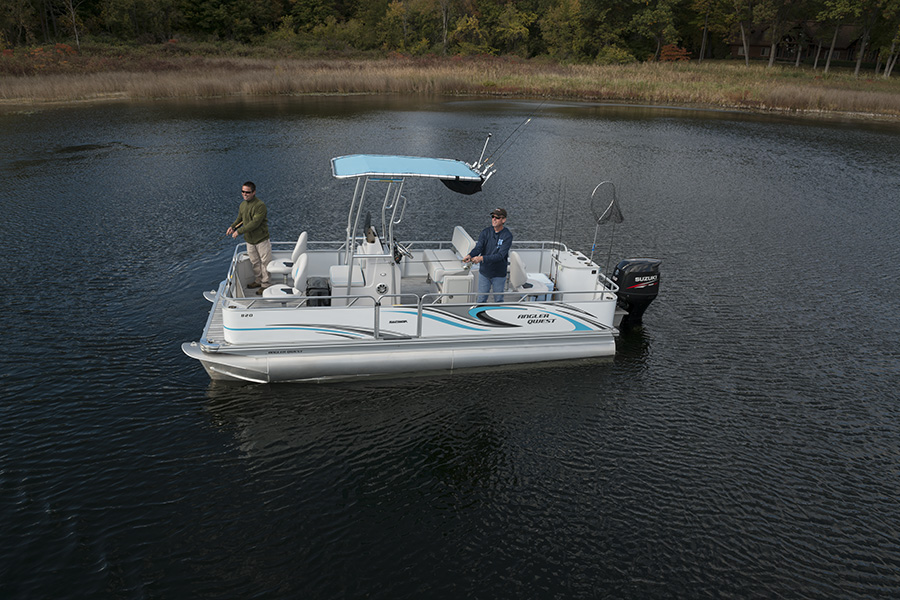 Pontoon Boat Pros
Foot for foot and dollar for dollar, you can't get a roomier fishing platform than a pontoon boat. Four, five, or even six anglers can enjoy fishing without getting in each other's way, there's gobs of seating, and plenty of deck space.
Pontoons are extremely stable. That not only enhances comfort, but also means they're great for fishing with kids.
Although many pontoon boats don't come with fishing accouterments, they can be added (or on a new boat, ordered from the factory) with little effort.
While many of us think of pontoon boats as plodding rectangles, today's 'toons can carry huge powerplants, sometimes even as large as a Yamaha V-6 or Mercury Verado, and attain speeds in the 40's and even 50's. So performance is a non-issue.
Many modern pontoon boats, especially tri-toons, eat up a small chop. That means running through waves of one foot or so it quite comfortable. But… (see below).
Pontoon Boat Cons
It's true that in big seas, pontoons are not the most able of boats. The decks can get washed over, the flat underside of the boat smacks waves, and they may throw an absurd amount of spray in certain conditions.
Rodholders on pontoon boats are usually (though not always) limited to clamp-ons, or add-on modules. While this is just fine for smallish species like bass, crappie, or flounder, they may not be able to hold up to larger, more powerful gamefish.
Pontoon boat livewells are usually carry-ons or add-on modules which aren't plumbed for raw water. That means you may have to fill them with a bucket, and even if they're aerated, be wary of overloading them with baitfish.
Raw water washdowns are a rarity on pontoon boats – and every serious fishing boat need a raw water washdown. In many cases, you may be reduced to using a bucket and a brush.
Some pontoon boats aren't saltwater-capable, and will be ravaged by the brine. Be sure yours is rated for saltwater, or you risk serious damage.
The tall, rectangular profile of a pontoon boat means it acts like a sail when adrift. In a strong breeze, controlling drift speed can become an issue.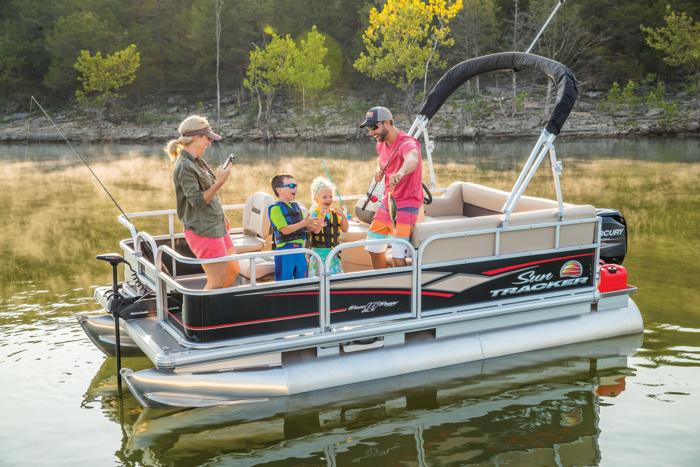 Fishing From a Pontoon Boat: The Bottom Line
When you get right down to brass tacks, using a pontoon boat for a fishing boat makes plenty of sense for people who are fishing in relatively protected waters like lakes, coastal bays, and slow-moving rivers that are sheltered from the wind. That's especially true if you often have kids on the boat, or if you like hauling a big crowd out for a day of fishing. On the other hand, if you plan to charge forth into rough seas on a regular basis or if you want to pursue large gamefish, a pontoon boat may not be the best option on the face of the planet.
We'd recommend taking a number of boats of different shapes, sizes, and styles for sea trials before making any final decisions. An naturally, we hope you'll take advantage of our FishBoat Reviews to get the inside scoop on a number of options. Do your research, think hard, and make a carefully considered decision, and one thing is for sure: whether you choose to use a pontoon boat for fishing or you opt for a V-hull, you'll have many days of enjoyment on the water in store.
Editor's note: To learn more about the boats seen photographed here, visit Qwest Pontoons, and Sun Tracker Boats.