If the kids aren't happy mama isn't happy and if mama isn't happy, no one's happy – good thing there are dual console fishing boats like the Sailfish 325 DC, that can keep everyone smiling. Sure, center console boats might be the first choice of hard-core fishers. But the dual console design is more versatile when it comes to taking the family out on the water, and the Sailfish 325 DC is an excellent example of a boat that has 90-percent of the fishability of a center console plus the ability to help everyone enjoy other waterborne activities. So when the opportunity arose, we were quick to jump aboard the 325 and shoot a short video introducing this model to you fisher-folks. 
The cockpit offers insight into how the 325 DC straddles the line between fishing machine and fun factory. For entertaining, you need seats. Lots of seats. But in a fishing boat, you need a wide-open cockpit that's not cluttered up by seats. The solution? Create a slew of fold-away seating. Sailfish Boats designed seats that fold out of the gunwales, transom, and even the back of the passenger's seat, so you can have either that unencumbered cockpit or oodles of seating, whichever you choose at any given time. There's still a livewell plus rodholders in the transom, but there's also a pop-up tow bit so you can pull the kids around on water-toys and a freshwater shower so they can rinse off afterwards. And in the cockpit deck, there's a fishbox that's large enough to swallow up a tuna.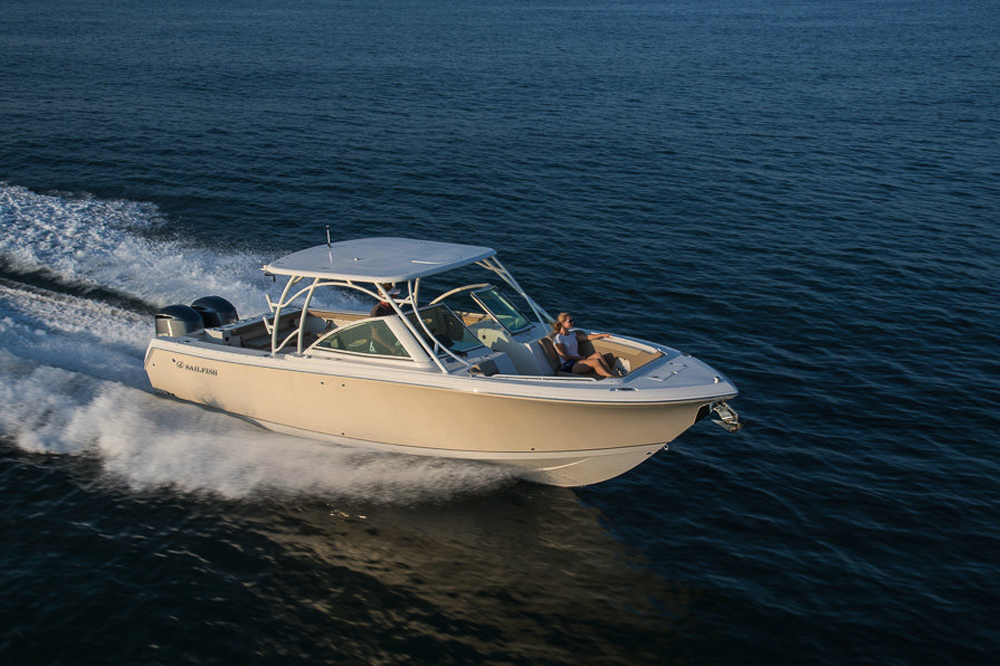 One other family feature that can't go unmentioned is the presence of a large head compartment in the passenger's side console. You expect to find this on a modern DC, but what might surprise you here is the sheer size of it. You know how you have to contort and compress to fit into the heads on some boats? In this case, it's not a problem. And in the helm console, there's a similarly large bulk stowage compartment.
Sailfish locates an entertainment center aft of the helm, which has a full wet bar with a refrigerator, sink, and trash receptacle, as well as more bulk stowage. Far more entertainment, however, will come from firing up the twin outboards hanging from the transom and firewalling the throttles. Opt for a pair of Yamaha F350C four stroke outboards, and you'll see top-end speeds that break 55 mph. Cruising speed at 4500 rpm is in the low 40s, and at that rate the Sailfish manages about 1.3 miles to the gallon. Back down to a 30 mph cruise, and you'll get better than 1.6 mpg.
One other detail the entire family (and your fishing buddies) will enjoy is this boats' hull design. Sailfish utilizes a hull with longitudinal steps, which increase in deadrise angle as you move towards the keel. At the chines the hull has 22 degrees of deadrise, halfway to the keel it's 23 degrees, and the center section of the hull carries a 24 degree deep-V. Anyone who's ever run a Sailfish knows that this design does an excellent job of splitting open the waves while running, yet it also maintains better than expected stability when at rest or in a beam sea.
So: you want to make the entire family happy on day one, then go fishing on day two? That's not a problem, with a boat like the Sailfish 325 DC.
Quick Facts:
LOA – 34'0"
Beam – 10'0"
Displacement – 11,066 lbs.
Draft (hull) – 1'10"
Transom Deadrise – 22/23/24 degrees
Fuel Capacity – 297 gal.
Freshwater Capacity – 21 gal.
Area Dealers – Galahad Marine, North East, MD and Deltaville, VA, (410) 287-9400 or (804) 776-7447.