There's a sweet spot for Chesapeake Bay light-tackle anglers in the 22 to 24 foot range of center console fishing boats. Center consoles of this size are large enough to handle any reasonable conditions in the Bay, small enough to provide peppy performance with a single engine, and inexpensive enough that you don't have to mortgage the house to afford one. Sitting smack-dab in the middle of that range is the Sportsman Open 232.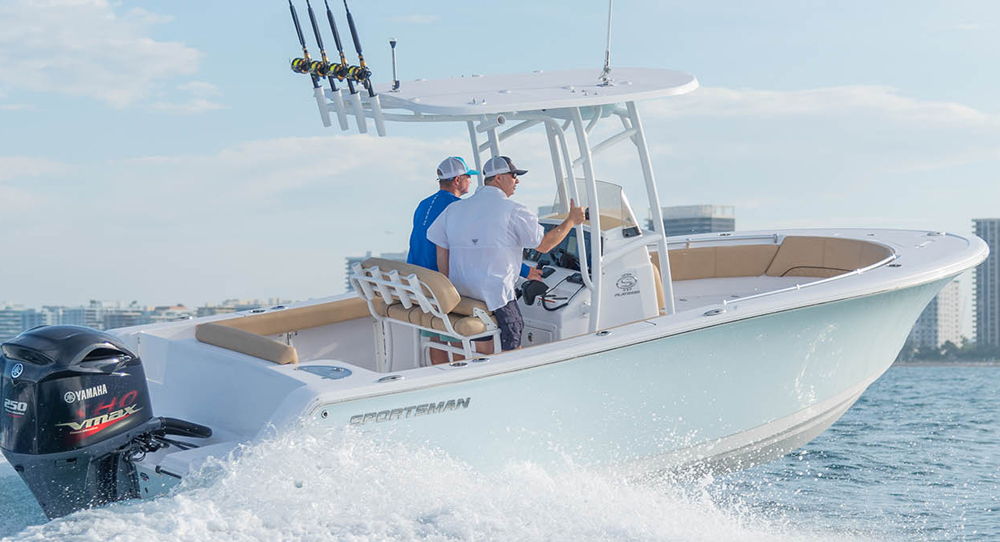 Climb aboard an Open 232 and the first thing you'll notice is that the boat has a number of features designed in which you'd expect to find only on larger, more expensive fishing machines. The hard top is a great example. Grab the back give it a shake, and you'll see it's stout and secure. That's something you want from any hard top. But now look at how Sportsman planned this thing out: stereo speakers, LED spreader lights, and courtesy lights are integrated into the top fore and aft. The back sports four rocket launchers and you can get a pair of side-mount "kingfish" style holders up there as well. You can even order it with integrated misters, to chill down the cockpit on those sweltering summer days.
Now check out the cockpit. There's a standard-issue 25 gallon livewell with high-speed pick-up, four flush-mounted rodholders, bolsters ringing the fish-fighting territory, three under-gunwale racks per side, a raw water washdown, and a transom seat wrapped in SoftTouch vinyl folds away into the transom so it's out of the way while fishing. There are even stainless-steel toe-rails lining the cockpit.
You won't find all of these touches on most boats that hover in the $60 to $70K range fully equipped – shop around and see for yourself – nor will you always find key construction details like hatches that are finished on both sides, gasketed, and close over insulated compartments. You won't always find forward seats with stout but removable backrests. And you won't always find helm stations with stainless-steel switches, USB and 12V plugs, flip-up bolsters, and a padded footrest built into the console.

One other thing few boats of this size and price can offer: speeds in excess of 50 mph. But with a single Yamaha F250 V-6 Offshore outboard, the Sportsman Open 232 hits a hold-on-to-your-hat top speed of 54.5 mph. Cruising speed at 4500 rpm is a hair over 42 mph, and the boat gets better than 2.6 mpg at that rate of travel. If you can force yourself to pull back on the throttle and cruiser at a mere 32 mph – as if any of us have that sort of willpower when the seas are calm and the fish are snapping – the boat gets almost 3.5 mpg. Even if you drop the powerplant back a notch and run the boat with an F200, you're still looking at a top-end over 46 mph and a cruise in the low to mid 30s.
Family touches? Well sure, the boat has an integrated swim platform with a telescopic ladder, a filler to turn the bow into a sunpad, cup holders all over the place, and a head in the console. But that's probably not the stuff you and I are worried about. We're much more concerned with finding a boat that has the performance we want and the fishing features we need. One that's trailerable and capable of runs through the inlet for jaunts into the ocean when the weather is right. And most importantly, one that fits squarely in that sweet spot for light tackle fishing on the Chesapeake Bay.
Quick Facts:
LOA – 22'9"
Beam – 8'6"
Displacement – 2,750 lbs.
Draft (hull) – 1'2"
Transom Deadrise – 18 degrees
Fuel Capacity – 103 gal.
Freshwater Capacity – 15 gal.
Area Dealers – Riverside Marine, Essex MD, (410) 686-1500. 
If you need a slightly smaller boat, check out the Sportsman 212: