Many of Maryland's Chesapeake Bay fishing grounds are accessible only by boat, but luckily, whether you own your own fishing machine, hop on a charter, or rent a boat for the day, just about anyone can partake in the amazing angling opportunities these waters provide. Ready for an adventure cruise? Head for one of these five destinations and you're in for a weekend — or more — of fishing that can't be beat.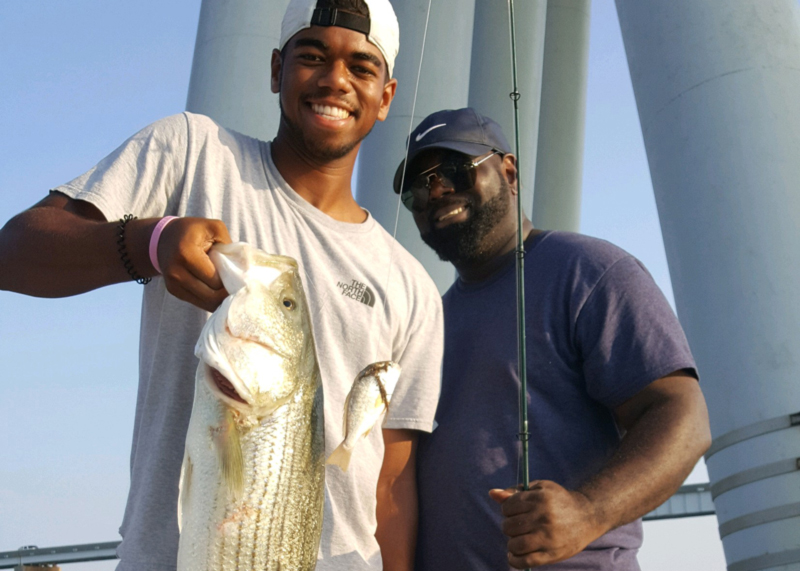 Fishing in Annapolis
Maryland's capital city may be known as the sailing capital of the world, but we anglers know it better as a prime fishing destination. The Severn River itself has awesome bottom fishing for species like white perch, spot, and some seasons croaker, too. Any area with structure ranging from oyster shell to piers and pilings to the reef off the Jonas Green Fishing Pier might hold fish, and these species are easily tempted into biting with bloodworm bits on bottom rigs or Chesapeake Sabiki rigs. Run outside of the Severn and you can hit the Chesapeake Bay Bridges, which are a mere four miles from the river's mouth. Live-line spot or cast jigs to the bridge pilings to get those rockfish on the line. Or head south instead and check out the sheer drop-off on the southeast side of Tolly Point, where rockfish often stack up.
Fishing Tip
Spanish mackerel often appear in the zone from the river's mouth to the ship anchorage starting in late July or early August. If you see birds diving, try trolling small spoons behind planers through the area or cast flashy metal spoons into visible feeding frenzies.
Travel Tips
Annapolis has lots of options for anglers arriving by boat, including transient moorings (available on a first-come, first-served basis) with varying daily and weekly rates. From a mooring you can get to the downtown dining area via the water taxi (call on VHF channel 68). Or you can tie up downtown at the city's docks (call the harbormaster for reservations at (410) 263-7973 and learn more at annapolis.gov), though you'll want to plan ahead since these spots go fast during the boating season. There are also several private marinas with transient docking available, as well as hotels and B & Bs on and around the waterfront.
Fishing in Rock Hall
Long known as a prime fishing destination, Rock Hall is the place to head for if you want to target stripers during the summer. From late June through September this port has enjoyed the closest-to-home, hands-down best rockfish bite for five years running. The fish may stack up anywhere from Love Point to Tolchester, usually over hard bottom and depth changes in the 15- to 25-foot range. Live-lining with spot is the most popular way to get 'em but chummers and jiggers catch their fair share of fish, too.
Fishing Tip
During the fall months, run up to the lumps on the south side of Poole's Island, eight miles north of Swan Point, and sink cut baits or live eels on bottom if you want to feel the tug of some exceptionally large fish — though not necessarily rockfish. Last season there was a rather epic run of catfish in the 20- to 30-pound range here which kept many angler's rods bent. Very, very bent.
Travel Tips
Rock Hall has plenty of marinas with transient slips including the public marina at Bayside Landing (call (410) 778-7439 for slip information). Most are within walking distance of multiple restaurants, and there's also tram service available. There are also several inns and B & Bs in town should you prefer to sleep ashore.
Fishing at Smith Island
One of the most remote angling destinations you can set your sights on in the state of Maryland is Smith Island. Accessible by boat, only, coming here puts you smack-dab in the heart of the Tangier Sound and Chesapeake salt marsh island shallow water fisheries. Speckled sea trout and rockfish are the mainstays, but redfish, flounder, and a wide range of species pop up with regularity. Or, you can head for deeper waters and target cobia, bull redfish, Spanish mackerel, and bluefish in the open waters of the Sound or in the Bay proper; the famed Target Ship and all the fish attracted to it are just seven miles from Smith Island's channel entrance.
Fishing Tip
In the shallows try casting four- to five-inch white paddle-tails and shad body soft plastics rigged on half-ounce heads anywhere you see a current rip forming, a cut going into a marsh island, rip-rap, or other visible structure. Particularly where you find visible rips or mini-channels with a depth of five or more feet, you have an excellent shot at catching fish.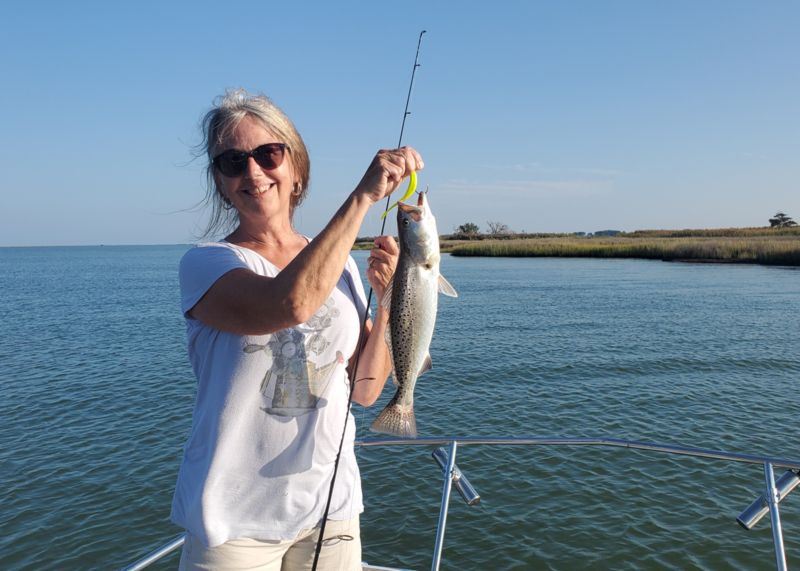 Travel Tips
Since Smith Island is so remote there are fewer amenities than found in most other ports. There are a handful of B & Bs and house rentals by owner in the main village of Ewell, a couple of restaurants with limited seasonal hours, and a marina with transient slips. Golf carts can be rented to explore the island. There are also ferries to and from the island departing from Crisfield and Point Lookout. Make sure to stop by the bakery and try the official Maryland dessert, Smith Island cake — many will agree that it's the best cake on the planet. Visit smithisland.org to learn more.
Fishing in St. Michaels
The port of St. Michaels puts you on the Miles River just a few miles in from Eastern Bay, a top destination for those hunting after rockfish. The drop-offs west of Tilghman Point, near Romancoke, and all around Poplar Island are all prime hotspots. And the artificial reef site at Hollicuts Snooze (or Holicutt's Noose or Holiga Snood, depending on whom you're speaking with) just east of Kent Point, is a perennial fish-producer. Many seasons Eastern Bay also offers awesome bottom fishing for species ranging from white perch to flounder.
Fishing Tip
When you're fishing Eastern Bay, stay on the move until you find fish. The aforementioned hotspots may or may not prove productive on any particular day, but you can bet that at least one of them will be holding fish at just about any given time. Also don't hesitate to shift from deep waters to the shallows at a moment's notice. Some days those drop-offs will be rich with rockfish, but others, casting up to the rip-rap on Poplar or the fallen trees lining Tilghman Point will be the best move.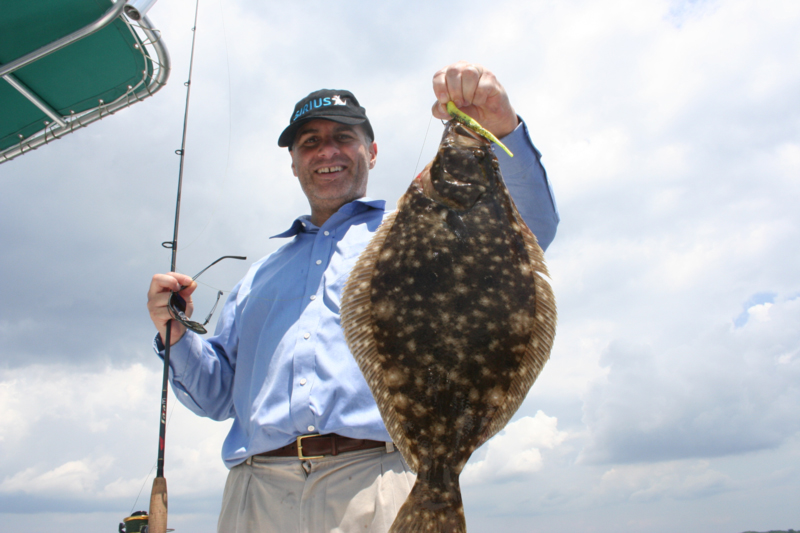 Travel Tips
St. Michaels has a vibrant tourism industry, so it also has a wealth of amenities. Finding a transient slip won't prove difficult, and if you want, you can get one that's attached to an inn or hotel. There's also a water taxi here, both casual and fine dining, and the Chesapeake Bay Maritime Museum for a temporary land-based distraction. Visit stmichaels.org to see all the details.
Fishing at Tilghman Island
Tilghman Island is located at the junction between the Choptank River and the Chesapeake Bay, and as such, is in a prime Middle-Bay fishing zone. From Knapps Narrows, separating the island from the mainland, a 4.5 mile run to the southeast takes you to the Cook Point reef ball site. This well-known hotspot is a marvelous example of artificial reefs done right, and attracts everything from striped bass to black drum. Five miles west from there is Sharps Island Light, which holds stripers and some seasons speckled trout. Head yet farther out into the open Bay and you'll reach the Stone Rock, where Spanish mackerel and bluefish often rampage during the summer months. Or, stay inside the Choptank and fish its shorelines for stripers and specks.
Fishing Tip
The drop-off to the northeast of Cook Point from 10 to 25 feet gets swept by both incoming and outgoing currents, and is a fish-magnet. When flounder are present in the Middle Bay this will often be a prime location to find them by bouncing jigs on bottom or drifting Fluke Killer rigs baited with minnow or chunks of peeler crab.
Travel Tips
Tilghman is a small community so there aren't a ton of options here, however, all of the usual bases are covered and then some. There are a couple of marinas with transient slips, a handful of inns and restaurants, and a couple general stores with basic provisions including some fishing tackle. There's also a good number of charters operating out of Tilghman, and fishing boat rentals are available as well. Visit tilghmanisland.com for more information.
No Boat? No Problem!
If you don't own a boat of your own, taking out a charter for the day is the easiest way to get out and enjoy a day of fishing on the Bay. You can find a listing of top charters with an interactive map showing their locations by following this link to our Chesapeake Bay Charter Guide, by visiting the Maryland DNR's Charter/Guide web map, or by checking out the wealth of resources at Fish & Hunt Maryland.
Anglers who want to enjoy the satisfaction of catching fish on their own may want to consider renting a boat for the day or joining a boat club. There are numerous options up and down the shores of the Chesapeake which can be quickly turned up via a Google search. Another move that's become popular in recent years is boat "sharing," which works like other forms of peer-to-peer renting, and in many cases a boat can be booked with or without a captain. Platforms like Boatsetter make it easy to find a boat that fits your fishing style and desired location, and covers things like insurance, secure payment systems, and reviews posted by actual renters.
Okay: the options lie before you - now get out there and fish!
Sign up here to get the weekly FishTalk Chesapeake Bay and Mid-Atlantic fishing reports in your email inbox, every Friday by noon.