A buddy with limited offshore fishing experience bought a new Grady-White, and asked for some assistance getting set up with equipment, rigging and tackle. So we made a trip to the tackle shop, where a good portion of what was left of his kids inheritance was spent on 30 and 50 pound class trolling rods, a couple deep dropping outfits, lures, tackle, gaffs, and terminal gear. As we rigged and watched the weather over the course of the next few days, offshore trolling, bailing, and deep dropping tactics were all discussed. Finally, decent weather was forecast. I pulled out of the slip at zero-dark-thirty on my boat in hopes of catching the early bite. My friend, however, was apprehensive about running his new rig in the dark and decided to wait on daybreak. As the first on the scene I quickly found that the yellowfin which had been so plentiful prior to a recent blow were now nonexistent. Stumbling across a weedline, we worked it hard for an hour with no tuna or billfish to show for the effort. But we did encounter a few mahi, so the spread was wound in and the crew grabbed spinning outfits to bail for them.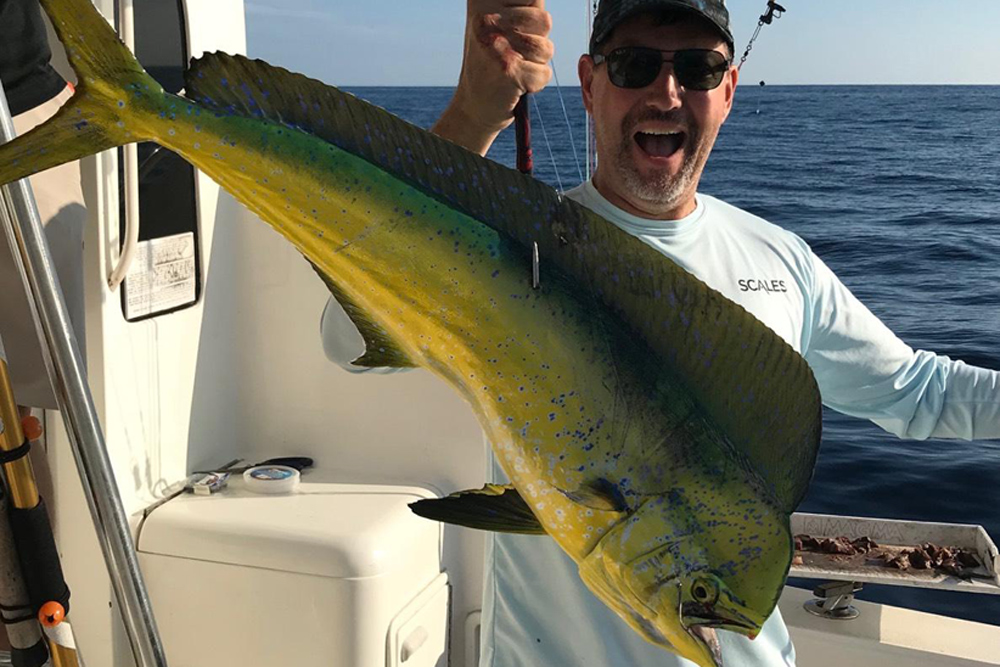 When multiple hook-ups and fast action ensued, I radioed my friend and provided the GPS coordinates of the weedline. Thirty minutes later, he trolled by and saw our rods doubled over in mahi-mahi mayhem. I shouted above the engine noise for him to come join in the fun, and could see a conversation taking place on his boat before he radioing back and said that they really wanted to catch yellowfin. I watched as the boat grew smaller and smaller, trolling northward on the 100 fathom line, and thought: you should catch what you can!
I understand we all want to catch tuna and marlin. These species are the backbone of the Mid-Atlantic offshore fishery and are targeted by just about every boat busting through the inlet and heading to the canyons. Unfortunately, as anglers we have no control as to whether or not those species are going to be available on any given day. And if they are swimming in our area, we also can't control whether or not they'll feed when rigged ballyhoo pass right under their noses. If I've learned one thing after spending many years with charter clients, it's that more than anything else, everyone wants to feel a bent rod and catch fish. We may pull out of the slip excited about the prospect of catching tuna and marlin, but those smiles quickly dissipate into blank stares after watching rigged ballyhoo jumping in the wake with nothing to show for the effort hour after hour. Hope and anticipation only go so far.
So I will reiterate, catch what you can catch. If you are doggone determined to have your son or daughter catch their first white marlin, then by all means put in the time and troll all day. You will not be the only dedicated boat in the fleet willing to live or die by the fish-sword waiting on a bite. On the other hand, if the crew wants to catch fish have a plan A, B, and C.
Offshore Fishing Plan A
Typically when chartering, our day starts off trolling a mixed spread for tuna, marlin, mahi and wahoo (or chunking if the tuna are around in good numbers on the 30 fathom lumps). If the clients only wanted tuna, then the spread would contain at least three spreader bars. If the clients were hoping to catch a billfish, then more rigged ballyhoo or mullet go in the spread. As I've written many times in articles for FishTalk Magazine (visit the How-To section to check 'em out), a spread can be tailored to target specific species. Although, that does not mean those species will be caught. Which brings us to...
Offshore Fishing Plan B
If a weedline or something floating in the water is located while trolling, chances are very good that pelagics are in the vicinity, especially mahi. Trolling by flotsam often brings a knockdown or two from this species. When that happens, it's time to make a decision. If a killbox void of tuna seems to be looming in the future, winding in the trolling gear and switching over to spinning outfits and bailing mahi probably makes sense. This is especially true when trolling around the lobster/fish trap balls or long-line gear high flyers, where there are commonly plenty of mahi present through the summer and fall. Normally, there are plenty of these balls to work. They typically will be on the same contour line and spaced about quarter of a mile apart. But sometimes the commercial gear has been moved, and other times the mahi simply aren't present. If you strike out on trolling and then also on plan B, it is time to think about...
Offshore Fishing Plan C
Already being in the deep puts the boat in the correct location for deep-dropping for golden or blueline tilefish. Bluelines, often found with sea bass mixed in, are shallower on the 50-fathom line at around 300 feet. Goldens will be found between 600 and 850 feet. Deep dropping is all about location. Find a colony of fish, and bent rods can prevail. Read the articles Prospecting for Golden Tilefish and Bass 'N Blue: Sea Bass and Blueline Tilefish, to get the low-down on how to target these species.
We have to recognize, however, that hand-cranking in deep water is not for everyone. You need a Plan D? Since the boat has to run back to shore anyway, it will be passing by a lot of inshore wrecks where sea bass, tog, and flounder are available. The seabass and tog are in the structure; flounder will be lying on the sandy bottom near the wreck. Anchoring over a wreck is the way to catch sea bass or tog, as trying to drift over wrecks just snaps off rigs as they constantly get hung up. However, drifting close alongside the wreck is the preferred method for catching flounder.
Trolling inshore in 10-20 fathoms is another option, which makes for a decent Plan E. Using Drone spoons, feathers, and cedar plugs often can produce bluefish, kingfish, false albacore and bonito. Even a Bluefin tuna occasionally comes to the gaff.
To cover all of these bases for a day offshore, a variety of bait is required. Rigged ballyhoo is the standard for trolling along with artificial lures. Boxed squid is essential to a day offshore and can be rigged for trolling; to learn my method of rigging, check out this rather old but still accurate video:
Of course, squid is also excellent when bailing mahi. Cut it into pieces and throw the squid bits into the water to start a mahi feeding frenzy. Squid chunks can be used as bait, too, but don't overlook using a whole squid to entice a gaffer that passes on the chunks. Squid are also good for deep-dropping, and are an excellent bait for sea bass as well. If tog is on the plan D list, pick up some green crabs or sand fleas. A frozen five-pound bag of clams is also a good choice to carry onboard, and makes great bait for plans B, C, and D. If boats have been chunking the lumps and finding success, carrying along a flat of butterfish is a must. You probably get the point: when running offshore try to prepare for a variety of possibilities. The crew that's prepared often returns to the slip with fish of one sort or another in the kill box. Maybe not the intended species, but fish!
So: how did my buddy make out on his first offshore trip? Back at the dock while we unloaded a killbox full of mahi, blueline, and golden tilefish, he displayed a couple mahi he caught while trolling. Not a bad first trip… but he did mention that next time, he'd be ready to bail for those mahi.
By John Unkart, author of "Offshore Pursuit" and "Saltwater Tales."