When I was a kid and we went Chesapeake Bay fishing, there was always this moment of anticipation as Captain Dad stepped onto the boat, inserted the key into the ignition, and gave it a twist. Would the boat start this morning, or would our day of fishing fall victim to the scourge of mechanical failure? Back then in the 70's, every trip was a toss-up. It wasn't until much later in life that I discovered the joys of running a boat with modern outboards. They're reliable, smooth and quiet, smell-free, and when you turn that key you virtually always know what's going to happen.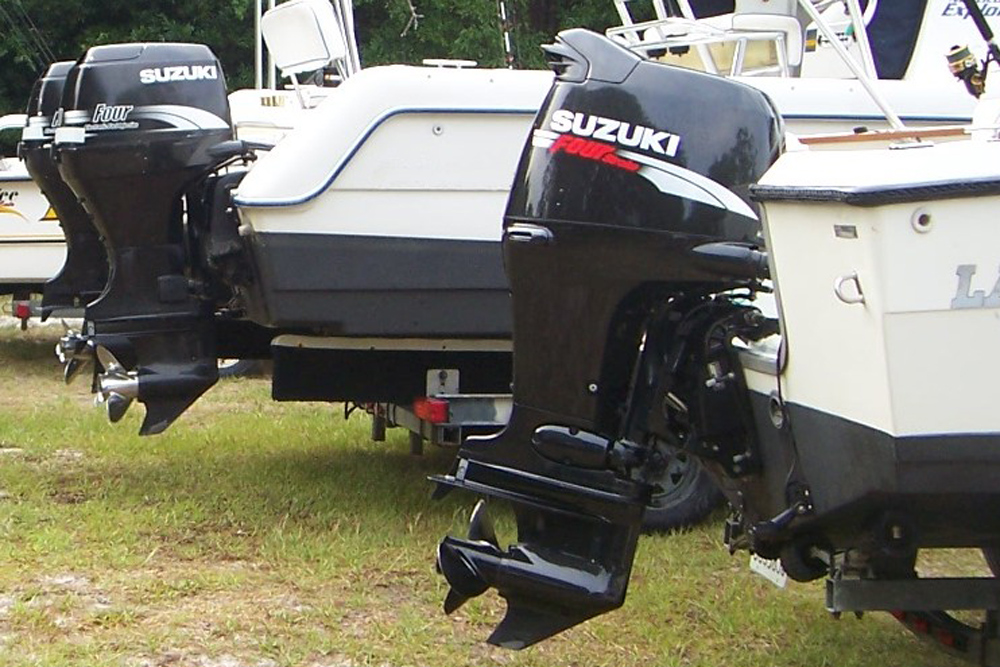 If your boat fails the mechanical reliability test – or if it's under-powered, overly loud, or otherwise lacking in the engine department – you can breathe new life into it with a re-power. But before we go into how to best choose a new powerplant for that old boat, let's get one down-side to repowering out into the open right off the bat: if you have a raggedy old hull worth a couple-few thousand dollars and you bolt a brand new engine onto the transom, you may well be devaluing that engine more than you increase the value of the boat and motor package. That said, let's remember that buying a fishing boat is hardly an economically wise move in the first place, unless you plan to save money by spending something like $87.55 per pound for fresh fish. So in reality, the most important consideration is that you're happy with your fishing machine once the repower job is complete.
Outboard Decisions
The first choice you're going to have to make is between a two-stroke and a four-stroke. If you'll need a powerplant in the 150 to 300 h.p. range, this decision has been made a lot tougher with the introduction of Evinrude's G2 outboards. Just when most of us thought the two-versus-four argument was over, this new range threw a kink into things. While these engines are still slightly louder than their four-stroke brethren, they're also demonstrably more fuel-efficient, usually to the tune of 10- to 15-percent. They also have an utterly stellar maintenance schedule, requiring no scheduled maintenance for three years or 300 hours. Add to that an integrated power steering system, cleaner rigging, and oodles of two-stroke torque at the low end. EDITOR'S NOTE: Evinrude ceased production of outboard motors in 2020.
On the flip-side, most modern four-strokes are quieter, and in some cases, are actually lighter than a modern two-stroke of equivalent horsepower. Several of the four-stroke manufacturers can also boast of a long-term proven track record of reliability. While the G2's seem to be doing great, they've only existed for about three years. So far so good, but it's impossible to honestly say more than that. However, RED ALERT: right now Evinrude is offering a 10-year warranty on engines purchased by the end of April, a move that certainly instills added confidence.
So which will be the better pick? That's going to depend on your own personal priorities; just make sure you consider all of the above, so you make an informed decision.
Now, consider horsepower. This is another personal decision, since many people are perfectly happy with a boat that cruises at 20 mph while some others can't stand running at anything less than Ludicrous Speed. The powerplant presently on your boat (and the max number stamped on your capacity plate) should give you a good idea of how the boat will run with the same amount of power, a bit less, or a bit more. There are, however, a number of additional considerations to take into account.
The first, and in many cases most important, is weight. Even sticking with the exact same horsepower, changing powerplants can lead to adding several hundreds of pounds of weight to the transom due to the differences between yesteryear's motors and those sold today. There have been cases of people repowering a boat only to discover that its running angle was severely altered, its transom squatted, or its scuppers were suddenly submerged. Obviously, the best way to avoid these issues is to check on the weight of your existing powerplants and try to match it as closely as possible. This may limit your horsepower choices, but you may also be able to up the ante by shifting an equivalent amount of weight forward (via relocating batteries, fuel tanks, etc.) in order to support a bit more at the transom.
We'd like to offer you some hard numbers to answer any questions you might have about whether you can add or shift some weight, but this is going to vary from boat to boat and there's no silver-bullet answer. We can say, however, that if you're changing the weight on the transom by more that 100 or so pounds on a small boat (call it 20 or so feet and under), or 200 pounds or so on anything larger, you should probably enlist the advice of a professional.
Also take resale into account. If you're re-powering a boat you probably love it and may not part with it for many years, but when you do, the size of the powerplant can have a big impact on how hard or how easy it is to sell the package. Generally speaking more power is better in this regard, because even if you're one of those folks who's happy at 20 mph, many other people aren't – and that can limit your pool of buyers.
Finally, give some consideration to controls. Some people try to save a buck by re-using the controls already at the helm, but this is almost always a bad idea. If they're old enough that the engine is being replaced, the binnacle, throttle, cables, and connections are probably old and creaky, too. Besides, if you can upgrade from mechanical controls to digital, you should do it. Although some old-timers continue to desire mechanicals, anyone who's lived for a season or two with digital throttle and shift will tell you it's a huge step up. Note, however, that digital controls aren't available from all manufacturers at all power levels, and in some cases the motor that best fits your boat may only be available with one or the other.
Getting an Old Outboard Off the Boat
Okay: you've chosen your new outboard, and it's on order. Will you mount it yourself, or leave this task to the dealer? Unless you're incredibly handy, we recommend leaving this part of the job to a pro – get it just a tiny bit wrong and you'll not only regret it, you may even void your warranty.
You can also have the dealership remove the old engine, but truth be told, this isn't a very difficult procedure and even if it doesn't run, that old engine has some value. Check out eBay, and you might just be amazed at how much value a dead outboard can have. To get that motor off the transom, you'll need a come-along and either a sturdy tree branch to back the boat under, or a gantry. Just be darn sure whatever you use to winch from can handle the weight and obviously use caution. Remove all the bolts, wires, and cables, hoist away, and then lower the engine onto a horse. Next you can head for eBay or Craig's List, and see how much cash you can recoup. (Notice: according to our crack legal team – thanks, Captain Dad – we should mention that we're not responsible for anything at any time, including but not limited to collapsing Rube Goldberg gantries and/or the kooks that show up when you list stuff on Craig's List).
When you get rid of that old outboard, it's important to also strip off the fuel lines, steering cables, and pretty much anything that will be connected to your new motor, and start with fresh pieces and parts. Old hoses could have ethanol damage, old parts could be corroded, and if you're going to spend the new money on an outboard engine you may as well spend a few bucks more and make darn sure everything is fresh and reliable. That way, when you step aboard and turn the key you'll know exactly what's going to happen.
Find out more about your outboard options by reading:
Yamaha Outboards Mid-Sized Motors: The F115 and F150
New Mercury V6 Four-Stroke Outboard Motors Introduced
Seven Marine Announces New 527 Outboard 
Evinrude E-TEC G2 Outboards: On-Water Test
Yamaha F25 Outboard Engine Test and Review
Honda Introduces Jet Drive Outboards 40 Jet, 65 Jet, 105 Jet
Hot New Gear, August 2017 (Suzuki DF350A)
Yamaha V-6 Offshore Outboards Versus Mercury Verado Outboard Engines
Yamaha F90 Outboard Engine Test and Review