Coastal Mid-Atlantic Fishing Report, April 29 Update:
Flounder season is not only in, but officially hot along the VA coast. There's been a decent bite in Ocean City and Old Inlet is reporting that the first flatfish have been caught in Indian River as well, but the best reports have been coming from Chincoteague south. Two readers reported limit catches there, and we heard about several heavy coolers in Wachapreague and Quimby including a few fish over the five-pound mark. A mix of jigs and minnow and/or squid on Fluke Killers will get the bites, but Gulp! Swimming Mullet and Jerk Shad in white or pink have been noted as top producers. Angler in Chief Lenny Rudow searched for the flatties at the Thoroughfare in OC for a morning early this week and reported putting a 20-incher in the cooler, losing two other flounder that struck a white Jerk Shad, plus catching a handful of small stripers at a point with riprap on the same lure. (The afternoon was spent digging clams—which he reports being plentiful along the western shorelines behind Assateague). He also said he bumped into Big Bird Cropper at the boat ramp, who had in his cooler the first bluefish caught from the bay this season plus an 18-inch tog, both caught on a Roy Rig.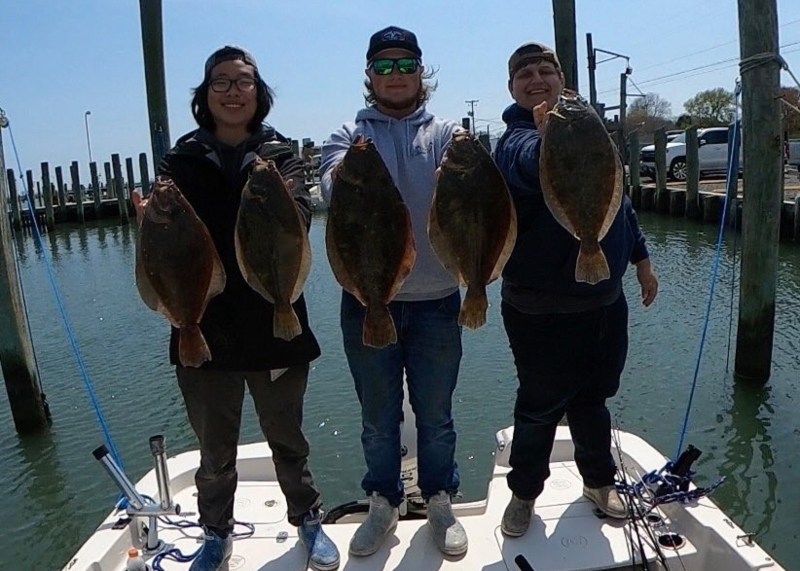 As for finding larger tog, fishing the wrecks has had its ups and downs as is par for that course, but the wind finally took a break early this week and Captain Monty on the Morning Star got out and reported one day with a strong bite but another that was just so-so. There are reports of keepers being caught at the CBBT as well, though most are on the small side and bigger fish are usually found a bit farther out at the wrecks and reefs. Don't forget that up and down the coast (DE, MD, and VA) tog go out of season May 15, so if you want to target that species, you only have a couple more weeks before they shut down.
In the surf bluefish can now be added to the likely species list, with reports of catches including all the way up to Fenwick on cut mullet and spot. Reports of black drum are still coming in as well, though the initial wave seems to be tapering down in southern waters, as Old Inlet reports they've now been caught in Delaware and on Assateague the best catch we hard about the past week was a pair of fish. Sand fleas remain the top offering for the black drum. We also got word of some slot-sized stripers coming in from the MD/VA surf. Dave Moore of Shark Whisperers noted catching a black drum and a pair of decent sized stripers from the suds on a trip this week just prior to the cold front passing through. Coastal Correspondent John Unkart hit the Assateague surf just after said front pushed by, and said it was very windy, very cold, and very windy and cold. Late Breaking Update: John checked in just this morning and with the winds now down a bit, caught two black drum (both in the upper 20s) on sand fleas with a strip of Fishbites shrimp.
There are also reports of shad being caught from both Indian River and Ocean City inlets, and down at the shoals at the mouth of the Chesapeake, of both black and red drum. Though we didn't get any photo confirmation this week, there's plenty of buzz particularly from off Fisherman's Island and Ocean's East is reporting clam and crab baits are doing the trick.
---
Coastal Mid-Atlantic Fishing Report, April 22 Update: Beautiful catches are coming out of the water in the surf right now. Black drum were caught throughout the week, with a dip in the action mid-week (surely due to the wind and rainy conditions), from the surf. There are also quite a few skates pestering anglers right now, stealing baits. A couple of sharks have popped up as well, although the OC Fishing Center reported that for the most part, skates are the primary nuisance fish. A few anglers have also reported flounder in the bay of OC, although not of the sizes they're reporting down in the Virginia bays. There, reports of three or four keepers in a day have become the norm and a few doormats have come in. Chincoteague was mentioned more than once as a hotspot this week.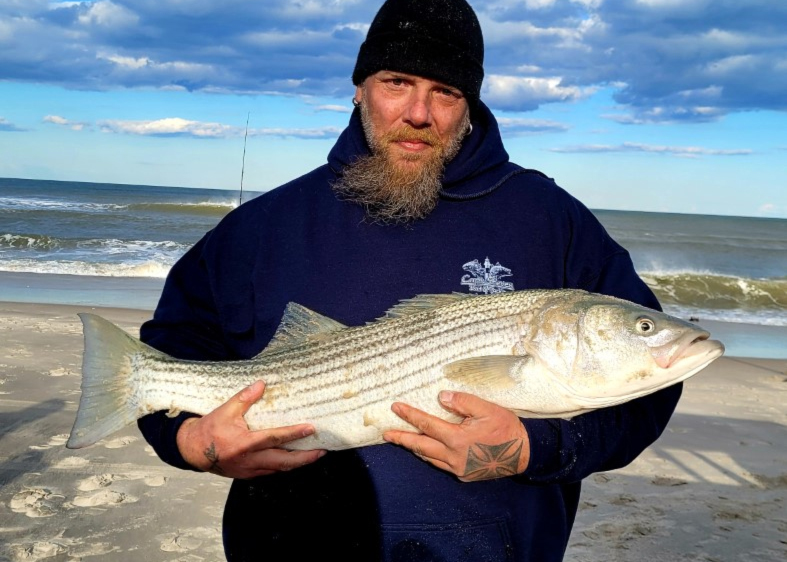 Stripers are being caught on occasion at Indian River and with regularity at the bridges in OC, but keeper sized fish are an anomaly. We did get a report of the first big rockfish in the surf from Dave of Shark Whisperers this week, when he landed and released a 37-incher. On the same trip he also caught a gator bluefish two inches longer.
Thanks to the breeze, we don't have much to report from outside the inlet. Tog should be biting up and down the coast, if you can get out and get after 'em. Off the VA shore drum are now firmly established on the shoals at the mouth of the Bay, with anglers catching mostly reds with a few blacks mixed in on peeler crab baits. The biggest challenge to catching them, once again, has mostly finding a good weather day to try, and several anglers we spoke with recently said they had to cancel their plans to fish thanks to the breeze.
---
Coastal Mid-Atlantic Fishing Report, April 15 Update:
Around the OC inlet and bridge and in Indian River there have been some tautog on the rocks and stripers around the pilings, although most tog and all rock are undersized. Better action is on the wrecks, where larger tautog are getting reeled in on those occasions when the wind allows boats to get out. Flounder have had an especially good start to the season, with some doormat catches reported in the ESVA coastal bays already. Positive reports from Sea Hawk included from Quimby up to Chincoteague. The bite has picked up in OC as well with catches of up to three or four keepers in an outing now a regular event; Gulp! on Fluke Killers has been making it happen. No word of any flounder from Indian River as of yet but they should pop up at any time, and meanwhile a few shad have been caught from the inlet.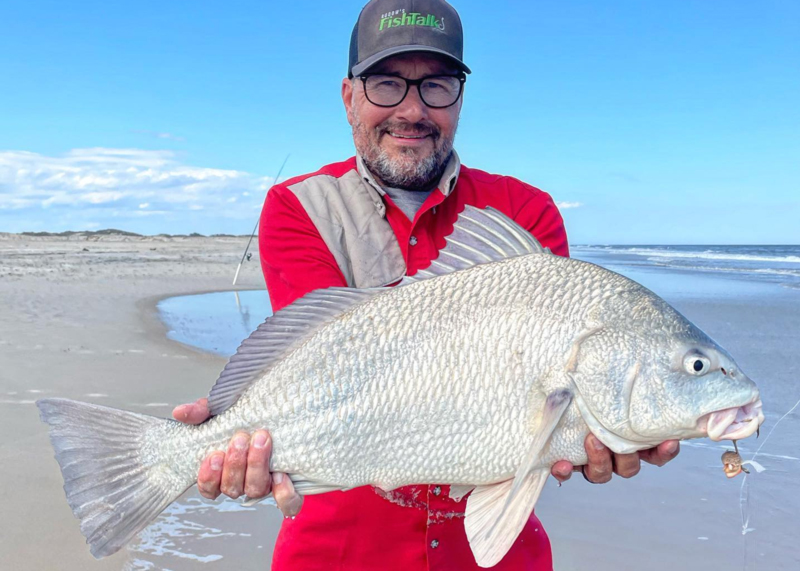 There's been a good bit of activity surf fishing recently, and the AIC reports that a day of casting sand fleas dressed with a Fishbites flea-flavored strip produced two black drum, hordes of skates, and a monster dogfish in the suds of Assateague. Contributor Eric Packard caught both (mid-20-inch) drum while Rudow proved to be the skate-master and FishTalk Production Manager Zach Ditmars cranked up the shark. The fleas out-fished clam and mullet baits but Rudow notes that on a high tide the sand fleas were tough to find and it took a lot of digging to load up a bucket of bait; on low tide they were easily accessible. Dave Moore of Shark Whisperers verified the effectiveness of fleas, after hitting the beach late in the week during the nice weather and encountering one black drum after the next including a chart-topping 50-incher, also on Assateague.
---
Coastal Mid-Atlantic Fishing Report, April 7 Update:
During brief brakes between breezes, there's been some new—and very cool—action to report this week! In the coastal bays from Ocean City south the flounder bite is now a thing, and while it's still on the early side for racking up numbers, several readers armed with Gulp! and jigs have had two to three fish land in the box. Sea Hawk Sports Center let us know that anglers are doing well on the seaside for flounder in their area on the seaside. Generally speaking, the farther south the better the catches thus far. The same goes for the other big news of the week: drum, both blacks and reds. Blacks have begun popping up on the beach with regularity on clam and sand fleas, again with the best bites in the southerly sections of our range and catches of up to three at a time reported. (If you haven't tried it before this is a total blast and we filmed a how-to video on it last season: How to Catch Black Drum While Surf Fishing). And both black drum and bull reds have popped up on the shoals at the mouth of the Chesapeake, hitting clam and crab baits.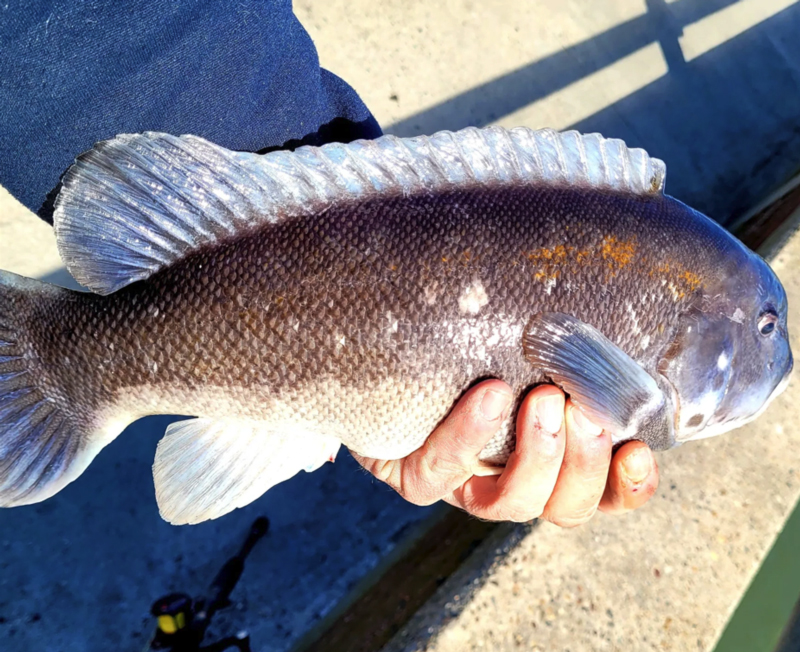 We wish we could share some intel on the tog bite outside the inlet, but thanks to the recent winds we haven't been able to confirm a thing. That said, small tog are being caught at the inlet and around rocky structure in Ocean City and Indian River, and Dave Moore of Shark Whisperers noted catching a handful of just-shorts in OC on one trip, then shorts plus one keeper on another. Sand fleas and green crab are both effective. There's also more talk of stripers hitting around the northern inlets and their nearby bridges, but nothing even close to the 28-inch mark.
---
Coastal Mid-Atlantic Fishing Report, April 1 Update:
It's a thin report for the coast this week, and we're blaming the (pretty dang awful, rotten, no good) stretch of weather we've had recently. No new tog reports came in from the inlets or inshore wrecks this week and flounder catches have been very, very scarce (just one this week that we can report) in the coastal bays. That's down from last week, but almost certainly due to the foul weather we had this week as much as anything else. We're hopeful that increasing frequency as the weather warms up and the wind takes a break will bring good news for the season.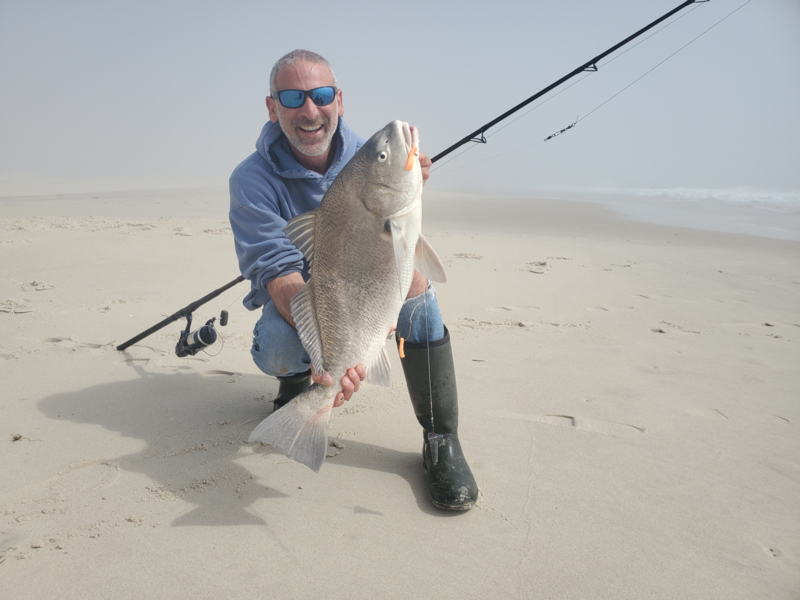 The first report of a black drum came in last week off one of the ESVA barrier islands, Sea Hawk Sports Center also verified a black drum being caught last week (that one in the surf), and this week we received rumor of one unconfirmed catch. If the weather hadn't been so lousy recently we're guessing that number would have been a lot higher, and if it will stabilize and warm up for a few days, we'd expect this bite to take off. Clam, sand fleas, and crab, people.