Coastal Mid-Atlantic Fishing Report, December 30 Update:
Strong winds and an arctic blast made fishing difficult last week throughout most of the region. Along with tough conditions, there aren't a ton of fishing opportunities this time of year along our coast, but dedicated anglers can still find fish. Captain Monty of the Morning Star has been getting out after the tautog since the close of sea bass season. During a trip out this past week to Two Tanks Reef, they found a decent pick at the tautog for most of the day. The crew on the boat only kept seven fish but Captain Monty says they could have nearly limited out. Almost 40 fish were caught and released that were keeper status. While out fishing they saw some nice schools of striped bass on one of the hills. The school was thick with big ocean run rockfish. On their way back from the fishing grounds, the boat came across three humpback whales that provided some great opportunities for pictures. Captain Cook of First Light Charters out of Delaware reports much the same, saying that the days they can get out are limited, but when they do the tautog are biting and he got them up to 10 pounds last week. The extended forecast looks like there will be plenty of great fishing days coming up so anglers looking to bend a rod should take advantage of the weather and good toggin.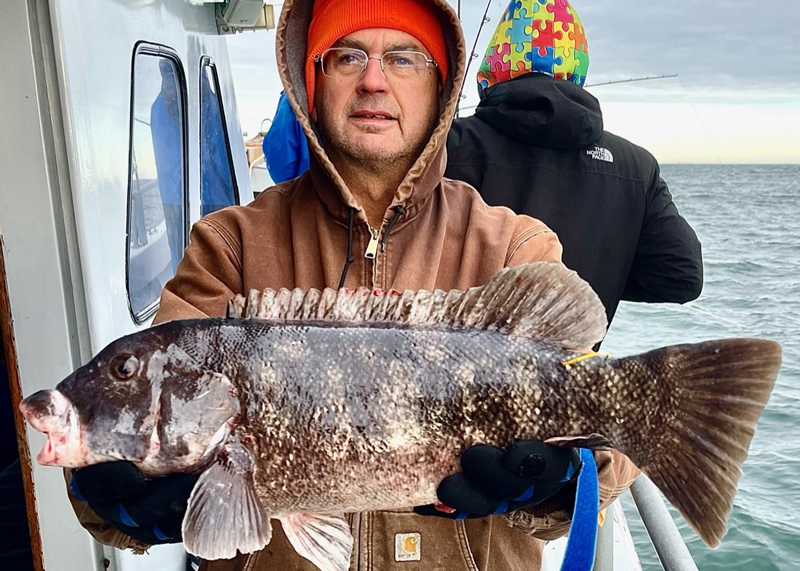 We received some reports of boats finding the schools of big ocean run rockfish within three miles of the beach but their exact whereabouts were not shared. Most anglers are jigging for these fish using heavy jigheads and large soft plastic baits. Some days their location is given away by bird action but on most days, it will take motoring around while keeping a close eye on the depth finder. The schools of rockfish off the coast are holding fish from the upper 20s to near 50 inches. It's important to remember that striped bass may not be caught, harassed or possessed in the Exclusive Economic Zone, which stretches from three to 200 miles off the coast.
It has been a great year of fishing with lots of cherished memories made along the way. As we enter the new year let's hope 2023 brings plenty of catches, new PBs, and exciting adventures.
---
Coastal Mid-Atlantic Fishing Report, December 23 Update:
Winter has officially started with the passing of the solstice this Wednesday and it looks like old man winter isn't wasting any time bringing on the season as our region is expected to get a blast of arctic air starting Friday and continuing into the weekend. Strong winds and bitter temperatures will make fishing difficult, but the good news is once conditions improve, there are still fish around to be caught.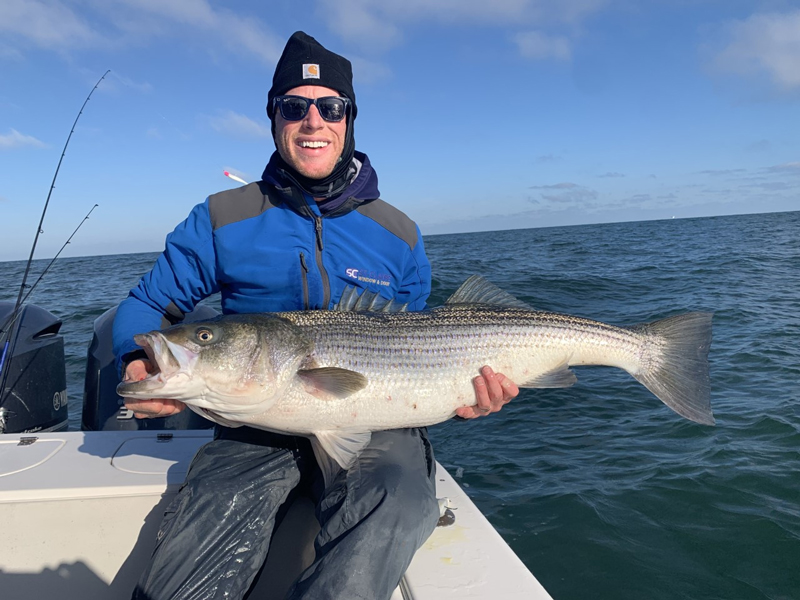 The OC Fishing Center reports that anglers heading out into the ocean are having success with the large rockfish. We didn't hear if the large schools of fish have pushed south of the Delaware Bay yet, but hopefully they do soon. Surf anglers looking to catch one of the giant rockfish will have the best luck by throwing out large chunks of fresh cut menhaden. The slot size for rockfish in coastal waters is 28 to 35 inches so if you hook into one outside the slot, make sure to handle it with care. The Fishing Center also reports that the route 50 and 90 bridges are still producing some schoolie sized rockfish. Night fishing has been more productive as the bridge lights attract the fish.
Sea Bass fishing was excellent throughout this fall and although that season has closed, the wrecks and reefs have plenty of tautog for anglers to try their hand at. Captain Monty of the Morning Star took a trip out for the tautog to the nearshore tog hangs, many of which he helped build. The wind started out at 16 knots but eventually laid down and made for good fishing conditions. He reported excellent fishing and said they could have easily had a boat limit. They caught and released over 40 keeper sized fish and tagged and fin-marked many more. The big tautog are out deeper but a smaller class of fish with some keepers in the mix can be caught at the Inlets along the coast. Structure like rock jetties, bridges, and pilons with deeper water may have some fish hanging around. Dropping down sand fleas or pieces of green crab will usually get the tautogs to bite, but make sure to bring plenty of bait as they are quite good at picking the hook.
Santa is coming to town this weekend so let's hope for lots of new fishing gear under the tree to try out in the new year. Merry Christmas and happy holidays from all of us at FishTalk Magazine!
---
Coastal Mid-Atlantic Fishing Report, December 16 Update:
The weather has been cold this week but there are still plenty of opportunities to get out and bend a rod. Multiple reader reports came in this week of solid action on 40-plus-inch rockfish off the coast. The big schools have still mostly been in northern areas off Delaware and the Delaware Bay but at least a couple of boats found them knocking on Ocean City's doorstep, north of the inlet but not by much. Jiggers have had success with eight-inch and larger plastics on one- to two-ounce heads, trollers report success towing tandem rigs dressed with large plastic shads, and white has been a hot color. None of the readers checking in specified distance off the beach. Check out Trolling for Oceanic Winter Stripers for tackle and tactics info on this fishery.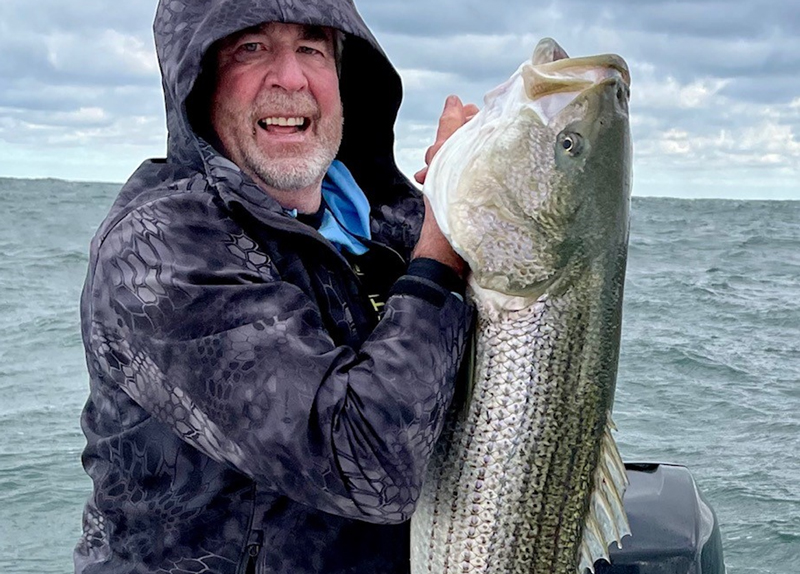 The OC Fishing Center reports that at the inlet, tautog are hanging around the jetties, bridge pilings, and other structure. Anglers targeting them are reporting that more than half of the tautog are below the 16-inch minimum but that there are some keeper fish mixed in. We did receive some verified reports of a few keepers caught at the third street pier. Sand fleas are the preferred bait and the creel limit is four per day. Now that as black sea bass season is closed in both MD and VA, most of the boats heading to the reef and wreck sites will be focused on tautog. The Fishing Center says that many boats are doing well with some double digit sized fished coming over the gunwales. Dropping down sand fleas or pieces of green crab will usually get the tautogs to bite, but make sure to bring plenty of bait as they are quite good at picking the hook.
At the beaches some surf anglers are still soaking baits despite the cold weather, mostly throwing out chunks of menhaden in the hopes of catching one of the big rockfish migrating down the coast. The slot for coastal waters is between 28 and 35 inches so make sure to handle the big ones with care as they must be released and are the future of our beloved rockfish fishery.
---
Coastal Mid-Atlantic Fishing Report, December 9 Update:
Fishing for seabass and tautog at the offshore wreck and reef sites continues to be excellent as we close in on the end of the season. Capt. Monty on the Morning Star reports limit catches this week, so if you can get out to the inshore wrecks and reefs to enjoy this final weekend of sea bass fishing off the coast of Ocean City, don't hesitate. A handful of bluefish were also in the mix. Same goes for Virginia anglers, and a reader reports that flounder and bluefish are in the mix off Virginia Beach as well. Sea bass season will close on December 11th for our region's waters.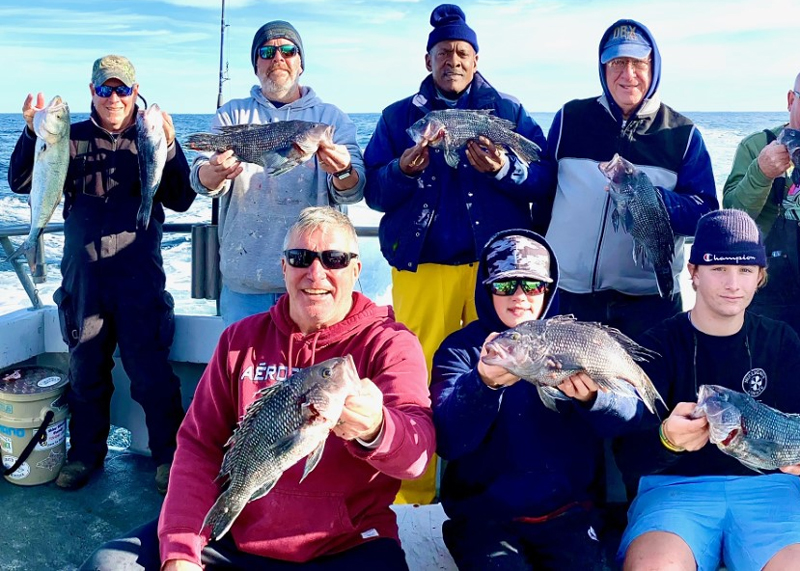 Surf anglers are patiently awaiting a bigger push of large migratory rockfish down our coastlines. Some of the big ocean-run rockfish have made their way down the coast and have arrived in Delaware waters. Large chunks of menhaden are the preferred bait for the big rock. We had one report of success on multiple fish in the 40-plus-inch range from a boat out of Indian River, though no specific spot nor distance from the beach was stipulated. Remember, stripers have to be within three miles of the coast to legally target them.
There are a few reports of some big rockfish being caught off of the Maryland and Virginia beaches but it seems as though anglers are dealing with a lot of pesky clear-nose skates. At the inlet and Route 50 Bridge, anglers are catching rockfish while casting soft plastics on jigs but most of the fish are below the 28-inch minimum. There are still a few tautog being caught near the jetty rocks and bulkheads on sand fleas but a lot of these fish are undersized. Let's hope we see some more ocean-run rockfish move into our area as that can be a very exciting fishery.
---
Coastal Mid-Atlantic Fishing Report, December 1 Update:
Coastal fishing is slowing down and windy days have limited access, but anglers willing to brave the elements can find some decent bites this week. Fishing the Ocean City inlet and route 50 Bridge area, there are striped bass being caught by those throwing soft plastic jigs and bucktails. Most of these fish are schoolie sized and fall below the 28-inch minimum. Tautog are being found near structure like bridge pilings, jetty rocks, and bulkheads. Sand fleas or crab baits will get the tautog biting but make sure to bring plenty of bait because they are awfully good at picking them off without getting hooked.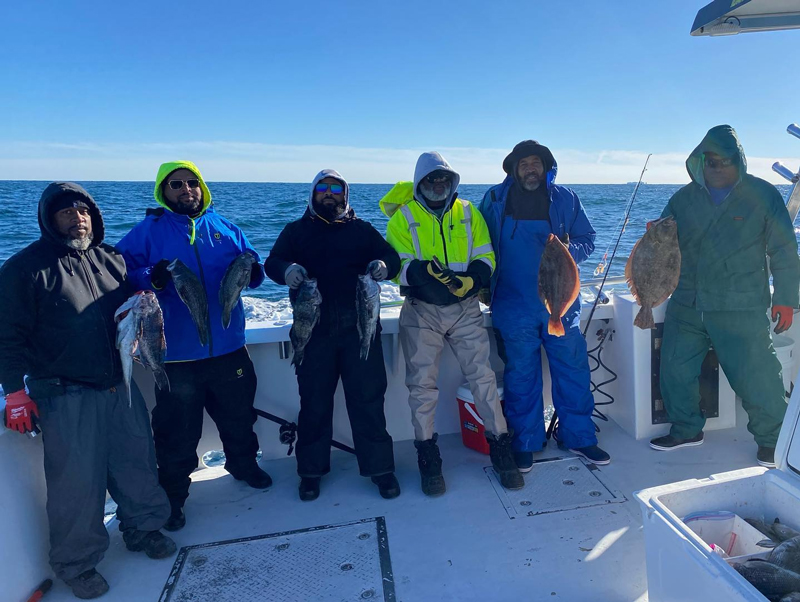 Fishing for Virginia sea bass continues to be great at the reef and wreck sites (and should be off Maryland and Delaware as well, though we weren't able to nail down any verifiable intel from these zones this week) with some citation sized fish being reported. Wreck Dawg Sport Fishing, out of Virginia Beach, reported a six-man limit of sea bass with two citation sized fish during a recent trip this past week. Now that's an epic day on the water. They have been getting on an excellent sea bass bite with limit catches common this time of year. Sea bass season closes on December 11th for Maryland and Virginia so there's less than two weeks until it closes. These fish are excellent table fare and filling a cooler with them should give you enough fillets to last well into the winter. Get Anet Sportfishing had an awesome day in the deep blue this past week. On a trip out jigging, they found thick schools of big oceanic bluefish and reported barely being able to get any seabass past them. Most of their bluefish were in the 33- to-35-inch range but they did get a few up to 38 inches. The biggest fish weighed around 17 pounds on their boat scale. During their trip they were able to boat a few seabass but the bluefish kept their lines tight for the most part. The big blues are fun to catch and not many anglers would complain about that bite!