Coastal Fishing Report, May 27 Update:
It's tough to resist heading to the inlets and back bays along the coast to score some flounder right now. This season's bite has been wicked good, and reports this week continued to indicate a thriving bite. Anglers fishing for them are drifting squid strips or bouncing soft plastics off the bottom, mostly catching flatfish in the mid-size range. Wachapreague and Chincoteague remain hot zones, with readers checking in from those areas after catching two to five keeper-sized fish per day. Bluefish are a recent addition, having moved into the inlets and are providing some fast paced, shredding action for those casting bucktails or soft plastics. The OC Fishing Center mentioned that stripers are also around and biting near the bridges in OC.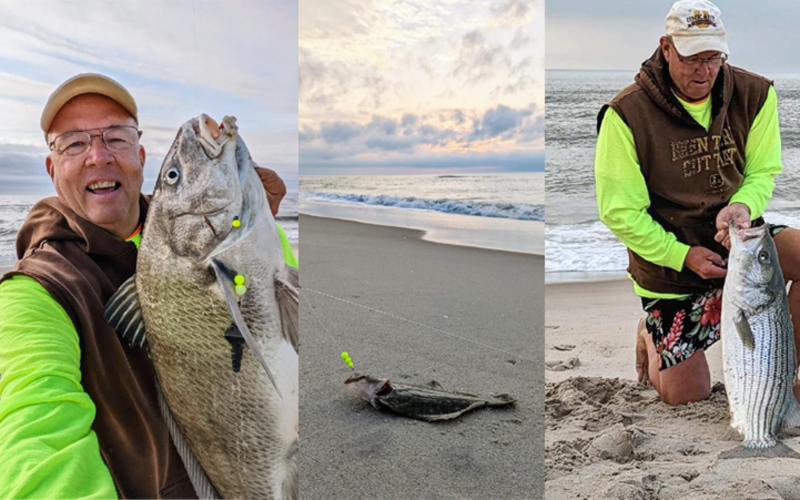 When the weather finally began to cooperate again early this week Coastal Correspondent John Unkart hit the beach at Assateague, and reported a diverse and rather stellar surf fishing bite. Monday morning by 8:00 a.m. he had a 42-inch rockfish, a 26" black drum, croaker, and a flounder stacked on the beach. Later in the week he reported more kings and blues, plus a striper "too big to keep" that pulled the hook right in the wash and swam away, evidently a little picture-shy. The Fishing Center reported that while the drum bite has slowed, a good variety of species are still around. And Dave Moore of Shark Whisperers checked in to report days this week with multiple stripers including several in the 40-plus-inch range, some blues, one black drum, and a pair of bull redfish both topping that 40-inch mark.
Outside the inlets, the sea bass bite continues to vary between awesome and pretty dang good up and down the coast. Captain Monty on the Morning Star out of OC is reporting numerous limits along the rails though not full boat limits all the time, while multiple Virginia Beach readers are reporting full limit coolers. Anglers in that zone are also beginning to report that the spring species mix continued to expand this week with cutlassfish re-entering Virginia's inshore waters in solid numbers and a few Spanish mackerel also beginning to show up.
Coastal Fishing Report, May 19 Update:
RED ALERT: The first tunas of the season out of OCMD fell to the gaff this week! The Take 'Em was reportedly trolling southeast of the Poor Mans when they laid into the yellowfin and then capped it off with a bluefin. Congrats, Take 'Em!
Sea bass are open once again, drawing anglers from inland and exciting coastal anglers who love fishing for them! Captain Monty reports a great start to the season with limit catches on the rails of the Morning Star, running out of Ocean City. Ocean's East reported that in Virginian waters the opening of sea bass has been just as absolutely wonderful, with excellent catches coming in from the inshore and offshore wrecks. They also reported that boats headed out for them did wonderfully dropping down squid and flat-fall jigs. Throughout our region, the sea bass opening sounds to have been exactly what we all wish for.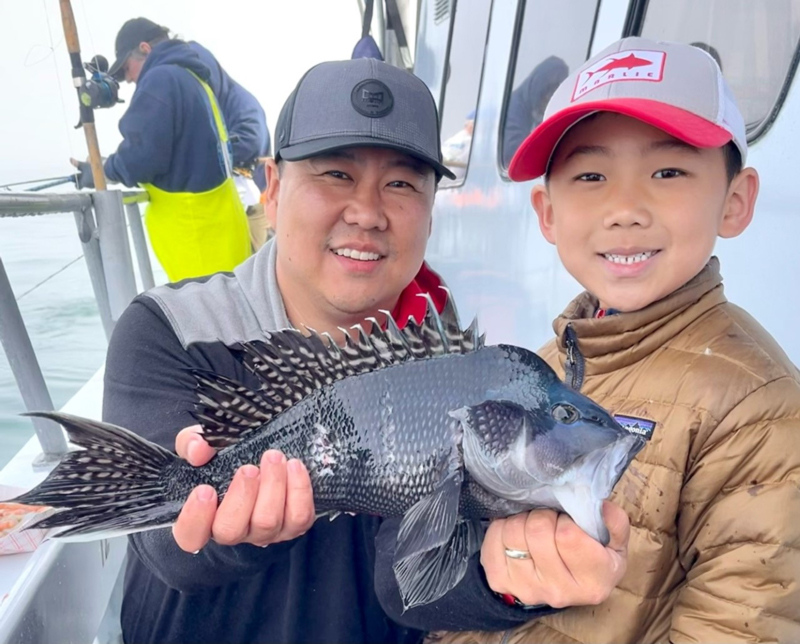 Fishing in the VA inlets is in favor for a variety of species right now, including a healthy mix of speckled trout, puppy drum, and flounder. They've been steadily gaining steam and drawing many anglers attention for their high-action bites and fun fishery. Rudee and Lynnhaven are holding good numbers of both species, drawing anglers sporting an array of Z-Man's and Bass Assassins. Reports indicate that colors wasn't of much concern this week for the specks, but that they were favoring paddle tails. Flounder are drawing many anglers to the OC inlet as well, and in both they're happy to be biting squid strips drifted or jigs bounced along the bottom. Down the beach a bit the VA seaside bays have an even better flatfish bite, and as of this week the spring run showed zero signs of abating with anglers reporting two to four fish in their coolers, on average.
Anglers who fished the surf this week were keen on finding striped bass, and a few were able to pull big ones through the foam. Using cut baits such as menhaden was popular, although anglers are contending with skates and dogfish. Those who hoped to find some bluefish in the surf this week were putting up with the same: although some are being caught, anglers are again contending with prolific bait-stealers. Dave Moore of Shark Whisperers noted that after that long stretch of uber-rough weather, when the surf settled out the fish were indeed hungry and he and his anglers found cut menhaden, peeler crab, and fleas were all effective on the rock and blues off Assateague. Surf reports of black drum continue but are growing sparse. Facebook may tell the tale of abundance, but this week we heard quite a few more tales of strike outs for drum than winning days, and Dave noted that while he "lost count of how many fish" they caught only one drum was in the mix.
---
Coastal Fishing Report, May 13 Update:
Along the beaches, the rough conditions last week have taken a toll. The Oversand Vehicle (OSV) area on Assateague in Maryland has been temporarily shut down due to scouring and the loss of OSV boundary markers. The stormy weather last weekend followed by days of high winds did some serious damage, and according to an announcement made via the Assateague Island National Seashore Facebook page, the area will remain closed at least up to tomorrow (Saturday the 14th), and may continue for longer depending on what crews find when they can get out onto the beach and attempt repairs. As we prepared this report Coastal Correspondent John Unkart had hit the beach north of the OSV and event there found much of the beach missing. He also reported very dirty water in the surf and just one bite as of yet which produced a shark.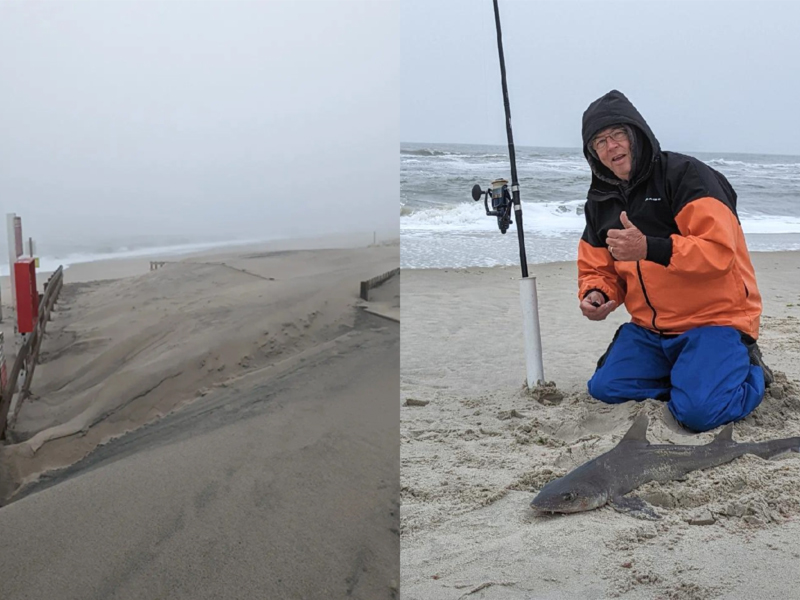 We're afraid we can't add much beyond that — thanks to all the wind and bad weather there hasn't been much fishing taking place recently. We heard from one boatful of readers who braved Wachapreague during the winds and reported dirty water, poor conditions, and a lone keeper flounder to show for a full day's efforts. Readers also report dirty water in OC. Remember that tog closes up on the 15th, but sea bass come back in up and down the coast.
---
Coastal Fishing Report, May 6 Update:
Flounder fishing is stealing the attention of many anglers fishing the coast, with a great bite going on. Throughout the back-bays flounder have been pounding minnows, squid strips, and soft plastics bounced off bottom along the drift. Sea Hawk Sports Center reports that the flounder bite has been wonderful this season, and there's tons of action to be had. While not every flounder coming in is hefty, anglers are reeling in lots of flounder right now, and it's shaping up to be a great summer for them!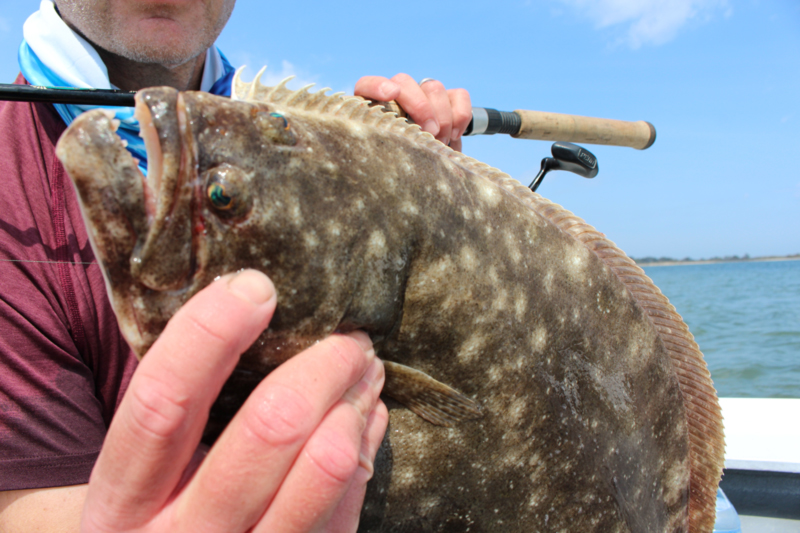 Bluefish have shown up in the surf as well as more stripers in recent days, and anglers have a good shot at getting them. We started getting reports of them in the past few weeks, and they've secured their place in the MD and VA surf recently (with word of just a couple so far off the DE beaches). While they aren't in great numbers, anglers fishing with fresh cut baits are getting some hits. More often, they're battling skates. Black drum have moved out for the most part but Dave Moore of Shark Whisperers reports a few still being caught the past few days. He also notes that the rockfish have been biting in significantly better numbers and during the lull between fronts they were on fire, with fish up to 45-inches caught in the surf.
At the wrecks tautog fishing is providing great action but the weather is preventing a lot of folks from reaching them on many days. Unfortunately, it looks like that trend will continue for the next few days as the forecast ranges from gusty to gales, and the season wraps up on May 15, so the window of opportunity is closing fast.