Coastal Mid-Atlantic Fishing Report, September 24 Update: 
Coastal Correspondent John Unkart spent some final summer sunrises on the beach at Assateague just before this week's blow, and reports that pompano were biting Fishbites, at times spot were thick enough for double-headers, and snapper blues have finally showed up in decent numbers, too. And don't forget that last week some big bull reds were pulled through the surf plus this week we received another reader report of a big bull in the suds. In other words, serious fall action on the beach has begun! Once the roiled waters calm down from all the wind we just had, surf fishing should be an excellent option for the next month to six weeks or so. The Ocean City Fishing Center reported that the inlet is producing some good triggerfish and sheephead action, too. Sandfleas are the preferred bait.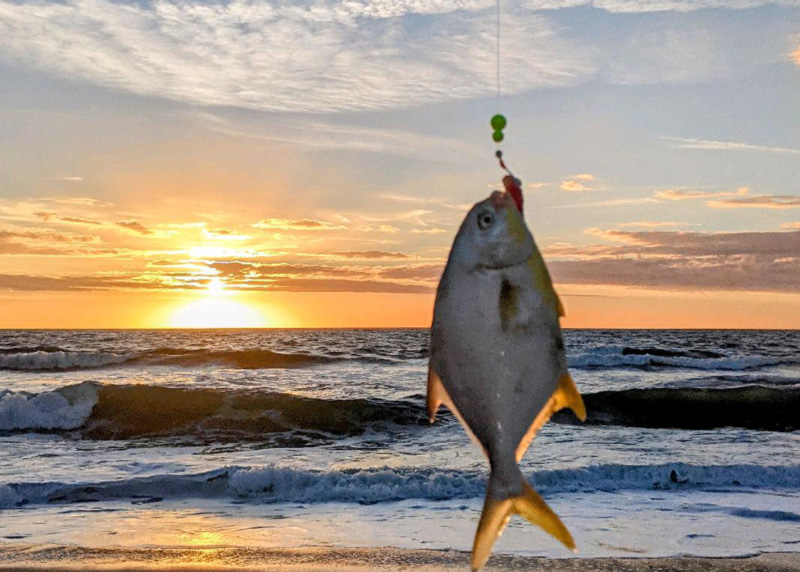 On the wrecks and reefs, Capt. Monty on the Morning Star is reporting decent action on sea bass and some flounder in the mix, as well. Small mahi were still sticking around inshore, too, enough that as of last week he was still targeting 'em, though the recent chill in the air means that can't be expected to last too much longer.
Offshore, the canyons are producing white marlin, mahi, yellowfin, and bigeye. Trollers are doing well, and bailing for dolphin has gotten way better than it was throughout June, July, and much of August. The Fishing Center also let us know that tilefish are frequently being carted around the docks.
---
Coastal Mid-Atlantic Fishing Report, September 17 Update: 
Reports from the surf prior to the blow were picking up steam! More pompano are showing up on the beach, and this week we heard of some sparse catches (ones and twos) of the species from the DE beaches, plus solid catches (up to a half-dozen) off Assateague and points south. Dave Moore of Shark Whisperers caught 'em along with kingfish (roundhead) and baby black drum, while tossing Fishbites bloodworm flavor. He also noted that cut baits accounted for three sandbar sharks from six to eight feet while fishing after nightfall. Even more exciting, he encountered several bull reds in the surf—including a 48-inch beast! Sea Hawk Sports Center reported another large bull red caught in the surf off Assateague, as well.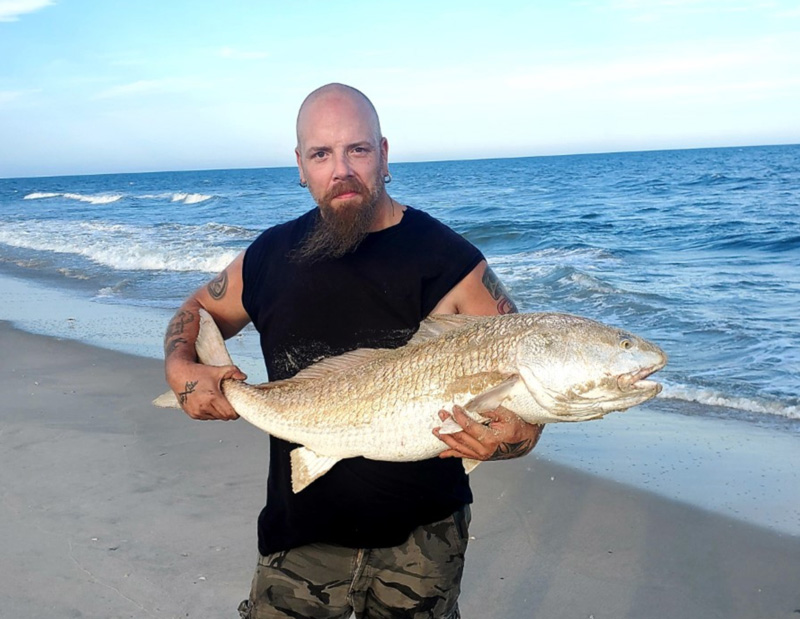 On the inshore wrecks Capt. Monty on the Morning Star reports that the sea bass bite is better some days then others, but there's also a healthy mix of flounder and some peanut dolphin reappeared early this week. The flounder bite is even better off the Virginia coast with some doormats coming in to the tackle shops, and Spanish mackerel and ribbonfish keeping the trollers busy off Sandbridge.
Offshore, fair-weather days are producing solid yellowfin tuna, white and blue marlin, and mahi bites. Yellowfin have been common at the canyons, as have marlin. The Ocean City Fishing Center reported that overall trollers are doing well, and tossing bait chunks at the lobster pots is fruitful for the mahi. Boats from Virginia Beach are reporting a higher percentage of billfish with some very active days prior to the wind setting in, again including a mix of both whites and blues.
---
Coastal Mid-Atlantic Fishing Report, September 10 Update: 
In the surf at Assateague, Coastal Correspondent John Unkart has found a medley of panfish willing to bite with the best action coming at daybreak. The bulk of the action is made up of spot, many eating-sized, with small flounder, pompano, and kingfish also in the mix in recent days. As usual bloodworms and Fishbites bloodworm flavor get the job done. Cut spot produced some snapper blues as well, and he also mentioned that one morning the fish were in so close to the breakers you could "catch them on a bamboo pole."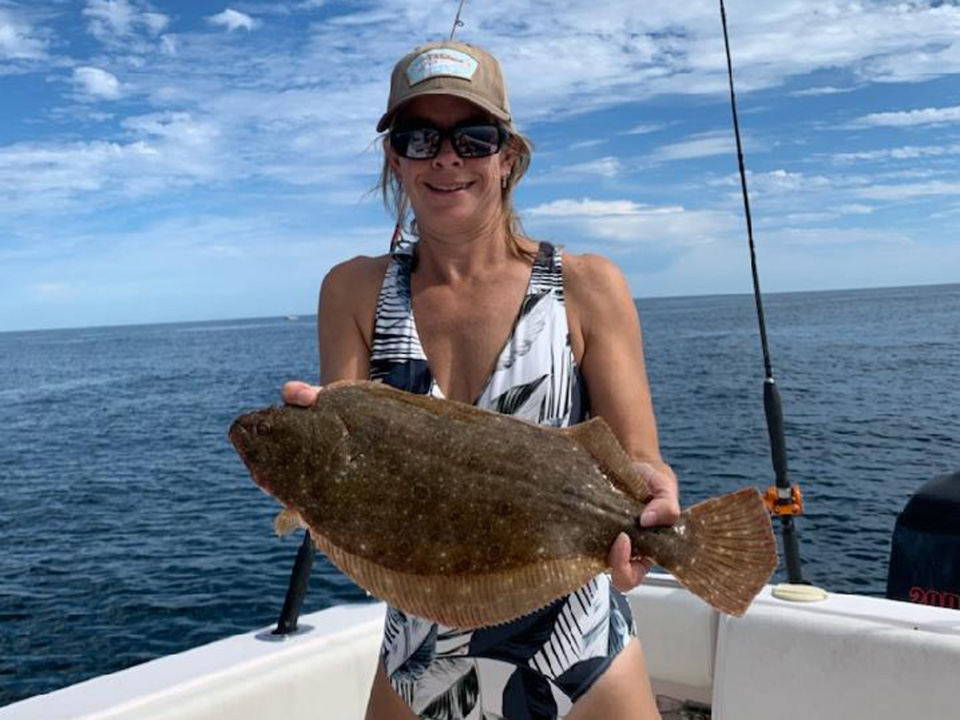 The black seabass bite remains excellent at the wrecks and reefs — the OC Fishing Center reported that boats continue to return with limit catches. Flounder are scattered in with the seabass, and some very large flounder have been landed recently. The back bay of OC is holding flounder as well, although most have been significantly smaller. Virginia Beach boats are loading up on the flounder and bass at wrecks and reefs too, with more flatties than to the north and some anglers reporting limits on that species. Inshore trollers are enjoying a still-solid Spanish mackerel bite on spoons behind planers, with a few cutlassfish in the catch as well.
Offshore, there's an medley of species but hit-or-miss days for plenty of the boats. Small dolphin are holding near the lobster pots for the first time this season, often stacked under them. The OC Fishing Center reported that boats finding them are returning with multiples, but mostly on the smaller side. The inshore mahi bite, meanwhile, seems to be a done deal and we didn't hear of any caught close to home this week. The canyons on the north side of our range are holding scattered yellowfin, and blueline tilefish just inside provide a backup plan. Marlin catches were high this week as well, with multiple blues and whites being reported. However, we also heard from anglers who did find the tunas that being sharked can get problematic and one boat said that after a day-long struggle to get two tunas on the line, one of them was nothing but a head by the time they got it up to the boat.
---
Coastal Mid-Atlantic Fishing Report, September 3 Update: 
Inshore the flounder and black sea bass bite is going strong, from Delaware clear down to Virginia. Captain Cook of First Light Charters is reporting good catches at the Old Grounds off Indian River. Captain Monty on the Morning Star also reports good reef fishing action with more bass than flatfish but nice flounder catches are popping up some days. The OC Fishing Center also mentioned that generally, the sea bass bite has been excellent especially when compared to other offshore fisheries recently. They had multiple boats returning to the docks after satisfying days, also with flounder in tow!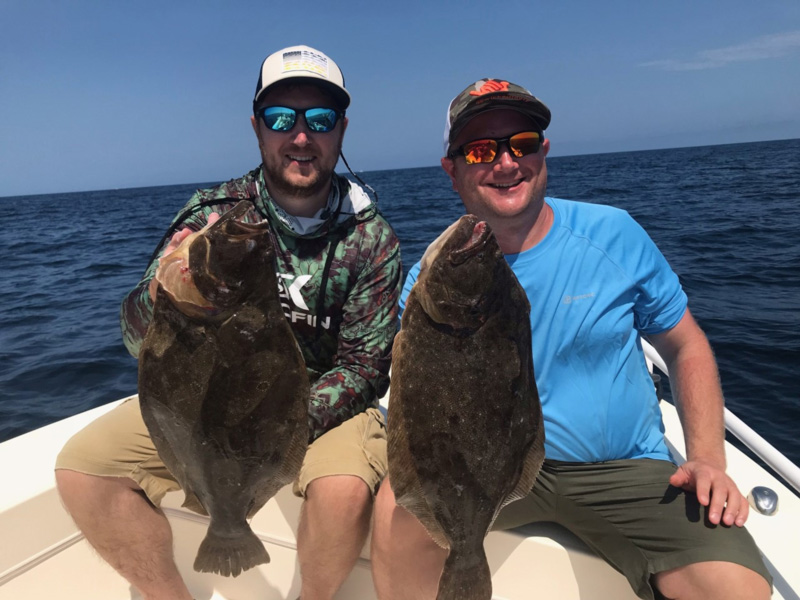 Captain Monty also spent some time chasing inshore mahi with significant success, but as of mid-week he noted that blue water had been replaced by green and the mahi numbers dropped accordingly; if you go looking for them, heading east until you find blue under the boat would be a good move.
Back on the beach, surf fishing sharpie and Coastal Correspondent John Unkart has been plucking eating-sized spot out of the ocean one after another including some mornings when the bite can only be described as red hot, but larger fish have been lacking. Fishbites and bloodworms do the trick. Dave Moore from Shark Whisperers backs this report up and adds that a few pompano and kingfish are in the mix at times, while cut bait is producing some sharks and rays to keep things interesting. He also notes that there are short flounder, striper and undersized tog at the OC jetties. Fishing after the sun sets some nicer stripers (though still under the 28-mark) were hitting a chartreuse Zoom on half-ounce jig heads while kayak trolling. Reports from the Virginia beaches are much the same, with more kingfish (roundhead) and a few croaker biting.
Offshore, the Fishing Center reported the bite was a mixed bag of yellowfin, mahi, and marlin. Yellowfin tuna popped up rather sporadically at the canyons — the Fishing Center let us know that even boats hitting the same general area were flying different flags as they returned. On the plus, chicken dolphin were spotted at the pots occasionally this week. This summer lacked any sort of serious mahi bite, so we were glad to hear they've been popping up off the coast more frequently. Reader reports from the southern zone echoed this intel, including one who hit the Washington before the storm blew up the coast and found that while tunas were MIA they encountered plenty of mahi which were quick to bite, backed up by nice tilefish on the deep drop.