Freshwater Fishing Report, August 27 Update:
DelMarVa freshwater fish are in their typical modes of summer behavior. Bass are keeping close to shore in the mornings, and can be located in structured areas before they move into deeper areas as the sun beats overhead. The morning presents anglers with the best opportunity to get some of that sweet topwater action. Contributor Eric Packard made it out to lakes and ponds a couple of times over the past week, and reports that bass were hitting wacky worms. He also caught 'em on crankbaits, and when those were the lure of choice, some pickerel were hitting as well.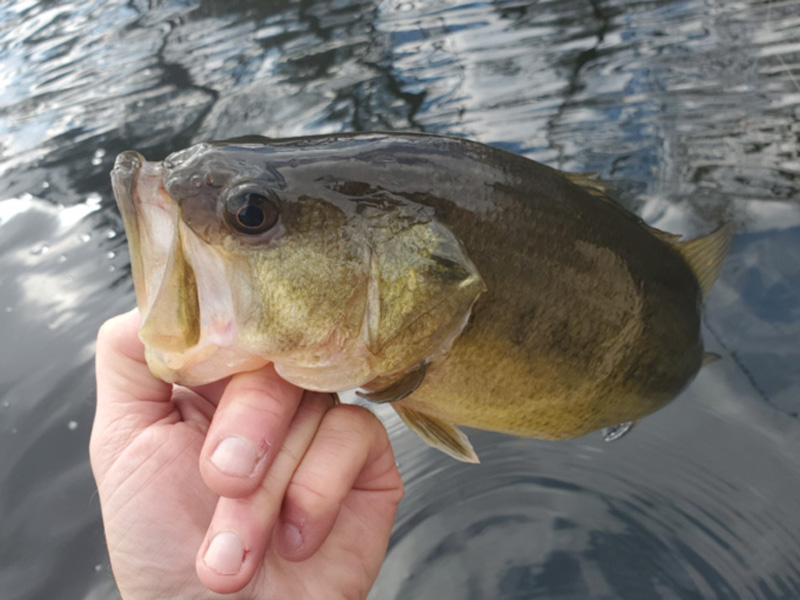 Most streams and brooks across Delmarva are flowing well post-rain this week. Fly fishers have been zinging around nymphs and spotted caddis flies with success. With more rain possibly coming water conditions could vary from locality to locality. This week Maryland stocked 4,500 juvenile rainbow trout in the Youghiogheny catch-and-release area, as well as 265,000 juvenile American shad in the upper Choptank River near Denton, and 40,000 in the upper Tuckahoe Creek below Hillsboro.
Snakehead reports were thin and scattered this week. We heard from a handful of readers on the west side who caught onsies-twosies, but no significant stringers. Frogs were the lure that got hit. From Blackwater we had one reader check in after missing two bites (topwater frogs again) and landing zero fish, and another caught one on a chatterbait. We also spoke with a reader who tried up the Sassafras and missed two hits but didn't put a snake in the box.
---
Freshwater Fishing Report, August 20 Update:
On many of the large regional lakes that double as vacation and angling favorites, anglers are fighting the final late-summer crowds of boaters and their wakes to fish throughout the day. Herb's suggested heading out on the lakes early if you're set on getting a bite. Otherwise, your fishing day might become just a boat ride. Topwater lures, poppers, and buzzbaits cast at dawn and dusk are the ticket to bass in grassy shallows. Hitting local ponds and smaller, less popular lakes may also be a smart move when the crowds are out and about. Loch Raven and the Baltimore area reservoirs all have had good bass bites as well, a great option if you're looking for a less busy area with plenty of fish. Night fishing for bass was also popular when possible this week, and produced some great hits. Catfish were also reported with a great night bite.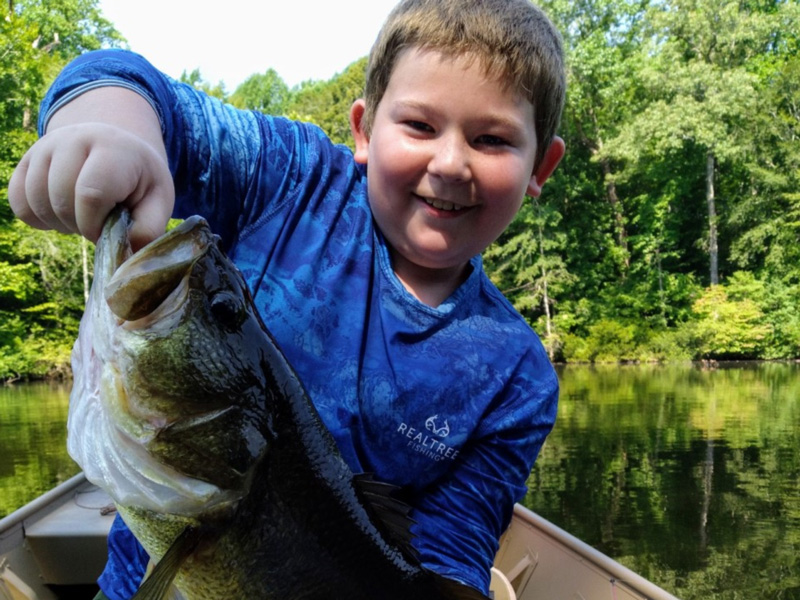 Although river and stream water levels are running somewhat high in some spots after the recent rains throughout DelMarVa and PA, in most areas the water has remained relatively clear and settled and brown trout have been active. Hopefully, that will remain true despite the most recent deluge. Flyfishers have been enjoying a steady bite on nymphs, elk hair caddis, beetles, and wooly buggers. Rain of course did muddy some areas, however, where that's been an issue water clarity has generally been bouncing back relatively quickly.
Angler's mentioned that northern Snakehead fishing has been good during morning and evening throughout the Chesapeake region. Going after them with imitation frogs, poppers, or chatter baits is a solid bet. Average catches we heard about this week were in the three to six fish range, on both east and west sides.
---
Freshwater Fishing Report, August 13 Update:
Freshwater fishing has been good recently, and the return of hot weather doesn't seem to have (yet) deterred the recent uptick in action that the cool-off brought to our rivers, lakes, and streams. Tochterman's let us know that anglers looking for bass in the Baltimore area should head over to Loch Raven, where the fishery is excellent. Bass have been in the shallows throughout the day, hiding from oppressive heat under shade. Even where heavily shaded, however, the fish are often lethargic during daylight hours, and are most prone to biting during dusk and dawn. Topwater lures, crankbaits, and plastic frogs have been great options. Crappie have also been abundant deep around structure and will take small minnows. The same is true at St Mary's Lake, Lake Anna, Bugg's Island, and Deep Creek Lake. At Lake Anna and Deep Creek, heading out early has been essential to dodge boat traffic later in the day, disrupting fishing. Night fishing has also been a good way to avoid crowded waters and a better bite.
Contributor Eric Packard made several forays for snakeheads this week with fair to good action on both western and eastern shores. Blackwater provided the most bites, with a handful of fish ending up on the stringer and a number of pulled hooks and missed bites especially on frogs. Largemouth bass were also in the mix on the west side.
Flyfishers ISO trout are enjoying some bites on nymphs, elk hair caddis, beetles, and wooly buggers. Brown trout have been active, and most river's waters are holding at steady levels with clear conditions. Rain earlier this week muddied some areas, however, the storms have been localized and water clarity quickly returns to normal in affected areas with higher levels giving the trout fishing a boost. Mossy Creek is reporting an improving outlook with the rain but notes that as of mid-week many waterways in western VA were still running low.
---
Freshwater Fishing Report, August 6 Update:
The recent cool off seems to have been a trigger for the bass, or maybe for bass anglers. Contributor Eric Packard made ventures both inland (St. Mary's Lake) and the tribs (the upper Patuxent) this week, and found them quick to hit white spinnerbaits. He also encountered an uptick in the pickerel action. The Tackle Box confirmed that the bass bite at St. Mary's is hot, and added that panfish have been in the mix near the spillway and stumps, hitting shad darts and other small baits tipped with FishBites or shrimp. Readers sent in additional intel of largemouth bass plus a few stripers hitting this week at Lake Anna on white and chartreuse jigging spoons, and bass at Loch Raven on deep diving crankbaits.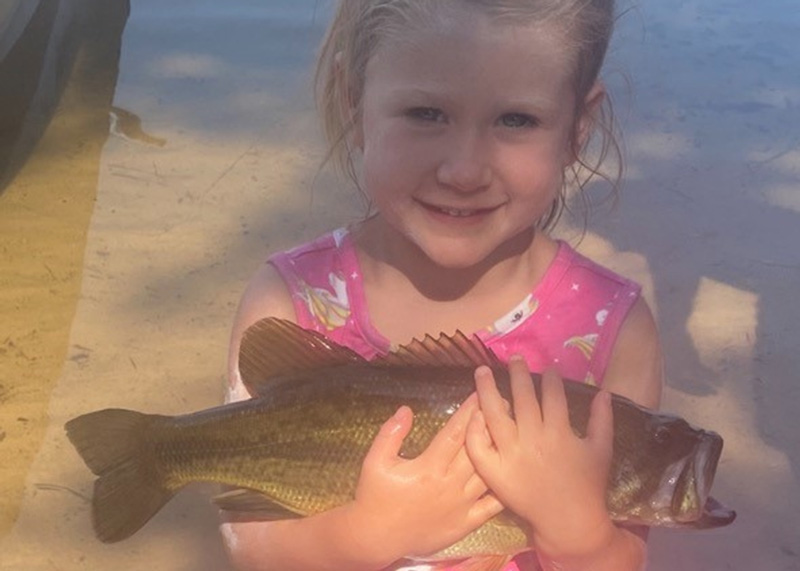 Snakehead are active as well — Clyde's reported that anglers hitting the tribs and creeks of the Bay are picking up snakes in shallow areas and near shorelines. Plastic frogs and crankbaits are the favorites. Reports from Blackwater consisted of relatively limited catches but some big fish being reported with one angler noting that all three he caught in a day were upwards of 25 inches.
The western rivers are in the usual summer doldrums with low water and clear conditions making trout wary, though terrestrials are generating some bites for those working at it. On the bright side, Mossy Creek is reporting a good smallmouth bite and points out that the fish are being found in the shade. Catfish anglers don't mind the situation and we had readers who hit the James, the Potomac, and the Susquehanna check in after successful forays targeting channels and holes. Pretty much any of the tribs offer good action but raising salinity levels have pushed many of the fish up to mid- and up-river areas compared to where they were being found earlier this summer. Night fishing for them has also been proving a good move. One angler hitting the Potomac noted that his action was best from Indian Head up.