Freshwater Fishing Report, July 30 Update:
Snakes are as unpredictable these days as the thunderstorms — they can be hot, or not. FishTalk team member Zach Ditmars, contributor Eric Packard, and some friends hit Blackwater late this week and caught some very nice specimens, but not huge numbers with just one to three fish per angler. That said, we've also heard of better action at Blackwater from readers, and on the west side from the creeks off the Potomac, Rappahannock, and Havre de Grace. However, we also heard from some readers who zeroed out. Contributor Eric Packard spent some time on a creek of the Potomac this week, too, and had another not-so-hot day. Spinnerbaits, chatterbaits, and topwater frogs accounted for most of the catching.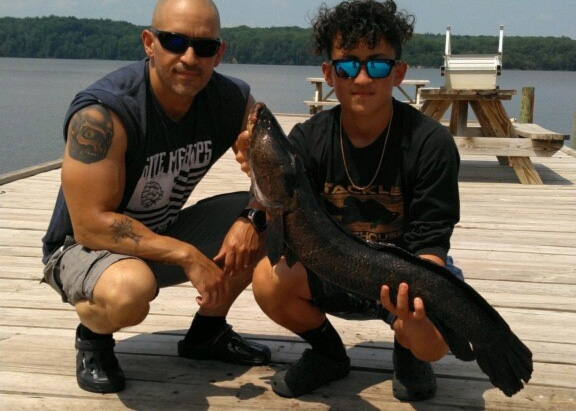 Anglers hitting the reservoirs report slow action mid-day, with sunrise and sunset proving the best fishing times by far. This is particularly true in the popular vacation zones like Lake Anna and Deep Creek, where boat traffic adds to the lethargy of the midday bite. Contributor Eric Packard visited St. Mary's Lake and found that Ned rigs and drop-shots fished along drop-offs were the way to get bass biting. The folks at Angler's Sport Center noted that going way up the tribs it's possible to find some cooler water and bass that are happy to bite.
Catfish anglers are now finding that even these uber-willing critters are biting slower in the heat, and many have made the shift to night fishing. We heard from one reader fishing Bug's Island and another up the James that the night bite was the right bite, and chunks of gizzard shad or chicken livers did the trick.
---
Freshwater Fishing Report, July 22 Update:
Snakeheads have been putting on a show for anglers tossing topwater plus subsurface baits like flukes, paddle-tails, and chatterbaits. Although the most reader reports came from Blackwater this week we suspect that's mostly because of the number of anglers heading that way, and we also heard from several readers who had success in western shore rivers. In all cases, anglers noted a good topwater bite early but a bit of a lull once the sun became high, with the subsurface lures then picking up in productivity.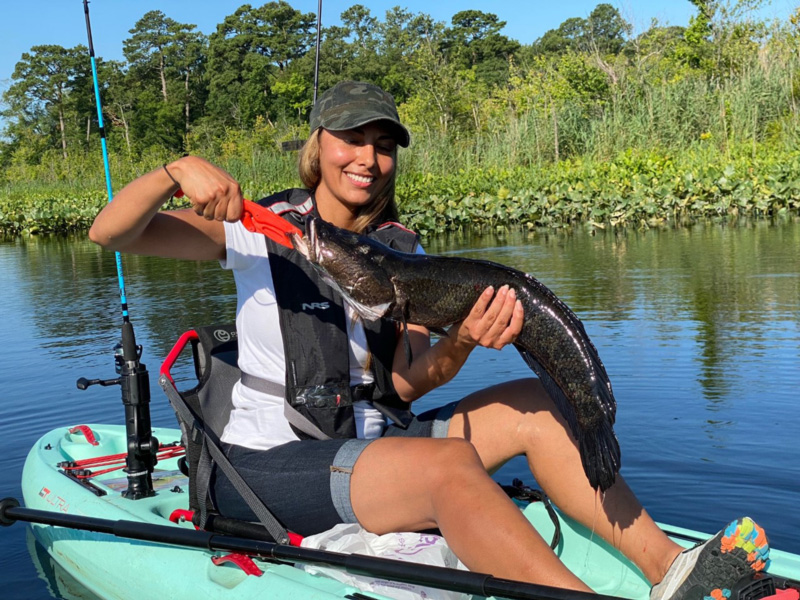 Early morning bass fishing efforts with plastics has been effective with occasional four- to five-pound class fish, especially on cloudy days or just prior to a front. Additionally, fly-rod action on big bluegills remains consistent with #10 spider and similar terrestrial patterns as the top choices. Evening appears to be the best time to cash in on insect-feeding bluegills and don't be surprised if a quality largemouth bass takes a popping bug or a foam spider.  
At Deep Creek Lake walleye have been in deep holes, while large and smallmouth bass are in their typical summer behavior patterns, keeping to shallows and hitting little spinner baits and soft plastics up top at daybreak then scurrying for cover once the sun is high in the sky and the many boaters come out to play. It's been tough to score fish on any of the fun-fun boating lakes and the same goes for much of Lake Anna, due to chop and traffic as the watersports people come out. If you're headed to any of the popular boating lakes and hoping to fish, try to get there early as possible to beat the heat and pleasure boaters.  
Bass have been active in the majority of Baltimore reservoirs and lakes, sticking to this same behavior pattern of feeding shallow at daybreak then shifting deeper as the sun rises.  
---
Freshwater Fishing Report, July 16 Update:
With oppressive heat bearing down on the region, depth has become the name of the game. There's been a bit of a slow-down in the area reservoirs for anglers who aren't shifting away from the shallows once the sun has cracked the horizon. (Though there is still a dawn bite on topwater, for early risers). Whether you're targeting bass, crappie, or perch, all the fish are looking for cooler pockets where there's structure in the depths. Species that enjoy cool but shallow water, like pickerel, are getting tougher to catch but The Tackle Box notes that anglers hitting St. Mary's Lake are still getting into some as they catch bass, crappie, and bluegill. Underwater points, standing or submerged timber in deep water, and deep bridge pilings are all go-to spots to try no matter which reservoir you're fishing. Loch Raven's bass bite was better than most last week — if you're looking for a solid spot to try in the northern areas of our region, this is a good one to target.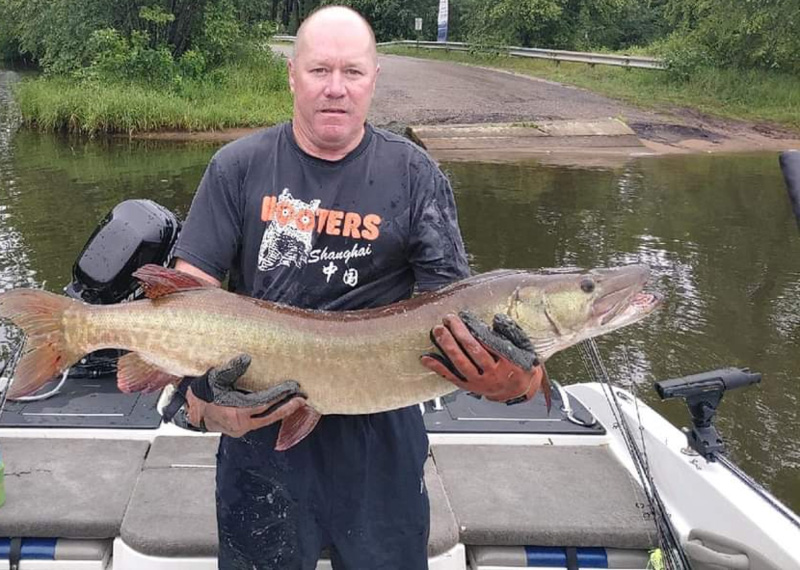 In area rivers for the most part it was a relatively calm week and conditions are decent. If you hit one area and find discolored water, moving on and checking out another is a smart move because some of the more localized storms have been affecting relatively small areas. Mossy Creek is reporting good smallmouth action out west plus some largemouths, and are recommending sub-surface crayfish/baitfish patterns early and topwater once the fish get active and you see them jumping.
The snakes are hitting — contributor Eric Packard paid a visit to the Little Blackwater and went home with six to cook up for dinner. He noted that oddly, topwater wasn't attracting much attention and white flukes rigged weedless and fished sub-surface was what got the snakehead's interest.
Far up the tribs bass and panfish are biting for anglers casting to protected areas. Sea Hawk reports that he heat is driving panfish towards structure and into deeper holes with cooler bottom water, where available, but says there's still good fishing in area rivers like the Pocomoke. If you're headed after them this week, try looking for pockets of cooler water if the shorelines aren't panning out.
---
Freshwater Fishing Report, July 9 Update:
Snakehead reports continue to be strong throughout the region, with readers checking in to let us know about many multiple-fish days and blow-ups galore. From all corners, frogs and mice are reported to be top offerings, and several anglers noted that the fish are often found in very thick, heavy cover right now where few other options are fishable anyway. The downside is that these tend to have a lot of missed strikes, but remember folks, you'll enjoy more solid hook-sets if you drop the tip down on the strike and give the fish a second to engulf your offering before setting the hook. Areas that earned mentions this week included the Wilmot area of the Rappahannock, Potomac Creek, the Magothy, Marley Creek, Havre de Grace, and of course Blackwater. We also heard from anglers hitting Mattawoman and Mallows that the bass bite was better and those pesky largemouth(!) were harassing their snake-baits.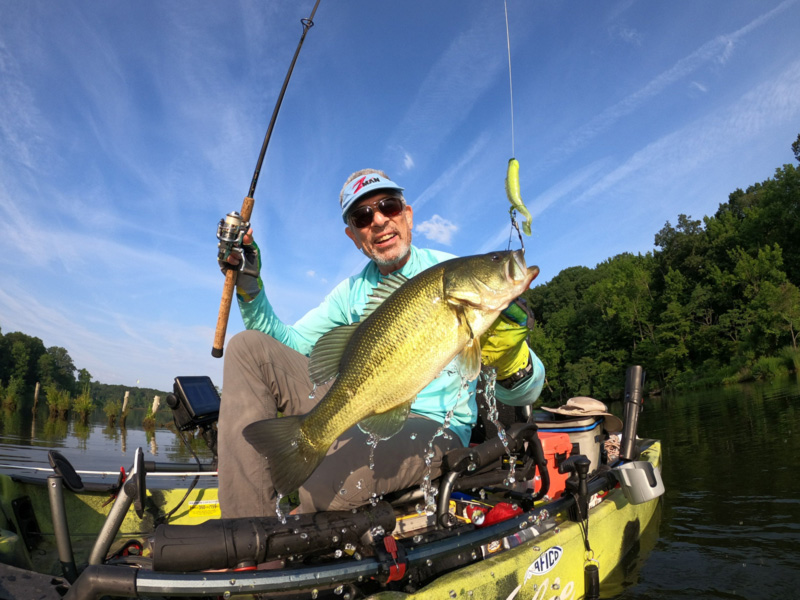 Speaking of bass — though the heat has made pursuing them effectively a sunrise/sunset game in most of the area waterways, we're still getting hordes of reports of success from pretty much all around the dial. Pics came in this week from PA ponds clear down to Lake Anna. At daybreak topwater cast to deadfall is the ticket, and when the sun's in the sky wacky worms fished around deeper structure are doing the trick. Tochterman's also reported that the upper Middle River has had a strong bass bite recently, in line with aforementioned methods that anglers are using.
Some additional info all you snakehead-hunting anglers will be interested in — Tochterman's let us know that the first-annual Snakehead Bash is being held on August 14th, 2021 at Flying Point Park in Edgewood, Maryland. While there is a payout for the tournament, the snakeheads caught must be turned in dead and the DNR will examine the stomach contents of the presented fish. This will give the DNR a chance to perform their fisheries science magic that benefits recreational anglers fishing the Chesapeake area, given that the snakes feed on many of our most beloved species. Additionally, proceeds from the tournament will be used to acquire DNR-approved largemouth bass, which will then be used to restock the Middle River. Here're the double-double bonuses: there's a $1,000 prize for first place kayak angler and a $2,000 prize for first place boat. Almost better? They'll have a chef on hand to prepare these delicious invasives. Entries are limited and must be in by August 1, so act fast if you want in.
---
Freshwater Fishing Report, July 2 Update:
In northern areas there's excellent bass fishing at the lakes and reservoirs according to B & B Tackle, mostly in the mornings, with the fish liking crankbaits and topwater. Usually they're also caught around structure. Panfish are also highly active and are loving little Beetle Spins. That's an interesting report to hear, since Contributor John Unkart also found that Beetle Spins did the trick on panfish in the Pocomoke this week, and Contributor Eric Packard named them a winner after fishing at St. Mary's Lake.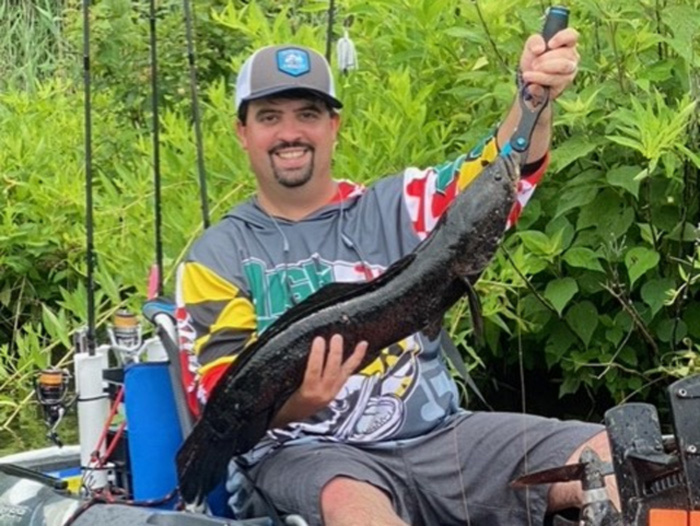 Angler's Sport Center also mentioned good action at the Baltimore reservoirs with some great bass fishing. Again, morning has been best. Unkart noted that his best bass action this week came using wacky worms.
Multiple reader reports and Angler's note that snakehead fishing has also been really good the past week, but the bite has been all over the place and there haven't been stand-out hotspots. We did hear from a couple kayak anglers who hit Blackwater and caught around a half-dozen each, with Whopper Ploppers and topwater frogs noted as effective.
Trout anglers have been enjoying better than expected action in the western creeks and rivers, thanks to unusually good conditions. Higher than expected summer water levels have stayed up without many areas falling victim to muddy, flooding conditions—at least, that was true as we put the report together, and Thursday evening's line of storms could have washed out some areas. One reader who hit a south PA creek midweek noted that terrestrials were hot and the most bites came in areas where trees shaded the water.
Captain Bones noted that up the Nanticoke, snakehead and blue catfish are active and some are whoppers. They said they weighed in many large catfish this week, including a couple of cats breaking the 20-pound barrier and one hitting 40.4 pounds. Chesapeake Outdoors also made mention of the snakehead bite, and that it's on the up-swing throughout the area.