Freshwater Fishing Report, November 26 Update:
Hi anglers, we hope you all enjoyed a fantastic Thanksgiving! Trout anglers have been picking away at the last of the stocked trout in the region, and we heard from a couple of readers this week who found a few hold-over fish in lakes and ponds off the beaten path in Maryland. Virginia still has new fish going into the water on a regular basis; check their stocking page for the latest.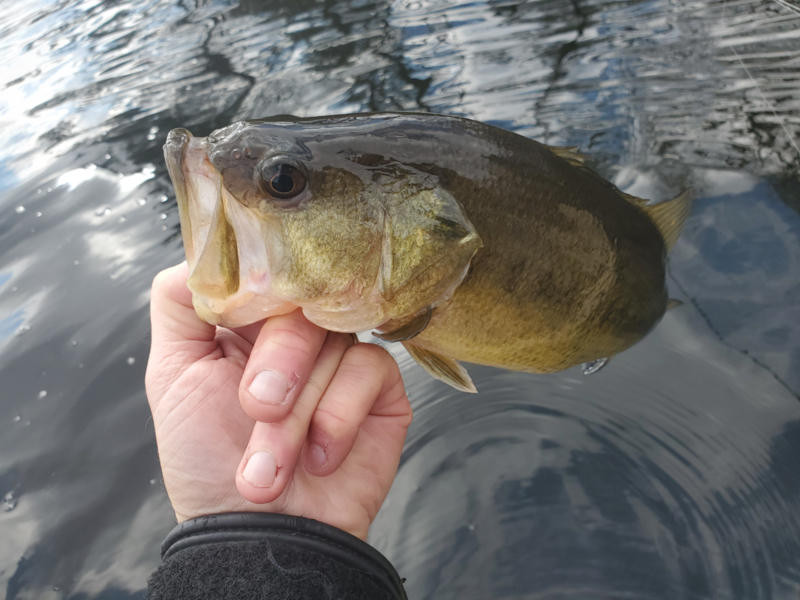 We had some great reports from the reservoirs this week. Bass, crappie, pickerel, and walleye are all in their cool-weather behavior patterns now. At Tridelphia, we had a report of amazing action with (mostly small) northern pike and bass not at all shy to smack blade-baits, twister-tails, and quarter-to eighth-ounce swimbaits. Whites, blues, green, and Electric Chicken colors were all working well at points and rocky edges. Reader reports from other reservoirs indicate a similarly good bump in the bass action this week, with one angler hitting Lake Anna also reporting over a dozen bass on blade-baits. Underwater points with drop-offs were fingered as producing. And a reader hitting Deep Creek reported a mix of big yellow perch and not so big walleye on shiners fished on bare jigheads, and the base of a rocky drop-off mid-lake.  Crappie continue to be pulled up from area reservoirs anywhere there are bridge pilings or deepwater structure. A reader who spent a day at one of the "mid-shore" millponds on the Eastern Shore also reported a good crappie bite, with small minnow on hair jigs three feet under a bobber producing the most bites.
---
Freshwater Fishing Report, November 19 Update:
Contributor Eric Packard reports a significant uptick in the reservoir action recently, after a stretch of tough days and slow bites last week. A morning of crappie fishing produced nonstop action in 10-plus feet of water on a chartreuse micro-jig at St. Mary's. Then he switched tactics, started casting a square-bill, and quickly picked up a bass and then a pickerel. He went back a day later, and again found crappie plus plenty more bass and pickerel willing to hit. Many anglers who checked in from the Baltimore area reservoirs and those down south reported good bites for pickerel, largemouth bass, and crappie too. The largemouth bite was reportedly very good this week, and we heard from multiple anglers who found them fishing with chatter baits, jerk baits, and plastic crayfish along drop-offs to deep water.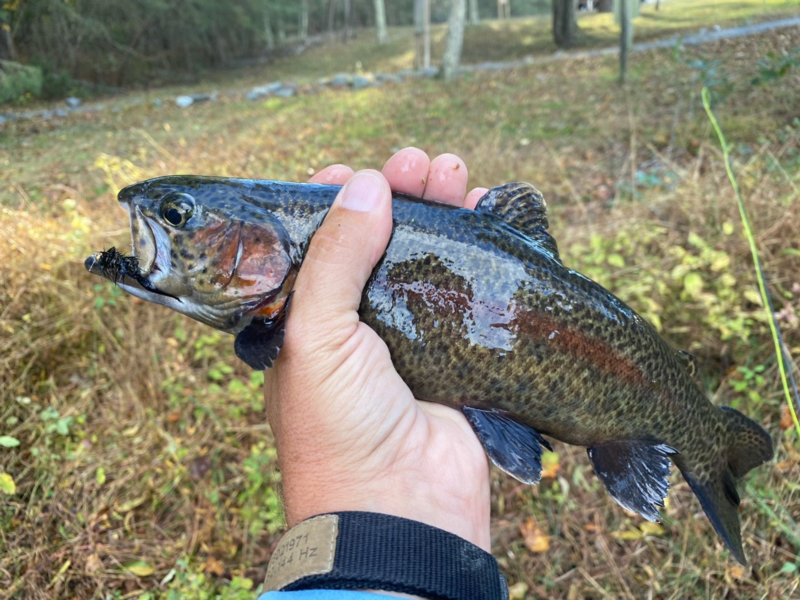 Fishing trout management waters is still good, although many of the stocked trout have already been caught out. Getting away from the more populated areas is a good move right about now; here are your links to the stocking webpages with locations for: Maryland, Pennsylvania, and Virginia. Reports from the western areas are of difficult conditions with high water and lots of leaves getting in the way. Nymphs, bead-heads, and streamers that get subsurface has been the best bet.
Reports of walleye from the upper Potomac and Susquehanna have been picking up as the water temps have been dropping out. Anglers employing crankbaits have also been encountering good numbers of smallmouth.
We heard from two readers who tested the waters at the Eastern Shore millponds, both reporting success. At Unicorn pickerel bit live minnow all day long plus a few crappie and yellow perch showed up in the mix, over the mid-lake weedbeds. And the report from the Salisbury ponds included a slow pickerel bite but quality fish including four over 21-inches one hitting the 25-inch mark, plus a few bass.
---
Freshwater Fishing Report, November 12 Update:
The term for this week is "hot and cold," with numerous conflicting reports coming in from all areas. Waters stocked with trout throughout fall are still producing, and although their numbers have dwindled in many stocked areas close to major metro zones, more isolated ponds still have a bite going. Flyfishers have been enjoying the gorgeous scenery and a lively bite as well. Mossy Creek is reporting terrestrials and small nymphs are doing the trick in the creeks.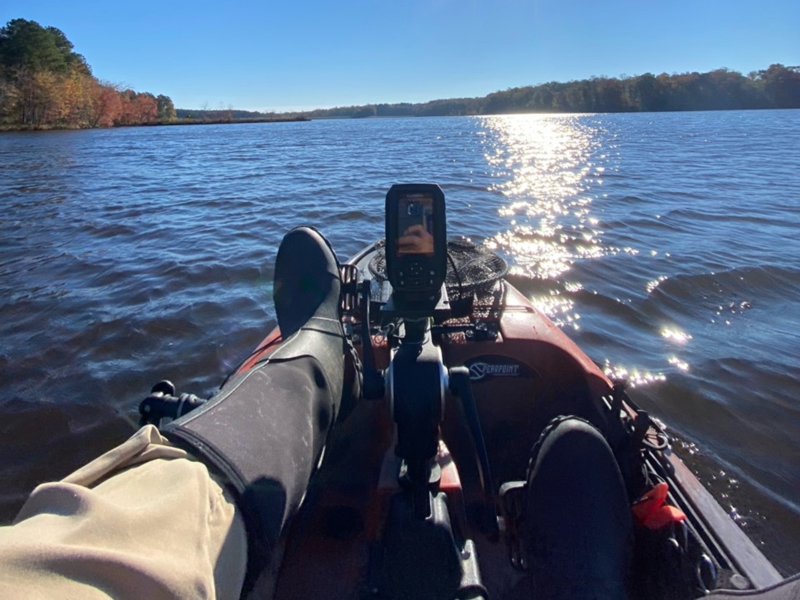 Reservoirs and larger lakes have been perfect spots for anglers to enjoy the fall transitional season while scoring some fish, but the fronts moving through have also shut down the bite some days. Largemouth bass are very much in their fall-mode of behavior, cruising around ledges and edges throughout the day. We had some great reports from kayak anglers that hit reservoirs late this week. One yakker reported catching four fat largemouth on his pre-work paddle late this week. Another yakker reported that a trip to a lake in the Baltimore area produced multiple bass and crappie, as well as a 16-inch chain pickerel. At Lake Anna, big suspending crappie are a prime target right now and fishing two-inch tubes or tiny jigging spoons mid-depth in white and blue/white is producing banner catches some days. Others, however, didn't have the same luck earlier this week: Contributor Eric Packard says that the front moving through early in the week tamped down the bite, and one of the days he visited St. Mary's Lake the fish were off their feed in a big way — it resulted in a skunk and another angler he spoke with reported catching a small, lone largemouth bass. Another day he floated around on the Eastern Shore millponds, but the fishing was slow again with just four pickerel and a bass taking the bait.
Speaking of pickerel: The CCA Maryland Pickerel Championship is here, folks! It kicked off on November 1st, and as of the time of publishing, 99 fish total have already been logged. Sixty anglers are currently registered in the tournament, and leaders are already tapping into some high-value fish: angler Tim Elliot is boasting 49.25 inches between just two pickerel, putting him into ninth place. The kayak division of the tournament has been especially competitive, holding three of the top five spots, and five of the top 10 overall. Angler Carl Childers is currently leading the pack, having logged 72.25 inches of fish so far. Randy Riggleman and Eric Packard are making up second and third place, with 70.25 and 68 inches of pickerel reported. These numbers are a great start to get the tournament ball rolling and if you haven't registered for the tournament yet, you should get chuggin' along! Freshwater fishing is our winter reprieve, and when you catch that 27-incher, you'll want it on the board.
The folks at Apex Predators report a good bite up the Potomac in the Potomac Creek zone, with a nice striper here and there among good numbers of crappie. Crappie fishing has been excellent recently, with a steady bite and nice-sized fish. However (hot and cold again) we also heard from a reader who targeted blue cats in the upper Potomac this week and found the bite sluggish with just a handful of fish willing to eat and nothing over the 30-inch mark. Two reports also came in from the upper Rappahannock where anglers said the cats were munching better and they had multiples over 30 pounds. Cut bluegill was reportedly the best offering.
---
Freshwater Fishing Report, November 5 Update:
Deep Creek, Lake Anna, the Baltimore reservoirs, and other lakes and ponds throughout Delmarva have been havens for anglers this week. The waters of vacation lakes have long calmed down for the season, providing ample undisturbed opportunity for anglers to get after the fish from shore and by boat. Smallmouth bass have moved into their autumn haunts, and although the weather is still fairly warm, they're no longer operating in summer-mode. They can be found in deeper water along edges and drop offs, as well as in SAV. Small crankbaits and plastic worms are a fan favorite right now. We also had a report from one angler who caught a walleye in western Maryland this week. At Lake Anna there are stripers and largemouth bass being caught, but right now the crappie are in prime form at deep-water structure and pilings hitting two- to three-inch tubes in white, pearl, and red/white. Crappie and largemouth are on fire at St. Mary's Lake, with the spillway and stumps favorite areas. Pickerel action is also ticking up pretty much anywhere they're found and it should continue to improve as water temps drop. Speaking of pickerel: This week kicked off the first of the CCA Maryland Pickerel Championship. If you aren't registered already, now's the time! Get your name on that leaderboard fast… we're sure gonna try to!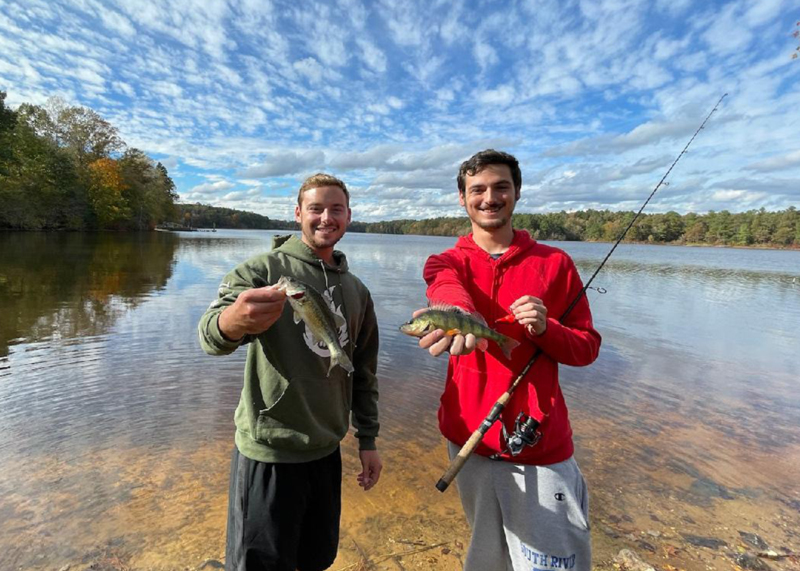 Anglers who have been waiting for the fall trout season this year were enjoying an excellent bite before last week's storm – following the trout stocking programs, the regions' waters are flourishing. Fly fishermen using nymphs in the rivers had been doing exceptionally well when conditions allowed. From the stocked ponds and lakes we had reports this week of good catches on Berkley trout bait as well as artificials like small spinners where water conditions are clear. We had multiple reader reports of catching three to five trout in a matter of hours at the stocked ponds. The bulk of these fish will probably get caught over the next few weeks but right at the moment, hot and heavy action is still available so get out there fast.