Lower Chesapeake Bay Fishing Report, June 25 Update:
The Potomac had a good striper bite this week, taking off between Ragged Point and Port Tobacco. Plenty of fish in the area are between 20 and 28 inches, exceeding the average length for most other spots the fleets are hitting. The stripers in this area are mixed in with some monster cats, that the Tackle Box reports will hit a trolled bucktail as hard as a striper(!) In the St. Mary's river the striper bite is still supplemented by speckled trout. Specks are popping up along grassy shorelines and edges in the river and can be caught on MirrOlures and pink or white four-inch soft plastics. Tossing out something with a little sparkle won't hurt; the specks love it.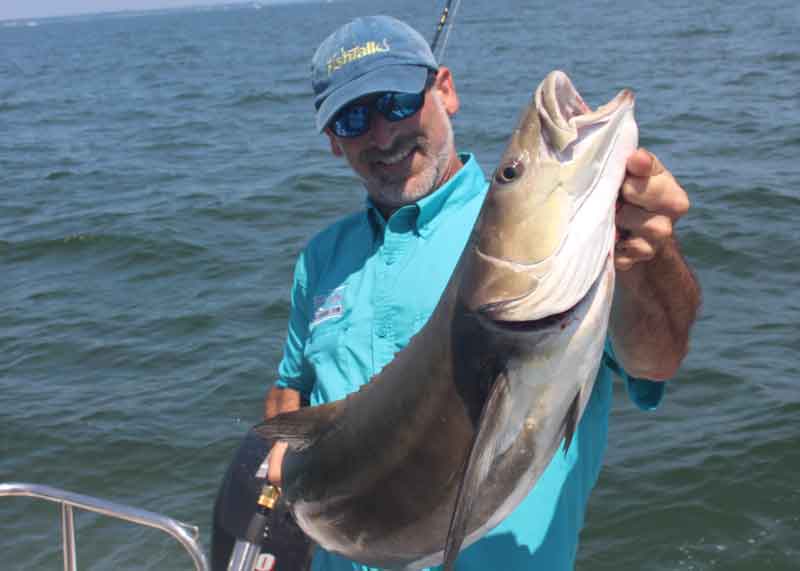 The cobia bite has been steadily improving below Smith Point and down with the best catches farther south. The Tackle Box mentioned that chummers and sight fishers are both doing well. Some anglers are dropping live eels back in their chum slicks and enjoying hefty catches doing so. We had a reader report that Windmill Point was the place to be, as they caught fish up to 53 inches there. Angler-in-Chief Lenny Rudow ran down to Windmill Point earlier this week for cobia, and although clouds and seas made sight fishing difficult, sinking chum to the bottom and dropping down some bunker chunks produced a couple of hits and put a 41 inch cobia into the boat. There was a small fleet anchored up between 15 and 25 feet of water and most appeared to have similar results. We also had a reader report of catching a pair while trolling hoses off Gwynn Island. But the reports in general would seem to indicate that the bite was significantly hotter farther south this week with the Cape Charles area down to the CBBT producing several reports of five-plus fish days; see the Way South report for more details on that action. We're expecting that these big fish will move up into the Middle Grounds and Mud leads anytime soon.
While red drum reports continue to come in, we weren't able to nail down down any specific area where they were hanging this week.
---
Lower Chesapeake Bay Fishing Report, June 19 Update:
Cobia action on the Lower Bay has picked up a full head of steam, so let's go from south to north this week: both anglers chumming with bunker and those sight casting (when the winds and weather allowed for it) reported nice catches. We had a reader report catching five cobia including three keepers just south-east of Windmill point chumming, and another sight fishing out of Cape Charles (before the wind hit) and catching three. We're hoping that after this windy stretch, more cobia will have made their way north. Red drum fishing around the Middle Ground also saw a spurt of action last weekend but was a solid "eh" during the week. Again, weather may have been the real issue in this case. We heard of a few caught, but much of the fleet was empty-handed and wind-beaten.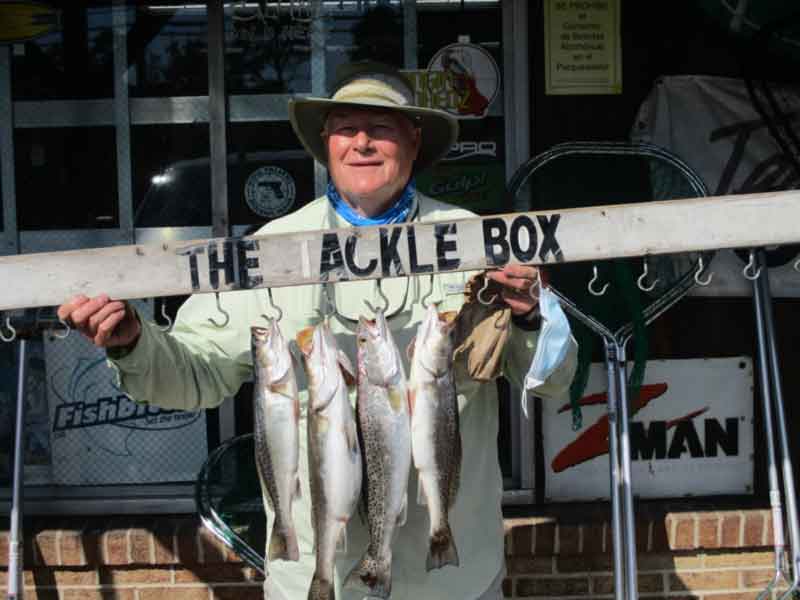 We're excited to hear that more specks are popping up, and had reader reports of catching a couple in Fleets and some in Mobjack, with the trout seemingly scattered around western shore tributary mouths up and down the Lower Bay. Four-inch white or pink paddle tails were hot this week but like everywhere else these days, bait fishing is often complicated by the presence of rays. That said, fishing large bull minnow under floats has been productive at times.
We also heard of some striper action for trollers in the Potomac who pulled umbrellas, large bucktails, and white Sassy Shad along the channel edges. Although the days weren't super exciting, there were still a fair few catches and trollers have been bringing more fish home than anglers jigging. Chumming is largely out of the question in the area, due to the influx of rays and relentless catfish. Bluefish are in the area as well, hitting spoons.
Crabbing report: By all accounts, it's a go. Both necks and clams are working with the five to eight foot range a good bet.
---
Lower Chesapeake Bay Fishing Report, June 11 Update:
The Tackle Box let us know that the Lower Bay had a strong mix of fishing opportunities this week, as perch fishing has picked up, rockfish were cooperative, small spot are in the area, and cobia are a "go." They let us know that the Point Lookout area was good this week for both rockfish and white perch, although rays have been clogging up the waters and are making bait fishing difficult. Trollers, casters, and jiggers are doing better and enjoying an abundance of stripers in the Potomac from Cornfield Harbor to the Harry Nice Bridge. Bucktails, spoons, and small umbrellas have been bringing them in regularly. The Tackle Box also let us know that trollers are doing well, but not to be surprised if a large catfish hits your rig (yes, your trolling rig) from St. Clements Island north. The same can be said in the Rap, where trollers are catching their share of slot stripers but also encountering catfish here and there - even on tandems and umbrellas. (Remember that June 15 is the final day for the VA spring striper slot season). Bottom fishers in the Rap and Piankatank report plenty of spot on bloodworms but are still waiting (hoping) for a decent croaker bite to start up, and also note that rays are available in great abundance.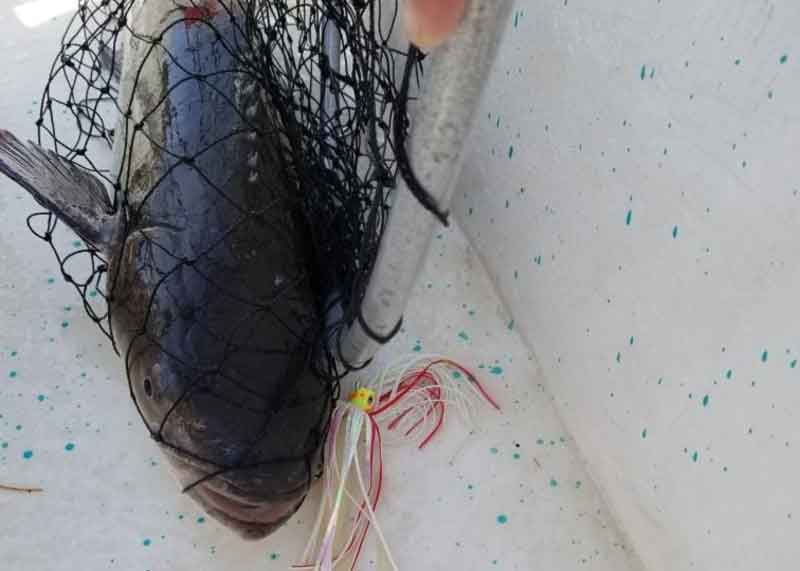 There are Cobia in Virginia waters south of Smith Point and continually moving up. We had a reader report that cobia are around in good numbers clear up to the state line and have been providing "hot action" (not photo verified) recently near Windmill Point. Another let us know that chumming with fresh bunker on the bottom at Windmill resulted in one legal fish in the box and a second fish that broke off. Wolf Trap also got a mention, but overall the cobia seem widely distributed as opposed to clustered in any on particular hotspot, which has also been true in the Way South zone. Reader reports also came in of a few specks in the shallows of Fleets and in the lower Potomac, and a couple bluefish also popped up in this week, though none of these reports indicated big numbers.
Crabbing report: Crabs are officially on. Both clams and necks are working, with people running both reporting that the clams are winning by a wide margin.
---
Lower Chesapeake Bay Fishing Report, June 5 Update:
The big news this week has been the influx of specked trout not only on the Eastern side, but also with catches on the Western side of the Bay as well - plus the first reports of cobia trickling in. The Tackle Box let us know that trout continue to be caught as far north as in the Potomac, early in the season for this time of year and in better numbers than expected. We've also had reader reports from Fleets Bay of mixed results, with some anglers reporting success on specks and others reporting extreme difficulties with hordes of rays, often so thick that snagging them is problematic. Trout have in general been holding on grassy shoals, hitting MirrOlures, ZMan's, and white Gulp! Lures. They especially have been hitting on curly-tailed soft plastics. Bait anglers seem ray-doomed more than anything else, lately. The rays can also be problematic when chumming for cobia, but the first reports of success of the season are just beginning to trickle in.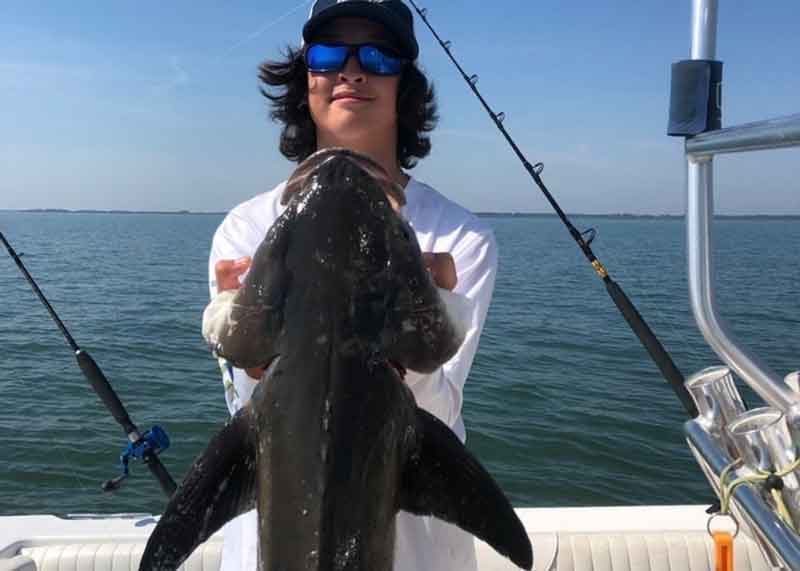 Throughout the Lower Bay, the striper catch remains steady with the occasional hot spot popping up. While the fishing hasn't been as exceptional for this species as in the Middle Bay, anglers light-tackle jigging, trolling and chumming are still finding them. Trollers are doing especially well in the lower Potomac River from St. Georges Island to around Piney Point, pulling a mix of bucktails, umbrellas, and tandem rigs. Trollers are reporting larger catches than light-tackle jiggers, who are now getting in on action closer to shore in the tribs. Chummers and trollers have found fish outside the Potomac and off Smith and Windmill points, but anyone using bait is fighting an uphill battle against cow-nosed rays. The Tackle Box let us know that they've moved into the area to give birth and mate and are dominating the waters, and proving themselves a huge pest for bait fishers.
As for bottom fishing, white perch are in the rivers and creeks, accompanied by a few spot who made it into the area a little early. We'd anticipate the real influx to begin as the water warms up a bit more. Very little word on croaker this week; we heard from one reader who reported catching a lone eight-incher on bloodworms, but hopefully that will change, and soon. Bluefish are also popping up occasionally just about everywhere, but aren't around in numbers enough to really target them in any one place that we heard of. Rumors of early Spanish mackerel are flying around too, but we weren't able to photo-confirm anything.
Crabbing report: Crabbing has been fair, with razor clam reportedly the best offering. The farther south you get, the better the catch.