Lower Chesapeake Bay Fishing Report, April 28 Update:
Cooler temperatures and wind didn't make for great fishing conditions this week and rain in the forecast this weekend won't make things easy for anglers. Catfish have been the main focus for many in the lower Bay region. Luckily, blue catfish are plentiful in almost all tidal waters. One boat fishing on the upper Potomac in Maryland waters reported catching plenty of nice sized blue cats along with smaller "eating sized" ones while fishing cut bait. The larger ones were around 20 pounds. Although the catfish have been providing a steady bite, many anglers within reach of PRFC and MD waters are eagerly looking forward to the return of trophy rockfish season on May first. Many of the big breeders have already made their way south but there should still be a few big one's cruising along the shipping channel ledges. Make sure your boat, trailer, fishing gear, and safety equipment are all prepped accordingly before hitting the water on Monday.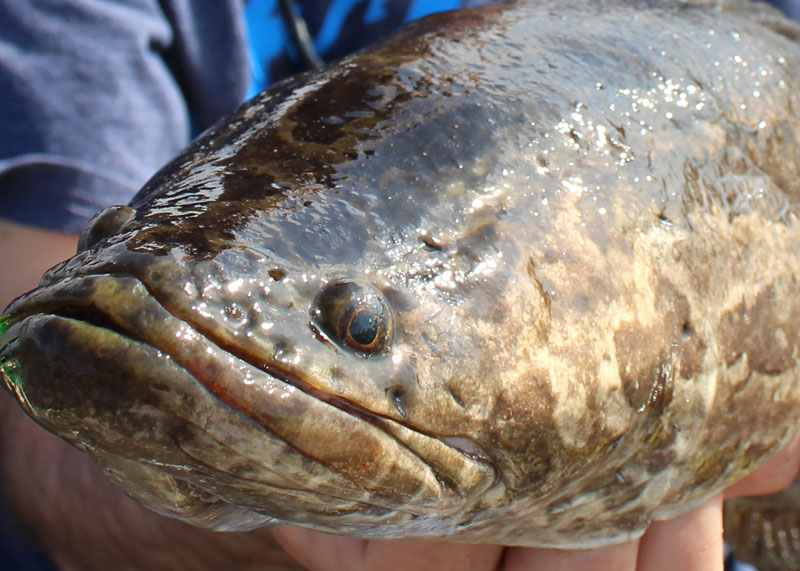 Captain Mike with Apex Predators guide service let us know that despite the colder weather this week, the snakeheads were still biting on the Potomac - as they should be in all the western tribs. Last weekend he went out with a fellow angler and caught seven fish, the largest around the 30-inch mark. He also spent a few hours searching for snakes one afternoon in the middle of the week and landed four. Two smaller ones and two in the mid 20's. His biggest catch of the week was a giant 35-inch snakehead that hit the scale at just under 14 pounds. He noted that the fish would have weighed more but he could tell it recently spawned out. Most of his fish have been caught on custom soft plastic creature baits that Apex is making.
Water temperatures are steadily rising, and we are seeing seasonal fish migrate further north following the influx of baitfish into the Bay and the tidal rivers. A few fly fishermen spent a day in the Piankatank River last weekend and had an epic day. They boated 63 fish which included eight puppy drum (the largest was 24.75 inches), 10 striped bass (largest was 19.75 inches), eight spot, and the rest were white perch. A few speckled trout are being caught in the shallow grassy flats on the Eastern Shore side of the Bay and that fishery should get better as we head into May.
---
Lower Chesapeake Bay Fishing Report, April 21 Update:
Virginia waters and waters governed by the PRFC are still open to catch and release fishing for rockfish, though we haven't received any reports of anglers targeting them specifically, while Maryland anglers are eagerly awaiting the return of the spring trophy rockfish season which is now just a few weeks away. We did hear from a group of anglers fishing cut bait for catfish in the Potomac who reported that a lot of stripers are in town, and on one day this week some monster rockfish grabbed their baits (and were quickly released). Rockfish season in Virginia will open on May 16th with a slot of 20 to 28 inches and a one fish per day limit. PRFC and Maryland waters will open their spring rockfish season on May 1st with a minimum size of 35 inches and a one fish per day limit.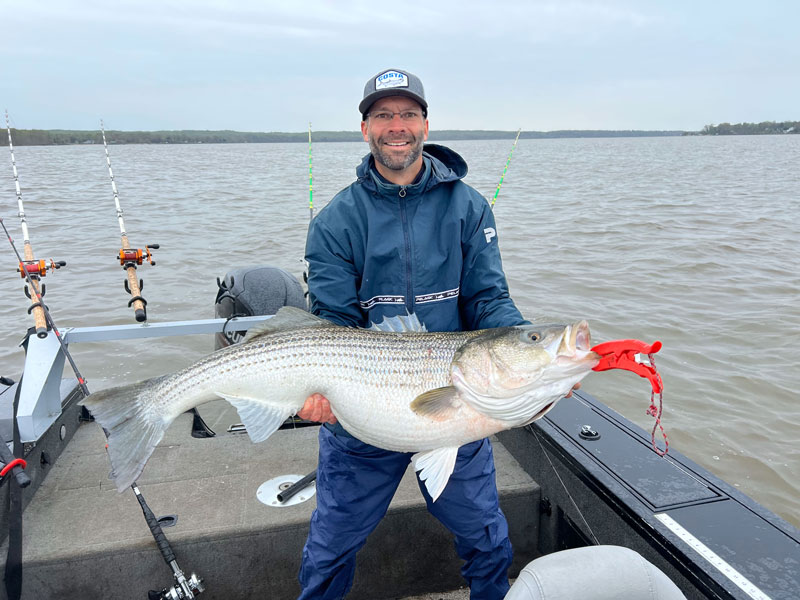 The Tackle Box confirmed the first reports of spot as far north as the lower Potomac this year with pound netters reporting them in the nets beginning late last week. As the water temperature rises, these fish will continue to make their way further north to their typically summer hangouts. White perch are being caught in creeks of the tribs and anglers are still finding them in the deeper holes. These fish are just about finished with their spawning run and will be heading back to the lower sections of the creeks and rivers. Bloodworm on bottom rigs has been working best for the perch just about everywhere.
Hickory and American shad are still providing fun catch and release fishing I the upper Western Shore tributaries that see a run. Rigging small jigheads in tandem with small soft plastics work great for the shad. Casting out and slowly jigging while you retrieve your baits should get the shad biting if there is a school around.
We have been seeing the snakehead and largemouth bass action pick up in the tribs over the past few weeks and we got more solid reports this week. Apex Predators guide service has been staying on the snakes and bass in the Potomac this week and reports that the bite is hot, just like the water temperatures. They say once water temperatures get above 65 degrees, the snakehead bite really picks up and this week they were able to find water all the way up to 74 degrees. Warmer water temperatures mean these fish are moving shallower and can be found on the sunny side of creeks. White flukes and paddletails have been working well as of late. Throw these lures when sight fishing the snakeheads or where there are areas with spatterdock fields.
---
Lower Chesapeake Bay Fishing Report, April 13 Update:
We have been enjoying some warm spring temperatures this week across the Chesapeake Bay region. Fish are responding well to the warm temperatures and spring fishing is getting into its prime. The big-ticket item this week are blue catfish in the upper western shore rivers, where many anglers are reeling in big fish. Fresh cut bait like alewife or mud shad is the best option when bait fishing but these fish can be caught jigging too. Schools can be found on ledges or in deeper holes. If you can mark them on your fish-finder, drop down big soft plastics to jig and get ready for a thump. While bait fishing may produce more bites, catching a big blue cat on jigging gear is super fun.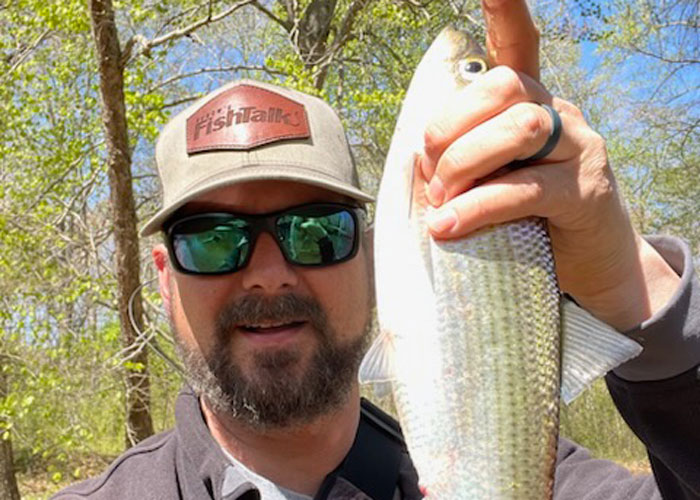 The lower Bay tribs are also enjoying prime shad run action right about now. Contributor Eric Packard and two readers checked in with reports of 15 to 40 fish afternoons, caught while casting shad dart/spoon combos. Silver spoons were highlighted as a top lure. Anglers fishing near City Docks on the Rappahannock River reported a hit or miss shad bite this week. There were times where anglers could see the shad, but they just wouldn't bite. Persistence was key for catching a few fish.
The Tackle Box checked in to give us the scoop on what's happening in Maryland's lower Bay waters. White perch have been caught along the shorelines of the main bay and as their spawning run comes to an end, they will start to move into their summer grounds. Elms Beach, which lays between Cedar Point and Point Lookout, has seen a good perch bite this week. Blood worms on bottom rigs are producing medium sized perch.The brackish creeks off the Potomac are also seeing more action for bass and snakeheads as water temperatures rise. Apex Predators guide service has been out targeting these fish catching bass up to five pounds and a few snakeheads. As of late, the snakeheads have been on the smaller side in the low 20s with just a few fish in the upper 20s being caught. The above average temperatures this week should have these fish very active and the topwater bite should be turning on.
---
Lower Chesapeake Bay Fishing Report, April 7 Update:
We have enjoyed some warm weather this week, but the wind doesn't seem to want to let up. Despite the windy conditions, many anglers took advantage of increasing fishing opportunities in the lower Bay. Hickory shad are moving up the western shore tidal rivers this week and have reached Fletchers Landing, a popular area for catch-and-release fishing near DC. The areas around Great Falls on the upper Potomac, Fredericksburg on the Rappahannock, and the Richmond area of the James are other popular locations for the shad run and all are now a good bet. We also received some reports of anglers fishing on the Mattawoman who said they are still catching them on shad darts and small jigs.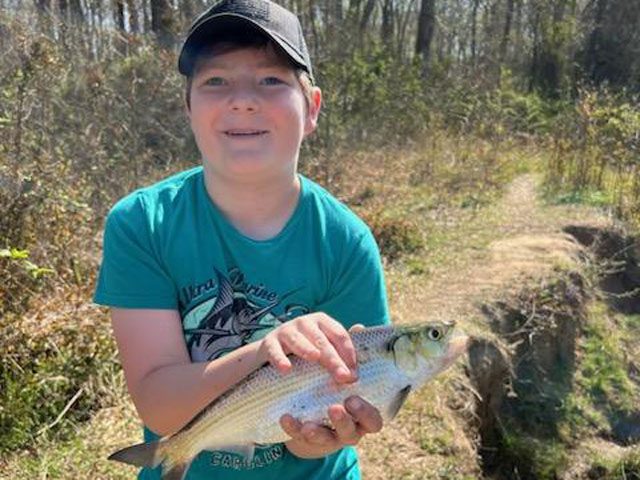 Captain Mike of Apex Predators guide service has been catching more snakehead and bass on tributaries off the Potomac. He found water temperatures up to 65 degrees after the warmup this week. Chatterbaits, spinners, and swimbaits should be the go-to for the early spring bite.
Targeting rockfish is still closed in Maryland waters but remains open to catch and release fishing in Virginia waters and waters governed by the Potomac River Fisheries Commission. This time of year, however, many anglers turn their attention to one of the more popular fisheries in the lower Bay, blue catfish. They are abundant in the Potomac, Rappahannock, and James Rivers. Every year we see their population increase with bigger fish being caught in almost all tidal waters of the Bay. Blue cats will eat just about anything that swims in front of them so removing them from the waterways is a good way to help native species. They are great eating fish and can provide plenty of meat for a fish fry. Any variety of cut bait works well for the cats and adding scents or flavors to your bait can help attract them. One angler fishing near Mallows Bay this week caught a handful of good eating sized blue cats in the two to five pound range. Jigging for blue cats has become more popular in recent years and areas on the upper Potomac have big fish that can put up a fun fight on a jigging rod. This type of fishing is very similar to jigging for rockfish and BKD's are the most popular soft plastic to use. Find a hole or a ledge with bait and usually there will be a school of cats on the meter. Drop down a jig and get ready for a thump.