Lower Chesapeake Bay Fishing Report, February 24 Update: 
We have been hearing of mixed results from anglers targeting yellow perch this week. It appears they are still staging near deeper holes of tidal creeks, but the action could break lose any day now. Contributor Eric Packard tried for some early perch at the usual spawning run spots in Allen's Fresh multiple times this week but reports that the fish hadn't yet arrived. Another angler fishing in an unspecified tributary of the Potomac reported a slow bite, catching a mix of crappie and yellow perch. They kept around a dozen fish between two anglers and threw back a handful of undersized fish. All their fish were caught on soft plastics in around 25 feet of water. The perch were hanging close to bottom while the crappie were suspended off the bottom. Captain Mike of Apex Predators also checked in to report a good crappie bite in a tidal creek off the Potomac using small minnows on sixteenth-ounce jigheads. We also got one report out of the Potomac this week from an angler targeting rockfish on the fly. He reported catching a fat 22-incher on a Clouser minnow.
Schools of rockfish are still around in the main stem of the Bay and at the mouth of the Potomac. Bigger migratory fish have been around for a while now and are staging for their spring spawning run. Recently we have seen some of these rockfish move into shallow areas around 20 feet but can still be found out in deeper water close to channel edges. Anglers Sport Center reports that fish can still be caught on the bottom using one, one and a half, or two-ounce jigs with larger profile plastics. They also report that anglers are starting to see suspended fish and even fish at the surface. Bird action has even been sporadically popping up on some days if the conditions are right.
We had a reader report of surprisingly lackluster catfish action in the Rappahannock from above the 301 bridge early this week. Only five of the whiskered critters bit during a morning of fishing an outgoing tide. We've heard several reports this winter of up-and-down action on the western shore tributary cats so the weather may have them confused, but hopefully the bite will stabilize soon.
---
Lower Chesapeake Bay Fishing Report, February 17 Update: 
Catch and release rockfish action has been producing consistent bites and some big fish courtesy of the warmer weather this past week. Anglers Sport Center reports that the best rockfish bite is in the main stem of the Bay. Most fish are being caught from the mouth of the Potomac and areas to the north. A nice surprise this week has been some sporadic bird action giving away the location of some of the rockfish schools. Most of the big fish are still being caught off the bottom using seven-to-10-inch plastics on one, one and a half, or two oz jig heads. Two-and three-ounce metal jigs have been working as well. We heard from a reader who tried jigging for catch-and-release rockfish in the main-stem bay off the mouth of the Potomac this week, catching "a few" the 24- to 30-inch range with jigging spoons.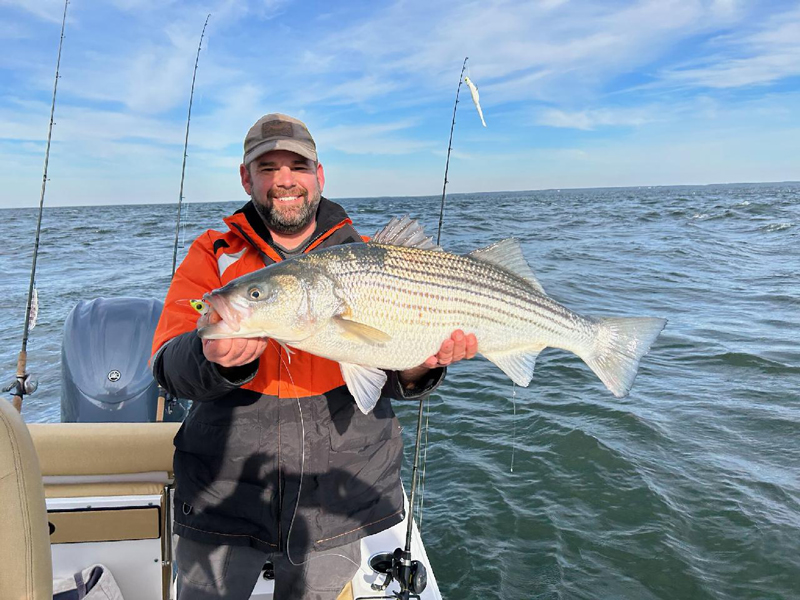 In the rivers, most of the action has been on the catfish front. Blue cat anglers are finding consistent bites in the upper Potomac and Rappahannock Rivers. Typically, this time of year they are in the deeper holes and channels, but the warmup has some of these fish pushing up into shallower areas to feed at times. The bigger blue cats are usually caught around the Fort Washington area in the Potomac, but almost all the tidal tributaries have the potential to produce fish over 20 pounds. We did hear from one angler in the Rappahannock who reported catching plenty of blue cats in the two-to-five-pound range despite stiff winds one day.
The yellow perch should start making their spawning runs soon but as of mid-week they were still schooled up in the deeper waters of the creeks in the tidal tributaries. That could change fast if the warm trend continues so stay tuned.
---
Lower Chesapeake Bay Fishing Report, February 10 Update: 
We have had some unseasonably warm temperatures this week which will hopefully get some fish more active. Anglers Sport Center is reporting that there is still a consistent rockfish bite in the main Bay. Areas within the Potomac and off Point Lookout are holding fish in deeper water. The key has been finding bait, most of which can usually be found along ledges anywhere between 40 and 60 feet of water, but occasionally deeper. The bigger fish are on the bottom so a heavier jighead (typically one and a half to two ounces) with larger soft plastics work well. Two- and three-ounce metal jigs and large flutter spoons have also been getting the job done. Be sure to use heavier rod and reel set ups when targeting the bigger fish so that the fight isn't too prolonged. Some anglers have been finding suspended fish as well as some working birds which is unusual for this time of year.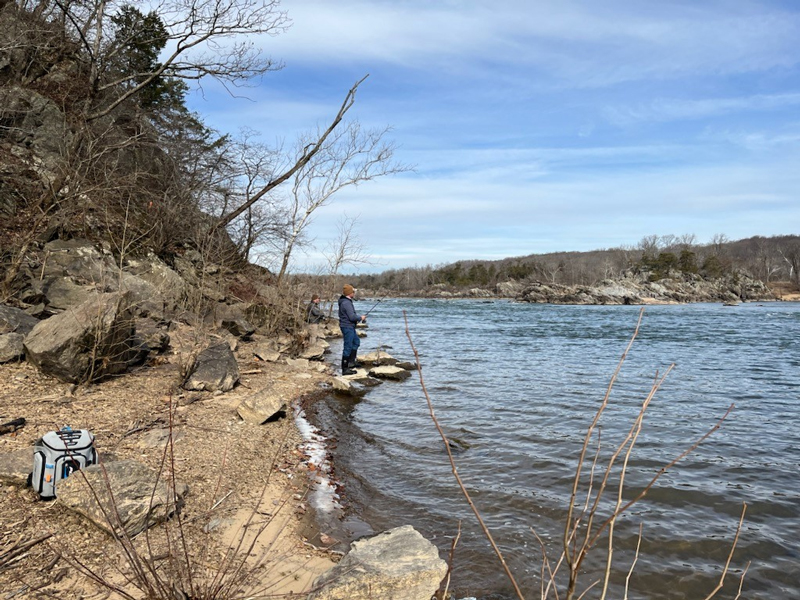 Blue catfish have been active, and they are one of the more popular fisheries for this time of year. The upper Potomac, Rappahannock, and James have plenty of trophy sized blue cats for anglers to try their hand at. Most of the cats will be in the deeper holes and along channel edges where they can move up onto the flats to feed during warmer days. A variety of baits often used by catfish anglers includes cut menhaden, gizzard shad, chicken liver, and chicken breast. Using scents to enhance baits is popular to draw the catfish in.
Yellow perch are just a few weeks out from their spring spawning run. They are currently staging in the deeper holes in the tidal tributaries. Some of the creeks along these same major tributaries will be good places to look for them over the next few weeks.
---
Lower Chesapeake Bay Fishing Report, February 3 Update: 
The mid-winter lull for our region has really set in and the fishing in the lower Bay has been slow for the most part. A few anglers are finding striped bass in deeper water, but the schools are moving around quite a bit and it is never a guarantee on whether you will find them. Some of the big girls have been in 50 to 100 feet of water and the shipping channel ledges are a good starting point to look for them. Keep an eye out for birds sitting on the water or flying around a general area since it may indicate bait and rockfish close by. If you mark them on the meter, jigging large soft plastics or metal spoons will be your best chance for getting a bite.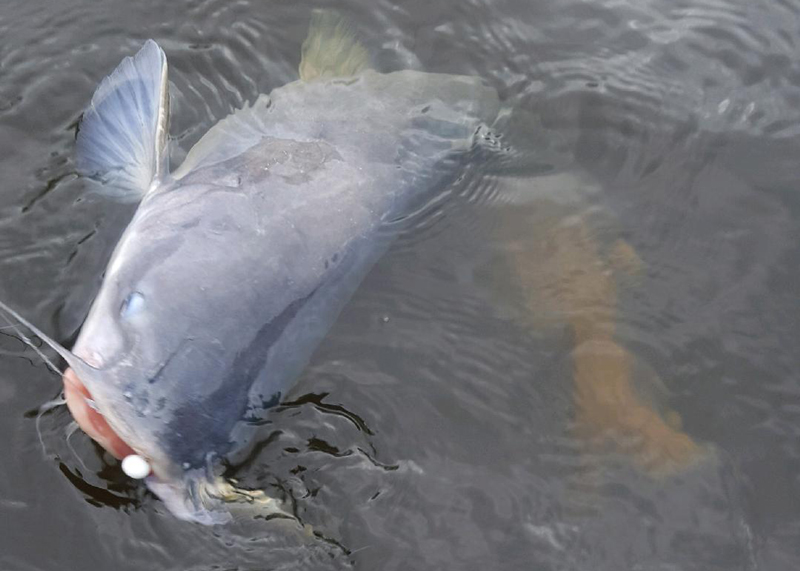 Fishing for blue catfish has been good for the most part but we did receive a report from last weekend of surprisingly slow action fishing the Potomac near DC for catfish. Only five were brought into the boat during a day of soaking baits. The blue cats are generally active this time of year but of course there are off days. The larger tidal rivers like the Potomac, Rappahannock, and York Rivers have plenty of catfish for anglers to target. One angler fishing on the Pamunkey River this week reported catching a ton of blue cats. The largest was almost 17 pounds and there were a few times where multiple rods went down at once. The blue cats are invasive, and their population continues to grow, so we encourage anglers to target them. They are good eating and removing them from our waterways helps native species.