Lower Chesapeake Bay Fishing Report, January 30 Update:
The Tackle Box let us know that the trophy-sized striper catch and release bite has paused, with just a few (although still impressive) fish reported this week. All confirmed reports came from anglers jigging in deep water along the channel edges using large GULP! and BKD soft plastics with large jig heads. The folks at Machodoc Creek Marina also checked in to mention that there were a few stripers still being caught over wrecks in the Potomac, but that white perch fled for the depths when the warm weather came to a halt.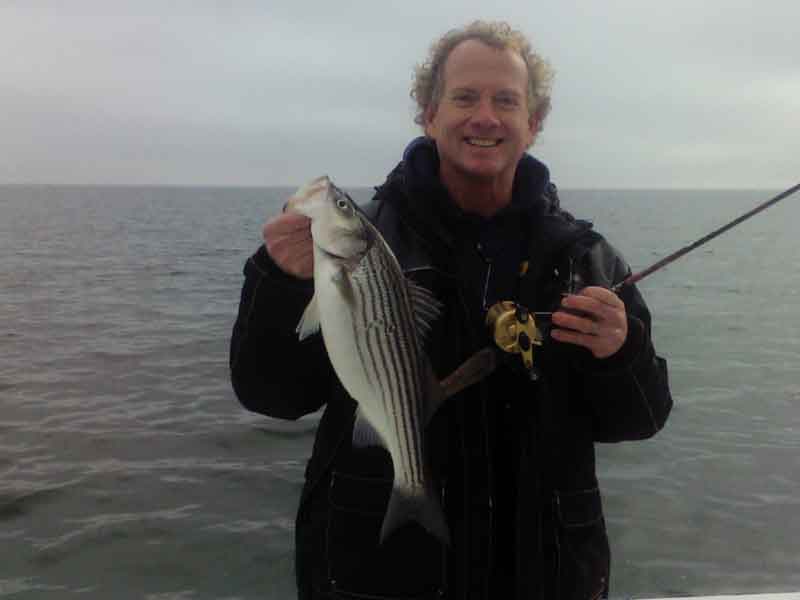 With the Bay bite slow, many anglers have been turning to the Tribs and inland lakes and ponds to get their catch. Yellow perch are staging in pre-spawn and many up-river areas and are willing to take minnow fished on bottom rigs or shad darts. Those in search of bigger prey are often fishing for catfish, which can be found around deep-water structure. The James River in the Hopewell area seems to perpetually come up as a top bet.
---
Lower Chesapeake Bay Fishing Report, January 24 Update:
Alltackle in Annapolis suggested fishing the Point Lookout/Smith Point zone, where scattered reports of stripers are still coming in. Most guys fishing the area have been sticking to half-ounce and heavier (mostly heavier) jig heads with BKD and Gulp! soft plastics, up to 10 inches, bouncing them off bottom. The fish have typically been deep, keeping along the channel edges. It's taking some serious work to get into them, but may be totally worth it because if you do there's the potential for multiple 40-plus-inchers. While not every boat is catching, a fair few up into the 50-inch class have been brought to the surface for quick photos and release recently.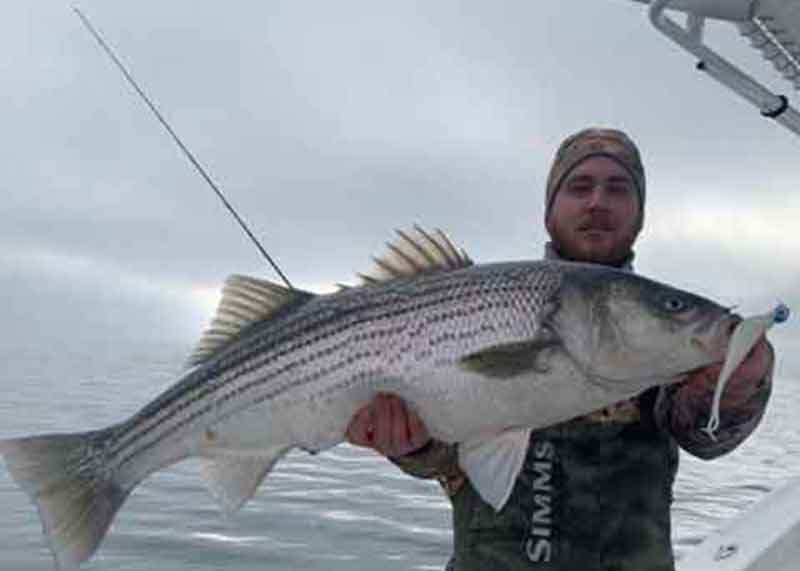 If you're looking for bit more water to explore, both the Pocomoke and Wicomico have a strong yellow perch, bass, and pickerel bite right now. Throughout the upper tribs, both species can be found both nearshore and throughout creeks, taking minnow suspended by a bobber. Deeper areas are usually best. On the Western side, are anglers looking for a catch they can keep are heading up the rivers. The James is producing the biggest blue cats, but the Rap and Potomac are both good bets for high numbers in harvestable size ranges. Fresh cut gizzard shad and sunfish are top baits and plenty of people are soaking chicken breast on bottom, too.
---
Lower Chesapeake Bay Fishing Report, January 17 Update:
Warm weather this past week plus some solid success on big fish located near the Maryland-Virginia line spurred a flurry of catch-and-release effort and lured the fleet out, with more boats than usual out on the water. A few boats got into big fish (40-plus inchers) in big numbers, while some others reported finding pockets of 20-something-inch fish but still enjoying solid action. Contributor Eric Packard made it out onto the Lower Bay and reported bending the rod on over a dozen fish between 24 and 26 inches in 40 feet of water. The channel edges near The Cell are also reported to have produced some big fish recently, for eelers and trollers willing to make the effort to snap off a pic or two then gently let 'em go.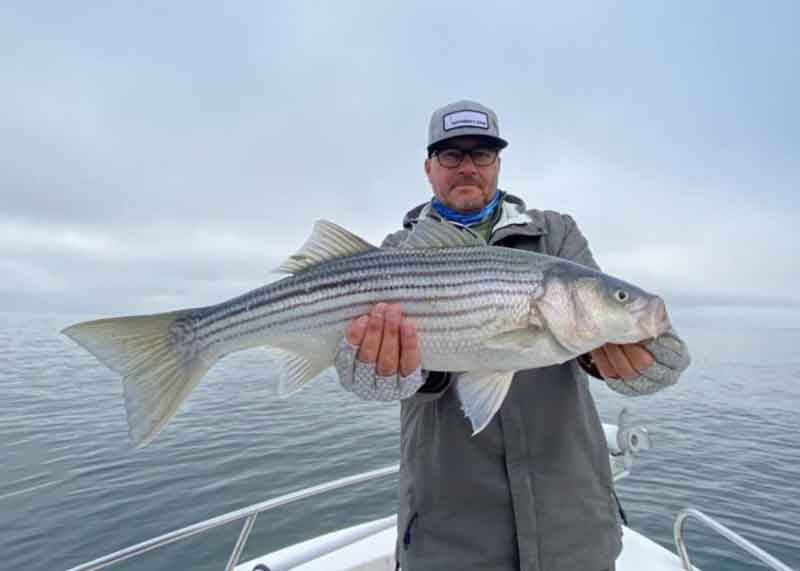 The majority of action for anglers looking to take home fish dinner has been surrounding yellow perch and crappie in the tributary rivers. Deep holes and pockets throughout the tribs are holding the yellows, but locating them has taken some serious searching for most boats. The Tackle Box suggested hopping between spots if you aren't catching, and not sticking around for one stray fish if you've only caught one in an hour. Anglers getting into them are catching in rapid succession and hitting the ten perch limit within a few hours. Most guys have been using minnow suspended by a bobber, on a dart or hair jig, or on a bottom rig to land them, but are adjusting the minnow's depth as needed to suit conditions. Small minnow are being taken by crappie, as well.
Blue cats have been taking cut bait (many reporting gizzard shad) in the Hopewell to Dutch Gap zone of the James, including some 40-pound-plus fish. Readers are reporting a solid bite for this time of year. We didn't hear from anyone on the Rap or Potomac this week, but the upper sections of both rivers also remain a solid bet for the big cats right about now.
---
Lower Chesapeake Bay Fishing Report, January 10 Update:
With the striper fishery shut down for the season, as is true throughout Chesapeake country most anglers are choosing to target yellow perch, crappie, catfish, and pickerel in the rivers, creeks, and ponds. The Tackle Box reported that most anglers have been searching for yellow perch in deep water throughout the rivers. They've been fairly easy to locate with a depth finder, and once you get into them, they've been biting. The best way to land crappie and yellow perch has been tipping a shad dart or feather dart with grass shrimp or a small minnow.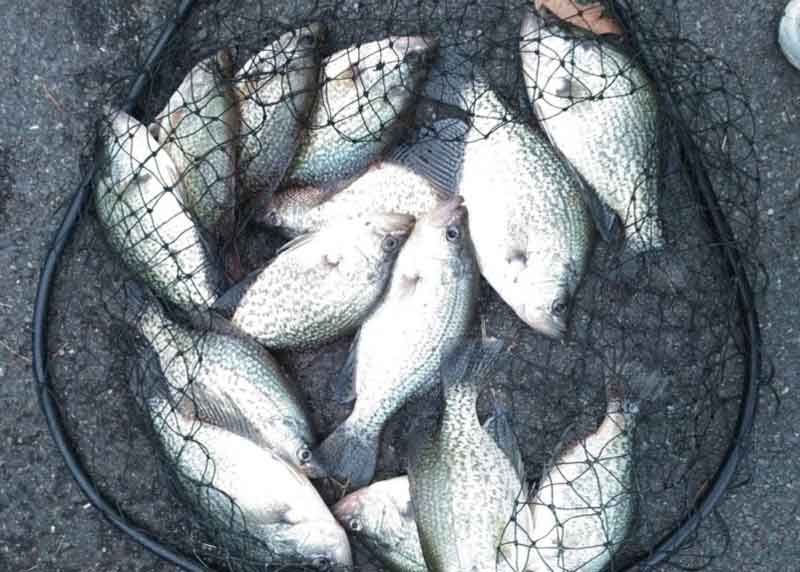 The guys at Apex Predators in Potomac Creek, VA, continue racking up the crappie and have been hauling up some big blue cats, as well. Contributor Eric Packard reported that this week he fished Zekiah Swamp in hopes of landing a sizable pickerel for the CCA Maryland Pickerel Championship and successfully landed four pickerel and one bass using a Ned rig, paddle tail jigs, and a Rat-l-Trap. He noted that the swamp pickerel "were pretty bada**, putting up a heck of a fight!"
If your boat's on a trailer and you're jonsing for a serious bend in your rod, farther south some very big stripers are still being caught and released. But most of this action is taking place near or outside the mouth of the Bay, so check out the Way South report for details.
---
Lower Chesapeake Bay Fishing Report, January 3 Update:
Welcome to 2020, anglers! We at FishTalk would like to wish everyone a happy new year and we hope you have some fabulous fishing adventures as a new season dawns. With the new year the striper season is now history in Bay Country, and many area anglers are turning their attention to fishing in the tribs. Although the cool-down has slowed the bite, there are still plenty of catfish to be caught from the Potomac, Rappahannock, and James Rivers, with fresh cut gizzard shad or herring topping the bait list. In fact, we heard from the guys at Apex Predators (fishing the Potomac and its tribs) this week and they've been picking up some rather hugemongous whiskered critters… see for yourself: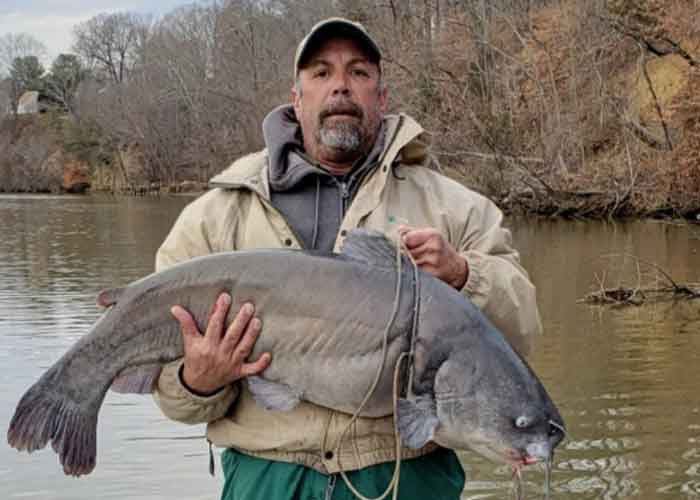 They also noted that the crappie fishing is still excellent and aside from the mega-cat they kept about a dozen crappie from a catch numbering over 100. The Apex guys also mentioned they'll be at the fishing expo is Doswell (the Richmond Fishing Expo) the 17th through the 19th, and hope fishing folks will stop by to say "hey." Aside from that, early-bird yellow perch are also popping up in the rivers, mostly down deep in holes and channels. Minnow are the ticket.