Lower Chesapeake Bay Fishing Report, March 31 Update:
Fishing action throughout the lower Bay region is picking up this week as days get longer and temperatures trend warmer. The shad run seems to be in full swing this week with multiple anglers reporting successful catches throughout the region. Contributor Eric Packard reports that the shad fishing is on in full force and casting tandem rigs with darts and spoons into a creek off the Potomac he caught them at a rate of over a dozen per hour early this week. One of the fish topped 18 inches, and white and chartreuse darts and silver spoons were top producers. Multiple anglers reported that the Occoquan was productive this week for both American and Hickory shad. The shad run on the Rappahannock provided steady fishing this week as well. An angler fishing one afternoon at Old Mill Park in Fredericksburg said the shad bite really turned on for the last hour of daylight, catching his fish on a gold spoon. However, later in the week Packard tried the Potomac near fletcher's but rain had the water high and muddy and the fish were not in a biting mood; remember, a shot of rain that muddies up the water can always shut the bite off for a day or two.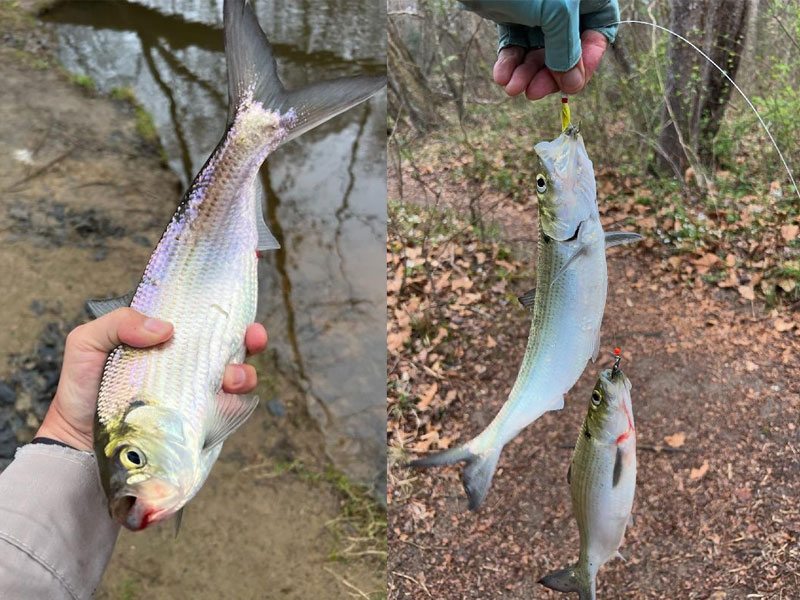 More striped bass are moving into the region as they head towards their spawning grounds. There has been a mix of fish holding in deeper waters along the shipping channel while other are moving into the shallow tribs. Both trolling and jigging has been working well. Some catfish anglers have also reported catching big rockfish while soaking cut bait. It's important to remember that today, March 31st, will be the last day anglers will be legally allowed to target rockfish for catch and release in Maryland waters until trophy season opens on May 1. Catch and release fishing will still be legal in Virginia waters and waters governed by the Potomac River Fisheries Commission.
Bass and snakehead action in the tribs is picking up as water temperatures rise. One angler fishing in Aquia Creek off the Virginia side of the Potomac had success bass fishing this week. They were able to find 63-degree water a few of hungry bass, the biggest being four and a half pounds. Captain Mike with Apex Predators guide service caught his first snakehead of the year. The fish was 28 inches and he mentioned having one other short strike during his outing. A lot of good things are in the work as we head into April, so get ready for an action-packed month.
---
Lower Chesapeake Bay Fishing Report, March 24 Update:
Trophy striped bass are still moving up the Bay to their spawning grounds this week. Trophy sized fish are being caught out along the shipping channel in 50 to 70 feet of water. Some fish are also being caught in rivers like the Potomac and Rappahannock. An angler fishing in the lower Potomac this week reported catching a handful of low to mid 20's fish with one over 40 inches. The large pre-spawn fish are feeding on large menhaden so using big baits is necessary to catch them. While jigging, large eight- to 10-inch soft plastics like BKD's or Z-Man flukes are popular. Trolling is another option along the deep channel edges with parachutes and bucktails dressed with equally large sassy shads.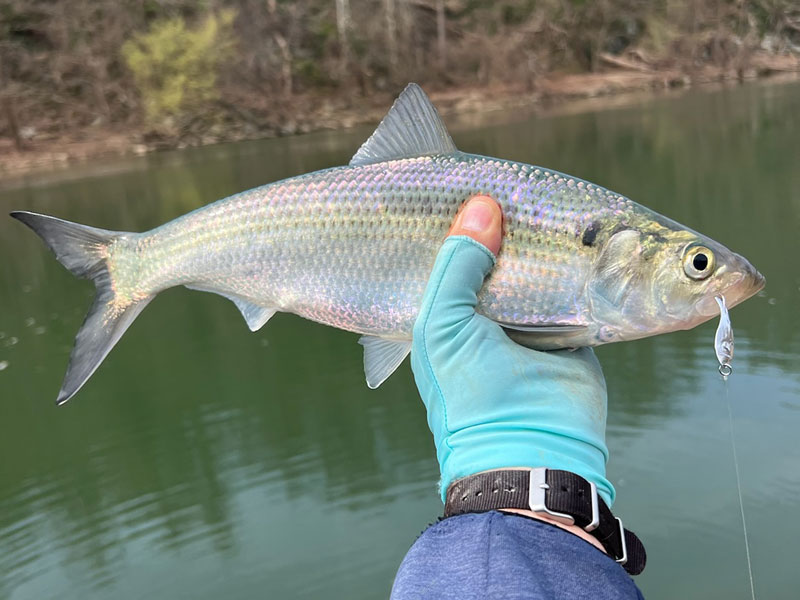 Shad are now showing up at all the usual spots in the lower Bay tributaries that get a run, and Contributor Packard fished in the Potomac above DC this week. He reported catching 16 hickories in just a couple hours of fishing, with a tandem rig combining a dart and a small silver spoon. This fishery should be hot and heavy for a few weeks so get in on the action while you can, and if you need a refresher on how to make it happen check out our Spring Shad Fishing guide and video.
The most incredible catch we heard of this week came from an angler fishing in the Rappahannock to the west of Port Royal. While fly fishing with a 5wt flyrod, 10-pound fluorocarbon tippet, and a size 6 hook fly they tied themselves, they hooked into and landed a 48-inch rockfish. They said the fish was hooked in five feet of water and it took around 40 minutes to finally land the fish. As if that wasn't enough, they also caught over 20 crappie, 10 bass, 10 yellow perch, a handful of bluegill, a few pumpkinseed, and one white perch. Now that's an epic day of fishing. Another fishery that can provide plenty of action this time of year is the blue catfish. They are found in all the lower Bay tidal tributaries and are more abundant than ever. Schools of them can be found along drop offs and channel edges. Bigger fish may be holding in deeper holes but will move into shallower water as we move further into spring. Target the cats with any variety of cut bait for a fun day of fishing.
---
Lower Chesapeake Bay Fishing Report, March 17 Update:
We didn't hear much from lower Bay anglers this week but that is likely due to the poor weather conditions. Strong northwest winds on consecutive days made getting out to fish nearly impossible between the low water and rough waters. Once the weather settles down, anglers should be able to take advantage of some decent catch and-release rockfish action out on the main body of the Potomac and Bay. The big fish have been suspended in deeper water along the shipping channel edges. It may take covering some ground to find them but the chance at a trophy sized rockfish is worth it for many anglers. Anglers light tackle jigging for the rock are dropping down large soft plastics on up to two and a half ounce jigheads. Trolling is also a popular option right now, and large bucktails or parachutes with large Sassy Shad are getting the job done. Barbs must be removed, no stinger hooks are allowed, and anglers may only troll up to six rods.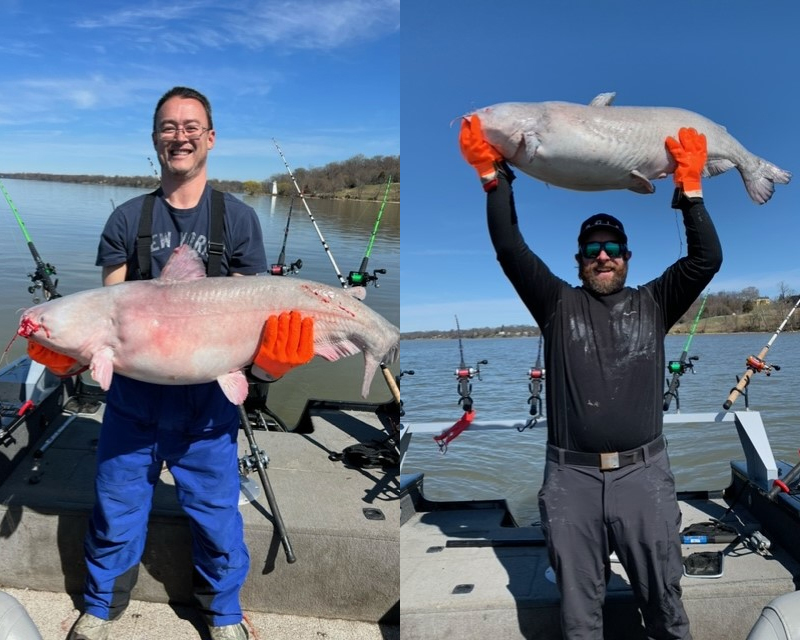 In the deeper waters of the Potomac and Rappahannock, fishing for blue cats is good right now when the wind doesn't keep boats at the dock. The tidal Potomac River below the Wilson Bridge has perhaps the highest concentration of blue catfish with many large blue catfish holding in the deep channel area off Fort Washington Park.
The upper portions of the Rappahannock River near Fredericksburg are proving to be productive this week. One angler reported loading up on crappie, yellow perch, and bluegill while fishing Piscataway creek off the Rapp. They also caught a pickerel, a snakehead, and five bass averaging close to three pounds. All fish were caught on the fly which is super cool! But… the strong winds this week blew out most of the water in the tidal creeks on the Potomac making it nearly impossible for crappie anglers to get out. Captain Mike of Apex Predators guide service reported no water at high tide where there is usually three feet of water. Can't fish when there no water.
---
Lower Chesapeake Bay Fishing Report, March 10 Update:
Angler in chief Lenny Rudow says the blue cat bite in the Potomac is red-red-red hot, and fishing on the Hot Lick running out of Goose Bay they had steady and sometimes downright chaotic action on perfect eating-size fish from five to 12 or so pounds. The action came on strong while anchored right on the channel edge and cut bunker and mud shad triggered the bites. Those after trophies as opposed to eating sized fish should remember that a  reas of the Potomac between Fort Washington and DC are known for producing fish well over 50 pounds, and early spring is a great time to target them. Anglers in the Rappahannock are also finding a productive blue cat bite. One angler fishing near Lowery Point with fresh cut shad reeled in a 40-pound blue cat on a recent trip.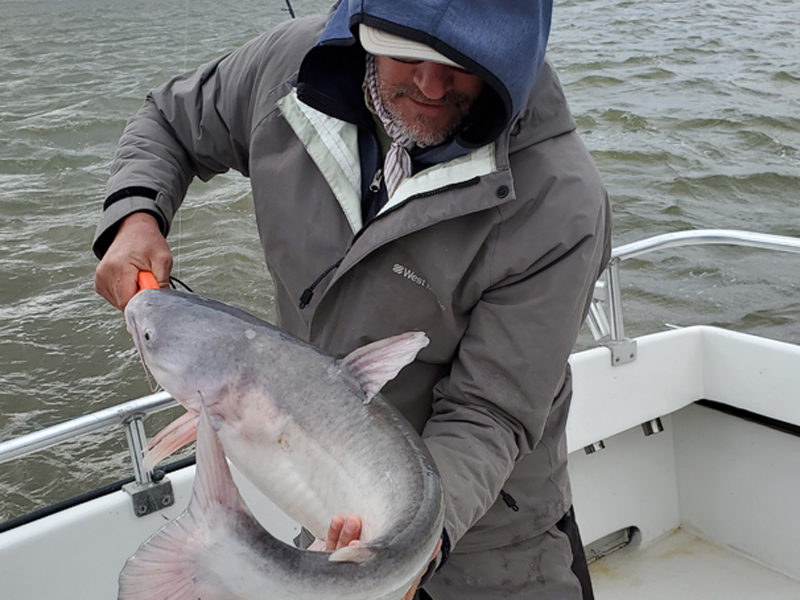 Crappie fishing is improving in the creeks off the Potomac and in the upper Rappahannock. Live minnows work best and the fish are typically schooled up close to docks or submerged structure like trees or rock piles.
The Potomac and main stem of the Bay is open to catch-and-release fishing until the 31st. There seems to be a good concentration of rockfish in the middle Bay but anywhere along the shipping channel edges could have schools of fish as they head towards their spawning areas. These are pre-spawn striped bass so utmost care should be taken when releasing them. It's also important to note that trolling can put a fair amount of stress on fish even when catching and releasing. There have been reports of some bird action in the region and anglers are having success with jigging. 10-inch BKD's and flutter spoons offer large profiles mimicking baitfish that can get the big ones biting.
---
Lower Chesapeake Bay Fishing Report, March 3 Update:
The yellow perch run has been funky in the lower Bay tributaries thus far this year. We received a couple reports from anglers who went out looking for yellow perch last weekend, one at Nanjemoy and another at Allen's Fresh. Both blanked on the perch but catfish were eating minnows at Nanjemoy. A few other anglers fishing Nanjemoy creek for yellow perch also reported a skunk over the weekend. They did find some crappie and catfish willing to bite their minnows and kept enough for a fish fry. Contrary to our reader reports, The Tackle Box let us know that they had a few anglers check in after fishing at Allen's Fresh, catching yellow perch and the occasional white perch earlier in the week. We also heard from shoreline anglers that they only caught a couple but kayakers headed upriver caught a mess of perch, then the next day, the guys on shore caught them by the dozen while the upriver kayakers had a tough time. As is sometimes the case with the yellow perch run it seems as though the bite is an on again, off again situation. Some days you may luck out and get on them and others they might not be willing to bite.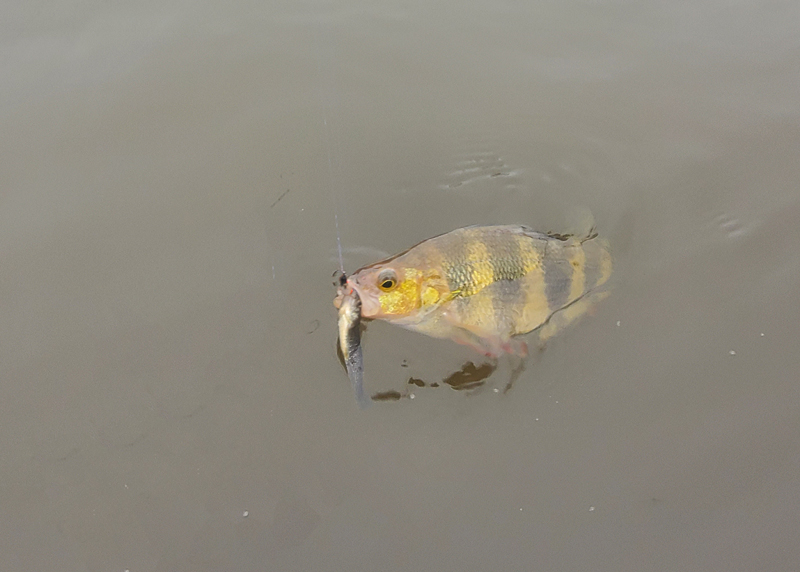 There were no reports of anglers targeting rockfish in the lower Bay this week but warmer water temperatures should have these fish pushing shallower and feeding on bait. The first ospreys of the year have shown up and those birds typically follow the baitfish so anglers wanting to catch and release rockfish should check out the mouth of the Potomac and main stem of the Bay for some potential action. Another way to get a B-I-G bend in your rod: March is a great month to target blue catfish in the Potomac, Rappahannock, and James. We also received a reader report of good action on blues this week, including a 40-pound whopper, in the Pamunkey. Areas around Washington, DC known for producing blue cats over 50 pounds have fish that are very active right now as well. Fishing from shore or a boat are both viable options for targeting the cats and any type of fresh cut bait works well.
Crappie fishing in the upper tribs is picking up as temperatures continue to tend milder, too. Captain Brian from Apex Predators Guide Service reported catching his first crappie of the year at a Virginia-side creek off the Potomac using small jigheads and minnows. Small soft plastic jigs work well when fished under a bobber or jigged off the bottom but minnows tend to work best to get the crappie biting.