Lower Chesapeake Bay Fishing Report, May 27 Update:
Striped bass fishing is ON in the Lower Bay and the fleet is on the move. Trollers are enjoying some pretty solid striped bass fishing along the shipping channels, with the Tackle Box checking in to report that white and chartreuse bucktails and sassy shad are getting them to hit. Reports of catches in the mid-20's and the occasional low-30 inch-range fish have been pretty frequent, with good numbers of fish around. A handful of larger migratory fish are still being caught by lucky anglers here and there, as well. in the Potomac, the area around Piney Point to St. George's Island has popped up as a hotspot. One angler who fished that area this week checked in to report a C&R 32 and another pair reported scoring two in the upper 20s on the troll. The main channel edge in the Bay has been busy with boats and is sure to be active this Memorial Day weekend, as well. Chummers are also getting plenty of nice striped bass setting up on drop-offs in the 15 to 25 foot range. Unfortunately for chummers and other bait anglers, however, the rays have moved into the entire area in force and are busily inhaling baits and breaking leaders.
Light tackle tactics were also popular this week. Jigging for suspended fish along the channel edges is a favorite choice, with check ins to the Tackle Box this week frequently indicating fish in the low-to-mid 20-inch range. Jiggers reporting in say the fish are favoring white and chartreuse soft plastics.
While we're sure some of the reds have made their way north of Poquoson by now and some bull reds have been caught up to the Tangier on the east side, we didn't get any verified reports for them in this zone this week. We did, however, hear from a reader who ran down to The Cell and hooked into a pair of black drum in the upper 20s on clam.
Blue catfish catches in the tribs including the Potomac and Rapp were good for shoreline anglers this week, too. The Tackle Box reported that cut baits fished on the bottom is the way to go. White perch are also in the tribs and shifting into summer-mode, hanging around docks and piers. They can be caught using small spinners and jigs, as well as bottom rigs with (uber-expensive) bloodworms or FishBites.
---
Lower Chesapeake Bay Fishing Report, May 19 Update:
Rockfish are now legit in both MD and VA waters, people, and are on the minds of plenty of anglers! Along with reports of success on fish in the 20- to 28-inch slot we heard from readers catching some over-slot fish, with success noted near Smith Point and the lower Potomac, as well as in the Rappahannock near the Route 3 bridge. Contributor Eric Packard spent a day on the Potomac near Piney Point, and enjoyed nonstop action from schoolie-sized stripers on chartreuse and electric chicken soft plastics.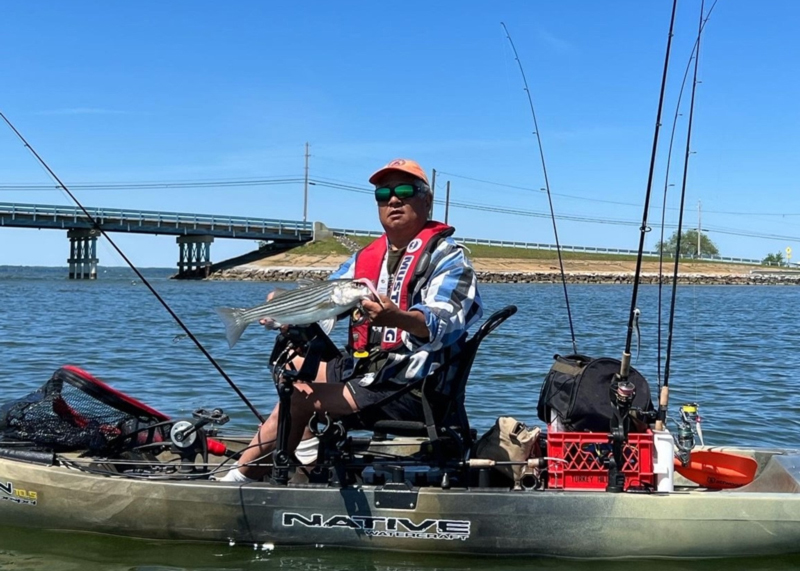 Anglers fishing shrimp near Milford Haven hoping to catch some reds on their way up the Bay reported some slightly distressing news this week: the rays are in. We also had multiple reports of ray sightings elsewhere on the Bay so if you feel a ginormous tug but no tail-pumps or head-shakes, well, you have our sympathies. On the bright side the redfish bite continues on strong with many anglers heading south to the Poqouson, which has been a real highlight this spring, and one-off catches now reported all the way up to the Pocomoke Sound. We also had a reader report of good black drum fishing this week at The Cell, with clam and peelers taking hits from 50-plus-pounders.
In the rivers shad fishing is pretty much a done deal. Despite it being time for spawning season, however, the blue catfish bite seems to be continuing unabated thus far. We had reports of fish up to 43-pounds this week and numbers of up to over a dozen, possibly the result of the delayed warmup and cool water from all the storms. Still, we'd expect the catting to get slightly more difficult than usual for a few weeks, at any time now.
---
Lower Chesapeake Bay Fishing Report, May 13 Update:
Although high winds turned many fishing-opportune days into bummers throughout this week, anglers fishing the lower Chesapeake still did manage to score some fish. In the Potomac, where stripers are fair game, reports picked up a bit this week with several readers reporting success on white tandems and umbrellas. Catches certainly weren't spectacular (1-1-3-3 from the readers) but since big fish were being encountered upriver as recently as a week ago, it seems there's a bit of an uptick in the migration. Catches along the channel in the main stem of the Bay were fair this week throughout the traditional trolling ground, when weather permitted. The white and chartreuse tandems, large bucktails, and umbrellas are top choice for the stripers.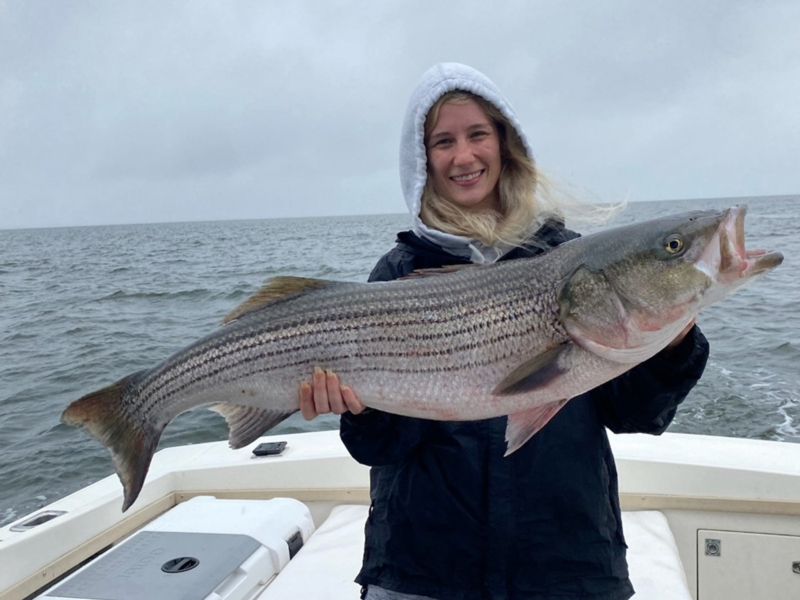 Although weather knocked off much fishing this week, anglers fishing shoreline for blue and channel cats were not deterred. Poor conditions didn't seem to bother the fish much, with the stream of trophy-cat catches uninterrupted this week. The Potomac, Rappahannock, and James are all thick and heavy with catfish.
White perch catches in the rivers continue, with perch just beginning to move into shallow waters within creeks and coves in the lower tributaries. Fishing for them with small spinners or bloodworms and grass shrimp gets the nod, but several anglers reported finding some upriver areas muddy and discolored and noted that finding areas of cleaner water was a day-changer.
If you missed last night's presentation of The Past Present & Future of Striped Bass: A Chesapeake Perspective, remember, you can still watch it on YouTube!
---
Lower Chesapeake Bay Fishing Report, May 6 Update:
Rockfish Alert for Anglers Hitting MD or Potomac Waters: Many of the reports and pictures we received through the past week indicate that many of the trophy fish have NOT spawned yet. When reeling up an obvious pre-spawn fish with a sagging belly, we recreational anglers need to make an individual decision as to whether we'll slide the hook out and snap off a pic with the fish in the water next to the boat, or put it in the box. While we at FishTalk would never criticize anyone for keeping a legal fish, we do encourage giving it some serious thought before boxing a roe-laden trophy. We'd also humbly suggest that even with post-spawn fish, if you decide to harvest, a one trophy per season self-limit might not be a bad thing.
The main stem of the Bay from the Maryland line north was awash with planar boards as boats hit the water for opening weekend of trophy striper season. The Tackle Box reported that they had a mixed bag of reports from opening week, with plenty of skunks and others coming in with great tales to tell, as well. Overall, fishing for trophies was better further up in the Middle Bay. Anglers are mostly sticking to the channel edges while pulling umbrellas and tandems behind planer boards. Point No Point, Smith Point, and CP Buoy south to Buoy 76 spanning south all were popular locations to troll, drawing much of the fleet. Chartreuse, white, and pink were common colors throughout the weekend, although white was a stand out.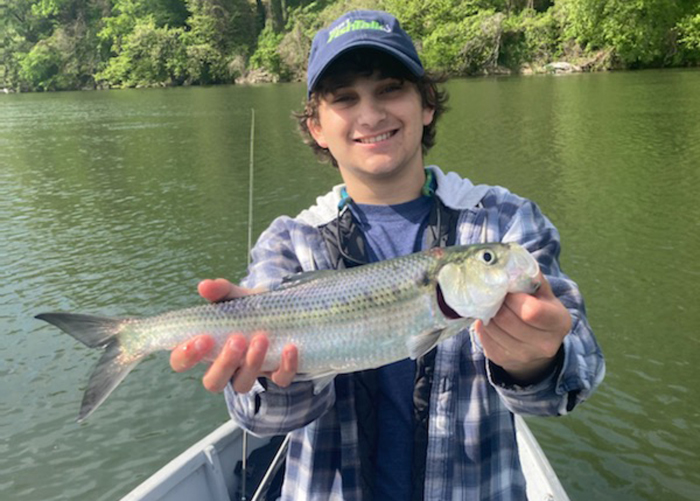 The shad run still hasn't petered out, and FishTalk intern Ian Rubin reported a great catch in the Potomac early this week with plenty of hickory shad as well as perch, a quillback, and several large stripers slamming his spoons. The run is nearing its end though, and the farther south you get tributary by tributary, the slower the action is becoming.
Up the Potomac, James, and Rapp, plenty of catfish are coming in still. This season remains off-the-hook good for them and shoreline anglers are especially loving the high concentrations we've been seeing. They're easy to find and access and the most important factor to catching them is using fresh baits on bottom. Gizzard shad, menhaden, and white perch are working best. Also, about those perch: They're settling into warm weather haunts and now can be hooked up in deeper tributary areas of structure and hard bottom with bloodworms, Fishbites, or grass shrimp on a bottom rig.
What about the reds and specks we're all awaiting with baited breath? We didn't hard of any further north on the west side than Poquoson this week, however, a couple of specks have now been caught in the Tangier, which means they could pop up virtually anywhere in the coming days. Just as soon as the big incoming blow passes by we'd expect to see reports for both species pick up steam in a big way — get ready!