Lower Chesapeake Bay Fishing Report, May 26 Update:
Summer rockfish season is alive and well in the lower Bay with anglers finding success from the Potomac down into Virginia waters. We got a report from an angler who hit the Potomac last weekend. They caught six rockfish up to 22 inches and three white perch over the course of a four-hour morning trip. Most of the fish were caught on metal jigs but one of the rockfish was caught on a seven-inch Z-Man soft plastic, and another was caught on a jumbo live minnow. All his fish were caught between the Wicomico River and the 301 Bridge. Right now, the Potomac rockfish regulations allow anglers to keep two fish per day between 20 and 31 inches. Chesapeake Bay waters in Maryland allow anglers to keep one fish per day between 19 and 31 inches while Chesapeake Bay waters in Virginia allow anglers to keep one fish per day between 20 and 28 inches.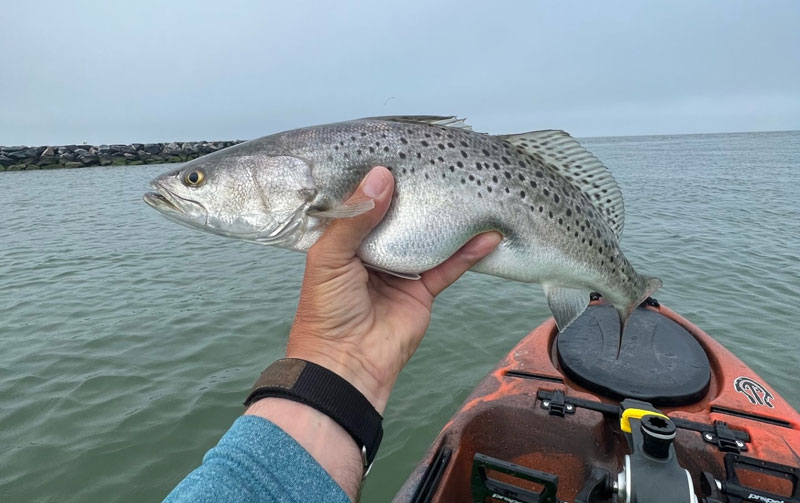 An angler fishing the Piankatank last weekend had a spectacular day while fly fishing. They fished east of the Route 3 bridge and landed 87 fish comprised of nine different species including five speckled trout between 16 and 19 inches, seven puppy drum between 15 and 18 inches, 10 rockfish up to 20 inches, plenty of white perch, a flounder, a cownose ray, and even a Spanish mackerel. The presentation of a bait from a fly rod is much more natural and can be super effective while saltwater fishing, as proven here. Another angler reported fishing the Corrotoman River, Rappahannock River, and areas around Glebe Point with lots of success. Water temperatures in that area have been around 70 degrees which is great for shallow water fishing. They found speckled trout, puppy drum, rockfish, white perch, spot, and bluefish. Most were caught on a three and a half inch Z-Man paddletail with menhaden Pro-Cure Bait Scents added for extra appeal. Six feet has been the magic depth for them lately.
An exciting catch from the Rappahannock came in this week with the first report of a cobia caught this year (!) The angler caught it on a jig and had picture evidence to prove his catch. Hopefully more of these fish show up in the lower Bay soon.
---
Lower Chesapeake Bay Fishing Report, May 19 Update:
The lower Bay is coming to life as we near the end of Spring and we are seeing a variety of fish come from these waters. However, a lot of readers are reporting an infusion of rays in numbers that are making it tough to fish in some spots. Contributor Eric Packard fished the Potomac two days in the past week and said that while catching plenty of striped bass up to 31-inches (four-inch white and electric chicken paddletails on ¾-ounce heads proved effective), he hooked into five rays and broke off several jigs. He also noted that a nearby angler said he had landed a speck. Anglers fishing at Elms Beach Park are now catching a mix of fish including rockfish, spot, perch, and even some croaker. These fish should also be available at the Point Lookout fishing pier. Now that water temperatures are in the mid 60s and even hitting the 70s in some places, many fish have returned to their usual summer hangouts. White perch can be caught with small spinners along rock jetties and docks. You may even catch a few rockfish while targeting the perch as well.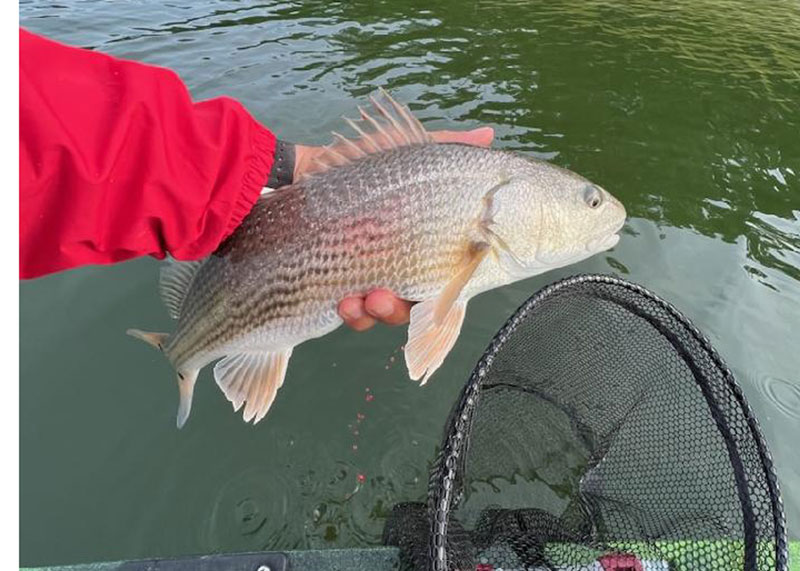 Contributor Eric Packard probed the waters of the Piankatank this week in search of specks, and instead happened upon several peppy redfish along with plenty of rockfish and white perch. BKDs and four-inch Kaitech tails did the trick, with most of the fish found in seven to 16 feet of water holding along drop-offs or near piers. The Tackle Box reported that specks have shown up at many local spots as far as and including including Point Lookout and many of the local tidal creeks. Finding shallow grass beds is essential when searching for the specks, but they can also be found near any shallow water structure where you would expect to catch rockfish. One angler trolling in the shallows near the mouth of the Rappahannock found luck catching specks during a trip this week. They caught two specks around 20 inches and one at 24 inches which were all let go, but kept a 21- and a 17-inch speck for the dinner table. He also landed a 17-inch rockfish.
Summer rockfish season opened in all waters of the lower Bay this week. The Potomac River regulations allow two fish per day with a slot limit of 20 to 31 inches. The main stem of the Bay in Maryland waters allows for one fish per day with a slot of 19 to 31 inches. In Virginia, regulations permit anglers to keep one fish per day with a slot of 20 to 28 inches. Fishing in the shallows has been good just about everywhere and there are also decent schools of fish in deeper water along channel edges.
---
Lower Chesapeake Bay Fishing Report, May 12 Update:
As we progress through spring the fisheries of the Lower Bay are really starting to flourish. Lots of good reports came in this week from both Maryland and Virginia waters. We received our first report of a PLO speck, so it's safe to say you could now find one in any of the western shore tribs from the Potomac south! Trophy rockfish season has been uneventful for many, but a few boats found success trolling in the Potomac during the week. One boat trolling north of St. Clements Island on the Maryland side landed a 40-inch fish that was quickly released after a picture. Kudos to you for releasing a breeder. Another boat trolling north of Coles Point caught a 43-inch fish on a six-ounce parachute rig.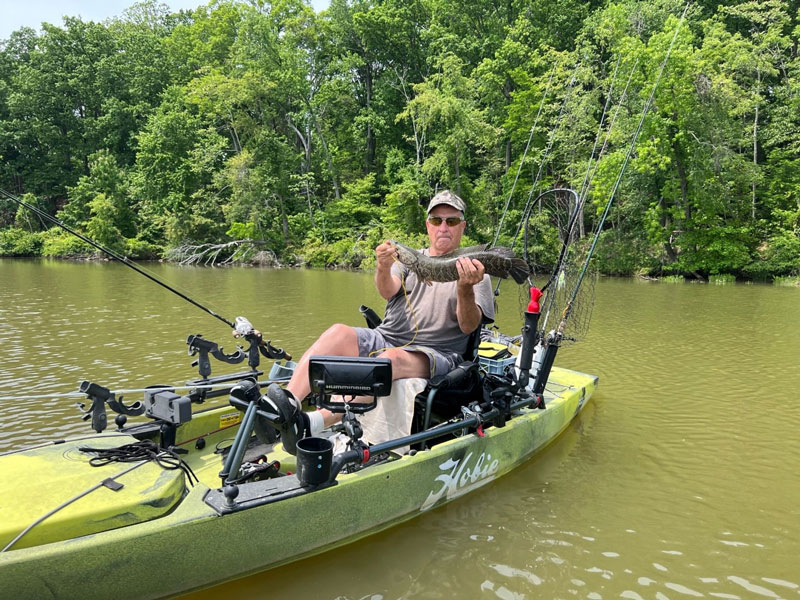 Snakehead fishing has been good this week in the tidal tributaries. Apex Predators guide service has been slamming big fish in the grass and pad fields of the Potomac. His custom lures are doing the trick with buzzbaits, topwater frogs, and soft plastic creature baits all catching fish. These lures are now available at Catfish Kelly's Country Store in Fredericksburg, VA.
The Rappahannock was productive this week with multiple anglers checking in with successful trips. One fishing the upper Rapp reported catching 20 shad, one white perch, and two rockfish on a lightly dressed clouser. The biggest rockfish was 22 inches. Another angler fishing closer to the mouth of the river checked in after catching schoolie stripers and some small puppy drum on a swimbait. A fly fisherman fishing the Corrotoman River had a great day catching multiple species totaling 68 fish. Around half of those were rockfish ranging from 13 to 21 inches. White perch, spot, one speckled trout, and a cownose ray made up the rest of their bag for the day. They noted that the cownose rays have shown up in big numbers in that area.
Important Notice: The Potomac River Fisheries Commission will be implementing a 31-inch maximum size on striped bass in its jurisdictional waters effective May 16, 2023. The new maximum size is in place through July 6, 2023, and then again after the summer closure from August 21st through December 31, 2023. All other aspects of the recreational and charter fishery during this timeframe will remain the same, including 20-inch minimum size, two fish per person per day bag limit. Virginia has made no changes thus far to its one fish, 20- to 28-inch spring season slot from May 16 through June 15. However, expect the fall slot maximum of 36 inches to be lowered to 31 inches; we'll report back if and when the VMRC makes any announcements. The Maryland Department of Natural Resources announced a change in the size limit for the striped bass summer and fall fishery for the Maryland portion of the Chesapeake Bay and its tidal tributaries, including the Maryland tributaries of the Potomac River. Starting May 16th, 2023, the minimum size for striped bass is 19 inches and the maximum size for striped bass is 31 inches. All other rockfish regulations for the Maryland portion of the Bay remain the same. See Striped Bass Minimum Size Capped at 31 Inches-Update MD Regs for the latest news on this development.
---
Lower Chesapeake Bay Fishing Report, May 5 Update:
It was a rough start to trophy rockfish season in Maryland and Potomac waters both literally and figuratively. Gusty conditions at the beginning of the week made fishing difficult and many boats stayed at the dock due to the waves. We didn't hear of any reports from the Potomac or Point Lookout area but we can figure that fishing was subpar based on reports from other areas. Most of the breeder size fish spawned earlier this spring and have already headed south out of the Bay to start their journey up the coast. The minimum size for rockfish in the Potomac is 35 inches until May 16 where it will go to a 20-inch minimum. Virginia rockfish season will open on May 16 and will allow anglers to keep one fish per day between 20 and 28 inches.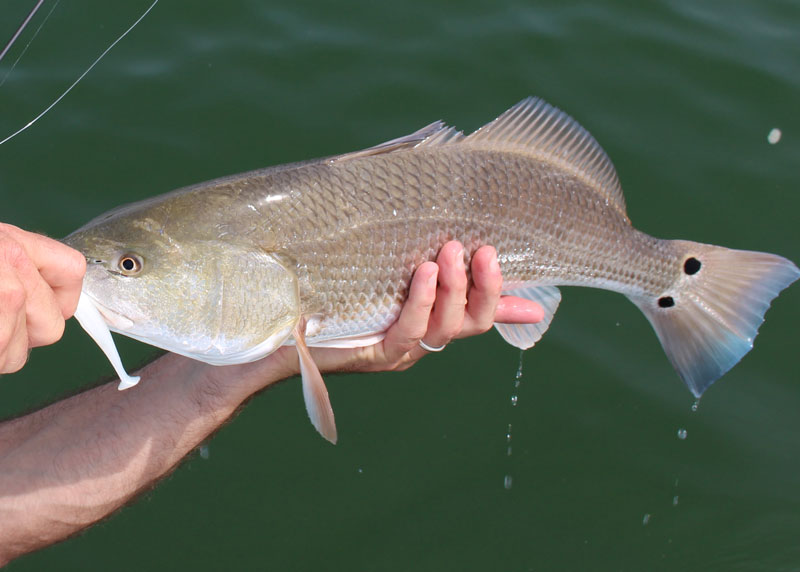 Water temperatures in the lower Bay are steadily rising and speckled trout and red drum should soon be biting in greater numbers. Fishing for these species has been good down south, so these fish should be steadily working their way north. An angler fishing the Corrotoman River last weekend had a slower day on the water likely due to the rain. While fishing from eight in the morning until two in the afternoon they managed to catch three under-slot puppy drum and one small white perch. They fished in three to five feet of water and reported that water temperatures were in the upper 60's. The drum were caught on a root beer colored Gulp! shrimp on a half-ounce red jighead under a popping cork, while the perch was caught on a small yellow shad dart.
Blue cats are getting ready to spawn and some big ones are being caught in most of the tidal tributaries. The Potomac and Rappahannock both have blue cats that exceed 50 pounds. Fresh cut bait like menhaden works well but jigging for them is growing in popularity. Tactics are similar to when you are jigging for rockfish. Mark a school on the depth finder and drop down to where you mark them.
A major update to the coastal striped bass fishery was announced by The Atlantic States Marine Fisheries Commission and the Atlantic States Striped Bass Management Board who voted to take emergency action to reduce coastwide harvest of striped bass. This action requires states to lower the top end of the slot limit to 31 inches. Learn more about the measures in Striped Bass Maximum Size Capped.