Lower Chesapeake Bay Fishing Report, October 29 Update:
Hi FishTalkers – due to excessive winds throughout the region recently, most of this week's reports date back to Monday or last weekend. Prior to the big blow bull redfish continued to dominate the action in many Lower Bay areas, especially the Potomac-to-Gwynn zone. It seems that with the mild weather these fish stuck around a bit longer than the norm, and reports of 40-plus-inch reds were plentiful last weekend. Open Bay structure off the Piankatank was holding some epic action, and some of the pics that came in from readers are enough to make an angler's eyeballs pop – multiple bull reds, plus slot reds, plus keeper-sized weakfish, and black sea bass on top of that. Fish are also being found under birds, but they've been holding on structure and those able to find wreck and reef areas with live bottom have had some serious bends in their rods.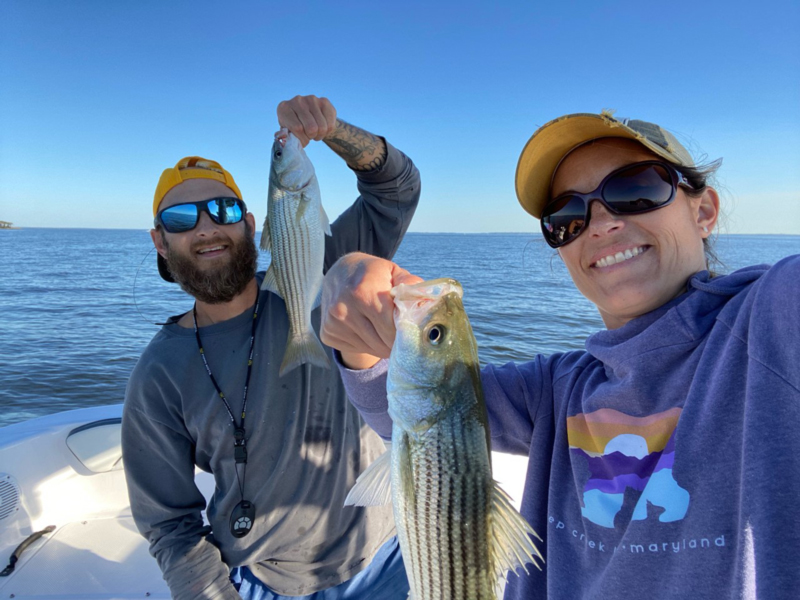 Stripers have been on fire this week, and trollers and jiggers are getting the best of the bite. Both have generally been doing well on the channel edges, and trollers are pulling chartreuse and white umbrellas paired with bucktails and trailers. When boats could get out this week, they found a steady bite with a good mix of schoolies and fish stretching into the upper-20s.
We also had a reader report from up inside the Piankatank in the Wilton Point area, where there were decent numbers of specks around, though most were small. Fortunately, a couple of slot reds and small stripers kept things interesting. The impact of this storm on all these areas is, of course, TBD.
---
Lower Chesapeake Bay Fishing Report, October 22 Update:
Fishing in the Lower Bay is like the finale of a symphony right now; scores of fish are gathering to feed on baitfish as they travel out of rivers and south before Chesapeake waters become quiet for winter and multiple species are blending to add some harmony. Fishing the shorelines was popular this week and multiple anglers who stopped by the Tackle Box reported that they were consistently producing in the lower Potomac and St. Mary's. Topwater lures, jerkbaits, and soft plastics attracted plenty of striped bass in the mid-to-late teens, as well as the occasional speckled trout, although they're dropping in numbers in northern rivers for the season. Anglers fishing from Point Lookout reported lively striper action this week.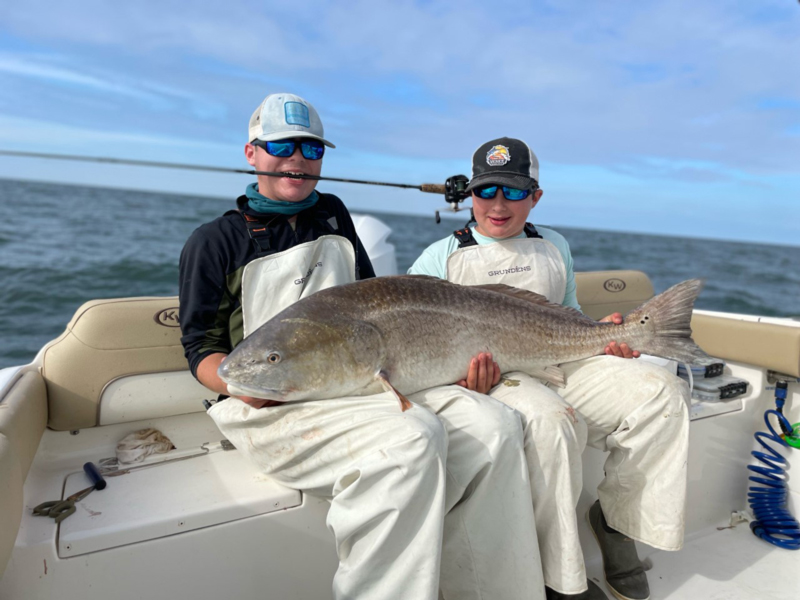 Our Trip of the Week award goes to a reader who checked in after working the area between Gwynn Island and the shipping channel with some rather epic results, while jigging over structure. Multiple 40-plus-inch bull reds slammed their offerings before a pod of cobia swam by, and tossing a white bucktail their way resulted in yet another exciting catch and release. Holy cow, that's what we call a fun day!
Trollers also had an excellent week, reporting to the Tackle Box that they were finding fish deep on umbrella rigs pulled behind inline weights and trailing bucktails or Drones. In shallower waters, downsized spoons and bucktails with white or chartreuse soft plastics were getting hits. The catch was a healthy mix of stripers and bluefish, and one reader reported that trolling the channel edge from Piney Point to St. Georges Island briefly brought three stripers in the mid-20s aboard before they returned to the water. Another checked in after having success on mid-20-something stripers just south of Windmill Point. We also heard from boats that landed a couple dinner-sized bluefish and multiple smaller ones mixed with the rockfish.
Across and down the Bay, spotting breaking fish or working birds has been one of the most eventful and fruitful ways to get fish on your line. Wise anglers are keeping eyes and binoculars at attention, waiting to see birds grouping up or fish popping atop the water. Casting soft plastics or spoons through the mix is the favored way to get a hookup. Because bluefish and even a few mackerel (we heard of one hitting the deck and another angler spotting some jumping south of the Targets) are still around, the Tackle Box noted that many boats are still keeping spoons on board, and opting to toss them through the chaos. Jigging under the school is also worth a shot, especially considering the report of bull reds popping up.
Catfish are also a target species right now. There are tons of fat ones being wrangled by anglers putting fresh cut bait on bottom throughout the tidal rivers. Fishing for catfish can be decidedly low-effort compared to other fishing currently happening and often just requires access to a shoreline. Plus, incentive to catch the cats is high: blue and flathead catfish are invasive to the Chesapeake, and feed on many of our beloved native species. If you're in search of some eco-fishing or want to stay away from the weekend fleet, going for catfish is a great option.
---
Lower Chesapeake Bay Fishing Report, October 15 Update:
Although the Spanish mackerel population is dwindling as the season winds down, the Middle Grounds is still holding a decent population of fish that trollers are enjoying of action from. Sticking to small Clarks, small Drones, and Hard Head Custom Baits Bombers has been a popular choice. Although the bulk of the bite has shifted to stripers, mackerel also continue to be caught under breaking fish and working birds that are peppering the mouths of the rivers, too, especially the Potomac and the Rappahannock. Many anglers are seeing the bulk of their action coming from casting metal lures through the mix and reeling quickly. Some boats have also been trolling with mixed results including solid numbers of small but eating-sized snapper blues.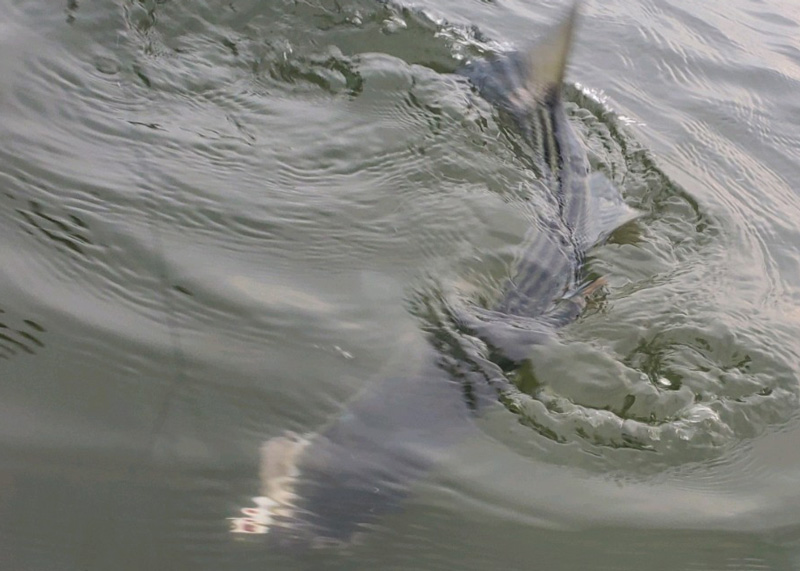 Striper fishing has primarily focused on the channel edges, with liveliners and jiggers doing well. There are still enough spot for effective livelining from the Rappahannock down (their numbers are thinning up north by the day, though some are still available) though liveliners inside the river mouths are encountering catfish as a barrier to catching stripers, often hooking up with multiples throughout the day. A big plus is the cats have been FAT. They're offering a good fight, and the Tackle Box heard of a few in the 30-inch range this week. Tossing jigs mostly eliminates that issue and white five- to seven-inch plastics are drawing striper bites when cast to structure in the trib mouths up and down the western shore. Many are throwbacks (one reader reported a 10-to-one ratio) but plenty of fish in the low-20-something range are around, too.
Speckled trout are still around, although their numbers are dropping off in northern areas, and some reds are still popping up too. The Rappahannock downstream of the 301 bridge was noted by a couple of readers as producing a mixed bag of specks, reds, and stripers fit for the cooler. Five-inch soft plastic paddle-tails and flukes were the ticket and one mentioned fresh shrimp drew a number of bites including a slot red.
---
Lower Chesapeake Bay Fishing Report, October 8 Update:
*We apologize for the light reports this week, but due to exhibiting at the U.S. Powerboat Show in Annapolis (come see us this weekend at booth F7) and some personal matters we have not been able to gather as much intel as usual. Stay tuned for next week's reports!
Eric Packard visited Mallows Bay on the Potomac and reported that most of the area and the burning basin was weed choked and covered with algae. Despite the conditions he managed to catch some largemouth bass and 2 snakeheads on a topwater Snakehead Outlawz Slayer Ratz, while getting several other blowups as well. He also fished Mill Creek this week with friends Darren Reinhart and Julian Tsai and saw that peanut bunker were everywhere. Four hours of fishing produced 7 bluefish, 22 striped bass, and a lizardfish. All fish we caught on 1/2oz jig with 4" paddle tails.
Tackle Box reported that Rockfish and bluefish have been very active this past week as cooler temperatures have encouraged the fish to school and feed up for the coming winter. Good catches of bluefish have been made from the shore by surf casters in the Potomac around St. George Island and in the Patuxent at Cedar Point. The blues are also breaking in the bay and rivers and can be caught on most any shiny lure.  There are a lot of 10 to 12 inch blues feeding on peanut bunker on the surface.  Metal jigs fished below the breaking feeding juveniles can result in hook-ups of bigger blues, rockfish and an occasional bull redfish.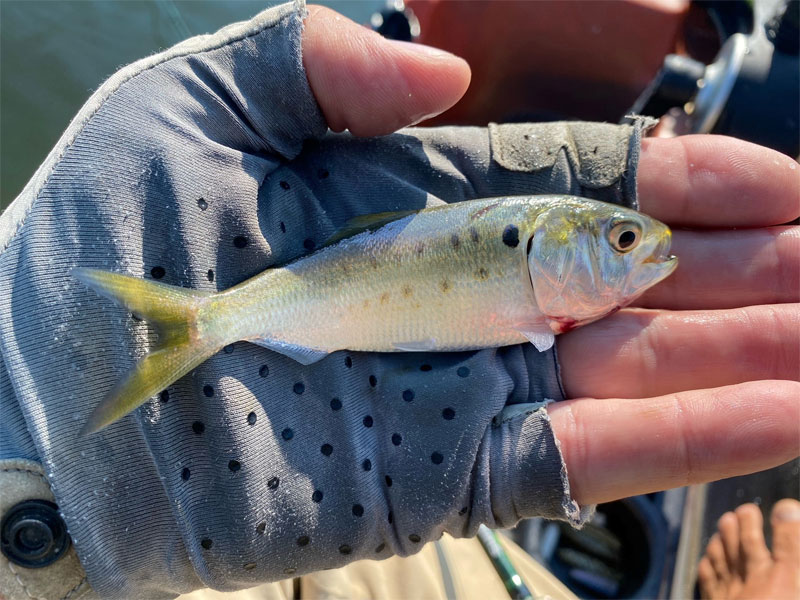 The big reds are still around and both catches and sightings were reported all week. Rockfish are very active for lure casters and trollers in all areas.  Trollers have found stripers in the 20 to 28 inch range off Piney Point, Breton bay and Ragged Point.  Catfish are competing for the lures meant for the rockfish, and they can easily weigh eight to twenty pounds.  Some have reported eight out of ten fish landed have been catfish in the deeper waters of the Potomac.
The cooler transition to fall weather combined with murky water due to wind and weather has slowed the perch and spot bite in the Patuxent.
---
Lower Chesapeake Bay Fishing Report, October 1 Update:
Captain Nathan from Beach's Chesapeake Charters checked in to prove that there are some monster bull red drum being caught in the Lower Bay. Finding birds and working your jigs or spoons down deep under the frenzy is the top way of finding 'em. We also had two reader reports of 40-plus-inch redfish, both one-offs, caught in the general vicinity of the state line.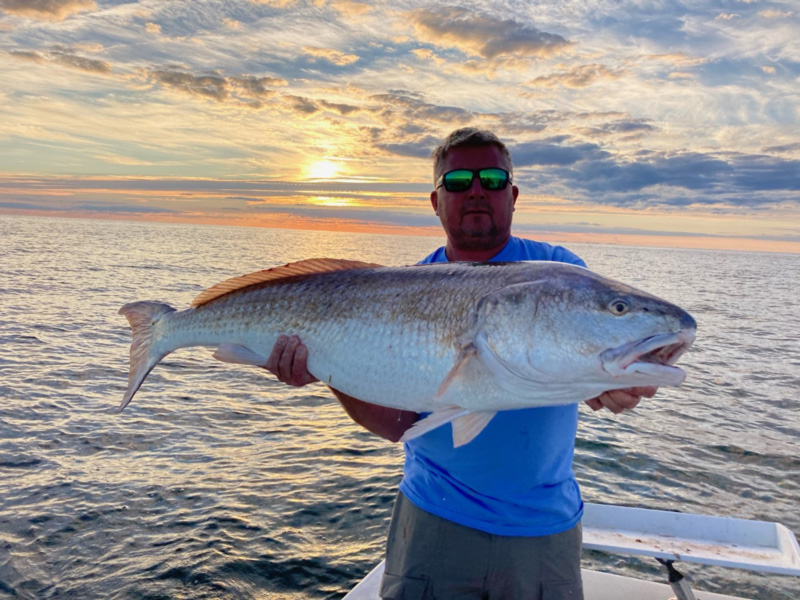 Rockfish reports from the lower Potomac continue to be good for fish in the 20-something inch range, with The Tackle Box noting that both trollers (pulling small umbrella rigs and tandems) and casters (jigs and topwater in the shallows) are catching. They also pointed out that the number of small blues can make it difficult to use soft plastics at times. As the Virginia season opens up on Monday we'd expect to begin hearing more—a lot more—about the striper bite from the Rap down. A reader fishing the lower York for specks mentioned that he reeled in and released a couple of rockfish that would have been legal if the calendar said so.
Another reader checked in after a two-day foray on the waters of the Piankatank and Milford Haven, and said the speck bite casting 3.5-inch fluke lures rigged Texas style was good but the bulk of the fish were on the small side and many were sub-legal. Though reports of reds have been decent from the area in recent weeks, just one slot and one undersized drum (plus lizard fish) were in his mix.