Middle Chesapeake Bay Fishing Report, August 25 Update:
Angler in Chief Lenny Rudow says the Great Cutlassfish Invasion of 2023 continues outside the South and West rivers, with the action ranging from just west of the green number-one marker (south of Thomas Point), in to the crab pots, mostly in the 18- to 22- foot range. They are running hot and cold, though, and one evening a three-hour trip produced 59 (59!) slow-trolling one-ounce Rat-L-Traps and similar plugs, then the next day a friend hit the same territory and reported nada. Rudow mentioned that osprey seem to love these fish and often you can nail down their location when you see four or five osprey circling an area. Also in the cool catch department, Chasin Tail Charters caught a 69-pound black drum while live lining for rockfish near the Bay Bridge. That must have been an awesome fight!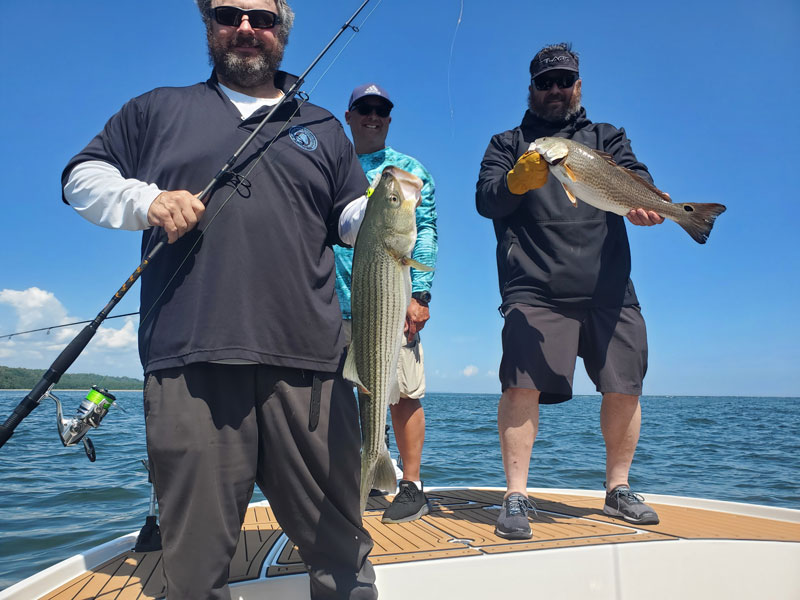 We had a pair of reader reports come in late last weekend of a rock-bluefish mix breaking water at the mouth of Eastern Bay, on the north side of Poplar. The rockfish ranged up to 24 inches and the bluefish were in the one- to two-pound range. Scattered mackerel have been caught up to Bloody Point, but this bite has been inconsistent. The better action has been towards the mouth of the Choptank where schools of bluefish and Spanish mackerel have been chasing glass minnows. Most boats are still trolling spoons to find these fish as there haven't been many blitzes popping up. We had reports from two trollers workign this zone of two to four mackerel and about twice that number of blues in an afternoon of fishing. If you are lucky enough to find them breaking, Kastmasters and Rain Minnows work great for casting to them with light tackle gear.
The puppy drum bite in the shallows of the mid Bay rivers is still offering steady action for anglers throwing small spinners in the shallows. These fish will be hanging out in the same places you would target white perch so focusing on rocks, jetties, and dock pilings will yield the best results. The Angler in Chief said that on one mid-week trip after hunting for bull reds for a few hours to no avail, they moved in to six- to eight-foot depths and had a slot drum around 21-inches as well as two 23-inch specks, along with plenty of rockfish. White and electric chicken five-inch paddletails got them snapping. We even got a report from an angler fishing on the bayfront near Shady Side who found more puppy drum willing to bite than white perch, landing about two pups for every perch. Minnows under a bobber cast near structure got the fish biting. The best perch bites have been inside the rivers. It sometimes takes some searching around, but when you find them, there is usually a decent school to have fun with.
---
Middle Chesapeake Bay Fishing Report, August 18 Update:
We are seeing all the typical signs of late summer on the Chesapeake. Warm water temperatures, lots of jellyfish, and an abundance of different species. Angler in Chief Lenny Rudow says that in a bizarre twist hordes of cutlassfish have moved into the 18- to 22- foot zone south of Thomas Point and east of the Mayo peninsula, and on an evening trip early this week with three aboard they caught over a dozen in under two hours of fishing. They aren't huge but are of eating size (long, skinny fillets – spice as desired, roll 'em up like a pinwheel, stick a toothpick through, and pop 'em in the oven) and seem to be chasing big schools of very small bunker. Small ½ and ¾ ounce silver Castmasters, three-inch electric chicken paddle tails (tooth-proof only – these fish have an outrageous set of teeth) and one-ounce Rat-L-Trap style plugs were all getting hit. He said trolling east-west very slowly until getting a hit, then stopping and casting, proved highly effective. He also noted that a mid-morning trip later in the week produced far less action despite seeing hordes of them on the meter, and David Rudow had two other very productive evening trips this week, so these fish do seem to prefer low light levels.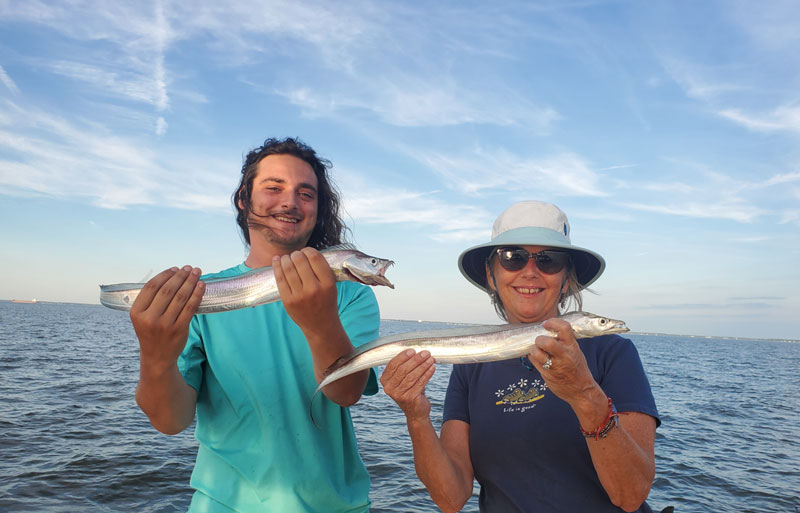 Rockfish fishing has been a bit less active, with some fish up to 23 inches showing up in the rivers. The mouth of Eastern Bay had some rock chasing bait to the surface and produced some bird action midweek, but Lenny said the fish were on the move (and being pursued by plenty of boats even on Wednesday); if you kept after them it was possible to get a few bites on white paddletails on one-ounce heads. Charters were tossing spot into the zone and looked to be getting plenty of bites on the live offerings.
Contributor Eric Packard enjoyed a solid bite on a fine mix of bluefish, rockfish, and speckled sea trout up to 20.5 inches outside of St. Jerome's Creek early this week. Chartreuse and white paddletails did the trick, and he noted that most of the fish came from around eight to eight and a half feet of water. Caution: he also mentioned that cow nose rays were problematic in the area. Good numbers of small puppy drum in the 10-to-15-inch range have moved into the mid Bay shallows, usually found mixed in with white perch. There have been some reports of slot sized red drum from the Patuxent and areas south, but the smaller fish have been caught all the way to north of the Bay Bridge. Casting small jigs to nearshore structure such as dock pilings and rock jetties has proved very effective.
Spanish mackerel and bluefish have been popping up sporadically from Poplar Island and areas south with the better numbers being reported near Sharp's Island Light and Solomons. It's important to note that there have been some large pods of dolphins moving through these areas that have completely shut down the bite at times. Boats that have found success are trolling Drone and Clark spoons behind number one planers at five to eight knots. If the schools pop up breaking on baitfish, you can cast to them with metal jigs and Gotcha plugs for some fun light tackle action. Scattered but bigger red drum have also been caught in some of the mid Bay areas including as far north as the Stone Rock, so keep an eye on the fish finder for big marks. Heavy jigs dressed with large soft plastics usually entice a bite if you can get your bait in front of them.
---
Middle Chesapeake Bay Fishing Report, August 11 Update:
AIC Lenny Rudow says Thomas Point has been holding fish, and during two visits there last weekend — one at dusk and another at dawn — stripers from 15- to 22-inches were not only hitting but were also been briefly busting water on very small peanut bunker. He noted that for whatever reason, electric chicken plastic shad was out-fishing white paddletails by a wide margin. Another interesting report from the Thomas Point area: black sea bass caught at the lighthouse rocks. A reader casting from across the Bay at Matapeake reported big rays as the main catch. An even more interesting report: FishTalk team member David Rudow was fishing off the mouth of the South River midweek when a school of ribbonfish began breaking water on peanut bunker. He says they hit paddletails but small metal spoons worked better, and the strange critters were launching out of the water with birds diving around them and osprey snatching them in mid-air.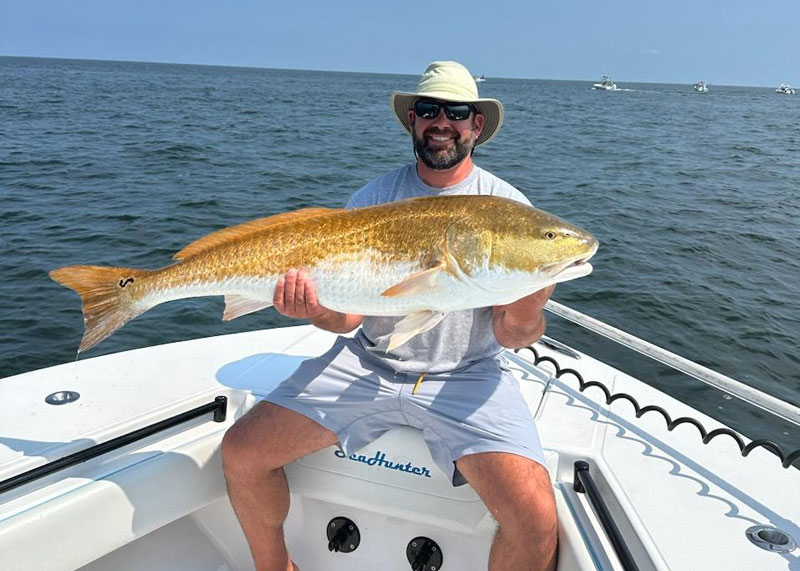 In the shallows, plenty of white perch and the occasional puppy drum are providing plenty of action in the mid Bay rivers. Two anglers fishing in the West River reported the evening bite has been best for perch and casting to docks and rock jetties has produced plenty for the fryer. Another angler fishing a community dock near Deale reported catching five puppy drum and one white perch while throwing small plastic jigs around the pilings. The pups ranged from 10 to 14 inches, but for their size, they put up a good fight. Spot are also plentiful and we are starting to see more eater sized fish show up. Tossing out a bottom rig with Fishbites or bloodworms should have them biting in no time.
The Poplar-to-Sharps area continues to enjoy sporadic surface action from a mix of bluefish and Spanish mackerel. We received several reader reports of both species this week, mostly caught while trolling small spoons behind planers. If you can, it is best to target this area during the middle of the week when there isn't a ton of boat pressure. We heard from two readers last weekend who trolled near the Sharp's Island Light and reported a lackluster bite with only a handful of small blues hitting their spoons throughout the day. They attributed the slow bite to a large fleet of boats trolling nearby and scattered pods of dolphins in the area. 
Bull reds have entered the building! While we're not hearing about tremendous numbers of them as of yet, we had two reports of beautiful bulls showing up between PLO and the mouth of the Patuxent on the eastern side near the channel edges. Both times fish were spotted on the side-scan, then cast to. Last year in the late summer there were a few bull reds caught in Eastern Bay so be on the lookout for a few of these fish to possibly move up between Poplar and the mouth of the Choptank this month.
---
Middle Chesapeake Bay Fishing Report, August 4 Update:
Striped bass season is back open across Maryland waters of the Chesapeake Bay. Most of these fish in the middle Bay are holding close to structure in the shallows and near deeper water wrecks. The larger schools that we see in the fall haven't moved out into open water yet, so open water jigging won't yield as many fish as searching the shallows will. Any docks near points, submerged rocks, or jetties that have a decent current rolling through will be good places to fish. The topwater bite in the morning and evening has also been good from what we have heard. If you can get out early and beat the crowds, the south side of Poplar Island has seen good topwater action in low light hours. AIC Lenny Rudow says he found a good bite on fish to 22 inches at Thomas Point midweek, but the fish were only active in the final half-hour or so of the evening and were sticking tight to a couple small areas; several nearby boats didn't get into them and a reader mentioned having a great evening there followed by nada the very next night. White paddletails were the ticket.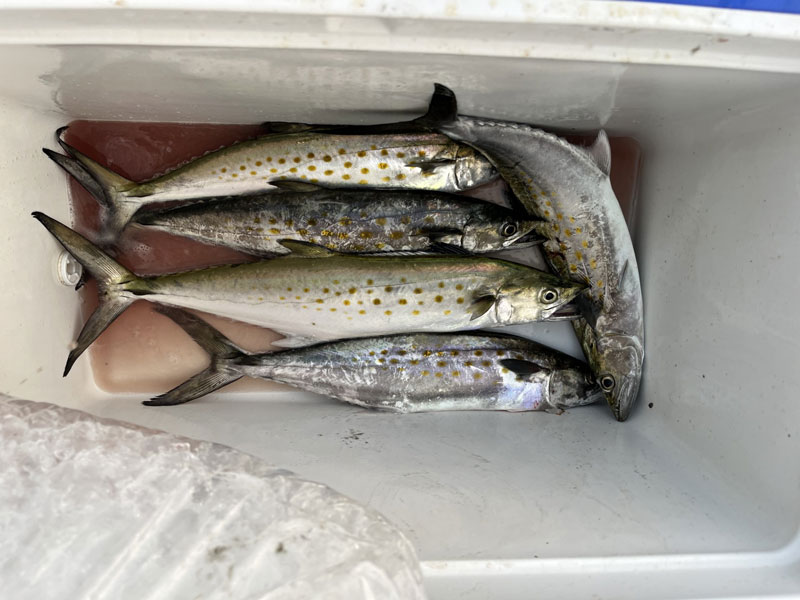 Many reports of breaking bluefish continue to come in from the Poplar Island and Choptank areas, and this week we also heard about a surface eruption in Eastern Bay. However, the fish seem very unpredictable, and we also heard from anglers who went looking for the bird show in vain. There doesn't seem to be any rhyme or reason as to when and where the blues pop up, so all we can say is to keep an eye out for birds if you're in one of those areas. While the bluefish are more abundant, schools of Spanish mackerel are now showing up with them in much better numbers than just a week ago. We got a report from one reader who was trolling in between Poplar Island and the Sharps Island Light who caught eight keeper mackerel and a few bluefish. Small Drone spoons trolled behind number one planers enticed the bites. Another reported eight macks and a dozen blues on spoons behind planers in the mouth of the Choptank. A quick tip that can help catch more mackerel when bluefish are in the area is to troll between six and nine knots. The mackerel are a faster swimming fish and can easily catch up to your baits at this speed.
Reports of small seven- to 12-inch puppy drum have been pouring in from the middle Bay's west side from the Patuxent up to the South River. Mosty being encountered by white perch anglers casting Beetle Spins and similar small spinners, and catches of one to five or more have been common this week. While these are neat bycatch, the perch are providing steady action in the rivers. Two anglers hit the West River this week and reported finding a school of perch near old dock pilings in the shallows. They were able to put 20 nice perch in the cooler and caught a keeper rockfish. Minnows floated under a bobber had the fish fired up. Some larger reds in the slot and up to 24-inches (along with some specks) have also been reported slightly farther south, in the creeks north of Point Lookout, hitting soft plastics.
Crabbing Report: The AIC reports tough crabbing in the South River last weekend, with a load of tiny two- to four-inch crabs having moved into the area. He said they chewed off all his bait in just a couple of hours, making it hard to scratch out two dozen keepers before the trot line was more or less stripped. Another crabber near Deale also reported a small crab invasion to his local creek. He was able to pick up around 15 keeper crabs using drop traps but noted that he caught over 30 shorties that were tearing up his bait relentlessly. A reader also reported finding bigger crabs slightly deeper in seven to nine feet and small crabs shallower.