Middle Chesapeake Bay Fishing Report, June 30 Update:
Angler in Chief Lenny Rudow says he made a long haul south last weekend and fished from the Little Choptank down to little avail, finding the post-storm waters churned and muddy in the shallows. Some small rockfish were still biting, but the more exotic species did not cooperate. Midweek fishing a circuit from the power plant to the Choptank proved much better, with several chunky specks and plenty of rockfish up to 25 inches hitting white paddletails and bubblegum-pink Fin-S tails. He notes that the rockfish bite remains fairly strong inside the South River. Docks, riprap, and downed trees are producing scattered fish between 14 and 23 inches especially when high water coincides with dusk. However, the action isn't as strong as it was a couple of weeks ago as these fish are getting a lot of pressure at this point and it's not uncommon to see several boats working a shoreline.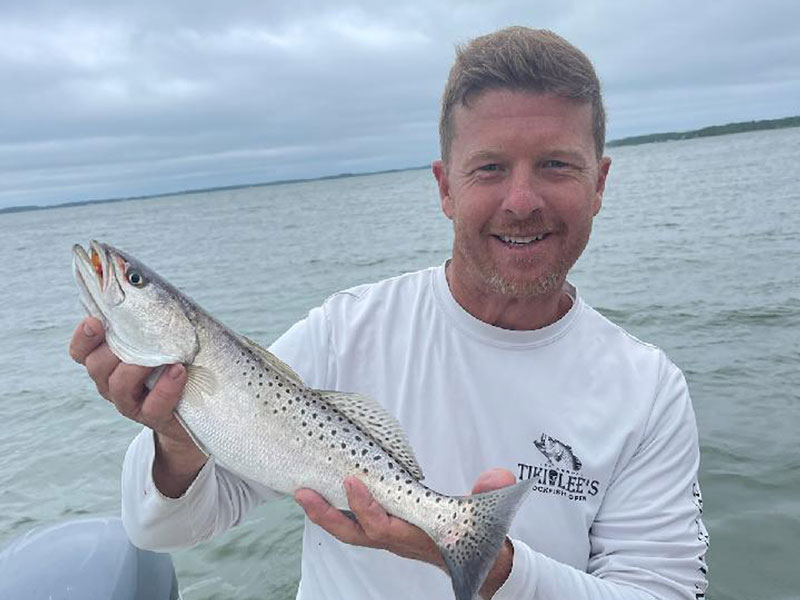 The better rockfish reports are still coming out of the upper Bay, but we do have a few areas producing in the middle Bay region. Anglers Sport Center reports that boats are catching rockfish on the east side of the Bay bridge near the 35 foot drop off. Live lining spot near the bridge pilings has worked best but dropping down soft crab is also very effective. A mix of white perch, spot, and small croakers are offering good bottom fishing this week at the lower areas of the tidal rivers and out in the Bay near Hacketts Point, Kent Narrows, and Eastern Bay. Contributor Eric Packard picked up a 31-incher in the lower Pax this week, and interestingly, when he cast a Sabiki rig caught two baby red drum in the five-inch range amongst the croaker and spot.
Earlier in the week, I was able to get out on the kayak for a trip in the West River. I got on the water at daybreak hoping to find an early morning bite for stripers near docks and other shallow structure. The bite was disappointing to say the least, with only three rockfish caught and nothing over 17 inches. After spending some time, searching for rockfish, I switched gears and started casting around for white perch. Before long I found fish schooled up close to dock pilings in about four feet of water. The perch were hitting a double twisty tail rig, and I quickly put 16 nice sized white perch on my stringer. I caught all my fish off one dock but most docks and shallow structure in the mid Bay rivers should be holding perch. At least the perch are reliable when the rockfish don't cooperate!
---
Middle Chesapeake Bay Fishing Report, June 23 Update:
The best rockfish action has still been up in the Patapsco but middle Bay anglers have had their fair share of luck at a few different locations. Angler in Chief Lenny Rudow says a run to James Island on Father's Day produced schoolie rock, a keeper speck, and a surprise over-slot rockfish, but on the whole fishing in the rivers has remained a better bet than many open Bay spots. He says that although most of the rockfish close to home in the South are sublegal, fish up to 22 inches have popped up this week. He said the white perch fishing has really picked up, too, and tossing a white Perch Pounder to piers is keeping the rods bent. Captain LJ from G-Eye Jigs says that bluefish are starting to move into the region with a few catches reported as far north as the Choptank. Many anglers are catching them using jigs with soft plastics or by throwing Gotcha plugs.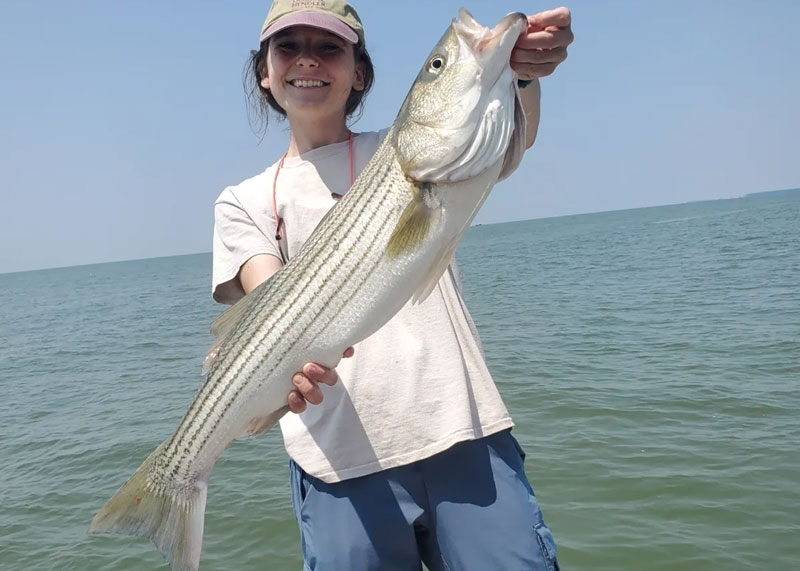 Most days it has taken some moving around to find fish willing to bite. A reader checked in after searching a few areas with little luck. They ran to Poplar and fished the south side rock walls without any bites then headed to the mouth of the West River where they didn't find any fish either. Finally, after some searching, they found a school of white perch along a shaded shoreline with docks way up inside the river. Minnows fished under a bobber brought them about 25 nice sized white perch along with two surprise catches of 18 and 21-inch rockfish.
The Tackle Box let us know that rockfish have been scattered around the mouth of the Patuxent this week with fish up to 24 inches being caught by both trollers and jiggers. An angler fishing near the Pax River NAS caught a keeper rockfish and a slot sized red drum while throwing swimbaits along rocky shorelines. Up river at the Benedict Bridge there have been good reports of white perch, rockfish and catfish. One angler said he was able to catch some schoolie sized fish while jigging the bridge pilings with soft plastics. If you are limited to fishing from shore, casting out bottom rigs with blood worms will give you a chance to catch a few different species.
Crabbing Report: The AIC says lots of small crabs have appeared in many areas, and two reader reports jibed with his own experience in the South River in the past week: five or six tiny guys clinging to the baits for each keeper that came up. Still, it wasn't tough to put together a few dozen nice ones for the steam pot.
---
Middle Chesapeake Bay Fishing Report, June 16 Update:
There haven't been many schools of rockfish in open water and Angler in Chief Lenny Rudow says there still seem to be more rock in the rivers than the Bay in a lot of areas, but he was excited to pick up his first middle Bay bluefish last Friday in the mouth of the Choptank. Small schools of young-of-year bunker less than an inch long were meandering around with splashing occasionally breaking out where the blues were to be found. In the shallows of James the rockfish were in small groups near timber and it took a lot of looking (and lost jigheads!) to catch a dozen or so up to 21-inches. Results at Poplar late in the week were similar, with a complete circumnavigation of the island producing one to three fish in each of the usual hotspots with most being sub-legal but a few meeting the mark. White and chartreuse paddletails were the best bait.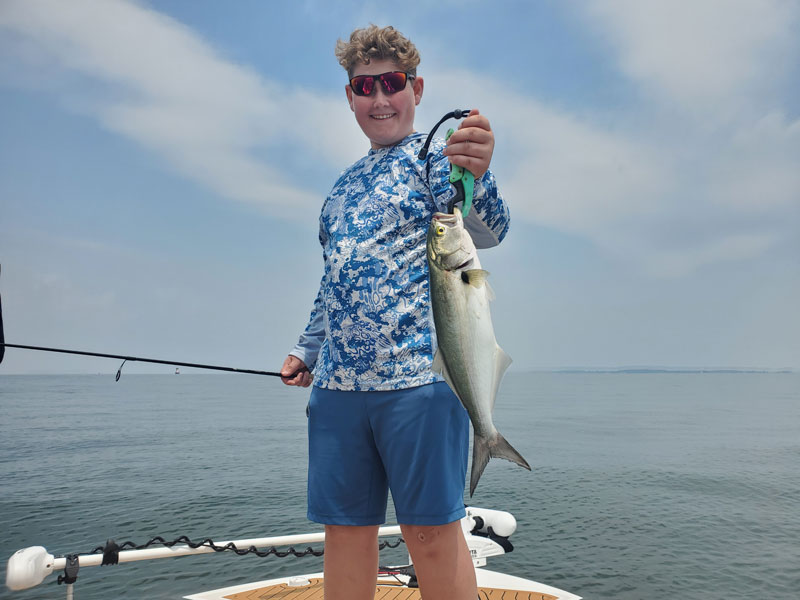 Anglers Sport Center reported that boats are finding some success live lining at locations such as Thomas Point, The Bay Bridge, and the CCNPP. Jigging with soft plastics is also producing some fish but the rock seem to prefer the live bait. Spot are being caught pretty much all over the middle Bay right now. Look for them in six to 20 feet of water where they can be caught using bottom rigs tipped with bloodworms, Fishbites, and lug worms. Size two through six hooks work great for catching them. One reader wrote in to let us know they had success live lining at the Bay Bridge during a trip this week. They found their spot off the beach at Sandy Point and noted the bite was slow until the incoming tide picked up. Once they had their bait, they headed to the bridge pilings in 17 to 22 feet of water where they quickly caught a 21- and 22-inch rockfish.
Anglers also let us know that the white perch bite is hot right now in both the shallows and deeper water. The perch are being caught throwing spinners and jigs in the shallows close to docks and rock jetties. There have been a few reports of bigger perch being found in deeper water schooled up near oyster bars or channel edges. Anywhere there is structure has a good chance of having perch nearby which makes them a great fish to target for anglers of all skill levels. Plus, they are one of the best eating fish in the Bay so make sure to keep a few (or a lot) for dinner.
---
Middle Chesapeake Bay fishing report, June 8 Update:
Angler in Chief Lenny Rudow says there are some rockfish in the Middle Bay, but you might have to do some running to find them. Working the circuit from the South River, to James Island, to the Little Choptank, to the Choptank, to Poplar, it was possible to locate singles and small groups of 16- to 23-inch rock (mostly in the shallows) willing to hit half-ounce jigs in white, Electric chicken, and purple. While they didn't encounter any specks on that foray, a reader who also caught stripers in the shallows of the Choptank reported one nice speck in the mix, too. The AIC also mentioned that many of the usual area hotspots were blank and inside the rivers continues producing better than the main-stem Bay on many trips. Also in the reports: rays are downright problematic, and the AIC says several gained some new wing-jewelry after being snagged.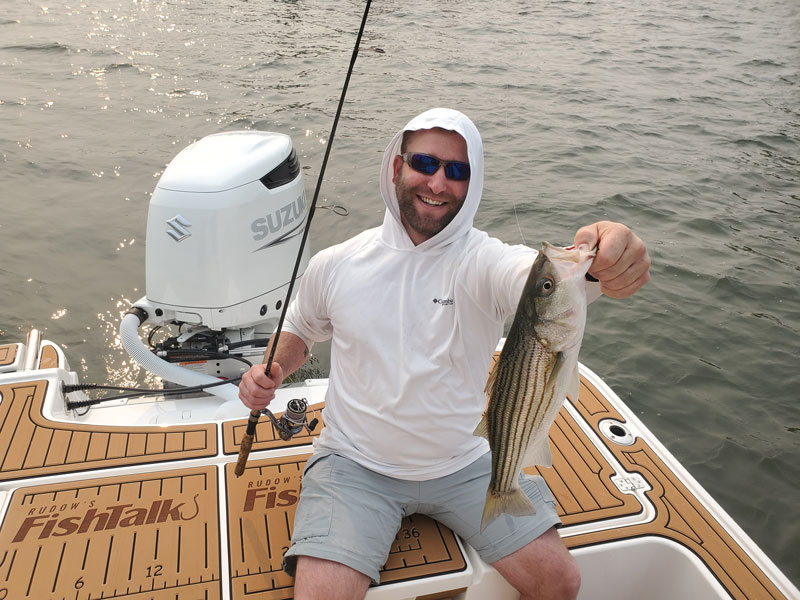 A few anglers fishing the South River reported catching around 20 rockfish while pitching soft plastics to docks in six feet of water. Most of the fish were around 16 inches but five of them met keeper status. All were released to be caught another day. White perch are in many of their usual summer hangouts in the middle Bay and anglers are catching them close to nearshore structures like docks, rock jetties, and pilings. You'll want to throw small spinners or twisty tails when fishing in these areas. We got a few reports from anglers who said the bite had been hot at Holland Point last week, but some dolphins had moved through at the beginning of this week. Since then, the bite has slowed down significantly. The perch are still there but are scattered, so you'll have to cover some ground to find your fish until they school back up.
Crabbing report: Rudow says laying the trot line out in nine or 10 feet of water in the South last weekend produced banner results, with a batch of crabs so large the measuring stick wasn't even used. Four crabs a run was the average (using necks). Another report from a shallow tidal creek near Deale indicated that the big crabs aren't up the creeks in force yet. A couple readers spent a few hours in the evening running drop pots and only caught 10 keepers during their efforts. Until the water warms up, the crabs will likely stay a bit deeper.
---
Middle Chesapeake Bay fishing report, June 2 Update:
Rockfish reports in the middle Bay have been spotty but there has been a slight uptick in the action this week. We checked in with Chesapeake Outdoors who let us know the shallow water bite has been good on the eastern side of the Bay. Four to six feet of water has been the magic depth but structure is where the fish will be holding close to. Soft shell crabs on fish finder rigs are working best for bait fishermen but artificial lures like suspending stick baits and soft plastics on one quarter ounce jigheads are also working well. They had one angler check in this week who caught nine stripers between 27 and 30 inches. The last hour on each end of the tide swing is when the fish have been biting the best. There is also a decent chance at a speckled trout when targeting rockfish in these areas.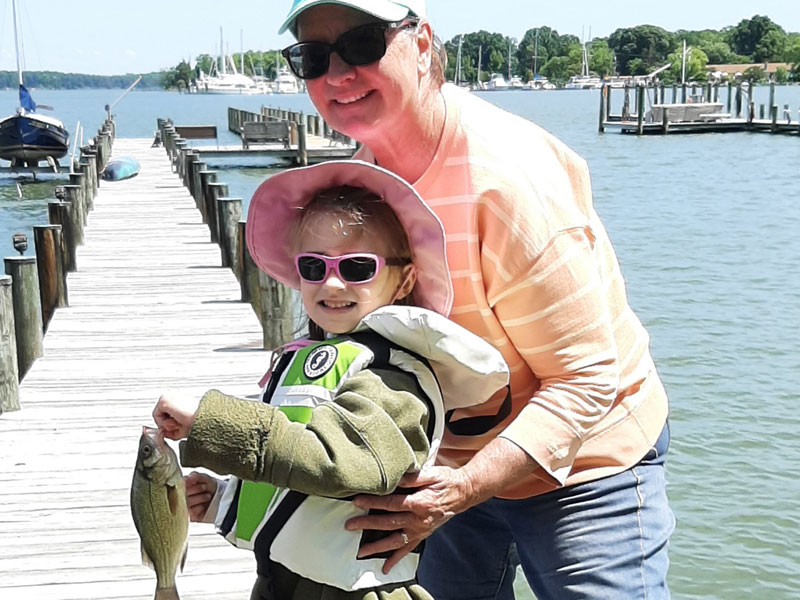 Angler in Chief Lenny Rudow says the middle bay bite for rockfish on jigs remains lackluster, though he saw more keeper-sized rock this week than last. He notes that white bucktails with lime or chartreuse tails continue to produce, and the bite inside the rivers has actually been better than in the main-stem bay. Poplar, Eastern Bay, and Thomas Point have alternately produced a few fish or no fish, while casting to docks in the South on the way in and on the way out has proved noticeably more reliable. Contributor Eric Packard noted a slow bite in the lower Pax as well, hitting some of his spots in Mill Creek by pier and by kayak and coming up with just two rockfish (casting white BKDs and Bass Assassins) in the just-legal range.
Anglers Sport Center let us know that white perch are now consistently being caught in shallow water. There have been large schools of nice sized white perch at both the Bay Bridge and Holland point. Bottom rigs with blood worm work well but small spinners like stump jumpers or twisty tail jigs work great too. The perch tend to spread out during the day and school up near structure in the mornings and evenings, so keep that in mind when planning your trip.
Crabbing report: It's a bit mixed thus far but the crabs seem to have started moving around a good bit more in the past week or so, and we heard from several readers this week that trot-lining and pull-trapping had picked up considerably in most mid-Bay areas. Five feet and eight feet were mentioned as productive. However, we also heard from a couple of folks who had trouble filling the bushel basket. For the moment heading south a bit might be a good move.