Middle Chesapeake Bay Fishing Report, May 26 Update:
The Angler in Chief says he continued to encounter a slow bite on rockfish last weekend, fishing most of a morning to catch a handful of fish up to 22 inches. Multiple spots proved barren until he ran across a few scattered fish at Poplar Island and the Tilghman reefball reef (thanks once again for those reefs, CCA-MD!). A one-ounce white bucktail trailing a lime green paddletail caught all of the fish, which were holding over structure in 19 to 21 feet of water, while plain white and chartreuse paddletails both went untouched. Several midweek pokes at Thomas Point, Poplar, and some docks in the South River produced a half-dozen fish here and another half-dozen there with most undersized but a few in the 20- to 22-inch range. Again, a white bucktail with a lime tail topped the list. While paddletails also produced a few bites but overall he said the action ranged from slow to extremely slow.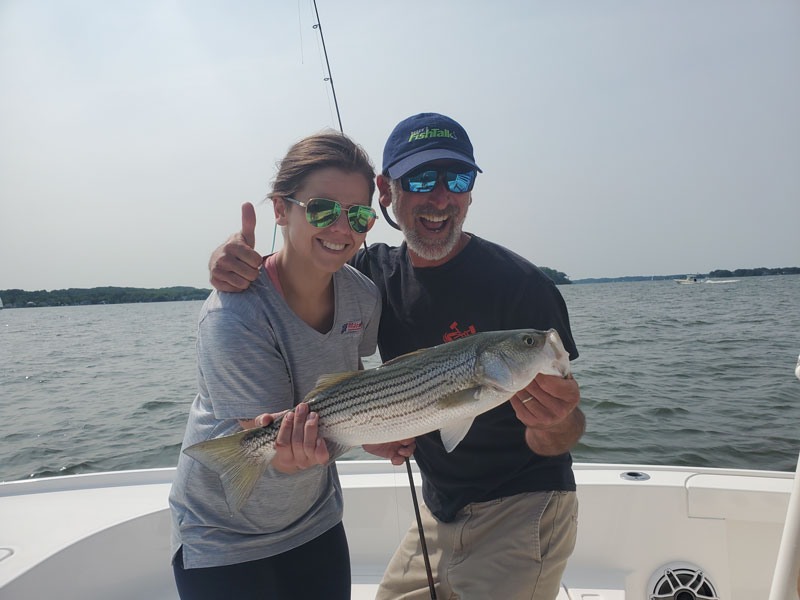 Captain Pete Dahlberg of Four Seasons Guide Service has been hitting the eastern shore shallows hard this month which has proved productive. He is mostly finding rockfish with a few specks mixed in (more showing up this past week) while fishing shoreline points and submerged structure. Most rockfish have been in the mid 20s and are hitting surface plugs during the early morning and swimbaits later in the day. While fishing the salt marsh islands from the mouth of the Choptank down to Hooper's Strait, finding clear water has been imperative for catching fish. Some days it may take burning a good bit of gas to find decent water but the bites you find will likely be worth it.
We heard quite a few reports from anglers targeting white perch near Holland Point who found steady bites. One boat landed about 25 keepers while trolling small spinners last weekend. Another boat went out for a quick evening trip and found thick schools of white perch in four to eight feet of water. They put 51 white perch iin the cooler over a few hours. They were hitting twisty tails, small spinners, and even grass shrimp imitations on a fly rod.
Another species that has returned to the middle Bay in force are cow nosed rays. Large schools are marauding about and can take over large areas, making fishing difficult. There will likely be a lot of boat traffic during the holiday weekend but getting away from the crowds to less disturbed waters will increase your chances of catching fish.
---
Middle Chesapeake Bay Fishing Report, May 19 Update:
Many fish in the middle Bay are returning to their summer patterns now that water temperatures are in the mid 60's. After a tough trophy season, many anglers were excited for the return of the summer rockfish season which opened on May 16th. The striped bass regulation maps can be found at the Maryland Department of Natural Resources website. This is accompanied by a new slot limit of 19 to 31 inches. We haven't received many reports on the rockfish, but it seems the open water jigging bite is decent, though you may need to cover some ground. Travis Long, who runs Schooled Up Fishing Charters, has found good success jigging for rockfish this week. He put his anglers on lots of fish in the 20 to 30 inch range and found fish from 15 to 30 feet of water. One half ounce and three-quarter ounce G-Eye Jigs paired with five-inch chartreuse Z-Man diesel minnows were the hot bait.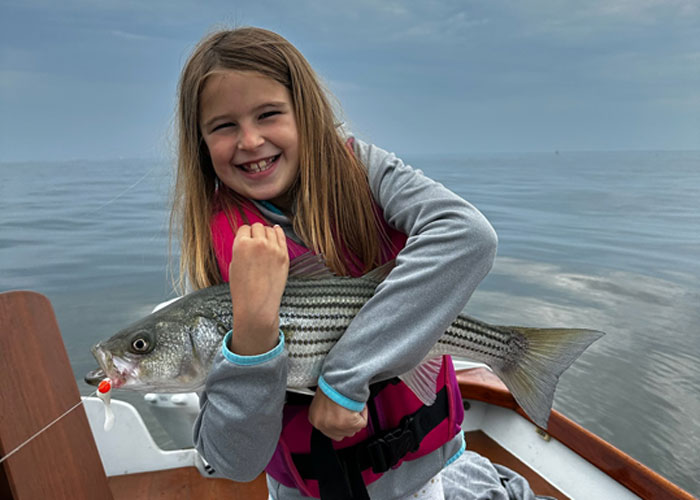 We had a reader report of success on perch in the West River and surprise rockfish pushing keeper size also jumped on their Super Rooster. (Remember that the rivers are closed to harvest until June 1). Interestingly, the Angler in Chief says the exact same thing happened to him in the South River over the weekend, though the rockfish reeled in on his boat were all sub-legals in the 14- to 16-inch range. We also had a report that the spot are early this year and while it may take some looking to find them, they are in the middle Bay and can be found as far north as the Severn River already.
Another reader also checked to let us know that the white perch are biting good in the tidal creeks. He hit the water to fish a tidal creek near Deale with another angler for a few hours and caught around 20 perch on live minnows floated under a bobber. The perch were hanging close to deep creek banks and were holding near bottom. While paddling at the mouth of the creek along the bayfront, they reported seeing huge schools of cownose rays swimming in the shallows. This wasn't the only report of cownose rays returning to the middle Bay in force and schools of rays are beings seen on both the western and eastern shore sides of the Bay. Down near the Patuxent, there should be a decent number of fish for jiggers around the pilings of the Solomons bridge and along the rocks of West Basin of the Naval Air station.
---
Middle Chesapeake Bay Fishing Report, May 12 Update:
Contributor Eric Packard tried jigging at the pilings at the Bay Bridge on his kayak over the weekend and reported a nice bite on fun 18- to 22-inch fish. A white BKD on a one-ounce head did the trick. Angler in Chief Lenny Rudow says the bite farther south was tough, and it took a lot of looking to pick a few fish off the Tilghman reef, some pound nets, and at the powerplant. He noted the shallows were unproductive and all the fish were in 12 or more feet of water. While at the plant he didn't see anyone else tearing it up, but a reader reported that the bite there was red hot at the end of last week.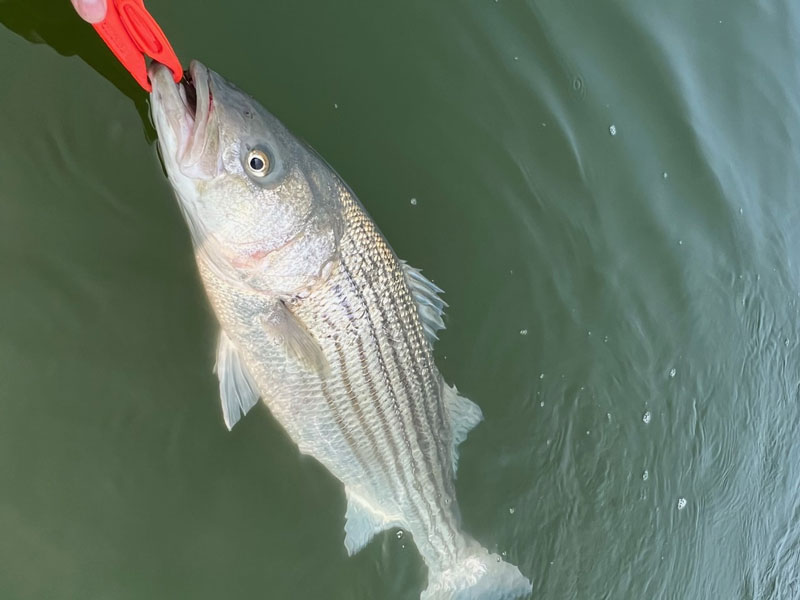 As for trophies, we had three readers check in (one from Bloody Point and the ships off Annapolis, another south of the Pax, and the third unspecified mid-bay), who had zero results. Only one reader confirmed a trophy catch in the area, a 45.5-incher that hit a purple tandem in 70 feet of water a mile south of the bridge.
While rock fishing has been tough, the perch bite in the middle Bay is improving. Schools of fish are in the channel areas of the tidal rivers and are beginning to move into their summer areas. While fishing for them in deeper water near oyster beds or rocky bottom, blood worms have been the best bait. We did receive one report from a reader kayak fishing a tidal creek near Deale who caught 11 perch using small jigheads tipped with minnows. They also hooked into a 30-inch carp which surprisingly hit a small twister tail. He said the fish took him for a ride on his ultra-light rod and was finally landed after 10 minutes.
Important Notice: The Maryland Department of Natural Resources made an announcement regarding striped bass regulations this week. New regulations change the size limit for the striped bass summer and fall fishery for the Chesapeake Bay and its tidal tributaries, including the Maryland tributaries of the Potomac River. Starting May 16th, 2023, the minimum size for striped bass is 19 inches and the maximum size for striped bass is 31 inches. All other rockfish regulations for the Bay remain the same. See Striped Bass Minimum Size Capped at 31 Inches-Update MD Regs for the latest news on this development.
---
Middle Chesapeake Bay Fishing Report, May 5 Update:
It seems as though Mother Nature wanted to protect the big breeder rockfish just a little bit longer, which is okay with us. Persistent wind at the beginning of the week did not make it easy for those heading out for the start of trophy striper season. Angler in Chief Lenny Rudow says the windy opening of the season made fishing for rock a no-go for him on day one… and day two, and day three. But three readers did check in after trolling opening day on what we have to assume were very large boats. One reports a pair of keepers on chartreuse and white tandem rigs (location not disclosed), one reported good action but no fish exceeding the 35-inch mark (most in the upper 20s and lower 30s) near the Bay Bridge, and one reported a single keeper and several throwbacks on the west side south of Chesapeake Beach. Later in the week after the wind had calmed a bit another reader reported trolling the west side between Breezy and Herring Bay without a single knock-down.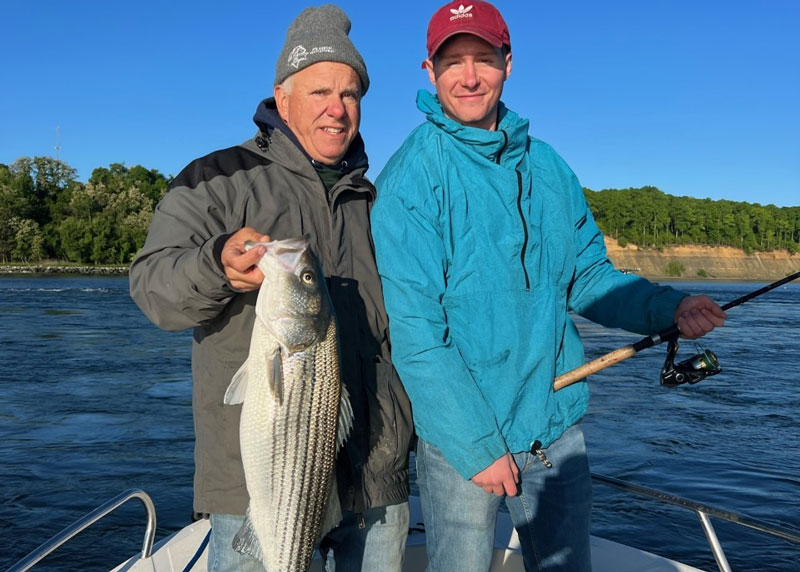 Contributor Eric Packard made his way to the CCNPP on opening day for some C & R fishing, and said the bite on jigs and jerkbaits was good considering the blustery conditions and three anglers on the boat caught 25 or so fish from the mid-20s up to 30 inches. He noted that they saw two large, potentially keeper-sized fish caught by other boats, and both were released — thanks for that, anglers! The news that the ASMFC is restricting the slot limit even further (see below) is even more evidence that we need to do everything we can to protect the breeders. If you are lucky enough to catch one, consider grabbing a few quick photos before releasing them to hopefully spawn again next year.
White perch are being caught in the channels of the tidal rivers but will soon make their way to their summer hangouts when temperatures warm up a bit more. Some of these fish have likely already moved into those areas but not in force yet. The Tackle Box received a report from an angler fishing Wayson's Corner last weekend who caught a 13-inch white perch along with some smaller ones. In deeper water along channels or near oyster beds, bottom rigs with blood worm works best. In the shallows, small jigs and spinners casted near structure is a good method for targeting them. 
A major update to the coastal striped bass fishery was announced by The Atlantic States Marine Fisheries Commission and the Atlantic States Striped Bass Management Board who voted to take emergency action to reduce coastwide harvest of striped bass. This action requires states to lower the top end of the slot limit to 31 inches. Learn more about the measures in Striped Bass Maximum Size Capped.