Middle Chesapeake Bay Fishing Report, November 26 Update:
Hey, anglers! We hope you had a wonderful Thanksgiving… and are ready to turn your backs on pie and leftovers and hit the water this weekend! The AIC says the fish finally seem to be in "real" fall mode and the western shore has begun producing better once again. On the west side, the green number-one, the 30-foot-ish areas off Deale and Chesapeake Beach, and Flag Ponds all saw some action. He said the bite has still been sporadic with lots of birds up high and circling most of the time, then gathering for quick frenzies. They often don't stick around for more than a few moments, but that's all it takes to move in and acquire the schools on your meter. He suggests that the moment your fishfinder screen goes blank you search for the fish again and don't wait too long, or it's easy to lose the school. In the schools to the north in this range he found fish to 24 inches and in the southernmost, an excellent quality of fish with good numbers in the 26- to 30-inch range and a handful of rock breaking the 30-inch mark. White was the undisputed top lure color pick.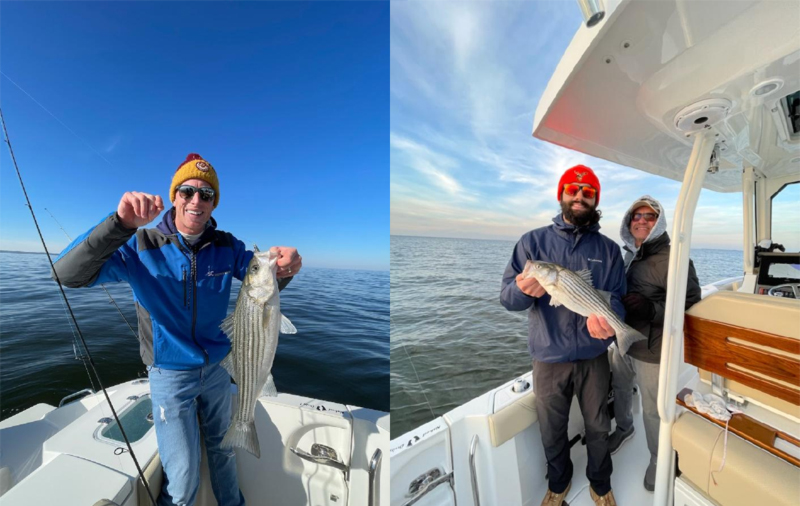 On the east side, Bloody Point/E-Bay and the Choptank were in several reader's reports with fish mostly undersized, some in the 20s, at least one we can account for at 28 inches in E-Bay, and two over 30 inches at the Choptank. Angler's confirmed that Eastern Bay and the channel on Poplar's Island's south side have been steady areas, providing action for anglers trolling between 25 and 35 feet. Trollers are benefiting from the stripers' taste for bucktails with plastic shad, and umbrella rigs weighted down with inline weights. Alltackle also has heard good reports from the Bay Bridge area and Eastern Bay. Trolling the channels has been productive for many boats, and they're finding the large fish exclusively down deep. Big fish are hanging on the bottom, and trollers have scored striped bass reaching into the 30-inch range this week.
The scene has been mostly similar through this zone with high-flying scattered birds that aggregate at key moments to expose the fish's location as they pick off crippled baitfish, although one reader said he had birds off Bloody Point one day this week that were more or less consistent through the day. At the Choptank multiple reports mentioned that it was quiet mid-day with a red-hot late afternoon frenzy starting around 3:30 and lasting for an hour or so. We also had a reader note that he caught fish on bottom all the way down to 55 feet of water using 1.5-ounce heads and plastics (white and chartreuse) when sporadic birds gave away the school's position.
The AIC also says he made a foray to the power plant last weekend with an eyeball on the last fall specks and reds, which was successful but only marginally so. Many hours of fishing produced three trout plus dink rock. He noted that the bites were extremely subtle and light; most of the anglers aboard drew a skunk and out of eight or nine boats, they only saw two others reel in a trout.
Contributor Eric Packard checked in after running over to the Hooper Island area, and a reader also reported in after hitting the same area, with both describing a good trolling bite on mostly throwbacks with some nice fish mixed in (Packard accounted for four keepers out of 17 caught). The action was steady there throughout most of the day and pulling umbrellas in 30-plus feet of water scored best.
---
Middle Chesapeake Bay Fishing Report, November 19 Update:
Tolly? Thomas? The mouth of the South and West Rivers? Angler in Chief Lenny Rudow says that as far as he can tell fish have been slow to return to the west side in good numbers at least as of early this week, and especially slow in the shallows. The good news is, thanks to all the wind we've had lately you still get your exercise when fishing because it takes work to remain standing up on the deck (yay). He did find a handful of keeper-sized fish plus throwbacks holding near bottom in 25 to 28 feet of water just south of the Green #1 last weekend and a neighbor found some 19-inchers just inside the #1, but other than that finding fish has meant running to the east side. Just south-west of Poplar Island has been holding a few small schools of fish (mostly small but up into the mid-20s) in 30 or so feet of water, which sporadically give away their location when they chase bait up top and the birds flock in. A reader reported hitting the same area midweek and drawing a blank.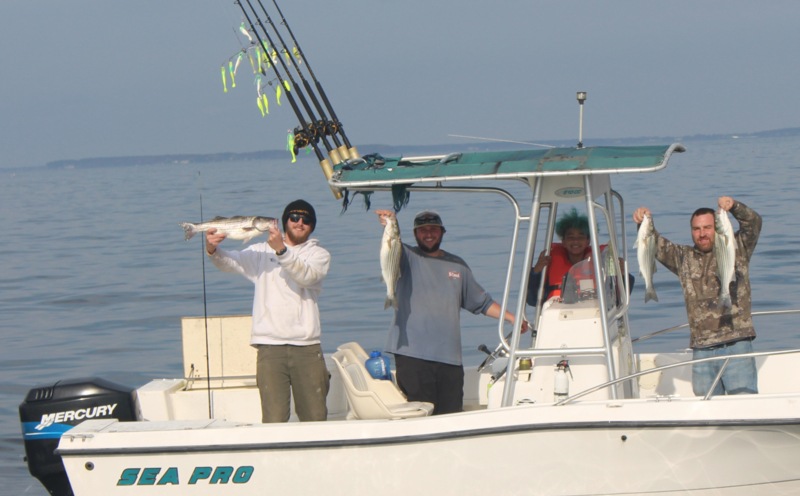 Readers checked in after finding working birds in the mouth of Eastern Bay and near Bloody Point, reporting plenty of action but a severe shortage of fish that made the legal cut. Better reports came from the Choptank, where the birds were on-again/off-again, but the quality of the fish was better with plenty of keeper-sized rock in the mix. We also heard from one angler trolling near Cedar Point Light, where a dozen or so fish were willing to hit including a fat 26-incher. Another checked in after fishing a bit farther south out of Wenona, where using live spot produced several fish from 25 to 30 inches. (He didn't tell us how or where he got the spot, which have become mighty tough to come by).
---
Middle Chesapeake Bay Fishing Report, November 12 Update:
Angler in Chief Lenny Rudow says that the dearth of west side stripers has continued, at least for him, in the Thomas Point, South River, and West River areas. The shallows and relatively shallow intermediate structure zones have remained barren since the big storm and tides. He says fishing on the east side has been better but hasn't exactly been easy, either, and two full days of working the Poplar-to-Stone Rock area running between flocks of birds has produced fewer fish than usual and mostly throwbacks or barely-legals, though during the Fish For a Cure tournament last Saturday they did score a 28-incher tossing a Boss BKD on a 1.5-ounce head. Thursday there were more midsized fish, ranging from 19 to 24 inches, plus dinks. He notes that the better quality fish were in the 20- to 35-foot depths, and working around birds over deeper water was fruitless despite the temptation of seeing all those wings flapping. Cool catch alert: he said that Thursday, a small flounder was also caught while bouncing a jig along bottom under the birds.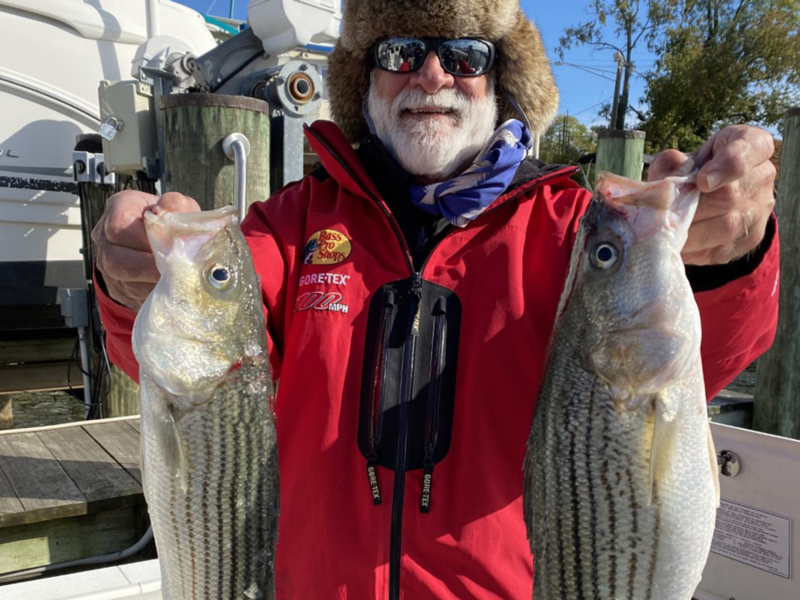 If you plan on looking for birds remember that last night's Live with Lenny was all about this topic, how fishing under birds has changed in recent years, and how to catch big fish out from the dinks. If you missed it, now's your chance to check it out (but it's a long one, so get comfy first):
We had several reader reports from Eastern Bay this week with mixed levels of success. Two anglers reported good marks under birds but no bites, and two reported that they found fish up to 25-inches under birds in the mouth of Eastern not far from Bloody Point. We also had multiple reports of zero-fish days including from the Bridge, Hackett's to Thomas, Mattapeake, and the Choptank. Reports from Angler's and Alltackle echoed this, reporting that results have varied greatly this week. They heard from some guys that did well trolling around Buoy 83, which reportedly produced multiple stripers in the mid-20s this week. The density of fish was reportedly there, with large numbers of undersized fish present as well as the keepers. Schoolies have been dominating a lot of the bite, and Angler's mentioned that the anglers casting under birds or fishing the False Channel and Bay Bridge are seeing quite a lot of smaller striped bass. We also had a reader report of solid action inside the Choptank on fish in the mid-20s.
We're into the second week of November, and so just the beginnings of the CCA Maryland Pickerel Championship, as well. It kicked off on November 1st, and as of the time of publishing, 99 fish total have been logged and leaders are already tapping into some high-value fish: angler Tim Elliot is boasting 49.25 inches between just two pickerel, putting him into ninth place at the moment. The kayak division of the tournament has been especially competitive, holding three of the top five spots, and five of the top ten overall. Angler Carl Childers is currently leading the pack, having logged 72.25 inches of fish so far. Randy Riggleman and Eric Packard are making up second and third place, with 70.25 and 68 inches of pickerel reported. While these guys aren't giving away their spots we have been hearing of good pickerel fishing in the Severn, working the docks with spinners and swimbaits. A couple of large fish have been reported from the headwaters of the South River, as well, though they were onsies-twosies and big numbers don't seem to be there.
---
Middle Chesapeake Bay Fishing Report, November 5 Update:
AIC Lenny Rudow says the crazy tides last weekend did mess things up a bit and it was tough finding decent fish immediately afterwards. By mid-week, however, things had gotten sort of more or less back to normal. He said the west side wasn't very productive for him (something readers hitting the mouth of the West, TPL, and Herring Bay also reported though one angler fishing TPL late this week did report some good catches), but working birds were zipping around in patches from the mouth of Eastern Bay all the way down to west of Blackwalnut Point. Many of the rockfish under them were throwbacks but fish up to 24-inches were in attendance. He also said that dropping squid over oyster bottom in the southern end of that area produced plenty of sea bass, but unfortunately none that they reeled up to the boat made the 12.5-inch mark. White, yellow, and pink were the most productive colors on tandem rigs weighted down by G-Eye Rain Minnow and hovered right over bottom. Late Breaking Update: Shortly after the reports went up we heard from a reader who found birds with marks under them at the mouth of E-Bay yesterday, but the rockfish had lockjaw. Similarly, the western shore haunts were unproductive, as was Poplar. Ouch - well, that's fishing for ya...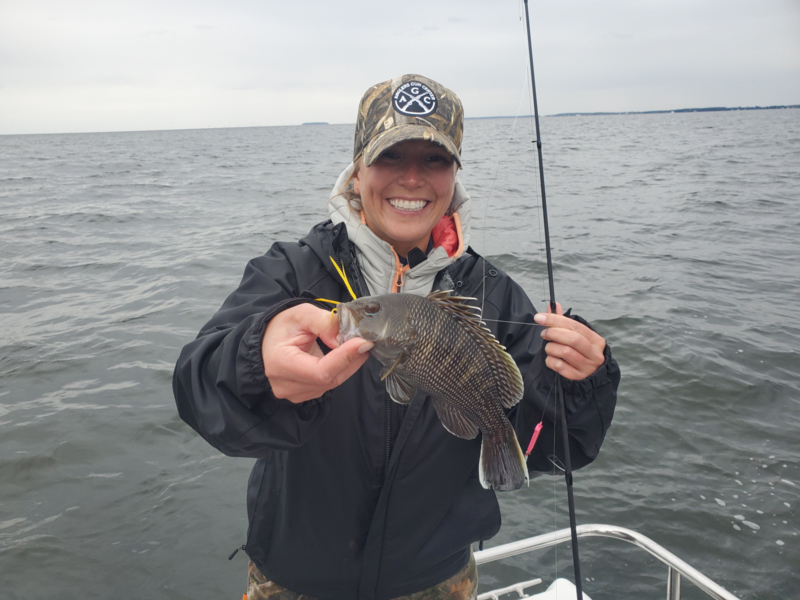 Alltackle mentioned that the Bay Bridge has been productive for anglers who are livelining, casting at the rocks, and jigging. The livelining bite has been alright when anglers have been able to locate spot, but if you're tempted to go for them, have a backup plan in mind as the spot bite has gotten iffy recently. Lure casting is producing fair amounts of hits throughout the day, with the star bite happening early. Jigging has also been better later in the day, but requiring quite a bit of patience at times when trying to locate fish.
Contributor Eric Packard he continued probing the lower reaches of the Patuxent via kayak, and says that post-storm there's still a decent striper bite along the piers and points. He and some fellow yakkers caught decent numbers this week with most in the 14- to 18-inch range, but some fish as large as 25-inches popped up. White paddle-tails were the hot bait.