Middle Chesapeake Bay Fishing Report, October 29 Update:
Hi FishTalkers – due to excessive winds throughout the region recently, most of this week's reports date back to Monday or last weekend. AIC Lenny Rudow says a magnificent Mid-Bay fall rockfish bite was on before this big storm hit, with the trickiest task getting away from the small fish and finding the big ones. Tossing jigs in the shallows near the mouth of the West, at Thomas Point Shoal, and Poplar Island produced fish to 27-inches, and a reader chimed in to let us know the topwater bite was also good on the east side during periods of heavy cloud cover. Anglers and Alltackle also mentioned that these spots were good this week. Rudow notes that for several days in a row there were huge flocks of birds over fish in the middle of the Bay between Poplar and North Beach, but the vast majority of the fish in these schools were in the 16- to 18-inch range and he guessed the keeper-to-throwback ratio was something like one to 25. He also said that a fleet of charter boats was spotted parked near the green number-one buoy, but since it appeared that they were all at anchor and live-lining he didn't move in for a closer look.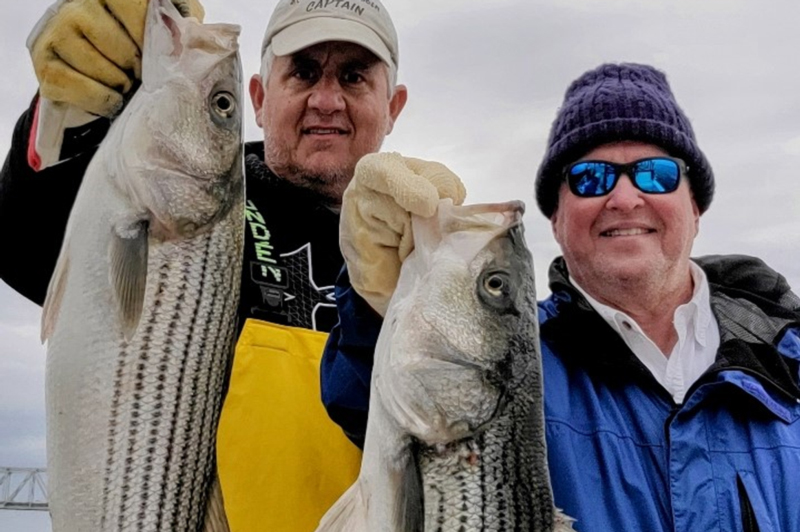 Additional reader reports flowed in from the Tolly-to-Thomas zone this week, with trollers apparently doing the best. Jiggers caught some keeper fish to 26-inches in the area, but the fish here weren't as concentrated as last week. We also heard from folks who worked the ships outside Annapolis and found birds working by some of them, but all the fish in the area were throwbacks.
The lower portions of the Choptank River produced well for those fishing in the Rock the Choptank tournament last weekend, with fish in the mid- to upper-20s and over-30s caught in good numbers. We also had a couple reader reports from just outside the river of a few weakfish and/or black sea bass in the area caught jigging in deep water.
Contributor Eric Packard checked in from the lower Pax after several mornings of kayak fishing and says the bite was off a hair this week from what it was last week, but there are good numbers of rockfish along the piers (many of which of course are underwater as we publish this report) and shorelines including both small fish and a few keepers.
---
Middle Chesapeake Bay Fishing Report, October 22 Update:
Several solid reports of rockfish success on stripers up to 32-inches came from the Bay Bridges in recent days. Livelining is still a good method to employ but spot are becoming tougher and tougher to come up with by the day and jiggers are doing well tossing white and chartreuse BKDs on skirted heads. We also had one report of a black sea bass caught at the bridges. The Angler in Chief also made it out one evening this week and says the Thomas Point shoals and lighthouse are holding a few fish but a better bite and rockfish up to 26 inches was found south-east of TPL where birds were spotted on the edge between 15 and 25 feet of water. White-skirted chartreuse BKDs and white paddle-tails on one-ounce heads did the trick. Anglers also mentioned that keeping a pair of eyes or, ideally, binoculars on lookout is a must right now. Schools of breaking fish and birds are popping up at the river mouths and sporadically throughout the Bay, giving anglers a shot at some fast-paced fishing. Multiple readers checked in through the week from the zone just outside the Severn, ranging from Hackett's to Thomas Point, where they saw large numbers of birds high and flying most of the time with occasions spurts working on the surface. Results were mixed with some reporting three or four fish to 26 inches in the boat, and others working hard to get a fish or two on the line. Most were jigging but one troller had very good success pulling tandems, limiting out with six aboard.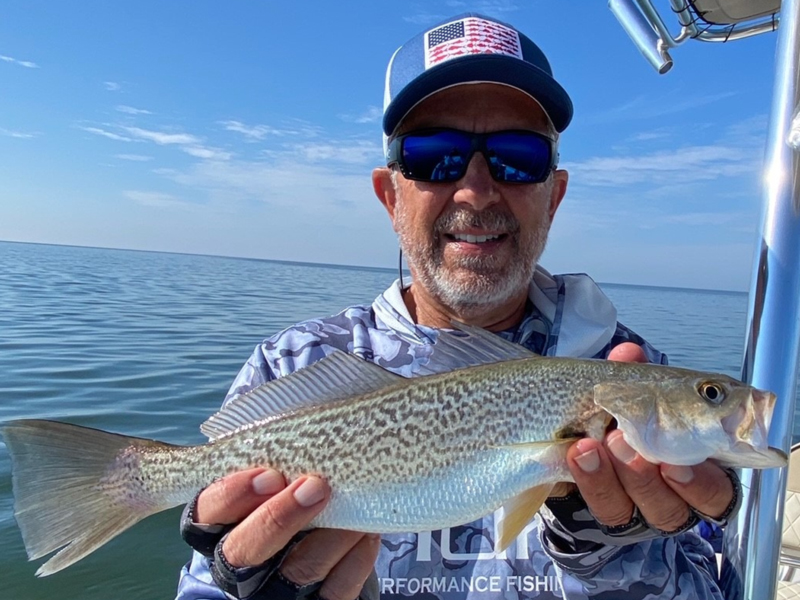 The Chesapeake Bay Foundation's Rod & Reef Slam wrapped up last weekend with some interesting catches in the mix, and tournament winner Herb Floyd ended up with 15 species in the count including a 15-inch weakfish, multiple (small) black sea bass, and even a kingfish, and other anglers added redfish to that mix.
Contributor Eric Packard reports that the lower Patuxent is still holding very good numbers of stripers in the shallows and around the docks. Most are throwbacks but a morning of casting does produce some keepers as well. Specks seem to have thinned back out, but small ones still pop up here and there and he also noted picking up a flounder mid-week. We also had some reader reports this week of peanut bunker massing in the river mouths of the Choptank river and mostly undersized stripers on the hunt for 'em, with keepers into the mid 20's in the mix.
White perch are schooled up on hard bottoms at the river mouths. Generally fishing for them has been so-so, but reliable ole' bottom rigs with bloodworms and FishBites are producing.
Crazy catch alert: a reader dropping clam baits in the vicinity of Chesapeake Beach actually tied into multiple black drum. They weren't big fish, but did hit the 20-inch mark.
---
Middle Chesapeake Bay Fishing Report, October 15 Update:
Working birds are angler's compasses to fish right now: much action is centered around casting through the multiple schools of breaking fish at the river mouths. Alltackle reported that the Choptank, South, West, and Severn have all been speckled with flocks this week, leading anglers to plenty of schoolies. Casting and retrieving through them is leading to hookups with fish mostly in the 16- to 22-inch range, although some are extending beyond that mark. Morning and evening have been especially exciting times to head out, offering great topwater fishing on top of beautiful views. The Thomas Point area has been a common topwater destination, as has the Severn. A couple of shoreline anglers also reported that the creeks of the Severn are holding some striped bass near the mouths, but that catfish are biting better. The catfish bite is generally really strong right now, and setting out cut baits just about anywhere could lead to a solid hook up.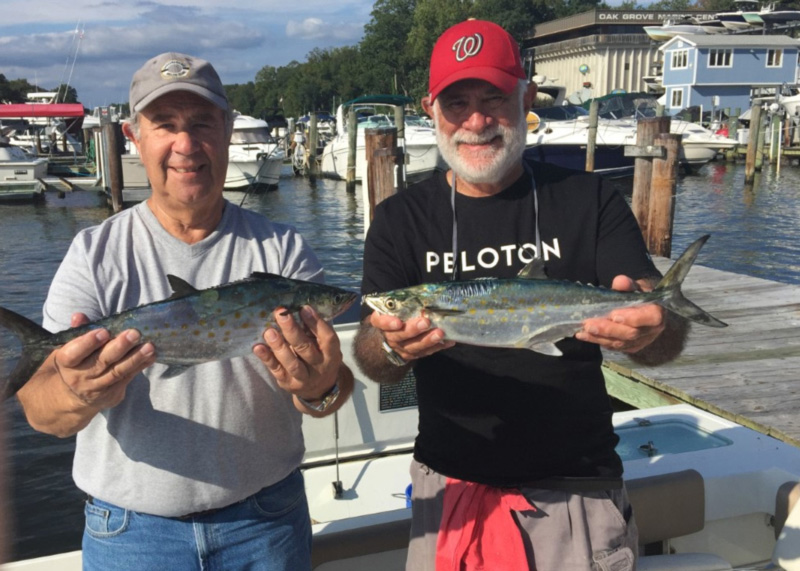 Just prior to last weekend's big blow there were still a few late-season Spanish mackerel hangers-on south of Poplar, and we heard from two readers who caught a few while jigging under birds. Though they've certainly thinned to the point that it's a longshot to get one, who can remember finding October mackerel off Poplar island??
Angler's reported that the jigging bite for stripers at the channel edges has been just okay, but bites can be had by those who do some searching. The mouth of the Choptank is also noted to be holding some fish. Contributor Eric Packard had an even better report from the Pax, he hit Mill Creek several times this week and found that stripers have taken up residence in very solid numbers. One morning he ticked off a count of 27 while casting and kayak trolling half- and quarter-ounce jigs with white paddle tails. Most were undersized fish but there were "a few" keepers as well, plus a handful of (small) specks.
White perch are picking up steam, now hanging on hard bottoms in the rivers and river mouths. Dropping bottom rigs or small spinners is a great way to entice them to bite.
---
Middle Chesapeake Bay Fishing Report, October 8 Update:
*We apologize for the light reports this week, but due to exhibiting at the U.S. Powerboat Show in Annapolis (come see us this weekend at booth F7) and some personal matters we have not been able to gather as much intel as usual. Stay tuned for next week's reports!
There is a still a lot of diversity of species in the Bay as we approach fall patterns. Mike Snyder let us know that he caught a variety of interesting fish this week while using bloodworms.  A small flounder, lizard fish, croaker, white perch, and spot, but the biggest surprise was a juvenile black drum.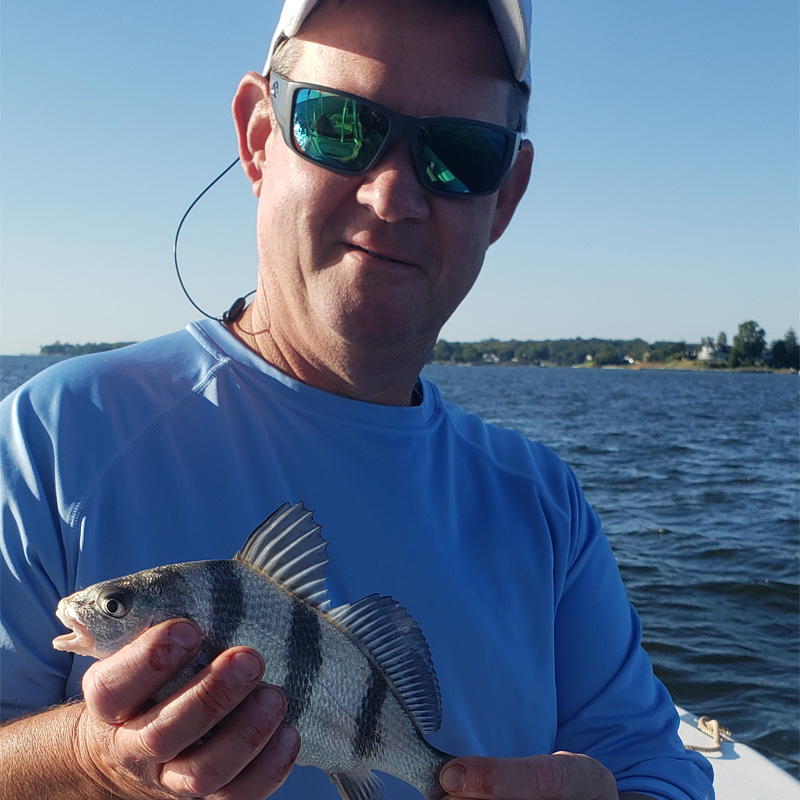 Lucas Middledorf reported catching puppy drum this week on the South River casting a small swimbait.
Eddie Weber said the fall bite has not heated up yet in the Severn presumably due to the water being  a bit warmer this year than last year which may be slowing the transition into the true fall bite, especially topwater. Though he said he has heard of some good fish being caught light tackle trolling in the river.
---
Middle Chesapeake Bay Fishing Report, October 1 Update:
The AIC says that as of the weekend there were still a few mackerel on the south side of Poplar but their numbers are definitely thinning rapidly and on a morning trip there on Wednesday, they only put one in the box. There was a ton of other action, though, with schools of fish popping up and down just west and south of the island. The vast majority of the fish are now stripers nowhere near keeper size with some snapper blues and the last macks of the season. Five-inch white paddle tails and popping cork rigs trailing three-inch paddles (Z-Mans, to avoid countless bite-offs) did the trick. He said they did find a few larger stripers too, including a 30-incher cranked up and then released by FishTalk Yak-master Zach Ditmars. Rudow said finding keeper-sized stripers has grown more difficult on the western side, with throwbacks outnumbering keepers in the shallows by around 15 to one. However, he says that working at it in three to 10 feet of water will eventually produce fish up into the mid-20s on the Thomas Point shoals and similar areas. He also noted that the baby bunker are beginning their push out of the creeks and the river mouths could turn on at any time.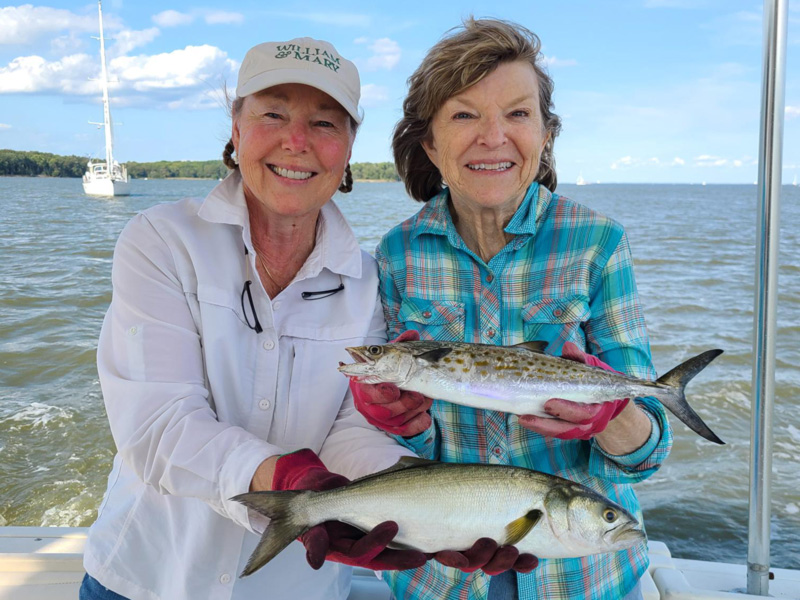 We had a late-week report from a reader hitting the north side of Poplar and encountering a large school of snapper blues in the 10- to 12-inch range, and t wo readers checked in with last-of-season macks a bit farther south from the False Channel area. Both said plenty of small but eating-sized bluefish were hitting their spoons in that area as well, and G-Eye Rain Minnow were mentioned as a good producer.
What's up with the white perch? We don't know… but the sub-par season continues. Many anglers hitting the Severn, South, and West reported disappointing numbers and few decent-sized perch this week. Those who enjoyed some level of success said Beetle Spins and Perch Pounders were the productive choices. The folks at Angler's say many have moved deep already and are best targeted with Chesapeake Sabikis tipped with Fishbites or razor clam bits.
FishTalk Contributor Eric Packard spent some mornings on the lower Pax recently and reports growing numbers of stripers hitting paddle-tails in the creeks and along the docks. Most are in the 15- to 18-inch range but a few keepers are in the mix as well, and he also mentioned that snapper blues are fairly common and wreaking havoc on soft plastics.