Middle Chesapeake Bay Fishing Report, September 24 Update:
The Bay Bridges continue to be a focal point for many anglers, with good catches on fish up to 30 inches being reported by readers. Both jiggers and live-liners have been happy, and at least up until this big change in the weather there were still plenty of spot readily available. The fishing in general has been sporadic with some folks reporting excellent days and others having a tough time, but one thing is for sure: there's some interesting catching going on here and there. Case in point: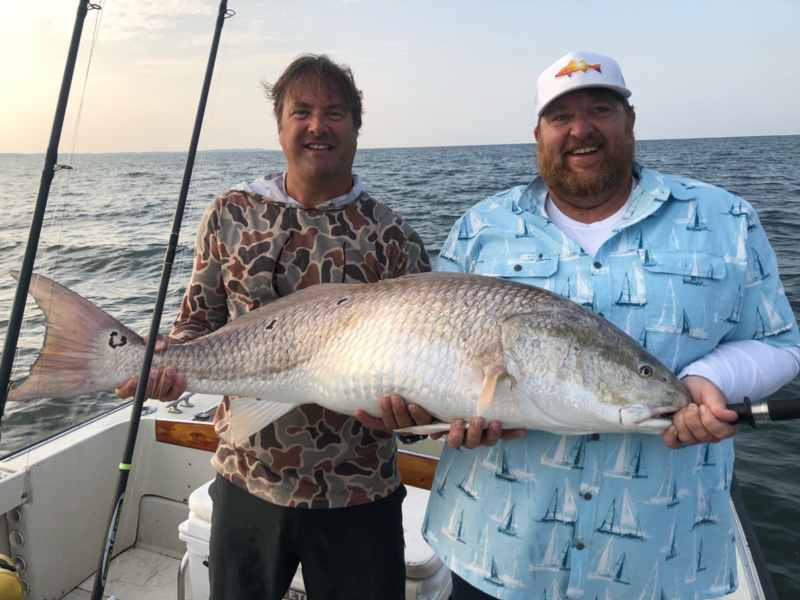 The same day they got this bull red the anglers also had a nice mackerel in the cooler. Another reader reported a 28-inch Spanish mackerel on light tackle this week, and yet another reported three macks and three blues plus hordes of lizard fish while trolling near Bloody Point. So yeah, we're getting pretty late into September but there were still some Spanish to be found out there — at least there were right up until the big cold front pushed through this week. As to whether they turned tail and headed south during these chilly nights, all bets are off but there's a fair chance they're on the move.
Contributor Eric Packard notes that the bite in the lower Patuxent has changed over from cutlassfish to stripers, specks, and blues. A couple of evening trips on the kayak produced good numbers of stripers in the shallows (though with a 10-to-one throwback ratio), a handful of smallish trout, and some chunky blues that wreaked havoc on his soft plastics. Zero cutlassfish were in the mix. The Tackle Box also noted an uptick in the striper action in the river and mentioned trolling small bucktails near shore was producing fish.
---
Middle Chesapeake Bay Fishing Report, September 17 Update:
Angler in Chief Lenny Rudow says the evening bite for striped bass in the 18- to 27-inch range in the shallows from Thomas Point down to the mouth of the West has been a bit tougher than in recent weeks past, but is still decent. White paddle tails on half-ounce heads continue doing the trick. He also noted that there are fish at Thomas Point both on the shoals and at the lighthouse, but both have been hit hard recently and the fish are here today, gone (or unwilling to bite) tomorrow. He suggests keeping on the move and trying numerous spots until you find success.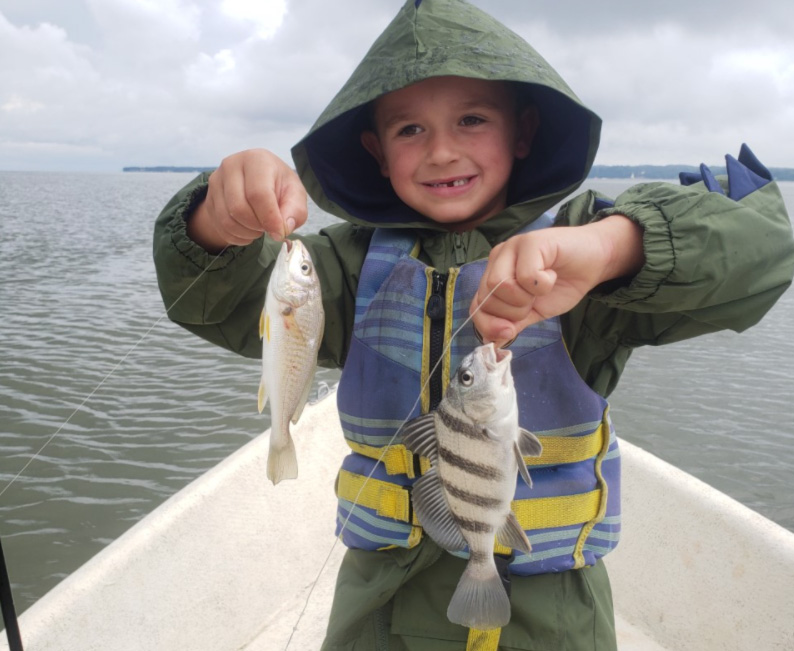 Trollers cruising the shallows of the Patuxent were also scoring fish up to 26-inches, and The Tackle Box reports that using light spinning tackle and half-ounce bucktails trimmed with paddle or curly tail grubs did the job.
Casting for white perch in the Western Shore rivers remains more difficult than one would expect for this time of year. Anglers hitting the Severn, South, and West report cobbling together dinner but taking longer than usual to do so, even while keeping fish smaller than they usually might.
Solid catches of Spanish mackerel are still taking place (one reader checked in with an amazing 27 fish including a 28.5-incher) scattered throughout the Middle Bay zone. Spots that got a mention this week included the Hook south of Poplar, the False Channel, and Chesapeake Beach to Herring Bay. Trolling spoons behind planers and Spoonbrella rigs was the ticket. The Spanish are usually the first summer species to go MIA after a few chilly nights, so if you want to partake in this bite you'd better act fast.
---
Middle Chesapeake Bay Fishing Report, September 10 Update:
Angler in Chief Lenny Rudow says that up until now the water has remained more or less clear from the South River down through the week, and stripers up to 27-inches continued pounding white paddle-tails both early and late in the day in the Thomas Point to mouth-of-West area. A keeper speck popped up at Thomas Point Shoal this week, too. Up the river in the shallows the bite was lackluster, however.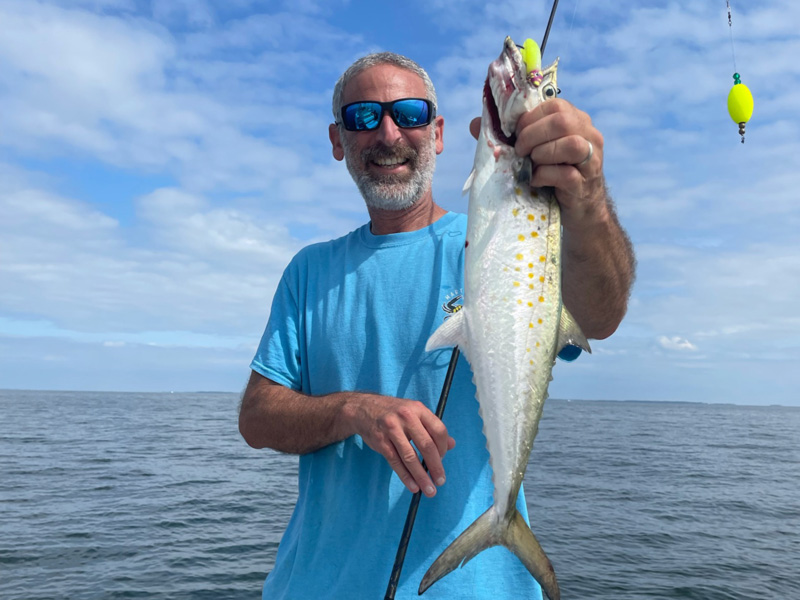 Better diversity was found off Poplar Island, with a mix of very nice mackerel, mostly small bluefish, and stripers up into the mid-20s popping up and down and busting water from the cranes on the north side clear down to the south side. He noted that when the action was in water 15 feet or deeper the catching was good, but in shallower water the schools consisted of micro-rock and micro-rock only. Leaving patches of small fish no matter how attractive the surface action was and scouting for different schools was critical to filling the box with the macks and keeper-sized rock. White paddle-tails caught plenty of fish and spoons got a few, too, but the mackerel were favoring a three-inch chartreuse ZMan fished three feet behind a popping cork chugged quickly across the surface (out-mackereling standard gold spoons by a three-to-one margin). There was also some scuttlebutt of slot reds in the area, but this was unconfirmed by either visual or photographic evidence.
Readers trolling mackerel gear in the Annapolis vicinity reported lots of bird action but little luck on the Spanish this week (we only heard of one). However, they also say the gear was pounded on by rockfish, with one reader reporting 50-plus fish being reeled up in a day of fishing. Most were undersized but there were some keepers in the mix. Readers reported some better mackerel action in the False Channel vicinity, trolling spoons behind planers. The Tackle Box let us know that trollers are enjoying a hefty Spanish mackerel bite from Cedar Point Hollow on down.
Crazy Catch Alerts: A reader fishing in the Broadwater Creek area encountered tons of baby palm-sized pompano. Nifty! He also reported catching small flounder outside the creek. On top of that we had numerous reports (including from the AIC) that lizard fish have moved into the Middle Bay region in force and are being caught by accident both by trollers using planers and by jig fishermen.
Slot reds have you aching for the action? If you missed the Live with Lenny broadcast last night about catching slot reds in the Bay, check it out now!
---
Middle Chesapeake Bay Fishing Report, September 3 Update:
It's hard to say what the impact of Ida will be on the Middle Bay region, but as we put this report together the floodgates are open—muddy waters and floating logs are a distinct possibility this weekend. Setting potential storm impacts aside, the Bay Bridges remain a prime destination for live-liners and jig fishermen, with solid numbers of fish mostly in the 18- to 24-inch range and a larger rock showing up on occasion. It's best to be there early, especially on weekends, as you can expect plenty of competition once the sun is up.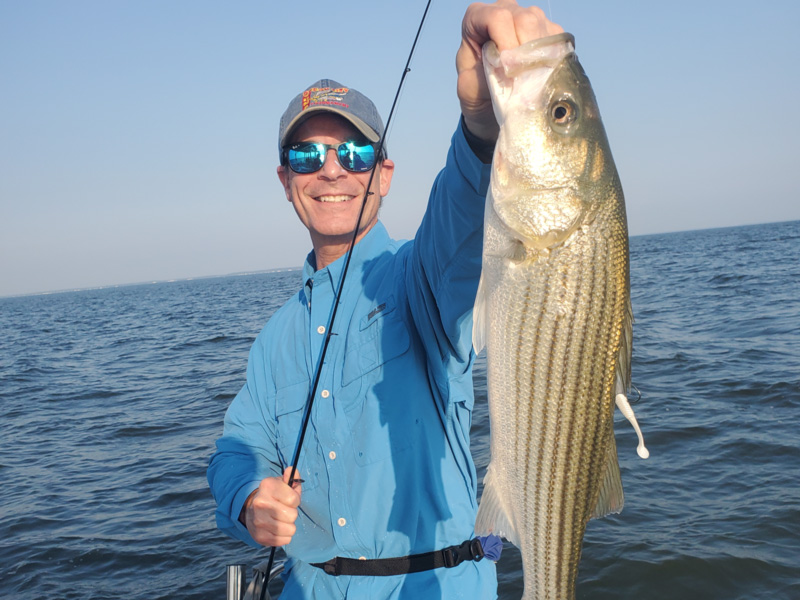 The Angler in Chief says the bite in the shallows in the Thomas Point area and the mouth of the South and West rivers has been varying a bit with some days hot and other days so-so at best; having a moving tide during the last couple hours of daylight has been important. Five-inch white paddle-tails on half- and three-quarter ounce heads has been an excellent selection and chartreuse skirts over pearl BKDs has also been a hot bait recently. The lighthouse rocks at TPL are producing at times, too, but as expected are also getting rather crowded. Live-liners fishing there appear to be doing well. He also says he made a run to the Stone Rock early this week but the mackerel played hard to get. South of Poplar large groups of working birds were spotted, but all they held were very small rockfish — if you encounter them and catch a couple-few dinks, he recommends moving on quickly to avoid stressing a lot of baby fish in these hot conditions.
Angler's and Alltackle in Annapolis both recommended hitting up the Bridge, where much action has been based lately. They reported that liveliners and jiggers were fairing equally well, with plenty of action available if you could find a spot. Getting to the Bridge early has been essential if you're looking to maximize your catch — the area is being fished hard all day by multiple boats and on weekends you'll have to throw elbows to secure your place.
Mackerel reports from readers hitting the Middle Bay slowed down in general as compared to last week's excellent action; we heard from several anglers who couldn't find them, from a couple who had limited numbers (one to three) after spending a lot of time trolling (everywhere from the Stone Rock to the Gas Docks), and from one who caught a single (22-incher) trolling near the ships off Annapolis. Several did mention catching small bluefish on their spoons. We also heard from one ambitious angler mid-week who cruised from Breezy down past the Pax with binoculars in hand, the east side going one way and the west side the other, without ever finding working birds. Ouch.
Don't forget that coming up September 11-12 is the CCA-MD Red Trout Tournament! Presented by Alltackle it'll be held out of Buzz'z Marina, and oodles of cool prizes are on the line for those who partake in the hunt for specks and reds.