Middle Chesapeake Bay Fishing Report, September 29 Update:
AIC Lenny Rudow reports that there were bluefish boiling water near Poplar Island before all this wind set in, and they were a better class of fish than we've seen in recent years with two- to three-pounders busting on bunker. He found them on the south side, but a reader reported finding them on the north side in the mouth of Eastern Bay as well. Rudow says a few have been breaking at Tilghman Reef, too, where there's a nifty mix of species including sea bass and flounder, though most of those fish are quite small. He also noted that fish in the South River have turned on for fall, with some nice rockfish and white perch hitting three-inch white paddletail jigs and small spinnerbaits on riprap and piers this week. Even more interesting, there are roving schools of (small) croaker present with five- to six-inch baby black drum mixed in. He said several were caught post-storm on shad darts tipped with grass shrimp. Plus, we had a reader report of puffer fish showing up at Thomas Point — there's some cool species diversity going on in the middle Bay right now, for sure.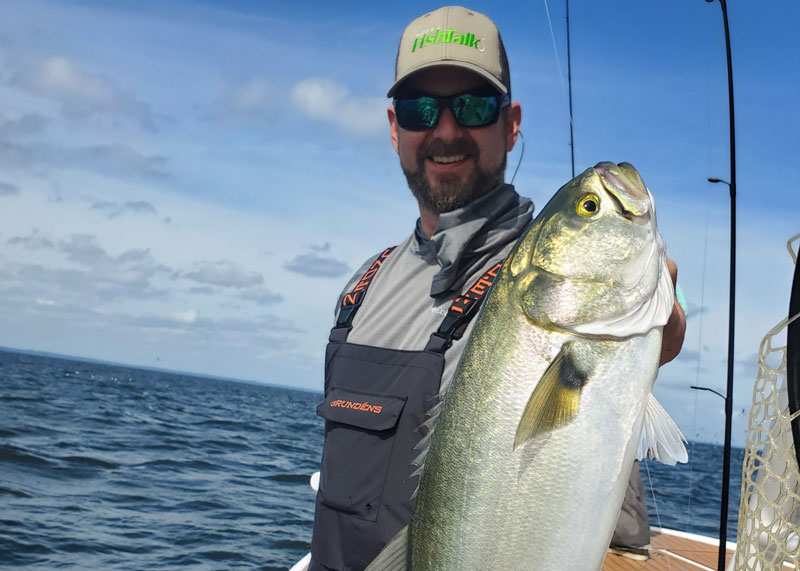 Contributor Eric Packard says the lower Patuxent is still producing small redfish plus some rockfish when tossing paddletails to docks and points. However, it looks like the cutlassfish have headed south for the winter. Reports of small puppy drum, and a few slot fish, have continued to come in from ranging from the mouth of the Patuxent up to Poplar Island. The Choptank River has seen some of the better action for the pups as they cruise around shallow shorelines, stump fields, and rip rap. Small craft advisories this week kept many anglers off the water, though, so we are hoping to get updated reports this coming week. Dropping water temperatures, a full moon, and overcast cloud conditions should make for excellent fall fishing conditions. Now if only the wind would cooperate.
In the Crazy Catch department – SERIOUSLY CRAZY – reader Jim Berry stumbled into a school of baby cobia(!!) feeding around an oyster bar near Tall Timbers. How cool is that?!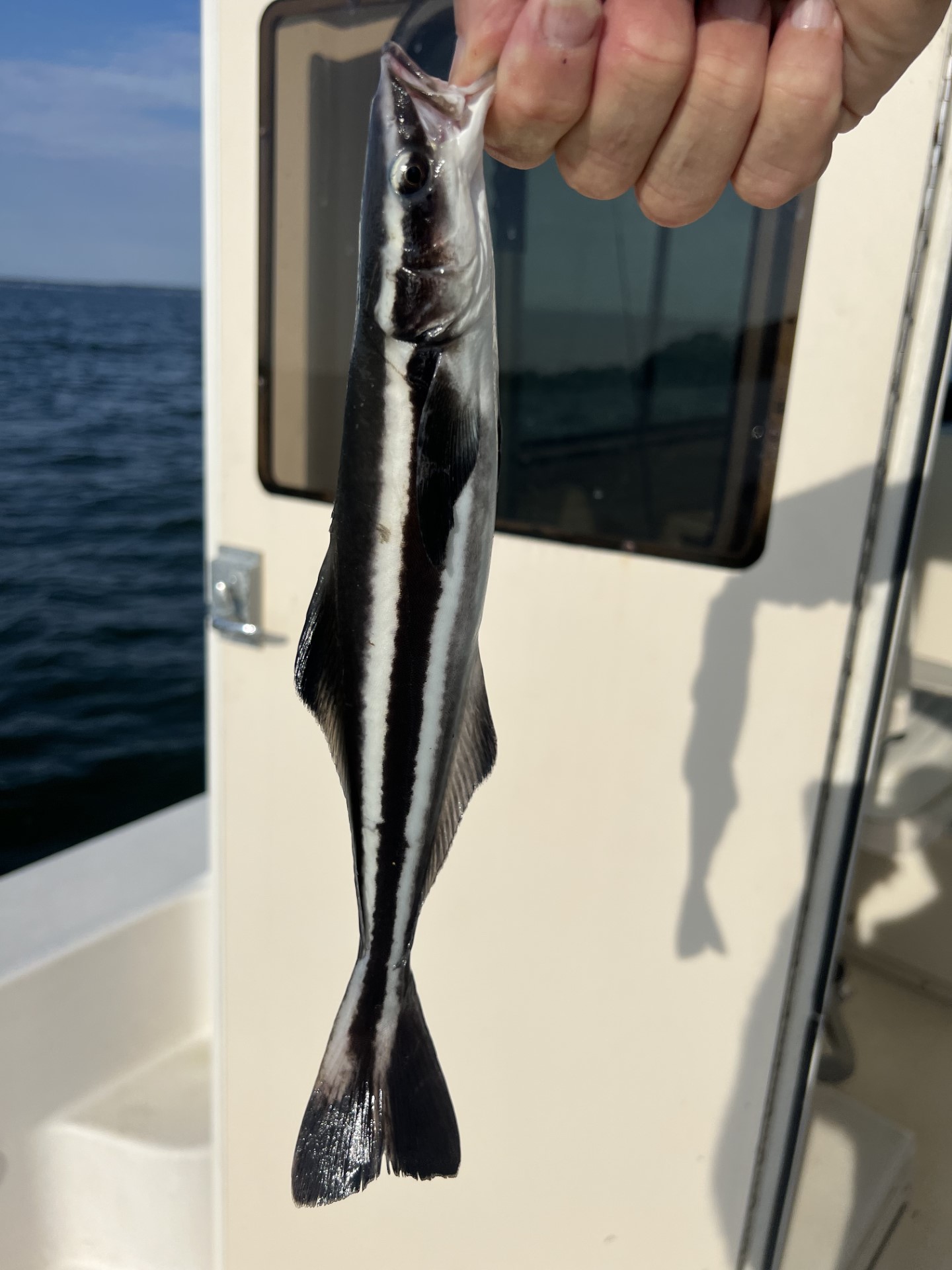 ---
Middle Chesapeake Bay Fishing Report, September 21 Update:
Fall weather is starting to arrive and water temperatures are dropping in the Bay. This is a welcomed arrival as the fall months can provide some epic fishing on the Chesapeake. We aren't quite there yet as water temperatures are still in the low to mid 70s, but we are quickly approaching one of our favorite times of year. Angler In Chief Lenny Rudow reports that the fishing has been as up and down as the temperatures in his neck of the woods, with fish in the river finicky one day and hungry the next. Local Bay hotspots including Thomas Point and the mouth of the West have proved the same with good action one evening and slow the next. A reader checked in with some nice bluefish action plus a few rock, caught while trolling off the mouth of the Severn. We also saw a report from an angler fishing well into the Severn who caught a 25-inch red drum. There have been plenty of under slot pups around this summer, so hopefully these catches are an indication of an improved fishery.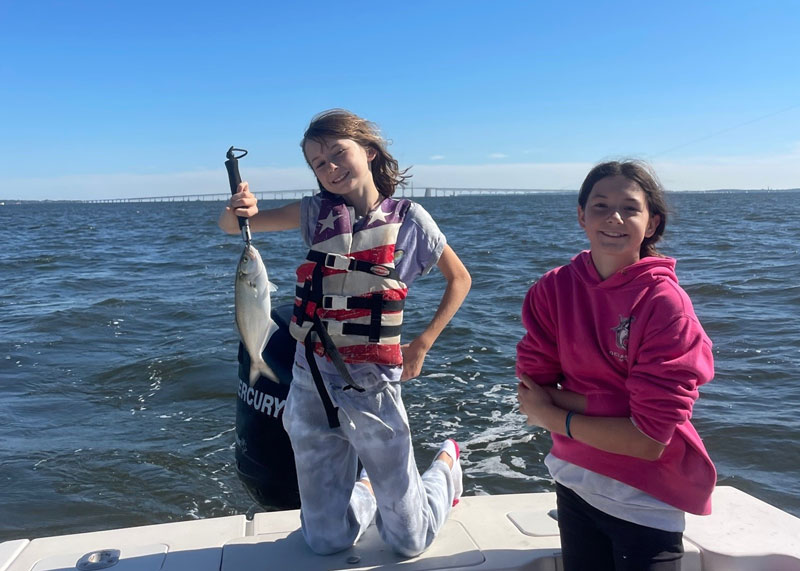 The shallows are still providing a decent perch bite with the better fishing being found in the tidal rivers. An angler fishing the shallows near the West River reported a slow bite but they managed to catch six nice sized perch and five small puppy drum while throwing minnows under a bobber near underwater rocks. They also tried for rockfish and reported no luck on that front but did mention there was bait everywhere in the shallows once the sun went down. Hopefully the rockfish will start to move into shallows in greater numbers as water temperatures continue to drop.
Bottom fishing is still good throughout the middle Bay and spot, croaker, white perch, and even a few black sea bass can be found hanging around hard bottom in deeper water. Bottom rigs paired with Fishbites or bloodworms have done the trick.
A few boats found schools of bluefish and rockfish near Poplar Island this week. The schools came up to blitz a few times, but they would go down just as quick as they came up. The few mackerel that were hanging around the poplar and Sharps Island areas have thinned out significantly and the bluefish will also begin to migrate south soon with the cooler weather. While they are still around, trolling metal spoons or surgical tubes near channel edges is working well. If you see birds sitting on the water, it is likely worth checking out to see if you mark any fish in the area. Unfortunately, this weekend's forecast is looking unfishable for the most part as heavy rain and strong winds are expected. It may be a good time to organize some tackle and get ready for Rocktober…
---
Middle Chesapeake Bay Fishing Report, September 15 Update:
The east side from Eastern Bay down to Sharps Island has been running hot and cold with some very interesting reports this week. The Angler in Chief says he spent two evenings looking for birds in the area, to no avail one evening and bluefish city (on the north side of Poplar) the next. Blues were smacking silver and white but mostly ignoring gold spoons; he also noted finding found sea bass at Tilghman Reef. Meanwhile, two readers also mentioned finding the birds (in the mouth of Eastern Bay and south of Poplar Island). One reported a nice mix of blues and rock, and another said a bull red was found prowling below the surface frenzy. Another noted a complete lack of birds when he scoped out the area, and we also had a report from an angler dropping fresh cut bunker off Sharps and catching a phenomenal mix of fish including blues, a red, and a cobia. A reader checked in from E-Bay, too, after a very successful day last weekend kayak fishing with dozens of nice perch and more impressively, a pair of speckled trout stretching the tape to 22.5 and 23.75 inches.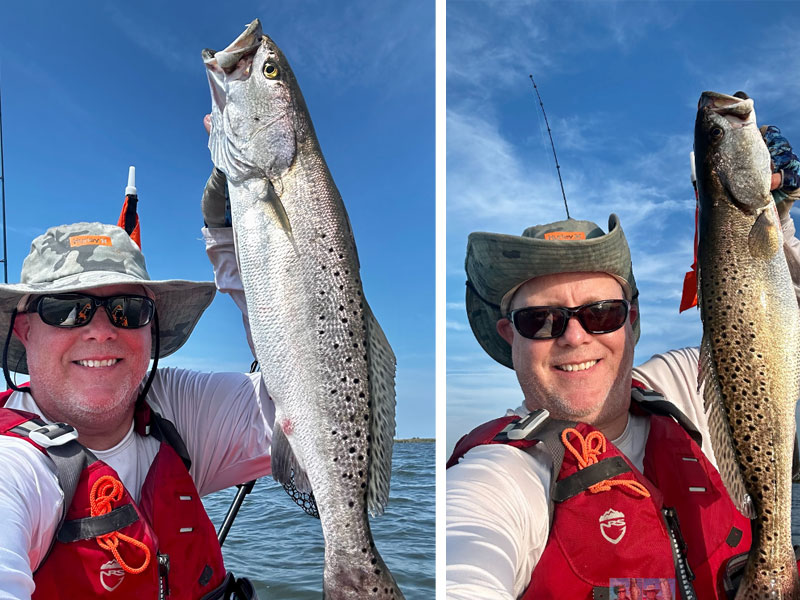 On the west side we've been hearing about plenty of small redfish in the shallows of the rivers and creeks from the Potomac clear up through the South River. The AIC said he and his neighbor could account for a total of seven caught in one day alone in the South River, when they cast to riprap and docks. All were between 12 and 16 inches and hit white or chartreuse Perch Pounders and three-inch paddletails. Along with the little redfish there were plenty of nice white perch and rockfish up to 20 inches. One reader reported catching a slot fish among the pups, so when it's rough in open water this action presents a great alternative to rocking and rolling out on the Bay.
As we move closer to fall and cooler temperatures set in, even more fish (especially rockfish) will start to move to the shallows as water temperatures drop. Fall can offer some of the best fishing of the year on the Chesapeake Bay as fish in the shallows often offer great topwater action. We should also begin to see more bird action out on open water as schools of rockfish chase baitfish. The bulk of this action picks up in October, but don't be surprised to see it pick up this month if we get some cold fronts.
---
Middle Chesapeake Bay Fishing Report, September 8 Update:
It felt like the dead of summer across the Chesapeake region with record setting heat on multiple days this week. Luckily, it appears that we will get a cool down next week which will hopefully continue to get some of our fish into feeding mode as we approach fall. The bite in the shallows should improve as water temperatures start to drop, but in the meantime, anglers can find plenty of white perch, puppy drum, and a few rockfish willing to bite. An angler fishing near the West River reported catching a few perch and small drum while throwing live minnows to nearshore structure. They also reported a massive influx of jellyfish that made fishing very difficult. Hopefully they don't stay around for too much longer.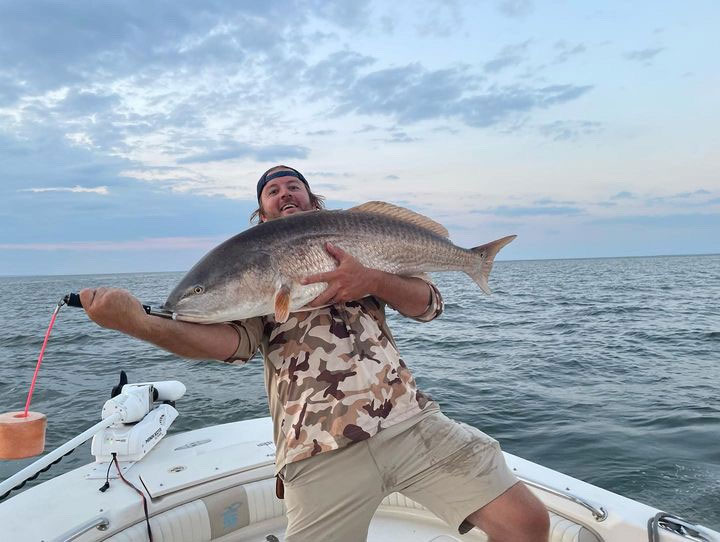 Roving schools of bull reds are present in the middle Bay zone, though apparently not in the same numbers as last season. We heard from two anglers who found them this week, one north of the Gas Docks and the other in the Hoopers Island vicinity. However, we also had an angler check in after a day of burning gas and dashed hopes.
AIC Lenny Rudow reports that the cutlassfish staging off the South Riverseemed to disappear this week, and whether they have left town (nooooo!) or the chill last week put a damper on the bite and they'll start snapping again (please! please!) is a mystery at the moment. On the bright side, some nice rockfish have begun popping up in the shallows during evenings with high water, and last week fish up to 28.5" showed up in some of the local haunts. Thomas Point, South River spots, and Severn River spots were all productive. One evening rockfish also began boiling bunker just outside of the West River. The flurry lasted just long enough to attract a small flock of birds then died out, but hopefully it's a sign of what's to come. He also said a midweek evening trip to the north side of Poplar produced a mix of bluefish in the one to two pound range plus some rockfish to 22 inches, which were busting water. Aftco Blue Fever Crossbreed spoons and tooth-proof paddletails in white and pearl got them biting.
Readers trolling near Sharps Island Light and through the mouth of the Choptank report a mixed back of rock, Spanish mackerel, and bluefish hitting spoons behind planers. The numbers of mackerel were thin, though, with most reporting just one or two and more bluefish present than mackerel. We also heard from a reader who got out for an afternoon trip to troll for any willing mackerel or bluefish in the Sharp's Island area but despite flat calm conditions and ample bait, they trolled for a few hours without a bite. They noted that they saw a few scattered mackerel jumping here and there but didn't find the breaking fish they were hoping for. The mackerel should be around for a few more weeks or until water temperatures drop to around 70 degrees. The bluefish will stay a bit longer but the season for both fish will begin to wind down soon, so get after them while you can.
---
Middle Chesapeake Bay Fishing Report, September 1 Update:
Angler in Chief Lenny Rudow says the Great Cutlassfish Invasion of 2023 was still on off the South River early this week, with the cutlassfish meandering through schools of peanut bunker between the green #1 and the crab pots in 18 to 22 feet of water, though over last weekend some of the fish pushed in even closer and were just a half-mile or so outside the red #1 fixed marker at the river mouth. Circling osprey exposed the fish's location, and once in the hot zone the fish could be seen greyhounding and showering bait. He also mentioned that rockfish were in short supply in the same area, but there's been a school of fish (and a flock of boats) gathering on the north side of Poplar Island. Boats looking for bluefish and Spanish mackerel before they make the turn south are still catching scattered fish along the channel edges between Bloody Point and Taylor's Island. Trolling Drone and Clark spoons behind number one or two planers between five and eight knots usually does the trick if there are fish in the area. Most of the blues are 16 inches or less (plenty big to eat) and the mackerel are being caught into the low 20s.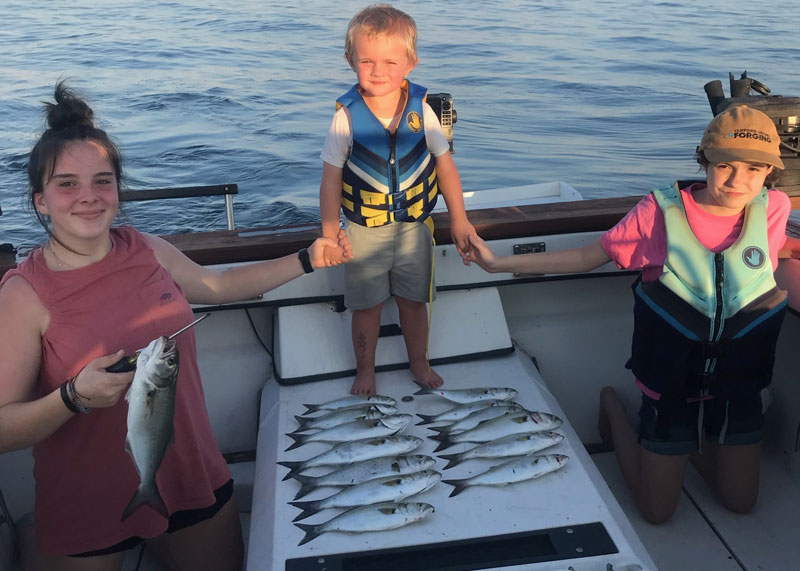 The cooler weather this week accompanied by the rare blue supermoon on Wednesday night (which won't be seen again until 2037) has put the fish into feeding mode. Anglers who enjoy chasing rockfish should be delighted to hear that in some of the tribs the schoolies have been very active this week chasing around bait and pushing them into surface blitzes. We heard from an angler who got to experience some run-and-gun fishing during two mornings on the Severn this week. Birds were chasing around breaking rockfish and they caught many between 19 and 22 inches using a Rapala SXR10. The shallows have also been productive in the mid Bay rivers where docks, shoreline points, and riprap are holding fish. Paddletails have been the go-to for many anglers and any Z-Man paired with a ¼ or 3/8-ounce jighead is working. Contributor Eric Packard says the cutlassfish are biting in Mill Creek, too, hitting paddletails and small crankbaits. A few rockfish are also biting on the same lures, and he noted catching a speck this week as well. This week has been a prelude to Fall, and it should only get better as we move through September.