Tangier and Lower Shore Fishing Report, February 28 Update:
The Pocomoke is really going for the Winter Hotspot of 2020 Award… the fishing is still stellar, with more than enough yellow perch, pickerel, crappie, bass, and catfish to go around. Anglers hitting near-shore areas are enjoying a healthy pickerel and yellow perch run. The Nanticoke has also been producing excellent catches. Tossing out minnows has been tempting both species. For perch, locating channels and holes has been key to finding a school and bringing them on board. Sometimes the yellows have been elusive, but they're showing up in numbers once you find them. On the crappie front, shallows are currently home to an overflowing population on high tides. Small minnows on highlighter yellow, neon green, orange, and pink shad darts are their favorite bait, both cast and retrieved along the bottom or suspended under a bobber. Vertical jigging from a boat positioned over the channels and holes during a low or outgoing tide has also been very effective. Anglers hoping to score bass are enjoying success using Bass Assassins and similar lures. The blue cats haven't been shy about feeding on cut menhaden and chicken breast, too.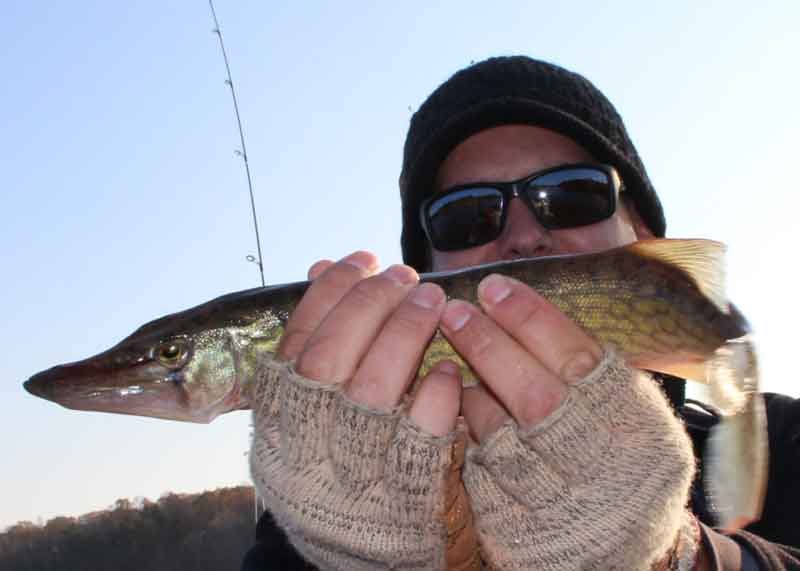 ---
Tangier and Lower Shore Fishing Report, February 21 Update:
The Pocomoke is still pulling anglers from around the dial, with a killer bite and a variety of species. Its waters are easily accessible to both shoreline and boating anglers, keeping it on the radar as a hotspot for all within commuting distance. Pickerel, bass, crappie, and yellow perch remain abundant. Sea Hawk Sport's Center reported that the crappie bite is particularly off the hook. Anglers hitting near-shore structure haven't had any gripes with their days lately, and are coming home before the sunsets, coolers loaded. Crappie have been quick to hit pink, orange, chartreuse, and highlighted yellow shad darts tipped with minnows, and minnows alone. When you're just fishing minnows, yellow perch, pickerel, and bass are nearly unavoidable. The bite has been a steady mix of species.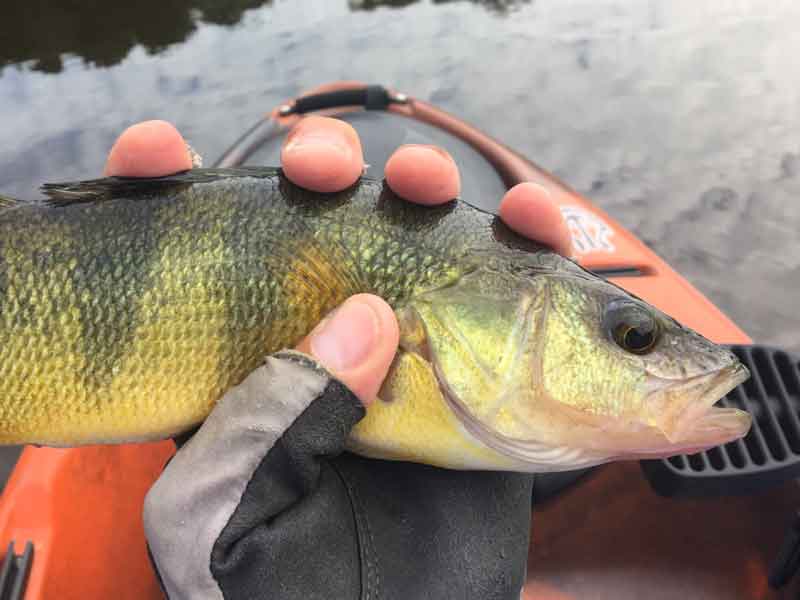 Sea Hawk also did let us know that the outgoing tide has been the best fishing by far. When guys have been fishing other tides, the bite has typically been slow (but not completely off). They suggested mitigating this by bringing a big ole hunk of cut chicken breast aboard, and dropping down a chunk for catfish when the tide isn't outgoing. They haven't really cared when they're biting, just that there's something tasty on the end of your line.
Copy-cut-pasted from the Freshwater report, because this is what anglers in this neck of the woods are focused on right now: Reports from the Blackwater zone are of snake-attacks taking place on a regular basis, with some folks catching a half-dozen or more on sun-warmed afternoons. Big bull minnow suspended just a foot or two under a bobber is the killer. You have to time your trips right, though, to coincide with a day or two of warming weather, and remember that clear skies and a strong sun has a dramatic impact on raising the water temps in these shallow waterways. The bridges and the Transquaking all saw good action in the past week, but if you're hauling a kayak don't forget that several of the soft-launches (Blackwater) are still closed. Visit the Maryland Online Water Access Guide, to see the details.
---
Tangier and Lower Shore Fishing Report, February 14 Update:
The Pocomoke has been drawing anglers from across the Chesapeake region, and warm weather this week meant that traffic was high. Its waters and shorelines have been peppered with anglers hoping to score their limit on crappie and yellow perch, oftentimes finding success. Near shore pockets are great areas to search for the perch—they've often been hanging on bottom, ready to snatch up minnow dropped to them. Pickerel and bass are coming in for anglers fishing like this, as well. Crappie have been increasing in numbers and taking minnow and wax worms, hanging out near shorelines and structure and along channel edges. Throughout the region, the bite has been hot when it's on, and silent when off. Searching for the school and keeping track of the tides (end of the outgoing has been good in the channels and on high the shoreline takes over) has been key to bringing home dinner.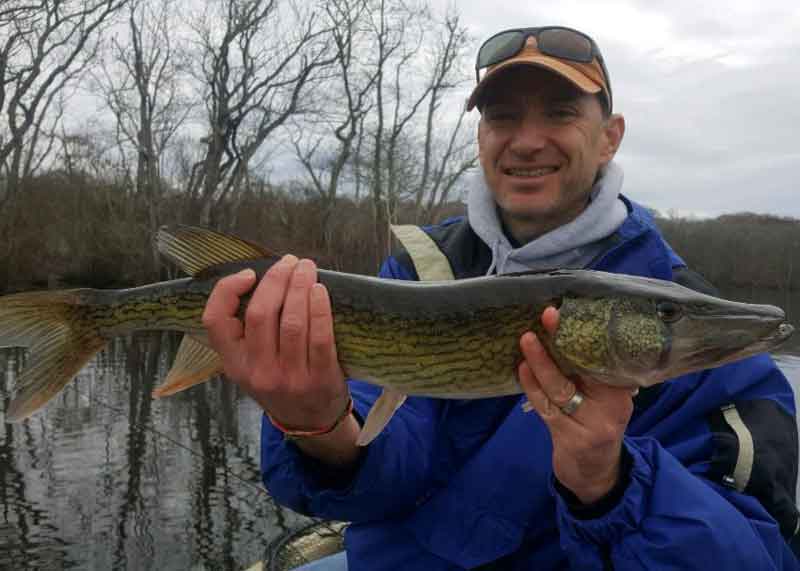 ---
Tangier and Lower Shore Fishing Report, February 7 Update:
The Pocomoke earned January's "Panfish Spot of the Month Award," and is gearing up to sweep this month as well. Sea Hawk reported this week that the bite has been off the hook, with plenty of pickerel, crappie, bass, catfish, and yellow perch for the catching. All species have been available to boating anglers and those bound to the shoreline, with plenty of docks and points to cast into deep water from. Minnow suspended by a bobber have been attracting all of the above species. Sea Hawk suggested playing around with the depth of the minnow and changing up locations if you're not catching because although the fish have totally been around, they're finicky and unpredictable at times. Anglers hoping to bring home loads of crappie have been gearing up with orange, chartreuse, pink, and yellow shad darts tipped with minnow. In areas with a strong current they've been difficult to keep on bottom, so a weightier rig might be a good move.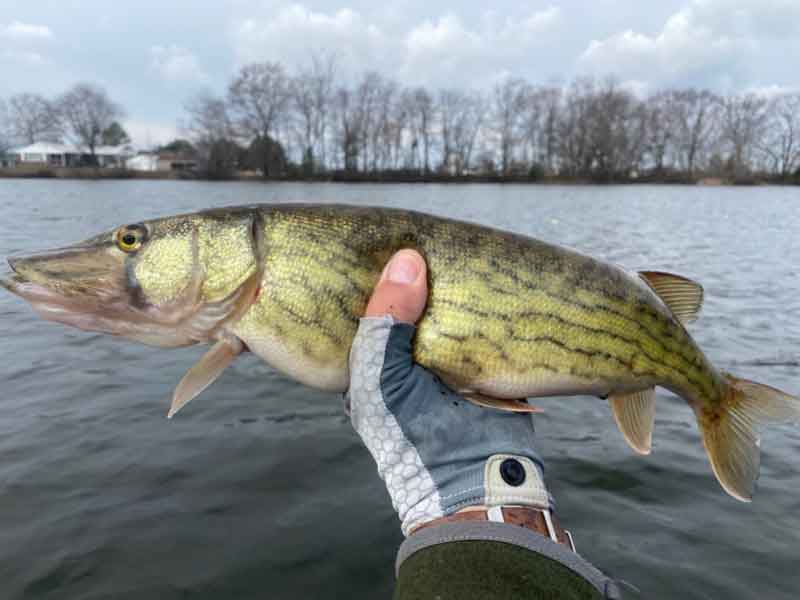 Angler in Chief Lenny Rudow said that after a long January stuck at the computer he managed to make a run to the Pocomoke this week in the Snow Hill area, and reported a good bite for pickerel, and a somewhat slow but very steady bite for yellow perch, bass, and crappie. Even on a high tide most of the fish - excepting the pickerel - were in the channel or along its edges, and minnow on green shad darts and chartreuse Road Runners worked slowly near bottom were the best offering. Interestingly, he said bobber lines went mostly untouched all day and casting and retrieving was by far the better way to go.