Tangier, Pocomoke, and Lower Shore Fishing Report, August 27 Update:
The Sea Hawk crew let us know that the speckled trout craze continues to carry on, despite some recent dips in numbers caught. They're still taking lures along shorelines and in grassy beds. Curly/twisty-tailed white, pearl, and pink soft plastics remain hot. Four- to five-inch soft plastics are ideal and Saltwater Assassins have been a fan favorite this week for specks. Electric chicken, pink ghost, salt-n-pepper, and rootbeer were all standout choices.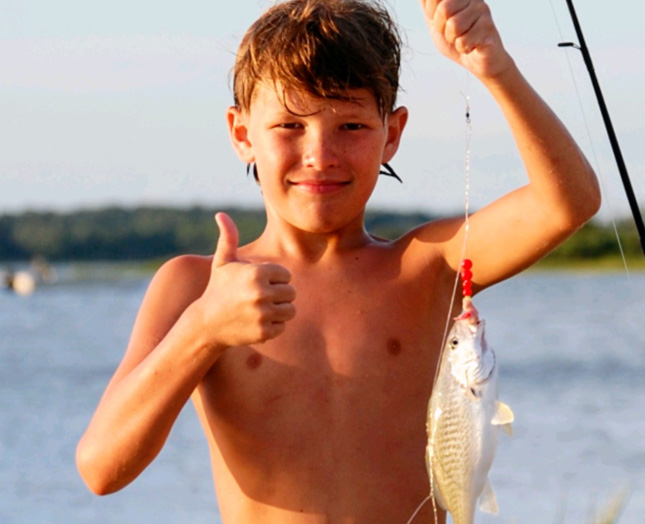 Bottom fishers are catching mostly spot and croaker, with more lizardfish than usual also being reported. Most of the fish are on the small side but there are keeper croakers and some spot big enough for the frying pan in the mix. Lugworms and Fishbites are the normal offerings, plus bloodworms when available. Readers has also reported some small weakfish are biting at times, but all are throwbacks in the eight to 12 inch range.
Sea Hawk also mentioned that the little blues are absolutely relentless in open waters. They've been decimating anglers' soft-plastic supply whenever they're around, especially under working birds. Spanish mackerel are common under them too, but often will have small blues in tow. Sea Hawk recommended arming yourself with spoons, cranking the reel with reckless abandon, and hoping that you can retrieve fast enough to interest the Spanish and too fast for the baby blues to bop 'em.
Striper fishing in the Tangier was good this week with plenty caught on small soft plastics casted around shorelines in hopes of a speck or a red. While the bite is good, many of the stripers are undersized.
We heard less about the bull reds in the sounds and down the ESVA than last week, although there were some reported to Sea Hawk.
HOT WEATHER ALERT! Hey, FishTalkers! Our region is in the midst of another hot, hot, hot spell! We want to pop in and remind you to please keep undersized fish in the water when releasing them, and only bring them out when totally necessary, especially when air temps exceed 90-degrees. As anglers, we're all in the fight to conserve and restore our striped bass populations—safe catch-and-release practices are an excellent way to ensure that we're doing our part and reducing striped bass mortality. If you're interested in learning more about safe catch-and-release practices, check out this Safe Summer Catch and Release article.
---
Tangier, Pocomoke, and Lower Shore Fishing Report, August 20 Update:
Well, the red action is ON! Sea Hawk had multiple reports from anglers this week who found the redfish and the best thing about the bite going on right now has been the size of the fish — there are HUGE bull reds coming in the ESVA and throughout the Sounds. In the Sound bodies, Sea Hawk reported that fishing cut spot and kingfish on 8/0 circle hooks and sinker slides was producing. Trollers and jiggers are also finding the drum and the tactic for nailing them down has been locating working birds and then jigging under the schools when you see large marks on the fishfinder. Overall, casting under working birds is a great option. Bluefish, striped bass, and Spanish mackerel all are coming in under them, and will hit spoons or soft plastics. White is working well, plus rootbeer, salt and pepper, and chartreuse. ZMans are a favorite right now with so many toothy fish in the mix.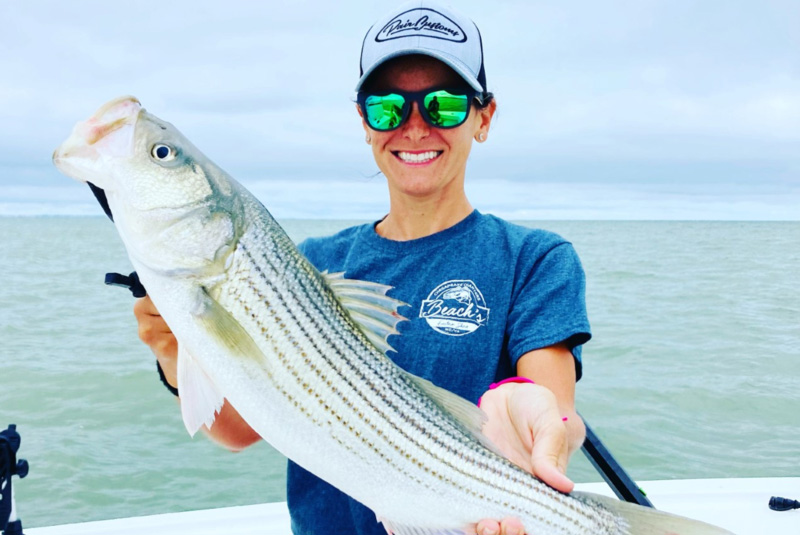 While redfish have been on the upswing, we've seen the speck fishing slowly begin to peter out over the past couple weeks. This week we only heard of a few solid catches, which could be due to the disruptive storms we've had and the shifted focus to Spanish mackerel and reds, except that shallow-water anglers do report encountering decent numbers of stripers. Fish up to 28 inches were reported north of the MD/VA line where they can be targeted right now, with good numbers in the 14- to 24-inch range. Most guys who successfully searched out the specks were fishing around grassy beds, casting four-inch paddle tails with some sparkle.
---
Tangier, Pocomoke, and Lower Shore Fishing Report, August 13 Update:
Speckled trout are providing ample opportunities to catch throughout the Sounds. Both the Pocomoke and Tangier have been hotspots for them, and Sea Hawk Sports Center let us know that specks are providing a pretty great morning bite; later in the day it seems to be dropping off. Curly and paddle-tail four-inch plastics in salt and pepper, root beer, electric ghost, and stinky pink are getting them to bite. Fewer stripers than in previous weeks were reported in the past one, although some anglers did find schoolies under working birds out over deeper water. Remember to please be mindful when unhooking stripers and keep them in the water when possible when they're being released in the hot weather.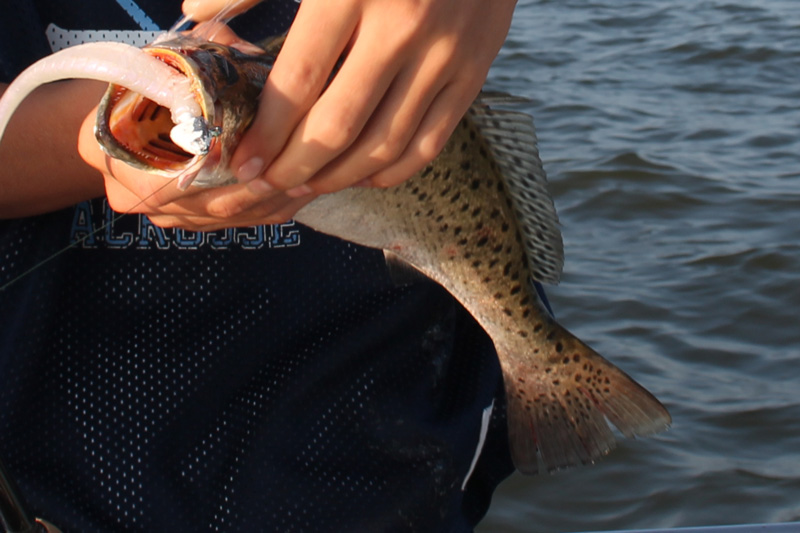 Flounder fishing was alright this week, with no major changes. Boats who fished for them tried casting soft plastics, bouncing them off the bottom, or drifting squid strips. A few large flounder came in this week, although the smaller throwback flounder were much more common.
Croaker and bluefish are also in the Sounds and along the ESVA. Most of the bluefish are pretty small, with some keepers in the mix for anglers using spoons or casting through working birds. The little ones have been a major obstacle for anglers fishing with soft plastics, and using Z-Mans has been popular to avoid shredded plastics. Pulling spoons is also popular right now among those looking to put blues in the box. For croaker, bottom rigs with bloodworms are working best.
---
Tangier, Pocomoke, and Lower Shore Fishing Report, August 6 Update:
Speckled trout anglers are leading the Tangier fleet, heading to the Sound in large droves. Sea Hawk let us know that the specks were up and at 'em this week during the cooler weather. Typically, boats have been bound for the shallows of creeks and pockets in the Sounds where there are weed beds. Casting through them with four-inch chartreuse, Electric Chicken, or pink and sparkly soft plastics is the way to go after them. We were pumped to hear multiple reports of days where boats scored two or three specks that exceeded the 20-inch mark.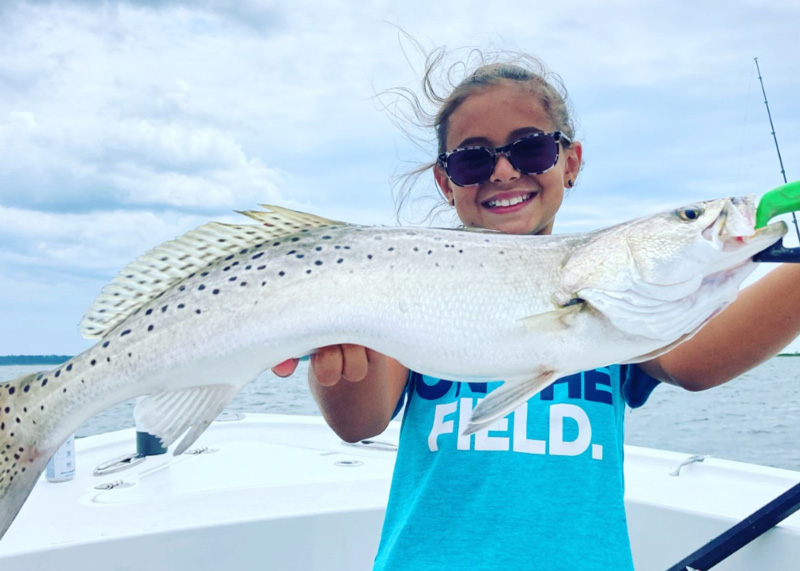 Some midsized bluefish are also in the Sounds, hitting spoons. Anglers have been hooking up on them under schools of working birds, which are beginning to become more common. Casting a spoon or soft plastic through the schools might take a few stops and tries to get a strike, but it's totally worth the time to check out.
Flounder continue to pop up on reports coming from anglers drifting squid strips, although they dropped off a bit this week. Striped bass are hanging around the Sounds as well, and have had a healthy topwater bite in the mornings. Later in the day, jigging has been the best bet for hooking up.