Tangier, Pocomoke, and Lower Shore Fishing Report, July 31 Update:
The speckled trout are still on, despite the heat. Sea Hawk Sports Center let us know that grassy areas and edges throughout the Pocomoke and Tangier are still full of 'em. As per usual, white, pink, pearl, and glittery curly or paddle tailed soft plastics are popular. Although anglers are bringing the specks in throughout the day, the hottest times are morning and evening. And while plenty of specks are hitting the deck, fewer boats are landing stripers. With extreme surface temps, they've moved to deeper waters throughout much of the Sounds. Anglers who are catching them have been using soft plastics or coming up on them under working birds.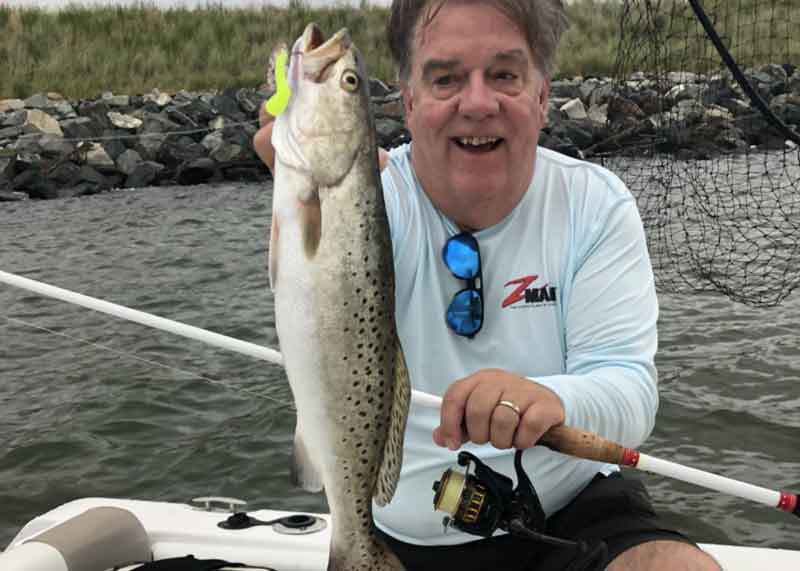 Bottom fishers are landing more croaker as the weeks go on. Sea Hawk mentioned that lots of them this year are small, with the redemption being their abundance. Flounder are the flip-side: we heard of less this week than last, however, some that have been coming in are dinner-for-two sized.
With high surface and water temps, remember to keep the stripers being released in the water as you unhook them, whenever possible. If you've gotta bring the fish out of the water, try to minimize the amount of time they spend in the air.
---
Tangier, Pocomoke, and Lower Shore Fishing Report, July 24 Update:
The heat doesn't seem to be bothering the specks, which are still highly active throughout the Pocomoke and Tangier Sounds. With the striper bite dropping off as the water heats up throughout most of the Bay, anglers have been putting more of the pressure on specks. Pink and white four-inch paddle tails are tempting them in; throwing some sparkle and shine in the mix isn't hurting, either. Sea Hawk let us know that the boats catching have been heading out early or at dusk to grassy areas, and casting the shorelines. They also mentioned that due to the heat, stripers have become less of the catch. If you do catch a striper, please be mindful of how you handle it. Due to the current heatwave, it's extra important to release fish in the water and minimize the amount of time they spend in the air.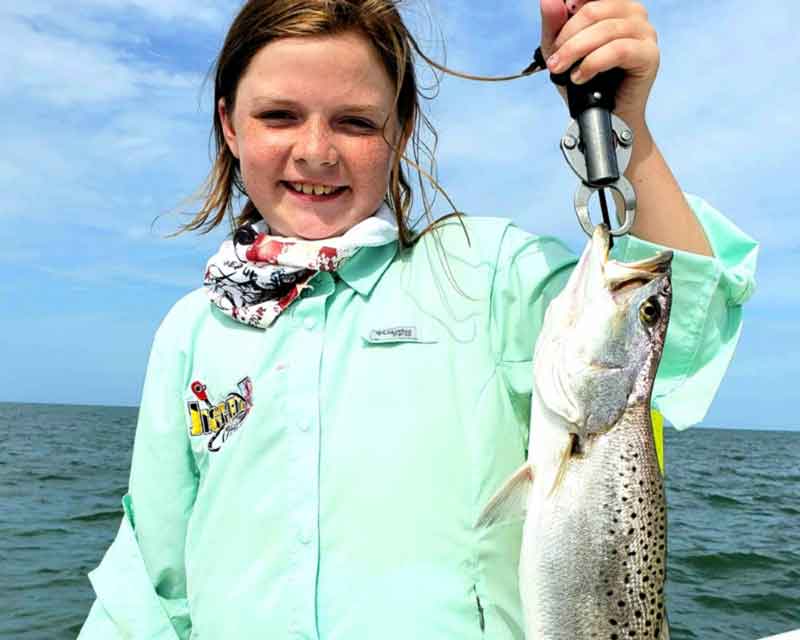 Flounder reports continue to come in from anglers drifting squid chunks or jigging pink, white, and chartreuse soft plastics off the bottom. While the bite isn't super-fast paced, the flounder are around and worth drifting for.
---
Tangier, Pocomoke, and Lower Shore Fishing Report, July 17 Update:
With plenty of speckled tout throughout both the Pocomoke and Tangier, these areas have become prime hot-spots for anglers living across the shores of the Chesapeake. Sea Hawk is reporting that the grassy shallows hold abundant opportunity for anglers casting four-inch white, chartreuse, and pink paddle or twisty tails. The specks are LOVING these and mixing it up with a glittery soft plastic hasn't been hurting either. Primetime has absolutely been mornings and dusk, tide permitting. A few stripers are still mixed in with the speck bite, although hot temps are pushing them a bit deeper now.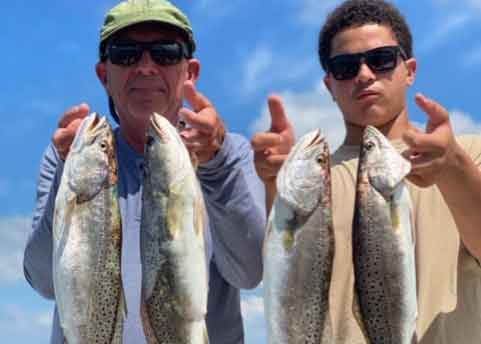 Sea Hawk also let us know that a few anglers reported more flounder catches in the sound this week, jigging white and pinks soft plastics off bottom. While not a whole lot of guys are reporting flounder, we're speculating that this is in part because the focus in the Sounds is so locked-in on specks right now. But remember that those flounder are around, and it's worth jigging for a few drifts.
---
Tangier, Pocomoke, and Lower Shore Fishing Report, July 10 Update:
Both the Tackle Box and Sea Hawk are reporting that the speckled trout bite along the shallows of the lower Eastern Shore remains prime. Grassbeds are hot, and anglers casting four-inch white, pearl, pink, and chartreuse paddletails and Gulp! Jerk Shad on half-ounce heads are making strong catches including plenty of limits. A few (usually small) stripers are in the mix at times, but as the waters have become quite warm in the shallows, the bulk of the rockfish have moved off to deeper spots.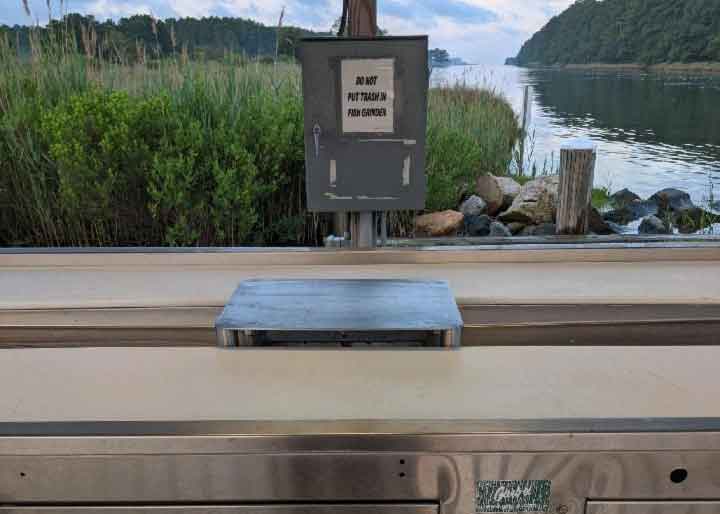 Coastal Correspondent John Unkart checked in from the campground at Jane's Island off the Annamessex and let us know that despite beautiful conditions and live bull minnow, fishing in Daugherty Creek proved fruitless. One might infer that catching specks will require getting farther out into the Sound as opposed to fishing the backwaters - or one might infer that John's wife Marie opted not to fish, and thus he had no fish to hold up for pictures.
There was also a smattering of very interesting and diverse reader reports from the lower Tangier and upper Pocomoke Sounds this week: One who caught three keeper flounder while jigging Gulp! Swimming Mullet, another who tied into big bull redfish estimated at over 40 inches, and another who caught a 36-inch cobia after spotting it swimming at the surface. And we note that because this is one of the more remote, less-traveled areas in our region, reader reports from this zone tend to be fewer than for many other areas around the Bay. The bottom line? If you're thinking about hitting these waters any time soon, we'd say go for it — the options and the opportunities are quite diverse right now, so the timing is excellent for a trip to this neck of the woods.
---
Tangier, Pocomoke, and Lower Shore Fishing Report, July 3 Update:
BEEP-BEEP-BEEP - Attention Anglers: Everyone should be aware that there's currently a bit of a bloodworm shortage, and you may have trouble locating this uber-expensive but uber-effective bait. Anglers around the dial are reporting that Fishbites Bloodworm flavor has been the next best thing. So if you call around and come up blank on the bloodies, reach for the Fishbites. We now return you to our regularly scheduled fishing report. - BEEP-BEEP-BEEP
Happy Fourth, anglers! As in past years, we're sure the water is going to be PACKED this weekend as everyone heads out to celebrate the holiday. If you're headed out, remember to abide by social distancing regulations. Anglers sporting the red, white, and blue this weekend are in for a treat. Many area anglers are south or west to work the channel edges, spying for cobia on the surface. Reader reports from the channel edges west of Watts Island down to Cape Charles continue to indicate good action, with up to a dozen fish being sighted in good conditions and about half willing to hit live eels or large jigs cast their way. In the sounds, meanwhile, speckled trout remain present in strong numbers. The speck bite is all-systems-go, with fast-paced action and Instagram-worthy catches to be had. A few readers and Sea Hawk Sports Center recommended hunting down the specks in weeded areas and off of points, where casting to them is effective. The specks have been responding well to glittery, shiny soft plastic lures. Pairing that sparkle with white, pearl, chartreuse, or pink four-inch colors in your paddletails is the key to their hearts. FishTalk readers who hit the Sounds this weekend also reported catching schoolie stripers alongside the speckled trout. One had three keeper specks plus a rock and another had six keeper specks plus throwback rock - not bad days by any measure!
The scoop on flounder is just about the same. They're still hanging around the Tangier, primarily along channel edges. Sea Hawk suggested drifting squid chunks or bouncing pink, white, chartreuse, or pearl soft plastics for them. Jigging the drift has been working well, and occasionally producing stripers, too.
The crabbing report is petal-to-the-floor. The crabs are IN! Don't hesitate to get up early and hit the water with a trotline and some fresh chicken necks or clams. It's totally feasible right now to bring home a bushel instead of hitting the seafood store for one.
We'd also like to note that as the surface and water temps increase, it's important to be extra mindful about how we're releasing fish. Once fish are brought to the surface, always unhook the fish in the water if possible, and if not limit the amount of time fish spend out of the water. When heading to an area stripers are present, check the Maryland DNR Striped Bass Advisory Forecast before fishing.