Upper Chesapeake Bay Fishing Report, November 26 Update:
Hi anglers, we hope you all enjoyed a fantastic Thanksgiving! The Monster Cat Run of 2021 continues in the Upper Bay. We had a number of reports of exceedingly large feline fishes caught by readers this week, with the Poole's Island area a stand-out. Chumming has been uber-effective, while using cut bunker as bait. Eeling is also producing far more catfish than rockfish. Big catfish… as in, hang on tight! Multiples in the 30-plus-pound range have been reported recently.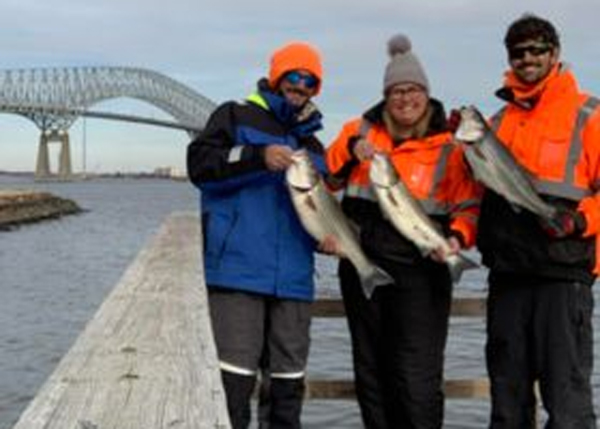 Reports coming from Upper Bay shops like Tochterman's and Fishbone's have been indicating that the trolling bite for rockfish along channel edges has been productive, although slow at times. Trollers are benefiting from the stripers' taste for bucktails with plastic shad, and umbrella rigs weighted down with inline weights. It's been super important to keep your rigs close to bottom where the bigger fish are resting. Regardless of how you're choosing to target the stripers, make sure to be on the lookout for birds. Some of the catch right now is coming to anglers who have been diligent watching for them and jigged underneath fish boiling on the surface. If you're going to troll, Fishbone's suggested heading towards the lumps in the Patapsco and southern part of the channel. The lower Chester has also been noted as holding some fish. Angler's and Alltackle in Annapolis both mentioned that the Love Point Rocks are a hot spot to jig right now, and Tochterman's suggested checking out the Key Bridge. White, chartreuse, pink, pearl, and salt and pepper have all been good colors recently.
White perch have moved to deeper water for the winter, and now are tough to locate. They can be found schooled up in deeper pockets throughout the Bay and rivers, with the Key Bridge popping up as an area where they've been caught lately.
---
Upper Chesapeake Bay Fishing Report, November 19 Update:
Cold weather won't be keeping anglers off the Chesapeake as we bundle up to get in some trips during the last few weeks of striper season. Although the fishing isn't quite as lively as one might hope, Clyde's reported that the Key Bridge area has had a fairly good topwater bite. Fishbones reported that the bite along channel edges and near the Key Bridge has been strong. Although most of the fish are on the small side, they're providing steadier action than other areas throughout the region. Anglers choosing to jig the channel edges, mouth of the Magothy, and Key Bridge pilings are doing best, and have been landing stripers breaking the 20-inch mark. Bouncing six-inch white, chartreuse, and pearl Gulp! and BKD lures on a half-ounce jig head has been the favored tactic among many. Keeping a depth finder on has been a smart tactic for jiggers, allowing them to more easily locate and target fish. Trollers often are outperforming them though, catching larger fish by pulling bucktails, umbrellas, and spoons. Keeping the rigs near the bottom has been essential for landing large fish as most of the big ones are hanging down low.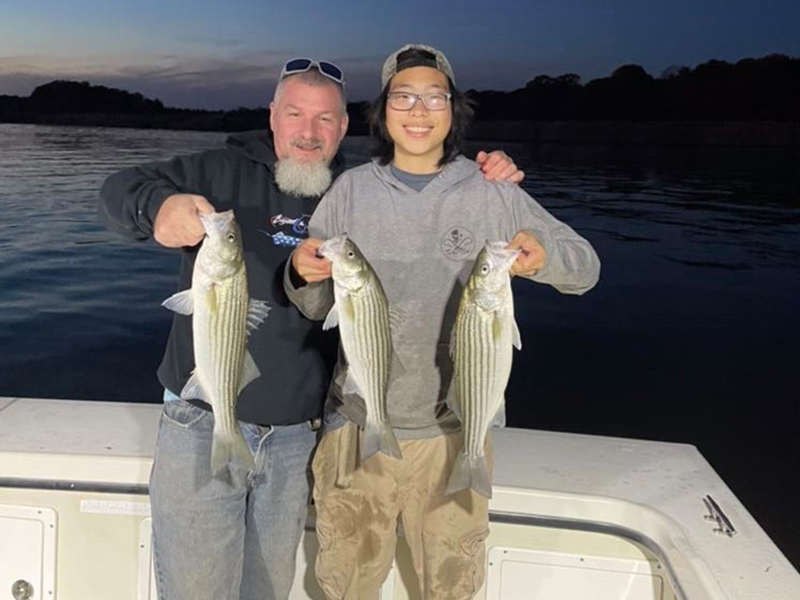 Anglers are also having mixed results around Love Point. Throughout the upper Bay, though the surface frenzy action has been spotty at best anglers are being sure to keep eyes on the horizon in search of diving birds. They're still feeding on menhaden that are attracting schools of stripers and although most of the catch has been smaller fish, larger ones are lurking on bottom and can be jigged up.
White perch have made their way from shoreline shallows into deeper water in creeks and river mouths, and are still lively for anglers who get into them. Bloodworms on a bottom rig have been the way to go. Although this has prevented shoreline anglers from getting into them, many are substituting by targeting catfish. They've been heavy throughout the region, and are easy to tempt with cut bait on the bottom.
---
Upper Chesapeake Bay Fishing Report, November 12 Update:
Reports from our readers were mixed this week, with some anglers reporting zeros. Spots that got mentioned included the mouth of the Magothy, the Bay Bridge, and the Love Point to Dumping Grounds area. There are very good numbers of fish up inside the mouth of the Patapsco to the Key Bridge, but by all reports the vast majority are throwbacks. However, kayak anglers throwing plugs and jigs report that they are finding a keeper or two into the low 20s through a day of fishing. Alltackle in Annapolis and Angler's also both reported that the fish have been feeling finicky at times, with skunks reported early in the week and some stops in mentions of a stream of undersized fish throughout the day. Some anglers reported that cruising the channel edges with a depth finder on and jigging resulted in hookups. Generally, they reported that the Love Point Rocks area, Swan Point, Triple Buoys, and off the mouth of the Magothy (despite the Magothy also showing up in the zero column), have been popping up as areas where the bite is happening. There have certainly been some slow days, but some still are reporting that they've been catching. Umbrellas is a common offering resulting in bites for the trollers.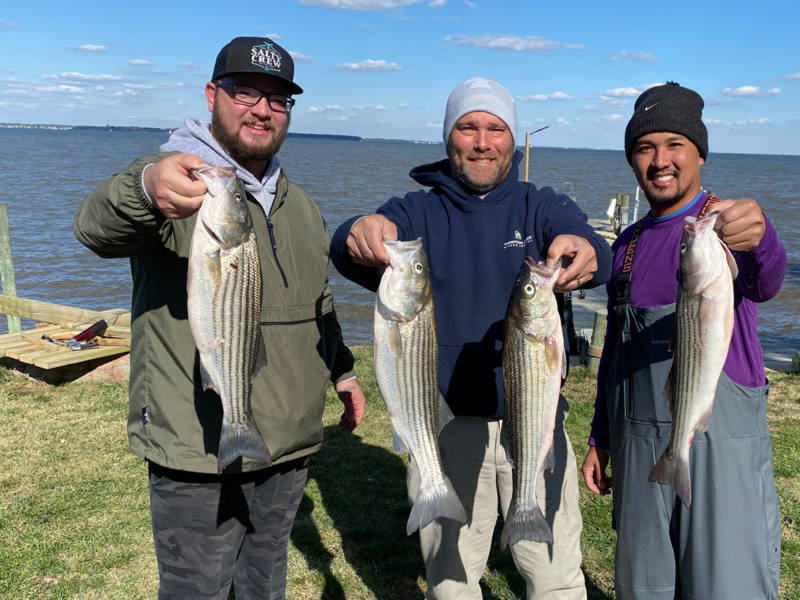 If you plan on looking for birds remember that last night's Live with Lenny was all about this topic, how fishing under birds has changed in recent years, and how to catch big fish out from the dinks. If you missed it, now's your chance to check it out (but it's a long one, so get comfy first):
We're into the second week of November, and so just the beginnings of the CCA Maryland Pickerel Championship, as well. It kicked off on November 1st, and as of the time of publishing, 99 fish total have been logged and leaders are already tapping into some high-value fish: angler Tim Elliot is boasting 49.25 inches between just two pickerel, putting him into ninth place at the moment. The kayak division of the tournament has been especially competitive, holding three of the top five spots, and five of the top ten overall. Angler Carl Childers is currently leading the pack, having logged 72.25 inches of fish so far. Randy Riggleman and Eric Packard are making up second and third place, with 70.25 and 68 inches of pickerel reported. While these guys aren't giving away their spots we have been hearing of good pickerel fishing from the creeks of the Magothy, so this should be a top destination for those ISO a big pick.
---
Upper Chesapeake Bay Fishing Report, November 5 Update:
Although water conditions haven't quite returned to normal post-storm in some areas, anglers are still finding that striped bass will bite. Alltackle mentioned that many boats have been headed to the Love Point rocks, where jigging and casting soft plastics has been scoring stripers. Generally, fish have been schooling up on bottom, so keeping an eye on the depth finder as you move along is wise. Readers also reported that the Chester and Magothy have had good bites, especially in the morning. Trollers have been enjoying the striper bite throughout the day and often are scoring the largest fish. They've been pulling umbrellas rigged with bucktails and small spoons, and are generally finding that the larger fish can be found in deeper water. Swan Point, Podickory Point, and the Triple Buoys area all were report-repeats for areas with good amounts of fish this week.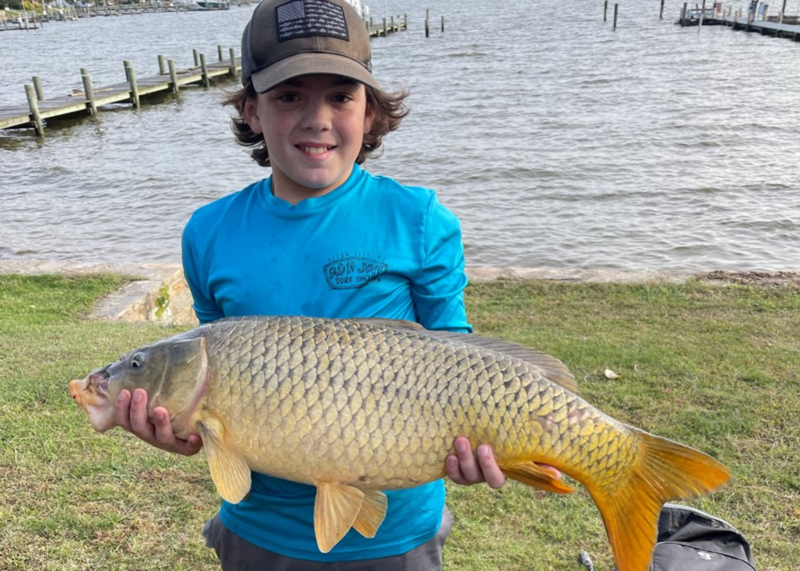 Spotting working birds has also been possible, but generally, the stripers underneath are undersized. Anglers who can find spot have been finding stripers around the Bay Bridge, although locating spot isn't the luxury it was earlier this season.
Catfish are still readily available pretty much everywhere and can be caught using fresh-cut baits on bottom. David Rudow fished the Patapsco this week and landed two fat channel catfish in addition to rockfish, as well as some perch – all on jigs. Reports of chunky catfish continue to flow in from just about everywhere, and anglers fishing bait for stripers near Poole's Island are encountering significantly more cats than rockfish. Multiple readers checked in this week from Poole's where striper fishing was tough, but the cats filled in the gap.