Upper Chesapeake Bay Fishing Report, October 29 Update:
Hi FishTalkers – due to excessive winds throughout the region recently, most of this week's reports date back to Monday or last weekend.
Early this week, striped bass action in the bay was good, as anglers trolling and jigging were reporting solid hits. Trollers found that the best place to be was on the shipping channel, where umbrellas paired with bucktails and trailers was getting keepers to bite. Likewise, jigging the channel edges has been productive. The Bay Bridge area has been popular for jigging as well. Most fish coming in have been undersized, but this is across the board and there are some keepers to be had as well.
Several reader reports also came in from the lower Chester, where the story is much the same except that a few larger fish up to 28-inches were also reported. Fishing deep (often on bottom) in areas with active birds was the ticket.
Anglers tired of catching schoolies this season are turning to catfish, which have been crazy large. The catfish are eager to snatch chicken breast, cut menhaden, and clam snouts drifted on the bottom. Strewn throughout the Upper Bay, they've been an easy target for shore-bound and boating anglers.
White perch are relocating from shallow waters into deeper areas as the weather cools down, but can still be caught off local shorelines and piers—at least, that was prior to this storm, and as we publish this report most of those docks are under water. Still, the perch hadn't become fully inaccessible to shore-bound anglers as of yet, and periods of high winds have made them a great option if you were looking to get in some fishing time during the blow. Dropping down bloodworms and a bottom rig is a great way to get them on the hook.
---
Upper Chesapeake Bay Fishing Report, October 22 Update:
Fall striper fishing is fully fledged, with some solid catches from anglers fishing the Bay Bridges to Pooles Island. The Bridges remain an especially popular area and a variety of methods are working. Plus, reports of rockfish success on stripers up to 32-inches came from the Bay Bridges in recent days — that sure does make heading there tempting. Livelining is still a good method to employ but spot are becoming tougher and tougher to come up with by the day. Some boats are opting to use small white perch, but generally it's been getting difficult to wrangle enough small fish in decent enough time to make livelining worth it. Jiggers are doing well tossing white and chartreuse BKDs on skirted heads. Alltackle let us know that jigging is producing a decent amount of fish in the lower-mid 20s, despite much of the catch hovering in the 19-inch range. We also had one report of a black sea bass caught at the Bridges— wacky!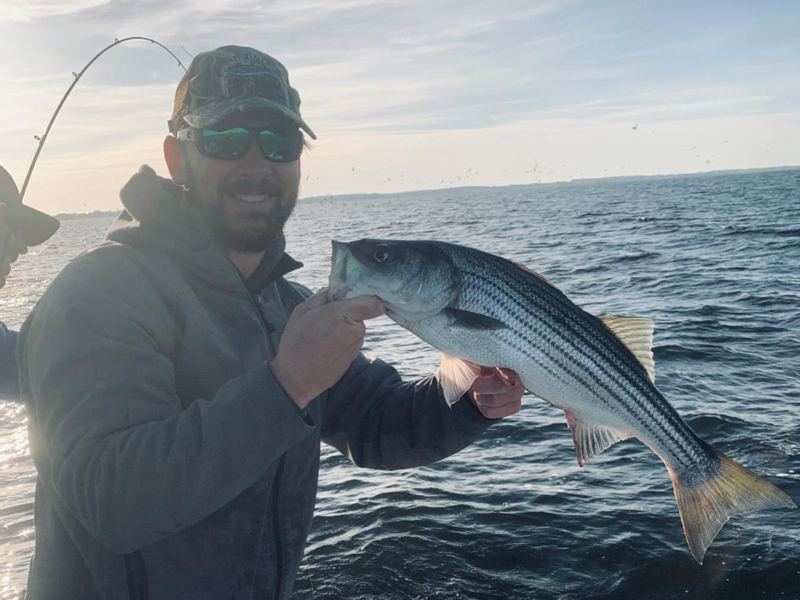 Further north, jigging is generally the go-to method. The Love Point rocks, the edges near Podickory Point, and the sewer pipe all were favorites this week, producing the bulk of positive reports north of the Bridge. A few anglers mentioned that they got into stripers after moving around a bit and finally locating suspended striped bass. Since the fish have been fairly schooled up, moving along the channel edges will help you cover more ground and opportunities to find fish along the way. One reader also reported finding birds working north of the Bridge and the crew enjoying multiple triple hook-ups with keeper sized fish on soft plastics.
Catfish are all over the Upper Bay and targeting them is as easy as sticking fresh-cut baits like gizzard shad, menhaden, and chicken liver on bottom to soak. Reports of cats in the 33-plus inch range aren't so rare and anyone with a fresh chunk of bait has a shot at them.
Topwater is more tempting than ever as anglers are reporting that mornings have been crisp, beautiful, and had plenty of blowups. The Magothy and Chester both had good bites at the mouths, and some shoreline anglers are finding striped bass as well. Keepers are coming in sporadically, but fish throughout the upper teens are giving a good show.
White perch can be found on hard bottoms and at the river mouths. The usual bloodworms or FishBites on a bottom rig is a classic favorite.
---
Upper Chesapeake Bay Fishing Report, October 15 Update:
Striper fishing is centered around Pooles Island right now, where live eels are the bait of choice for anglers hoping to score striped bass. Angler's let us know that the bite is oftentimes slow but steady, but paying off eventually for most boats. Much of the fleet has been around the area throughout the week, or across on the channel edges. Catfish have been a major issue for liveliners, and are oftentimes disrupting lines in the water and stealing baits. (Spot are still around in numbers great enough to liveline, though it's getting tougher to fill the livewell by the day; the mouth of the Magothy and the west-side bridge were noted as still holding a few). Despite their bait-snatching inconvenience, they've been giving anglers some hefty action when many stripers taking baits are on the lower side of the scale length-wise. Our catfish reports have been off the charts recently, with multiple fish in the 30-inch grade reported this week. Targeting blue catfish proved to be a winner for the Chesapeake Fishing Open, which Matt Shoultz nailed down with a stringer of three fish totaling 96.25 inches. He noted that they fished slightly north of Wharton Creek and found a shoal where the waves broke then the bottom dropped to 50 feet, and that's where the monster blues were lurking. Cut baits are working best, with cut menhaden and gizzard shad standing out as the best.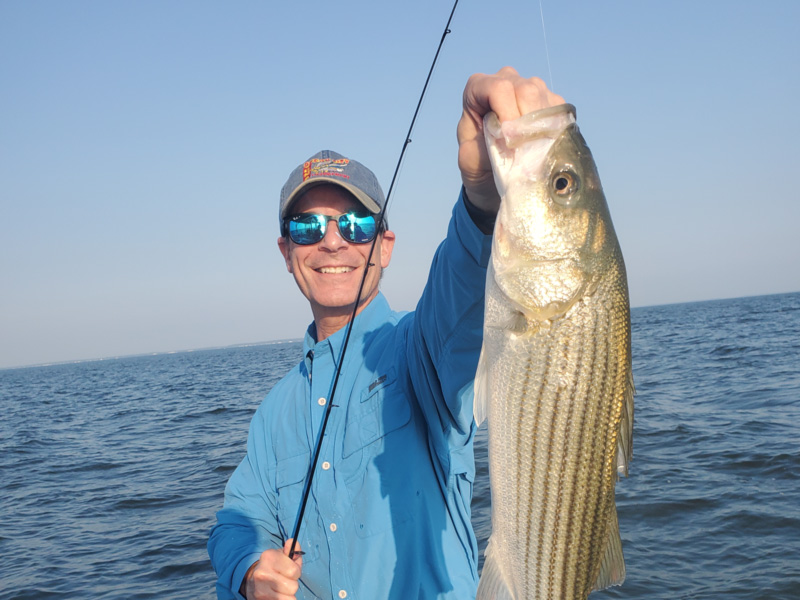 Jiggers are finding satisfaction across the channel edges, at the bridge, and off Love Point, which have been producing more quality fish. Striped bass have been hanging out in pockets across the channel edges, and Alltackle suggested covering ground to locate the fish. Many boats are reporting that slow days have often been paying off after switching up locations and tactics. As the fish are changing up their behavior with the season, anglers should be adapting. Fishing under working birds is also an option many anglers are embracing, when they can be spotted. Casting into them is producing a good amount of schoolies, as well as some keeper fish.
White perch have been a bit more active lately, with the bite in the creeks and on hard bottoms picking up. Small spinners or baited bottom rigs are working well for them. Alltackle mentioned that the morning bite at the mouth of the Magothy has been good, as well as along the pilings and rockpiles of the Bridges.
---
Upper Chesapeake Bay Fishing Report, October 8 Update:
*We apologize for the light reports this week, but due to exhibiting at the U.S. Powerboat Show in Annapolis (come see us this weekend at booth F7) and some personal matters we have not been able to gather as much intel as usual. Stay tuned for next week's reports!
Tochterman's said that plenty of catfish and white perch are being caught in the rivers. Live lining spot for striped bass has slowed down, and anglers in search of bigger fish are switching over to trolling tactics. Bowleys Bait & Tackle let us know fishing eels near Pooles Island is also producing some decent sized striped bass.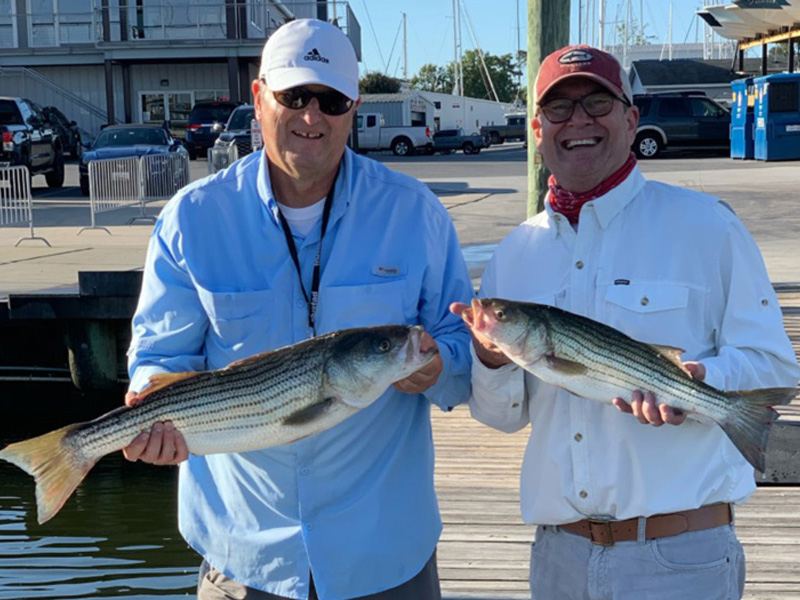 Brad Spittel reported catching a few keeper sized rockfish trolling small umbrellas near Love Point this past week. Fishing at the Bay Bridge remains a good option for striped bass and white perch and the rockpiles remain a hotspot to target. Dave King caught several surprise sea bass while bottom fishing for perch at the bridge this morning.
Rockfish are moving into fall patterns and Fishbones Bait and Tackle let us know that striped bass fishing in the Magothy has been a good option lately.
---
Upper Chesapeake Bay Fishing Report, October 1 Update:
The bridge continues to hold respectable fish, and Angler's Sport Center notes that soft crab is working well along with live spot. They also say that some decent fish up into the mid-20s have been caught in the Magothy, and we had a reader check in after catching a 22-incher (and many throwbacks in the 14- to 18-inch range) casting paddle-tails to docks. Reader reports were better from the Love Point area and the lower Chester, where birds have been chasing fast-moving pods of rockfish including both undersized and keeper fish stretching up into the low- to mid-20s. As has been the case recently the schools are small and moving fast, so quickly relocating as soon as the schools move and run-and-gun style fishing is a must.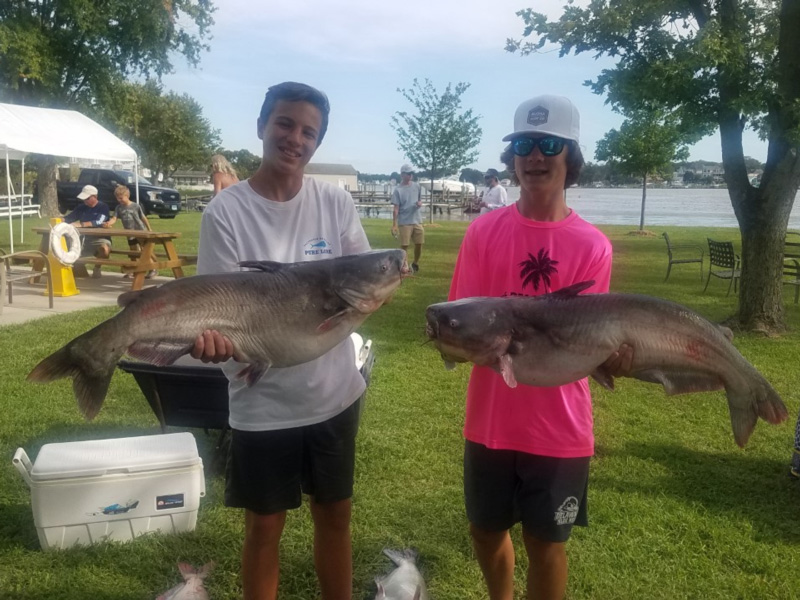 Anglers fishing bait at the lumps at Pooles Island have been surprised by the number—and size—of the catfish that have taken up residence. They're even slurping up eels intended for the larger stripers, however, we didn't get word on any eelers pulling up big rock there this week.
White perch? You can find some casting Beetle Spins in the rivers and creeks or dropping Chesapeake Sabikis over shell bottom in the open Bay on areas like Belvidere Shoals, (the mouth of the Patapsco near Fort Carroll was mentioned as productive in a reader report this week) but overall big fish and big catches remain hard to come by. Many perch-lovers are saying 2021 is one of the lamest seasons they can remember.