Way North Chesapeake Bay Fishing Report, July 31 Update:
Phew! This heatwave has made fishing absolutely exhausting at times. On top of that, with high surface and water temps it's been tough to get into a good bite. The striper bite on the Flats and in the Conowingo Dam pool noticeable dropped off this week. Most of the fish that were caught came in the early morning or late afternoon. Topwater has been popular at these times on the Flats and in the Dam pool and some anglers tried casting out soft plastics lately, but to little avail. While there aren't a whole lot of stripers hitting, blue and channel cats remain running heavy and strong. Chucking a hunk of cut menhaden, chicken liver, or clam snout out into the Dam pool is leading to bites and Clyde's Sport Shop mentioned that throughout the tidal rivers catfish are available, as well. Fishing the river within sight of the 95 bridge has been a consistent bet.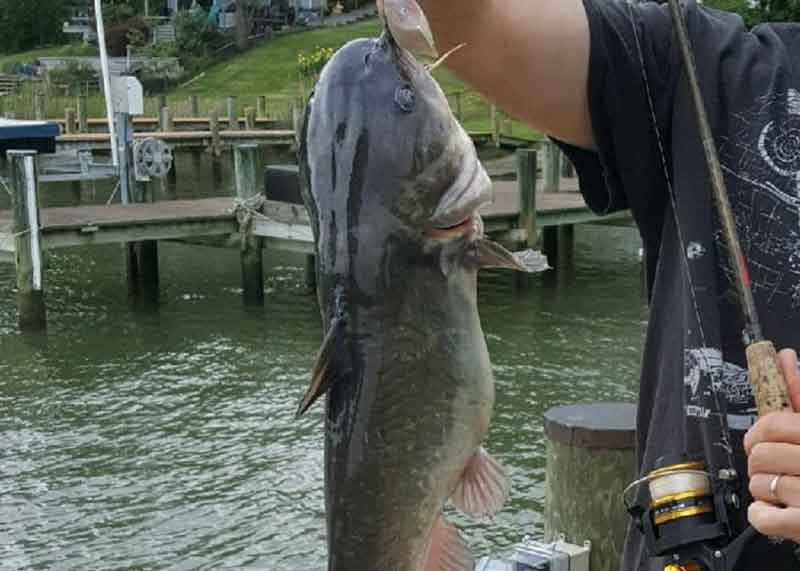 Many anglers are still heading south if they want to catch rockfish, although the Tolchester bite has lost some of its shine and the stripers that had been schooling there seem to have disbursed through much wider area.
White perch fishing is picking up in the rivers and river mouths. Due to the bloodworm shortage (which does seem to be easing a bit lately), we heard a lot more reports of guys fishing for them with small spinners and spinnerbaits. FishBites and grass shrimp were popular offerings as well.
---
Way North Chesapeake Bay Fishing Report, July 24 Update:
Killer temperatures this week made it difficult to withstand a full day of fishing, a sentiment that dedicated anglers only express under the direst conditions. Many of those who withstood temps topping what a lifetime Floridian would describe as "hot" were met with a slowing bite that produced predominately small fish. We're speculating that this killer heatwave is making the fish slow down a bit, especially during the hottest hours of the day. The few reports we had this week of guys catching came from those with determination to get up before the sun had even thought of rising, and were at their spots while the rest of us hit snooze. Topwater has been a productive option at these hours, and even if the bite is slow for many anglers it's worth the wait to watch a striper explode on a plug. Herb's reported that the bulk of anglers doing the catching are headed to the Conowingo Dam Pool and into local creeks or shorelines. The Pool is active during sunrise and sunset, when bucktails and plastics cast way far into the Dam Pool are also a good option. As the sun comes up and heats the water, fish are retreating into the shade or deeper areas, so plan to switch up spots as the fish move.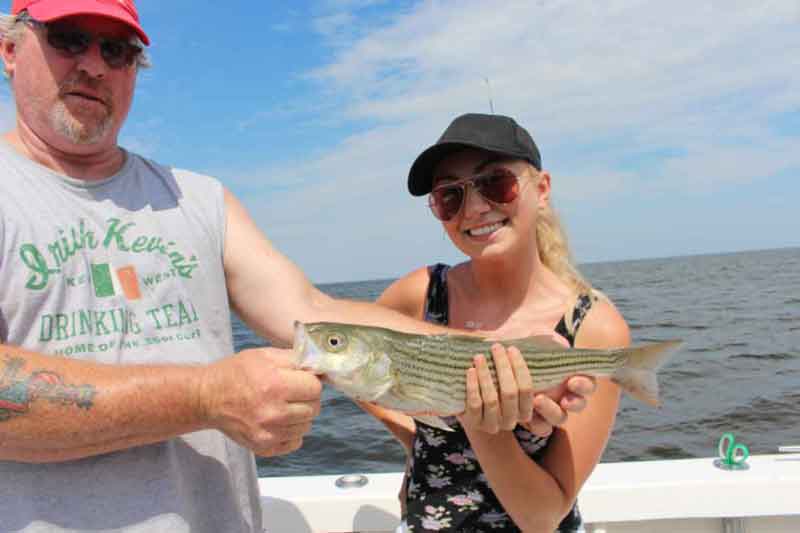 Tossing lures for white perch is one of the better options right now. White perch have been holding close to the shoreline and around structure. They'll take bloodworms and grass shrimp on a bottom rig, fishfinder rig, or small artificials like spinners and Perch Pounders. Catfish are strewn throughout the rivers, and will gobble up cut bait and chicken breast. Anglers remaining focused on seeing stripes while the sun's up are still running south to the Way North/Upper Bay boarder zone in the Tolchester/Hodges area, though by most reports the bite here has slowed and the fish have scattered to multiple locations in smaller pods.
---
Way North Chesapeake Bay Fishing Report, July 17 Update:
Thank you to anglers who responded to our call last week to count the number of dead stripers they see floating around the fleet in the Hodges/Tolchester/Rock Hall area, the ratio of keeper vs throwback size, and the number of hours they were out on the water. Many readers reported seeing large numbers of dead catfish, shad, and carp as well, so we'd like to add to this list and ask you to also count the number of other species you see and email your reports to [email protected]. From the reports we received last week, anglers saw an average of six dead fish per hour, with a 50-50 split between throwback and keeper size. The highest single report was of 63 dead fish (mixed species, mostly rock) in a six-hour timeframe. One reader also reported seeing "tons" of dead fish on the beach at Downs Park.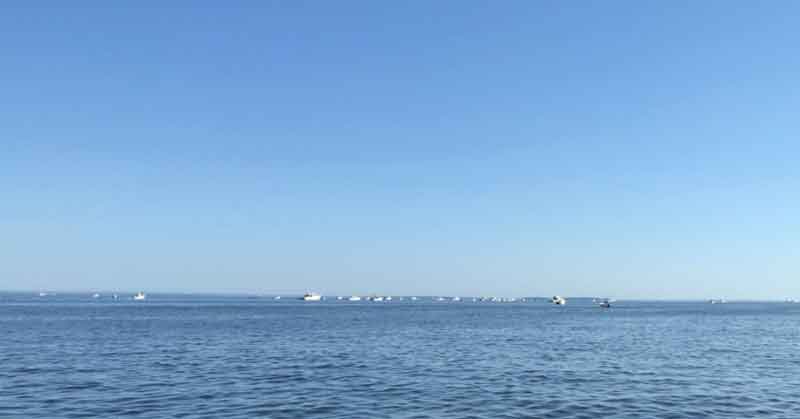 Anglers fishing the northernmost regions of the Chesapeake are enjoying a level of fishing consistency that few others can enjoy. The fishing remains predictable, with the Conowingo Dam Pool and Flats the top local areas, and many - many! - anglers running south to the Hodges/Tolchester bite. Most guys fishing close to home are headed out at sunset or sunrise, when the bite is best. With water temps becoming uncomfortable for fish after the sun has risen, it remains essential to hit these spots at zero-dark-early or when the day has cooled off. Casting soft plastics far into the Dam Pool or fishing topwater are great options for both times of day. If you intend to fish the Dam Pool throughout the afternoon, dropping cut menhaden, chicken liver, or clam snouts on the bottom is a good tactic for landing catfish. These methods are holding true on the Flats as well, where the fishing is holding up about the same. Both areas are primarily producing schoolies, with a few keepers in the mix.
---
Way North Chesapeake Bay Fishing Report, July 10 Update:
Attention Maryland Rockfish Anglers: We are getting multiple reports of numerous striped bass floaters drifting downstream from the fleets of boats fishing the Tolchester area. Unfortunately, no governmental or scientific agency seems to be investigating or documenting the issue. Please help us try to gain an understanding of just how significant this is, by performing a count of how many dead rockfish you see floating if you go fishing in this area. We'd like to know:
The date you went fishing
How many dead fish you see
How many hours you were in the area
How many of the dead fish appear to be keeper size versus how many appear to be undersized
Please keep track the next time you go fishing, and report your observations to [email protected]. THANK YOU for your help, FishTalkers!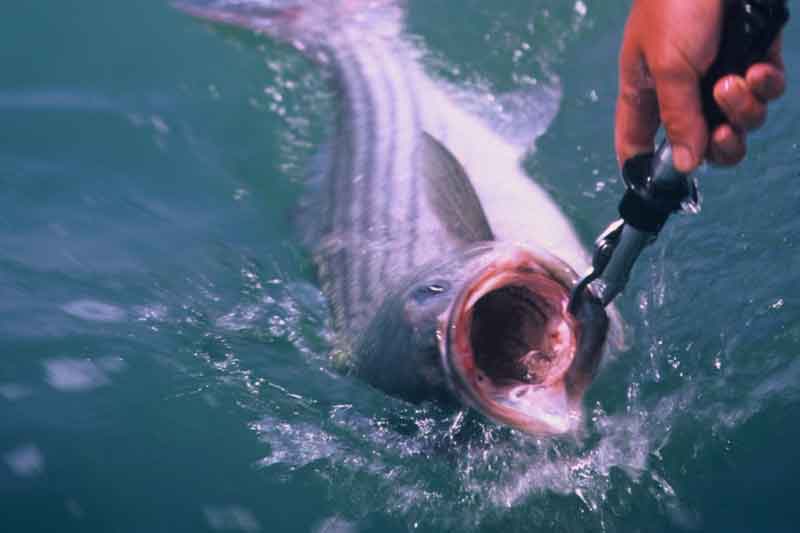 Action for stripers at the dam pool and on the flats continues to be mostly limited to sunrise, no surprise as the heat can be rather oppressive once the sun's up these days. A few anglers report picking up a striper or two while live-lining perch in the lower reaches of the river. The more common outcome of dropping any sort of bait to the bottom, however, is catfish, and those fishing the channels and holes anywhere within sight of the I-95 bridge are reporting nonstop action. We also had a reader report this week of hot cat action to the south-west of Turkey Point.
With the relatively slow striper action up north many fishermen are making the run down to Tolchester and Hodges Bar, where the fleet of boats has been setting up on large schools of rockfish. In fact, boats from Havre de Grace down to Deale have been converging here to get in on the action, hence the opening paragraph of today's reports. If you fish here we hope you'll take a count — and we also trust that folks won't catch and release while bait fishing and risk killing more fish, once their limit has been hit.
---
Way North Chesapeake Bay Fishing Report, July 3 Update:
BEEP-BEEP-BEEP - Attention Anglers: Everyone should be aware that there's currently a bit of a bloodworm shortage, and you may have trouble locating this uber-expensive but uber-effective bait. Anglers around the dial are reporting that Fishbites Bloodworm flavor has been the next best thing. So if you call around and come up blank on the bloodies, reach for the Fishbites. We now return you to our regularly scheduled fishing report. - BEEP-BEEP-BEEP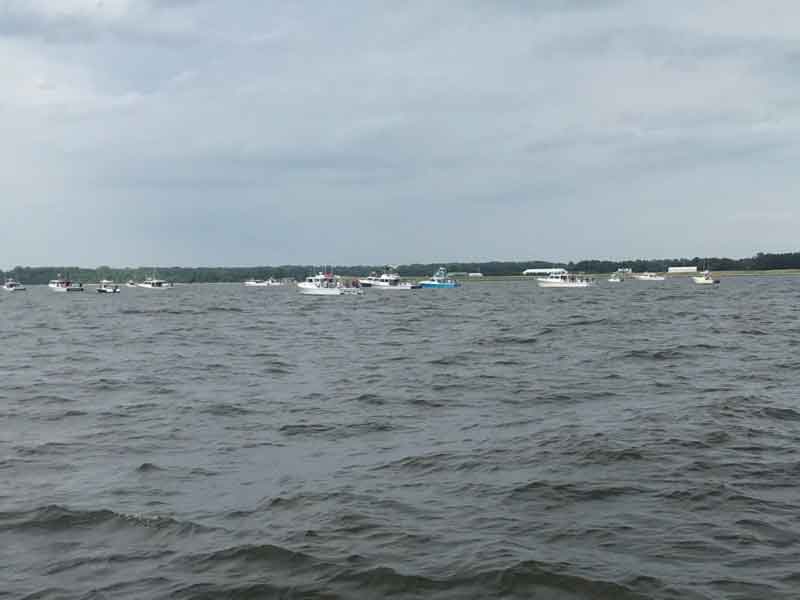 Happy Fourth, anglers! As in past years, we're sure the water is going to be PACKED this weekend as everyone celebrates the holiday. If you're headed out, remember to abide by social distancing regulations. This weekend is a time to celebrate the birth of our nation, and if you're anything like us, you're paying your respects to our forefathers by catching as many fish as possible. Many readers in the northern zone report making the run south to the Tolchester/Hodges area. Throughout Maryland's waters, this zone seems to hold the largest schools of stripers and if you want keepers in your fishbox the cruise is likely worthwhile; see the Upper Bay report for more details.
While you're sporting the red, white, and blue, also consider heading over to the Conowingo Dam, Susquehanna Flats, or C&D Canal for a chance at landing those holiday big ones. Reports coming out of these areas indicate that they're an all-systems-go for the bite. Fishing at the Dam is the usual, with topwater action at dusk and dawn. The bite primarily consists of undersized stripers, but there's no denying that it's fun to watch 'em smack topwater plugs. When the topwater bite expires, consider lugging chartreuse or white four- to six-inch soft plastics as far into the Dam pool as you can. Tailored Tackle recommended letting them sink before reeling them in. In the heat of the day, the fish aren't hanging out near the surface. Catfish, of course, are also present and ready to bite cut bait on bottom. On the Flats, the bite and the tactics are about the same. A reader this week reported that the bite seemed limited to topwater at daybreak. They let us know that after the sun was up, bites went from a few throwbacks and one barely-legal to non-existent.
While it's been tough to nail down keeper stripers up north, catfish are a different story if you're looking for dinner. This week, one of our readers had a killer day at the C&D Canal fishing for them with herring on the bottom. The morning produced over 25 cats, up to 10 pounds. At the Dam and on the Flats, Tailored Tackle let us know that the cat-fishing results were similar. Just toss out some bait, and wait for a hit.
The crabbing scene up north is… quiet. If you don't want to spend a week's pay on that bushel, consider heading to the Magothy and south. The catch is much better the further south you go. Be sure to stock up on *fresh* chicken necks or razor clams before your quest.