Way North Fishing Report, November 26 Update:
Hi anglers, we hope everyone had an excellent Thanksgiving! Currently, those in search of a fish dinner instead of turkey are running into some roadblocks up north, with the Dam bite seriously diminishing. As we move into the last few weeks of striper season, fishing is slowing down with dropping water temperatures and blustery days, but a few fish are still showing up. The Conowingo Dam pool is seeing a drop in the action, which hadn't quite recovered as hoped since the storm a few weeks back. Readers reported that the striped bass bite is now mostly limited to morning hours, when anglers tossing soft plastics and topwater plugs are catching a few as the sun rises. Most have been schoolie-sized, with a couple larger outliers. Clyde's Sport Shop reported the bulk of the keeper bite is coming from channel edges on the Flats and heading south throughout the open Bay, but noted that the bite in northern waters is generally fairly slow. Further south is holding the bulk of the bite. Still, anglers are sending in some reports of larger fish that are down low and can best be reached by jigging or trolling. Most anglers right now are favoring jigging six-inch white, chartreuse, and pearl Gulp! and BKD lures on ounce jig heads. Keeping a depth finder on to locate and target the fish has been essential, especially for jiggers. Trollers are benefiting from the stripers' taste for tandems with plastic shad, and umbrella rigs weighted down with inline weights. It's been super important to keep your rigs close to bottom where the bigger fish are resting.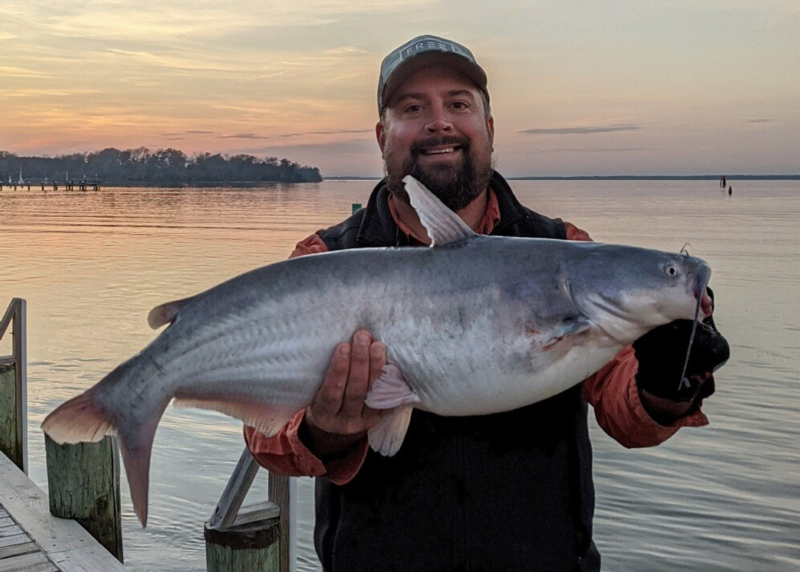 Anglers going after catfish are doing exceptionally well hitting the mouths of rivers and throughout local creeks. Catfish aren't picky, and will eagerly take chicken breast or menhaden. If you're cruising the rivers in search of catfish or perch, dropping bloodworms on a bottom rig in a deep area – perch have completely abandoned the shallows at this point – is a great opportunity, too.
---
Way North Fishing Report, November 19 Update:
Throughout the day, tossing soft plastics and jerkbaits far into the Dam pool is providing some schoolie stripers. At the Dam, the best time to be fishing has been morning. The topwater bite is on the Flats, though once the sun is high in the sky there hasn't been much happening for jiggers, despite noble efforts. We've heard from a few anglers this week who (attempted to) fish the Flats recently, many of whom are striking out or catching a couple of dinks. Many are sticking to the channel edges and bouncing soft plastics off the bottom. Herb's suggested keeping a depth finder on to locate schools of stripers near the bottom if you do go out in search of stripers in deeper areas. Trollers are also taking advantage of the bite, and many are scoring larger fish off the bottom along the channel edges with bucktails and spoons.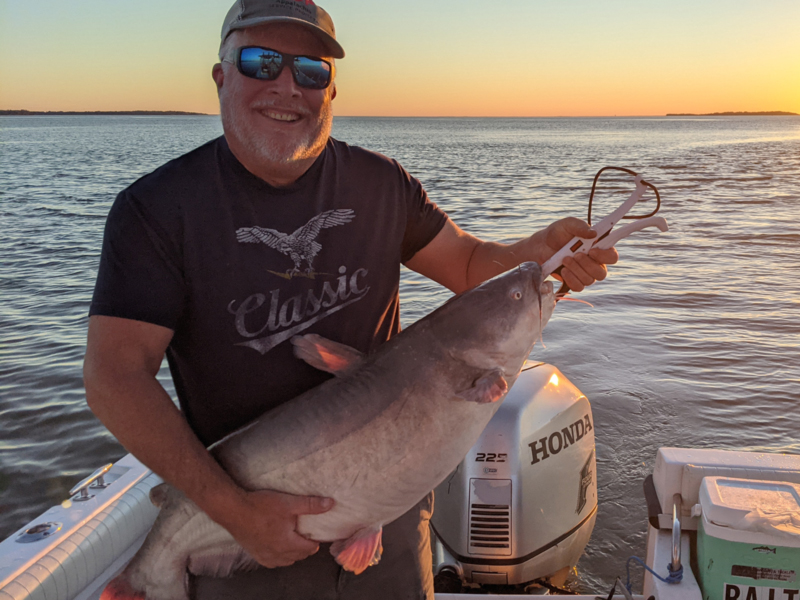 Anglers not choosing to target the stripers have been enjoying a hefty catfish bite - the cats are chunky and easy to get on the end of your line with cut bait. They've been strewn throughout the Bay, but are especially heavy in the Susquehanna right now. We also had reader reports from the Gunpowder and just north of Pooles Island of rather excellent catfish fishing. One noted that in the Gunpowder a drop off from four to seven feet of water was hot and raw hot dog chunks got 'em biting. The other did well on cut bunker, catching blue cats up to a whopping 37.5 inches – that's a serious catfish! Shorebound anglers, in particular, are enjoying their presence due to their accessibility. We also had a reader report of three 30-plus-inch blue cats taking bunker chunks in Still Pond.
White perch have become trickier targets if you're stuck on land. Many have moved into deeper water throughout local creeks and mouths of rivers.
---
Way North Fishing Report, November 12 Update:
Anglers hitting the Conowingo Dam pool this week enjoyed a slowly-reviving striper bite. Reports from the Dam Pool came in from topwater anglers who are enjoying a striper bite throughout early morning and evening hours, and although the stripers are primarily short of the keeper mark, there are a few making it over which can make a few hours at the Dam pay off. As per usual, white, chartreuse, and pearl soft plastics are also favorites. Fishing on the Flats this week was pretty slow, as water conditions haven't returned to usual. Some anglers jigging the channel edges did manage to get into fish late this week, as did a few trollers who popped out.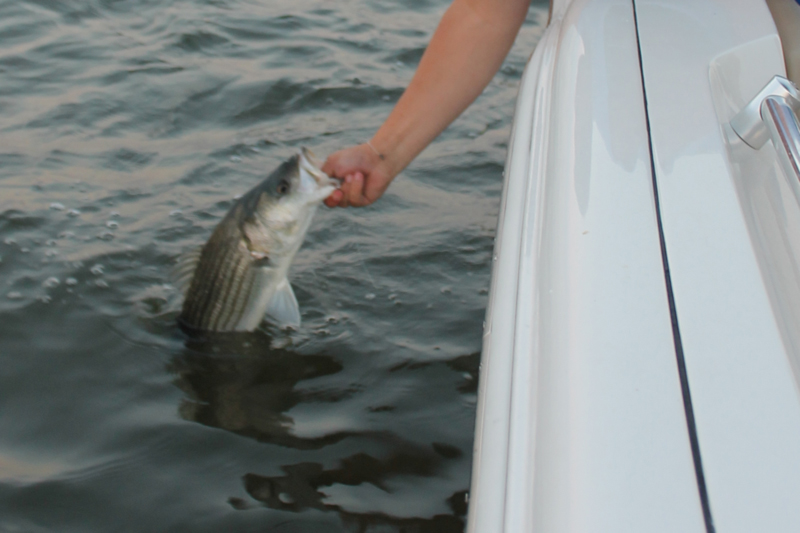 If you're hoping to catch some monster catfish, you've got a pretty good chance at landing them in this neck of the woods. Blues and channel cats are all throughout the lower Susquehanna. Putting a chunk of menhaden on bottom is a great way to land them. They aren't picky, and when the striper bite is falling flat, they're a great backup plan to ensure you're not going home with a skunk in the box.
---
Way North Fishing Report, November 5 Update:
Catfish are providing the bulk of action for anglers fishing the Chesapeake's northernmost waters right now. In the Dam pool and the Flats, they've been down to hit cut baits on bottom. Generally, fishing up north was slow this week — water conditions haven't cleared up enough from the funky weather for us to see a bounce back in the striper fishing, although we're hoping it'll turn on again as we move later into the weekend. Conditions are gradually improving, so there's hope that this weekend we'll see better catches than throughout the week. Clyde's did hear of a couple of anglers who managed to land the stray striper on topwater, but overall that bite was quiet. The bite along the channel edges hasn't been close to ideal either, with most boats that headed out reporting slow catches.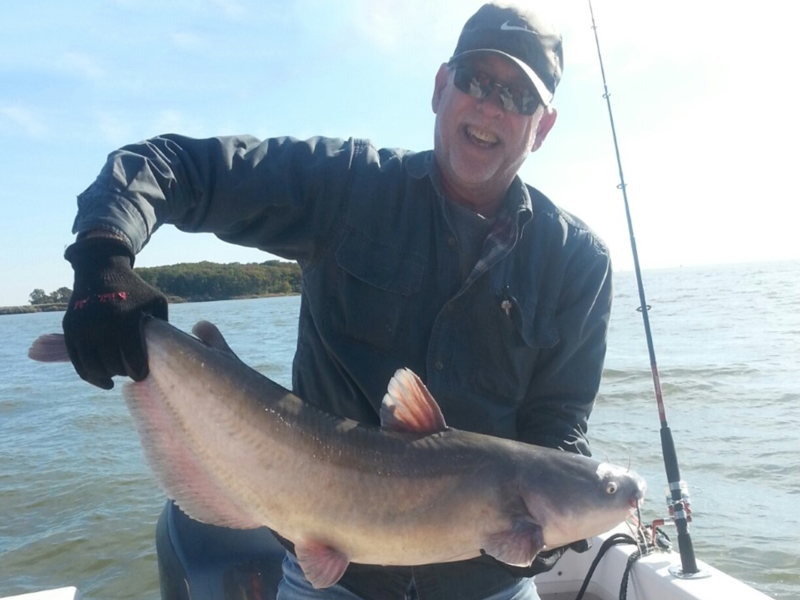 Reports of chunky catfish continue to flow in from just about everywhere, and anglers fishing bait for stripers from Turkey Point to Poole's Island are encountering significantly more cats than rockfish. Multiple readers checked in this week from Poole's where striper fishing was tough, but the cats filled in the gap.