Way North Chesapeake Fishing Report, October 29 Update:
Hi FishTalkers – due to excessive winds throughout the region recently, most of this week's reports date back to Monday or last weekend. Anglers who made it to the Conowingo Dam reported that the cats were biting prior to the storm, with big ones up to 36-inches photo-confirmed. Fresh, juicy cut menhaden and gizzard shad were standard fare resulting in plenty of hits. Across the Susquehanna Flats, the catfish were biting too. When boats made it out this week, they were able to land plenty. Herb's reported that early in the week, stripers were willing to bite on topwater early in the morning and during the evening.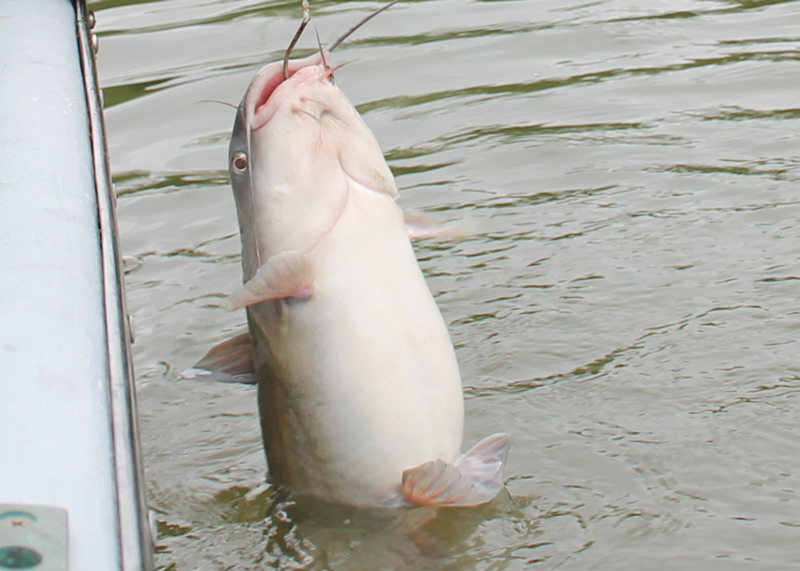 Early this week, striper fishing was good if you're looking for quantity, but eh if you like size. Most of the fish on the Flats right now are schoolies. They're primarily hanging along the channels, and can still occasionally be found under birds. A reader checked in to let us know that running down to the Swan Point area and trolling Spoonbrellas and white umbrellas with six-inch shad along the channel edge did the trick for some bigger fish, resulting in several keepers up to 24 inches.
---
Way North Chesapeake Fishing Report, October 22 Update:
There isn't much better than a crisp, fall morning topwater bite. Right now, anglers reporting in from the Conowingo Dam Pool and Flats are enjoying exactly that. They've got a moderately steady bite going on in the mornings, and although anglers who visited Sarge's Bait and Tackle throughout the week mentioned many fish aren't hitting the 19-inch mark, the action is making for wonderful mornings. The evening bite hasn't been bad either, and many guys trying topwater are scoring blowups. From sunrise to sunset, anglers using soft plastics and jerkbaits are also finding some fish along the channel edges, as well as on the Flats and outside the Elk river. Sarge's reported that pearl and white jerkbaits are favorites, and that some boats can be found livelining. Overall, the fall striper bite appears to be holding up in northern waters for now and there are plenty of good options for anglers to try if one method isn't panning out.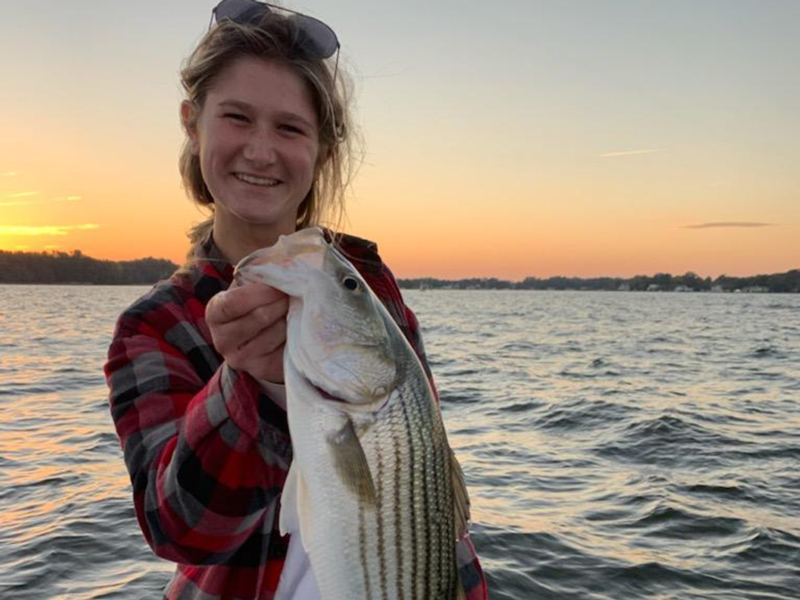 Catfish, however, seldom need a backup plan. The amount of cats up north recently has been described as "obnoxious" by more than a few anglers, in part because they make bait fishing for anything else near impossible, and partially due to blue and flathead catfish being invasive. They gobble up our favorite native species, including blue crabs and the menhaden that support striped bass populations. Here's the ray of sunshine— you can do your part to eliminate these invasive critters (and bait stealers…) by GOING FISHING!!! There's your reason to be on the water this week: conservation. If you'd like to chase catfish, the Conowingo Dam on down has plenty of them and they can be located throughout the river. Simply popping fresh cut gizzard shad, menhaden, or chicken liver on the bottom and soaking it is a great way to get them to bite.
Sarge's also let us know that white perch are opting to stick to hard-bottomed areas, and can be found at the river mouths. The bite has generally been good, especially throughout hard bottomed areas and creeks near the Susquehanna's mouth. The usual bloodworms or FishBites on a bottom rig is a classic favorite.
---
Way North Chesapeake Fishing Report, October 15 Update:
As water clarity is steadily improving, so is fishing in the northern-most waters of our Bay. One reader let us know that the Susquehanna Flats is not only producing lots of catfish on cut bait, it's producing them up into the 40-pound range — and sometimes two at a time. Northern catfish also proved to be a winner for the Chesapeake Fishing Open, which Matt Shoultz nailed down with a stringer of three big catfish totaling 96.25 inches. He noted that they fished slightly north of Wharton Creek and found a shoal where the waves broke then the bottom dropped to 50 feet, and that's where the monster blues were lurking. Clyde's mentioned that the catfish bite in the Conowingo Dam has been excellent as well, with reports of cats in the 25-plus inch range. They suggested using cut gizzard shad, chicken liver, or fresh cut bunker.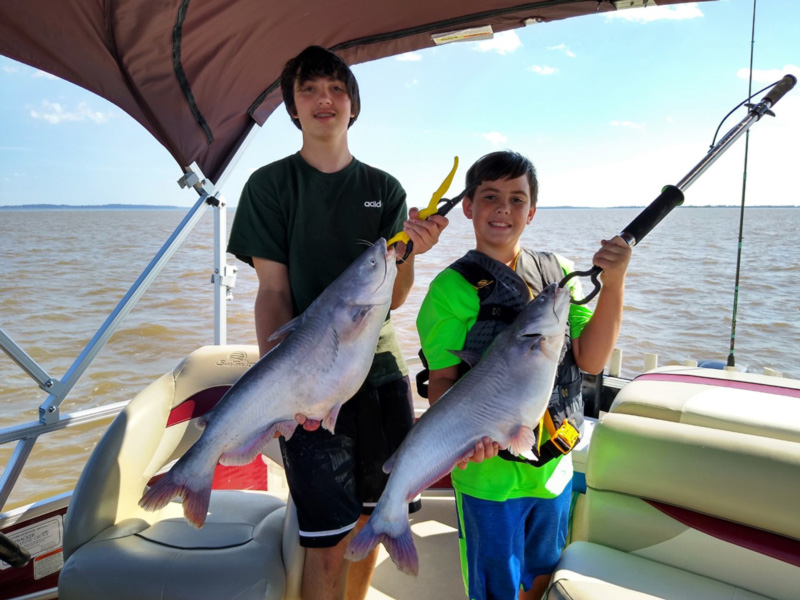 While stripers aren't holding up to the cats size-wise, they're giving anglers plenty of action across the Flats. Clyde's and Herb's both reported that the morning and evening topwater bites have been active. Anglers are getting plenty of blowups despite most of the fish missing keeper mark, however, Herb's did report that they had a few guys in the shop this week that did manage to get into some keepers on topwater. Topwater catches in the Dam pool this week mostly consisted of undersized schoolies as well. Some reports also came in from guys and gals hitting the channel edges to liveline eels, who let us know that the fishing wasn't anything to write home about, but made for a fun day. Livelining with eels overall has seemed to be a pretty good bet for anglers, although the bites are slow at times.
White perch are finally reviving a bit for the season — this week we heard of good catches in the creeks and over hard bottoms. Herb's suggested small Perch Pounders, or bottom rigs with bloodworm or FishBites.
---
Way North Chesapeake Fishing Report, October 8 Update:
*We apologize for the light reports this week, but due to exhibiting at the U.S. Powerboat Show in Annapolis (come see us this weekend at booth F7) and some personal matters we have not been able to gather as much intel as usual. Stay tuned for next week's reports!
Sarge's reported a good striped bass bite in the Upper Bay using bloodworms and eels. Crabbers are still filling their bushel baskets and anglers are reportedly catching snakehead fishing with live shiners. Tochtermans let us know that the walleye are starting to bite up the Susquehanna near the Conowingo.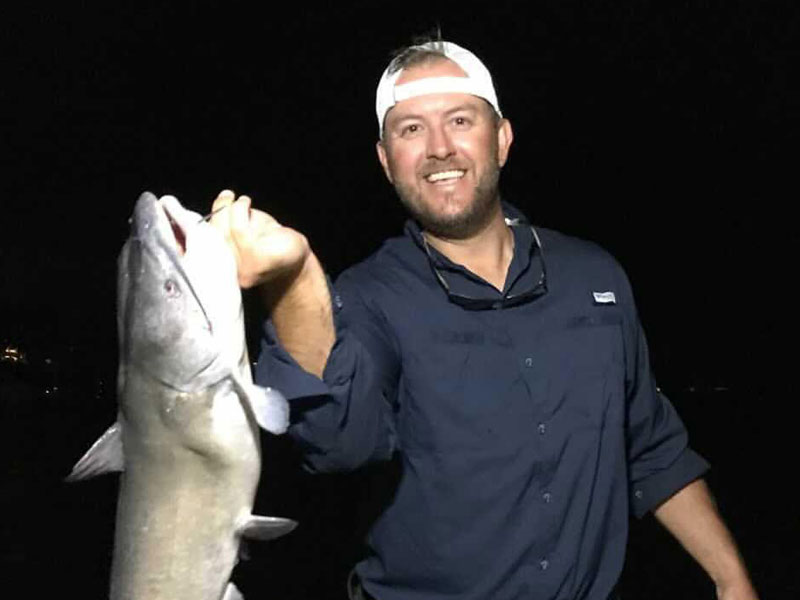 Herb's Tackle Shop said that anglers are catching plenty of stripers and white perch now the water has cooled off in the flats. Many reports of northern snakeheads being caught all around the susky. They also said that catfish quite simply, are everywhere. Channels and blue cats are being caught on the edge of the flats from Rocky Point up to Perryville using fresh cut bait white perch and bunker.
---
Way North Chesapeake Fishing Report, October 1 Update:
If you want a sure thing, the Elk River and/or Turkey Point is the place to be and cut fish or chicken livers are the offering for chunky catfish. We had a couple of reader reports of nonstop catfish action from the area this week and we'd expect that bite to remain as reliable as any on the Bay for the near future. Same goes for the edges within sight of the Route 95 bridge, another catfish destination that rarely disappoints.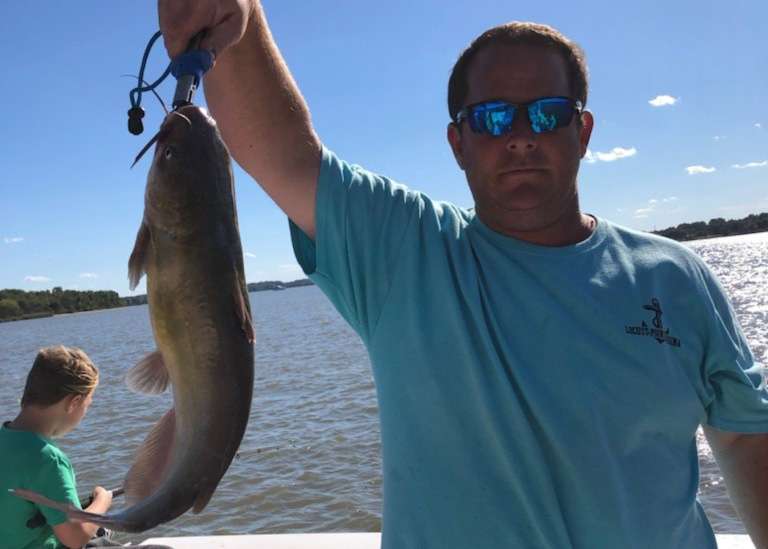 Meanwhile the flats continue to suffer from cloudy water, though it is improving by the day and should continue to do so unless we get hit with another big rain. If you visit the area and find turbidity above your liking, heading south and east a bit is the move. We got word from a reader that the Sassafras is holding good numbers of stripers in the shallows, and although most are undersized fish, keepers do pop up here and there.