Way north Chesapeake Fishing Report, June 25 Update:
The early summer bite up north is remaining consistent, with good action in the Conowingo Dam pool and on the Flats. Clyde's reported that the Dam pool is steadily attracting anglers who are hoping to hit some good topwater action. The bite is pretty killer in the early mornings as the sun breaks, and again at dusk. They suggested heading out super early to get there, and casting way far out into the Dam pool. Once the sun is high in the sky, swap out the topwater for plastics and get down below the surface. While a lot of the fish have been undersized, they did mention that stripers breaking 19 inches aren't unheard of. Throughout the afternoon, the Dam bite is focused mainly on the cats. Clyde's let us know that heading there, it isn't uncommon to see anglers with a bait on the bottom while casting soft plastics for stripers. With a healthy mix of blue, flathead, and channel cats, there are plenty of opportunities to get 'em. On the Flats, much of the story is the same. The best striper bites are early and late in the day, topwater is working well, and subsurface soft plastics are better in broad daylight. The catfish bite is good and was a lifesaver for anglers early in the week when waters were murky due to foul weather and the striper bite was off a bit.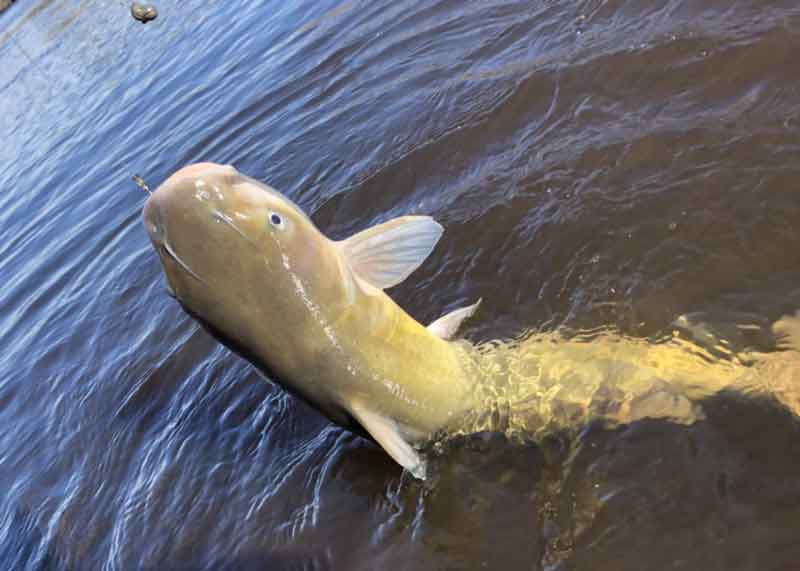 White perch continue to pick up in creeks and rivers. Dropping bottom rigs with bloodworms and grass shrimp is the best way to get 'em, but many anglers are also casting spinners and small spinnerbaits, particularly at piers.
---
Way north Chesapeake Fishing Report, June 19 Update:
Before unsettled weather moved in, serene conditions brought anglers to the Susquehanna Flats and Conowingo Dam where the bite was wonderful during early morning hours and sunset. Readers who sent us reports this week and Captain Bone's mentioned that the topwater is especially hot, in both areas. At the Dam, casting topwater way far out into the pool is producing large numbers of schoolies, who have been eager to explode on plugs. The Flats are a similar story, although locating fish has been a little more difficult and wind exposure has made for some up-and-down days. However, once anglers are getting into them, the action is hot. Most fish are undersized, but we had one reader report catches up to 24 inches fishing the first hour or two of light and "walking the dog" to retrieve. Both areas are also holding hefty populations of catfish, which can easily be pulled up from the bottom on cut bait. Their love for chicken livers and cut menhaden remains consistent.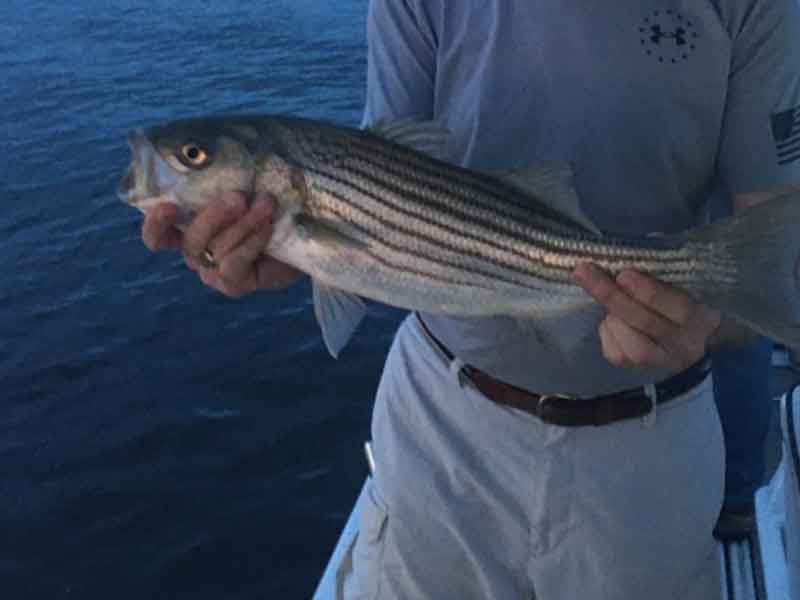 ---
Way north Chesapeake Fishing Report, June 11 Update:
This week, anglers are reporting that bites from the Flats, lower sections of the river, and the Conowingo Dam Pool remain good, for both catfish and stripers. Schoolies are continuing to dominate the bite, and although many haven't been big enough to make it home for dinner, they are providing steady action throughout the day. Captain Bones reported that lugging topwater plugs or jigs far into the Dam Pool is still the best way to get on stripers. Topwater action remains best in the early morning and late afternoon, with the sunset bite particularly productive. While submerged lures are working throughout the day, they advised against throwing topwater during midday when the sun is beating on the water. It might be worth trying if the days are overcast, but the heat and sunshine we've had recently isn't lending itself to a good topwater bite. Clyde's let us know that catfish will bite throughout the day, however, for bait on bottom, with little care about when or what you're dropping down. Still, chicken liver is a great bet that has been bringing them in. We also had a (photo verified) reader report of solid catfish action in the area of Turkey Point.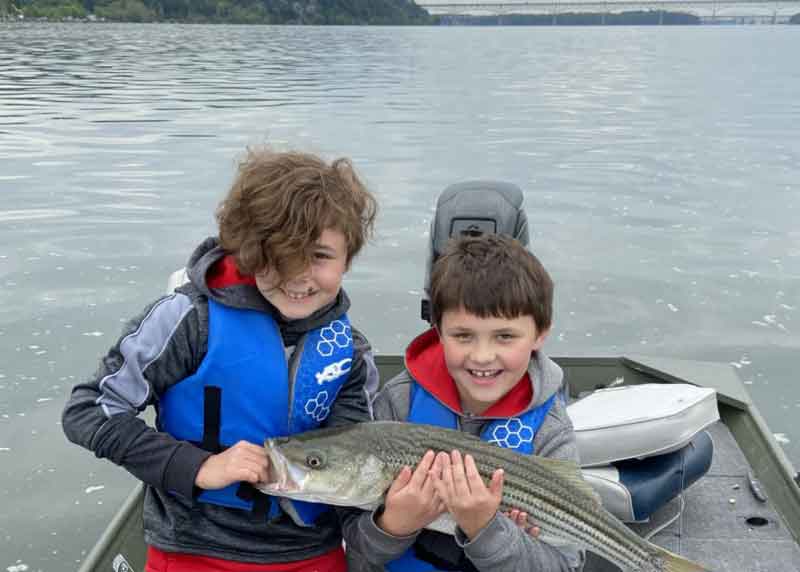 Outside the Dam Pool, Captain Bones reported that anglers jigging the channel edges with white, pearl, and chartreuse six-inch soft plastics were reeling in fish after getting into pockets of them. We did also have readers report that there are still good numbers of stripers swimming in the lower Susquehanna. Most are in the low 20s and are being caught on bait, though some have also been caught by jiggers and by slow-trolling diving plugs. Bait anglers do, of course, have to put up with a constant stream of catfish. Trollers are still reporting lackluster bites.
White perch fishing continues to pick up, with more available from shore and local docks. Bloodworms and grass shrimp on a bottom rig are the go-to.
---
Way north Chesapeake Fishing Report, June 5 Update:
Anglers fishing the northernmost regions of the Chesapeake this week reported that the bite has been good, and fish are coming in steadily from the Flats, the lower river, and the Conowingo Dam pool. The striper bite has picked up quite a bit in the last week, lending itself to some great days spent on the water with plenty of action. Although many fish haven't been keeper size, the schoolies are providing tons of action and can make for a fun day. The Conowingo Dam Pool is getting plenty of action from anglers fishing for catfish, as well. While those targeting the cats have been baiting up and leaving their rigs on the bottom, anglers with a taste for rockfish have been hurling soft plastics far into the Dam Pool and retrieving them. Captain Bones reported that the best times to get out have been early morning as the sun rises and at dusk as it sets. On the Flats, topwater action has been good at dawn and dusk as well. Throughout the day, Captain Bones let us know anglers jigging the channel edges with white, pearl, and chartreuse six-inch soft plastics were bringing in fish. Although most stripers coming in weren't much to brag about, a few bumping over the 26-inch mark were photo confirmed. One reader this week reported having a good day near Port Deposit, and confirmed a 26-inch catch. Trollers have been burning a lot of gas recently, to little reward: Herb's let us know the guys pulling umbrellas, parachutes, bucktails, and tandem rigs aren't doing as well in this zone right now.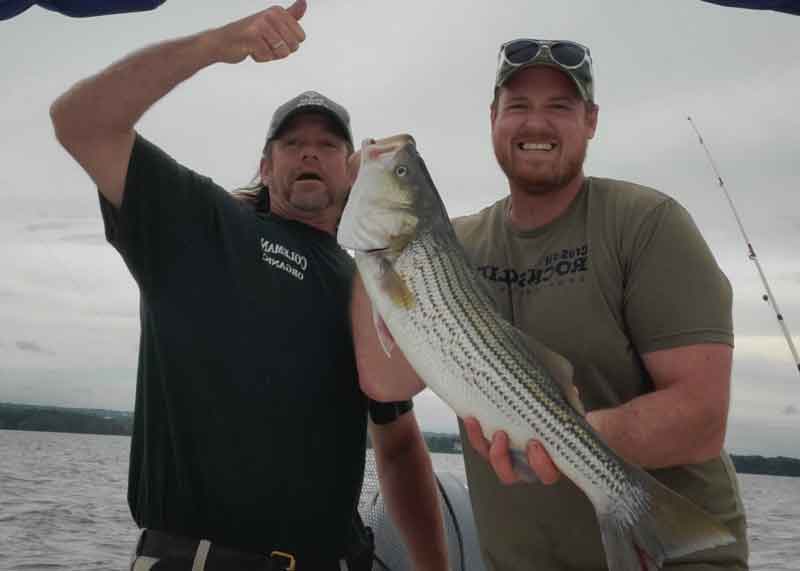 The white perch fishery is a great option for anglers who don't want to head out far from home, or are shore-bound. White perch catches have continued to increase over the past few weeks and should continue to as the water warms up. As usual, bloodworms and grass shrimp on a bottom rig are tempting them.