Way North Chesapeake Fishing Report, January 30 Update:
Warm weather and strong water flows coming down the Susquehanna have eliminated the fear of ice skim this weekend, but Herb's let us know that despite the renewed access, not much is happening on the brackish water front and most anglers are sticking to reservoirs and lakes. We asked if they'd heard anything coming from the Perryville area this week, and they let us know that the local yellow perch bite seems to have slowed down for the moment - not a shocker since the Conowingo has been blasting from all the recent rains. As a result, Loch Raven and Liberty Reservoir have been popular destinations, hosting a good crappie bite and a fair few bass. The crappie have been eager to take pink, orange, yellow, and chartreuse shad darts, which are pairing well with small jigs with twister tails, Panfish Assassins, Bobby Garlands, and similar plastics. If you're more excited about catching dinner than a steady stream of smaller fish, Clyde's suggested further diversifying your spread with minnow suspended under a bobber. Larger minnow might get tapped by undersized crappie, resulting in that ever-alluring bobber dip, but they won't get on your hook. They also let us know that the best time to go after them has been early in the morning. Bass are taking soft plastic crayfish and Bass Assassins.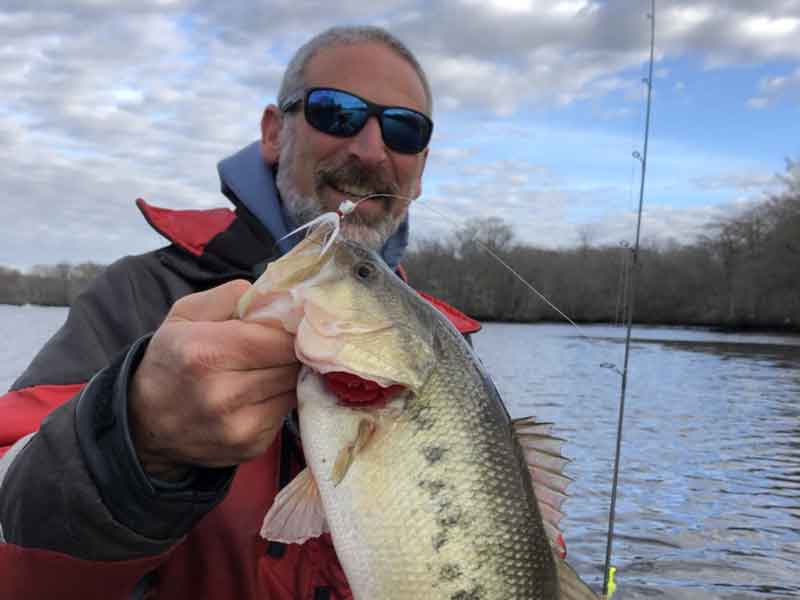 If you're willing to travel a bit to get some yellow perch and/or crappie, heading to the Blackwater, Tuckahoe, or Wye Mills is a great option. They've been hanging out near shoreline structure as well as in deep cuts and holes, making the eastern shore a great option for both water-going and landlocked anglers.
---
Way North Chesapeake Fishing Report, January 24 Update:
A bit of ice skim temporarily formed in some spots of the northern reaches of the Chesapeake, which might seem like a huge bummer, but let's stay optimistic because if the weatherman's forecast is close it'll be gone in no time. You're still safe regardless if you hit areas of moving water and though we didn't hear first-hand from anyone fishing there this week, Perryville should remain a solid bet, or Clyde's suggested heading to the eastern shore for-sure open-water spots like the Blackwater where the water is accessible and the panfish are biting. Yellow perch, crappie, and bluegill have all been abundant, and easily accessible by boat and from shore. Clydes suggested using nightcrawlers, shad darts, and minnow suspended by a bobber for them. Pink, orange, highlighter yellow, and chartreuse shad darts have been working super well, especially for crappie. Most fish have been schooling up in deeper water and around deep structure, but can be found with a little searching. On the way home, they mentioned that anglers have been stopping by the spillways at Wye Mills and the Tuckahoe.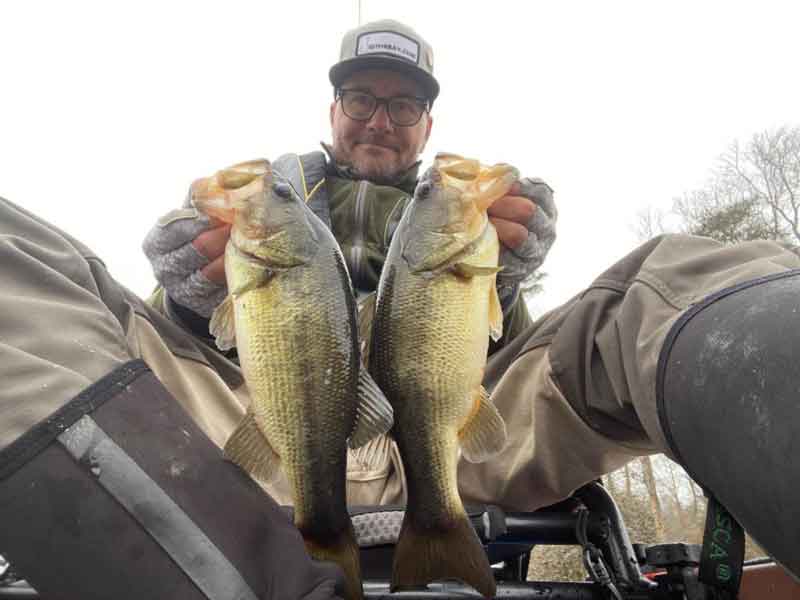 ---
Way North Chesapeake Fishing Report, January 17 Update:
Winter? The warm weather last weekend was absolutely irresistible; how could one not want to spend an April-esque January weekend on the water? The winter-weather reprieve was especially sweet for anglers, with the yellow perch bite happening in and around Perryville. We hope you enjoyed it while we had it, as the next week doesn't look nearly as nice if the weatherman's right. In any case, yellows have been hanging down deep in holes and pockets, near structure and further away from shore. With plenty of perch (though many too small to keep) in most areas, the best way to locate them has been cruising from spot to spot until you get into them. If you're shore-bound, don't fret, minnows suspended by a bobber or fished on a bottom rig, which can easily be cast out from shore, have been doing the trick.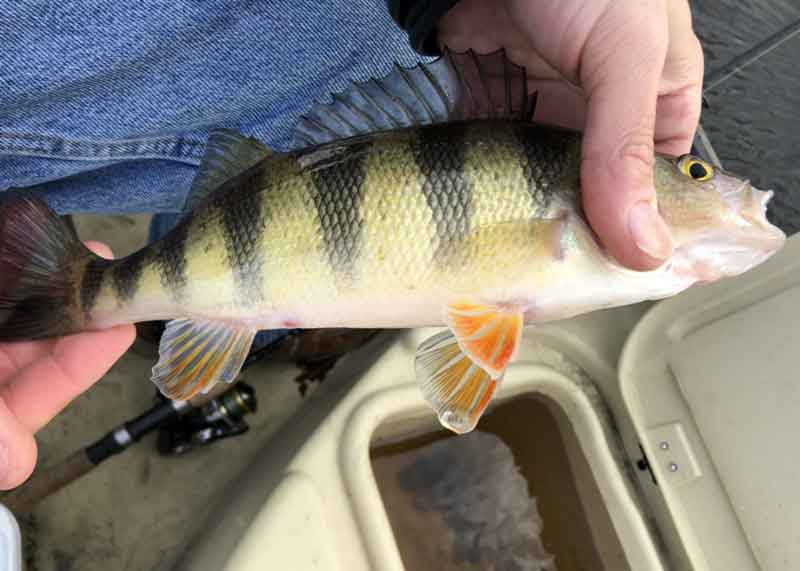 Tochterman's reported that some anglers with boats have been running to the Bay Bridge rockpiles to cash in on the winter catch and release striper bite. We've been hearing reports of stripers ranging from eighteen to 25 inches this week. We didn't hear anything this week about perch coming of the pilings, but it's worth a shot, too.
---
Way North Chesapeake Fishing Report, January 10 Update:
Winter weather and the end of rockfish season has made us acutely aware of how grateful we should be for yellow perch – and reminds us of how gosh-darn good they taste. Most anglers spending their days on the area waterways have been enjoying panfish dinner after panfish dinner, cruising around quiet creeks and traveling to hit the best spots up and down the shores. Perryville is always a favorite, though word is that many of the fish there are small right now. Clyde's let us know that many anglers in the Bay's northernmost region are trekking east and south, enjoying the bite throughout the Millington area, in the Magothy, and at Wye Mills. Although these locations are a bit of a haul, the bite has been making up for it. Wye Mills, in particular, is offering some excellent opportunities when the fish are on. Bass and bluegill are supplementing the yellow perch bite.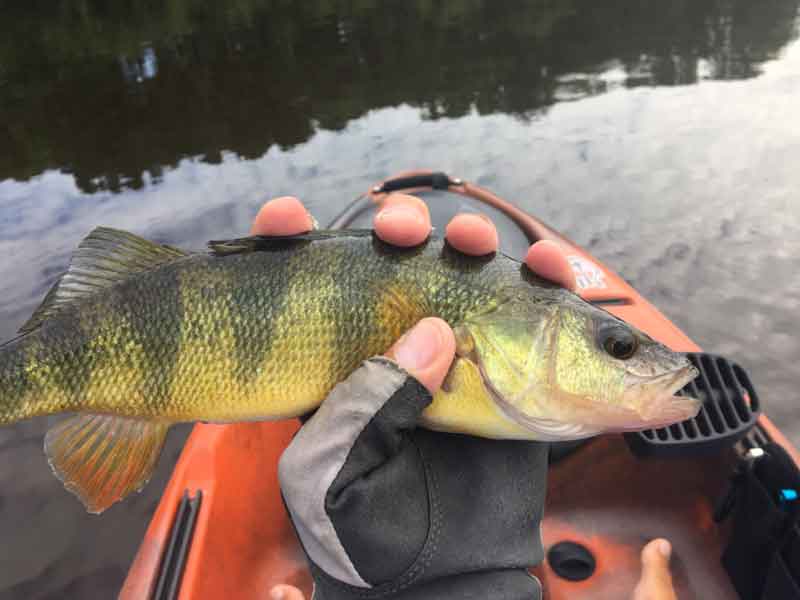 Wherever anglers have been catching, they're consistently using grass shrimp on a small feather or shad dart. Occasionally we've been getting reports of small minnow bringing in the fish, but for now, grass shrimp seem to be the golden ticket. If you're fishing the CCA Maryland Pickerel Championship, you might consider trying your luck in the Magothy – in addition to the yellow perch reports, scattered success stories are coming out of the area.
---
Way North Chesapeake Fishing Report, January 3 Update:
Welcome to 2020, anglers! We at FishTalk would like to wish everyone a happy new year and we hope you have some fabulous fishing adventures as a new season dawns. And for fishers probing the northern reaches of Bay country, that starts out with the perch bite. Water temps are down in the low 40s so the bulk of the fish are hanging deep off areas like Perryville, where dropping bull minnow on bottom rigs is a prime method. Some anglers are also using darts heavy enough to get deep in the current, sweetened with a mummichog hooked through the lips. Many of the fish are smalls, but there are some larger fish among them. The lower river is also producing some blue and channel cats on live minnow, and since the flow coming through Conowingo is right around average now and since the recent rains are the first significant precip we've had in a while, this should remain true for the near-term.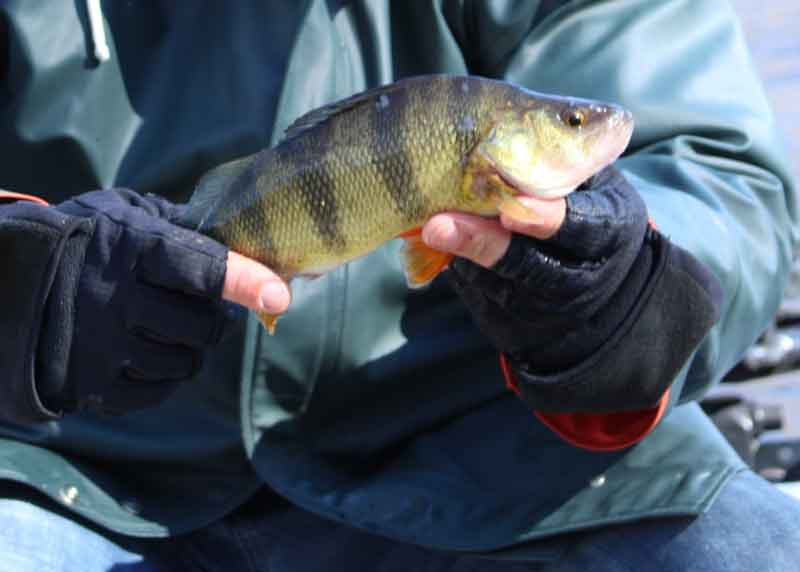 We didn't get any reports from anglers fishing up the rivers this week, no doubt due to the busy nature of the holiday season, but both perch and pickerel should be available to anglers casting minnow under a bobber. It's also a fair bet that placing cut bait on bottom will produce catfish throughout the area.