Way South Chesapeake Fishing Report, April 28 Update:
Water temperatures are rising, baitfish are moving into our waters, and we are seeing the return of many gamefish to their usual haunts. Virginia Beach Sportfishing let us know that bull red drum are being sight fished along the ocean front and that some have been caught by anglers fishing off the Virginia Beach Fishing Pier. As we move into May, the larger schools of drum will move into the Bay. Popular areas to fish for them include Latimer Shoal and the CBBT. Sheepshead are also starting to make their return. The pilons of the CBBT produce some of the best sheepshead fishing in the country and fish weighing double digits are common, so get ready for this bite to crank up as temps continue to rise. These fish stay close to structure and fiddler crabs are some of their favorite bait.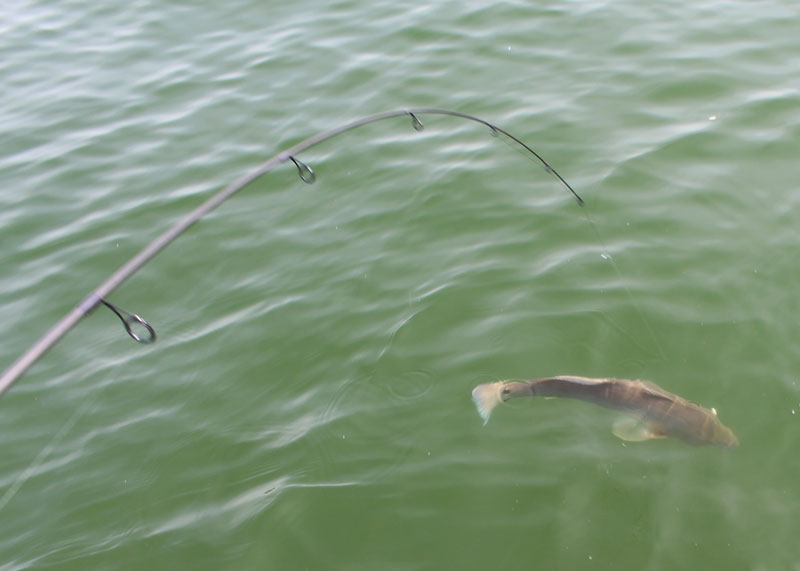 Black drum are along the channel edge from Fisherman's Island to Cape Charles. Peeler crab or sand fleas work great for targeting these fish. Make sure to have the right size gear because these fish can get massive. We got a report of an angler fishing in the Tangier Sound who caught a 75-pound black drum this week, so fish of that caliber are likely in this area, too. Rudee Inlet has been productive this week and we received a few reports from anglers hitting the water there. One was out searching for drum but instead found a school of gray trout which was a nice surprise. The two largest were 15 and 17 inches. A small bluefish and some shad were biting too. He noted that the fish only wanted to bite a Z-Man Slam Shady paddletail. Another fished early in the morning and found a few specks along with a school of gray trout. He was able to catch his personal best gray trout at 17 inches. He also hooked but lost three shad and saw a big striper cruising in three feet of water, which slowly made its way back into Owls Creek. Flounder, puppy drum, speckled trout, and bluefish are all being caught in the inlets this week. Oceans East Bait and Tackle let us know that there is a good puppy drum bite going on in Lynnhaven right now. Fishing all around the mouth of the Bay will only continue to get better as we head further into spring!
---
Way South Chesapeake Fishing Report, April 21 Update:
Warm spring temperatures have really kicked the fishing scene into action in the lower reaches of the Bay. Water temperatures have reached the magical 60-degree mark and more fish are making their way to our local waters. Black drum and some bull red drum are showing up along the channel ledge running from Fisherman's Island to north of Cape Charles. Reliable spots to target these fish are Kiptopeake, the highrise of the CBBT, and the islands of the CBBT. We recommend targeting these fish on running tides, early mornings, late evenings, or on full moons. Anglers traditionally use clam, peeler crab, whelk, or a combination of these baits when bottom fishing for these brutes. Make sure to use heavy gear, as these fish commonly reach 60 pounds or greater.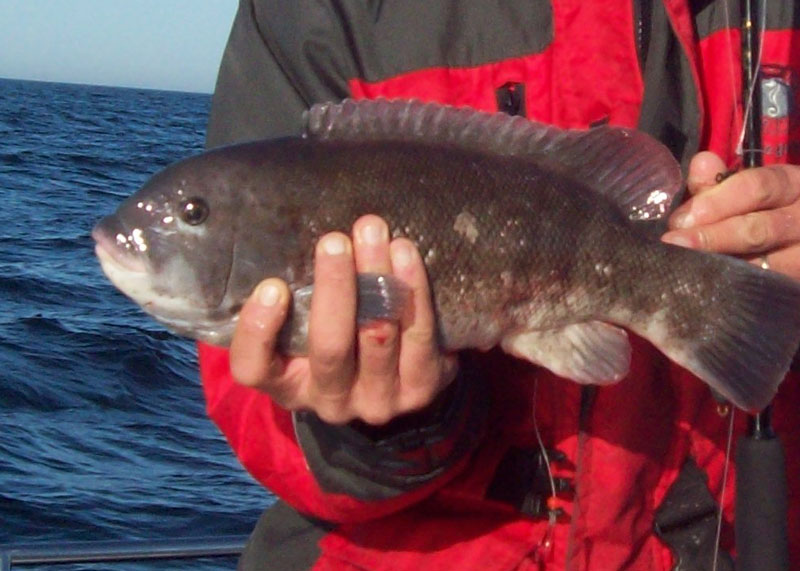 The warm water temperatures bring a plethora of fish to the CBBT, and it can provide some of the best fishing the Chesapeake Bay has to offer. Anglers hopping along the pilings of the CBBT have been catching tautog on blue crab and fiddler crab. The tautog that make their way into the bay are typically smaller than the ones hanging out at the offshore reefs, but you can expect them to average two to five pounds. However, one angler fishing at the CBBT this week reported that he couldn't keep his baits down for long before being constantly pestered by dogfish. They can put up a decent pull and when cooked properly, are actually pretty tasty. Virginia Beach Sport Fishing let us know that flounder numbers are on the rise at the inlets, though most of the catches fall just short of keeper status. Big flounder can be caught near the islands of the CBBT using live spot or small mullet.
Speckled trout, puppy drum, and even a few gray trout are being caught in Rudee, Lynnhaven, and Little Creek Inlets. A decent amount of slot and over-slot drum are being caught, though the bite seems to be hit or miss. One angler let us know he caught a nice 27-inch red from his kayak using a jighead paired with a Z-Man Bad Shad, though he didn't give up the specific location. The specks should be moving shallower now and tend to hang around grass beds. Paddletails and MirrOlures work great for them. As always, areas with clean water, baitfish, and a moving tide tend to produce more fish. The Elizabeth and York Rivers have plenty of trout that should be getting active by this time of the year.
---
Way South Chesapeake Fishing Report, April 13 Update:
Spring is in the air and warmer temperatures have jumpstarted plenty of fishing action throughout the southern Bay. Virginia Beach Sport Fishing reports that the waters surrounding the CBBT are right around 59 degrees. They say that the red drum usually show up in numbers by the time it hits 60 degrees and some big drum reports are already coming in from the area. They can be caught around the islands of the CBBT or at the shoals at the mouth of the Bay. Their numbers tend to peak in mid to late May. The black drum, however, have shown up in force this week along the Eastern Shore of Virginia. On the bayside, look for them near the Cabbage Patch, Concrete Ships, and the high rise of the CBBT. Some black drum reports are even coming in from farther north out of the Pocomoke Sound, so fish should be in the area. Chunks of blue crab have been working best in Chesapeake waters. Along the coast, surf fishermen have also been taking advantage of a great drum bite. Sand fleas on bottom rigs is getting the job done and there are plenty of other fish in the surf to keep you busy in between the bigger bites.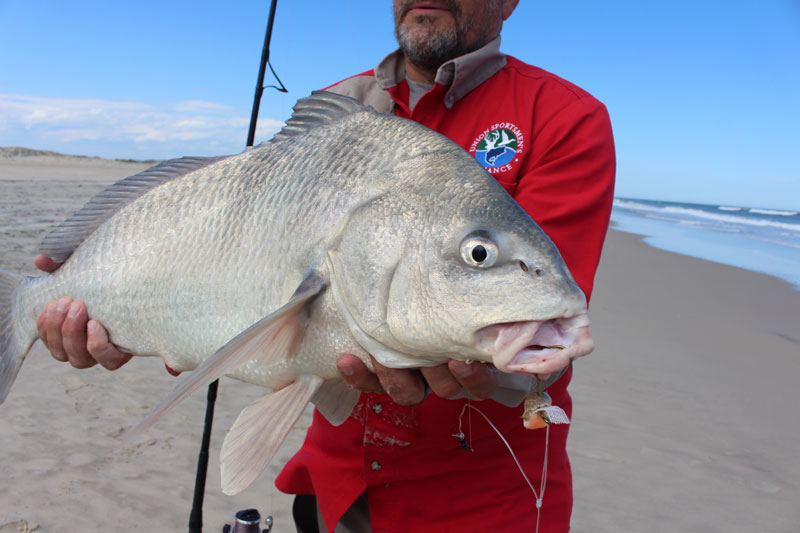 Another exciting fishery that has gotten off to a hot start this spring is flounder. The best action as of late has been coming from the coastal bays along the Eastern Shore of Virginia in areas like Wachapreague and Chincoteague. A few undersized fish have been caught inside Rudee and Lynnhaven Inlets and more should be showing up around the islands of the CBBT. Minnows or squid strips tipped on bottom rigs is a popular way to fish for them. Puppy drum and speckled trout are also becoming more active in the inlets and other tributaries with the warmer weather. These fish are often found near grass beds, oyster bars, and dock structures. Jigs, soft plastics, and topwater lures are popular artificials to throw for them. There seems to be a good class size of red drum in the area as many anglers have reported catching over slot drum during their fishing endeavors. The Elizabeth River is providing good speck action with some in the mid 20s being caught this week. Afternoons tend to produce a better bite this time of year once the water has been warmed throughout the day by the sun.
---
Way South Chesapeake Fishing Report, April 7 Update:
Warmer weather to start the month has a lot of great bites turning on in the southern areas of the Bay. Captain Robert of Adventures on the Water gave us the latest puppy drum reports in the Way South region and he says that the drum are showing up in force, and are very responsive to shrimp and gudgeon minnows. They are fishing these baits on fish finder rigs and popping corks. Z-Man or other paddletail style soft plastics have also been working well on either one quarter or three eights ounce jigheads. One of his tips is to use Pro-Cure bait scents on soft plastics as it seems to make a big difference. Water temperatures have been in the upper 50s to low 60s and most of these fish are feeding on the tide changes in three to six feet of water. You'll want to target them along shorelines with grass or rocks and especially ones with oyster beds. Captain Robert and his crews have been catching plenty of fish in the slot and a lot over the slot as well — fish up to 35 inches have been caught during the past few trips.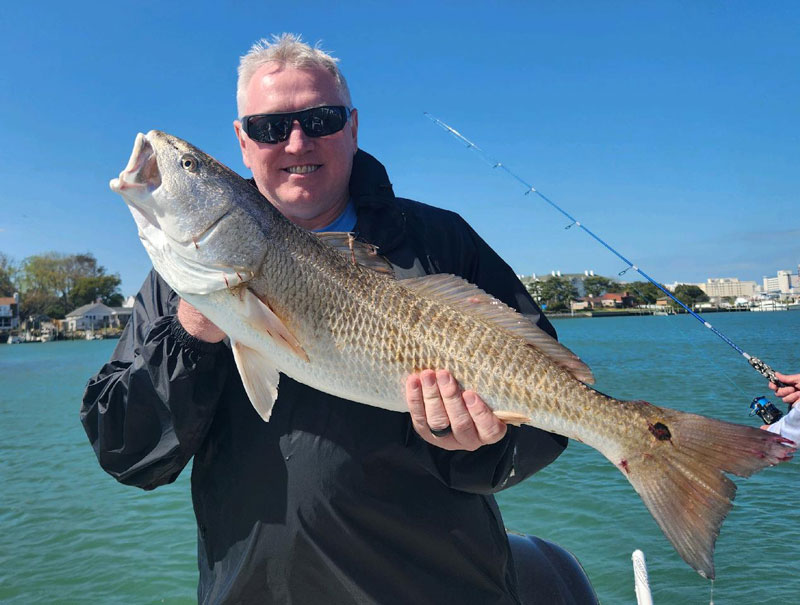 Virginia Beach Sport Fishing let us know that tautog and flounder have been providing steady action for anglers during the first week of April. They said that the flounder are being caught near the CBBT and at the seaside inlets along the Eastern Shore. They can be caught drifting live or dead fresh cut natural baits on the bottom or by trolling small bucktails dressed with squid or minnow. On a high tide, these fish will move into the shallow flats near creek mouths and wait for the outgoing tide to bring bait out of the marshes. When they are shallow, cast out a jig paired with a paddletail or curlytail soft plastic (Gulp! Baits work well) and bounce it along the bottom to get these fish to strike. These fish are also available in both Rudee and Lynnhaven Inlets. Tautog are on near shore structure both in the Bay and along the coast. These fish prefer crab baits so rigging up with blue, fiddler, or marsh crabs will be your best options. One angler fishing near the rock piles of the CBBT boated six keepers during a trip this week.
Speckled trout action continues to improve as well, and they seem to be moving shallower as water temperatures warm. Many anglers found success with the specks in the Elizabeth River this week while throwing paddletials and jerkbaits. The key has been to find a combination of bait, grass, and clean water. We expect the fishing to only get better from here on out!