Way South Chesapeake Fishing Report, August 27 Update:
Fishing at the mouth of the Bay remains excellent, with Spanish mackerel holding steady and even increasing in numbers. They've been providing action that can be described as excellent especially near the second and third islands of the CBBT, backing up Hampton Contributor Harrison's reports from past weeks, and small blues are also still in the zone. Trollers are pulling silver and gold Clark number-one spoons or Drones behind number-one to number-three planers. As the mackerel prefer a rather zippy trolling speed, tugging your set up along at seven or eight knots is a good idea. See Finding the Ideal Mackerel Trolling Speed to ascertain the best possible pace at any given time. Ocean's East suggested that your best bet is sticking to the channel edges and covering ground until you find them. With the fish as abundant as they are, locating them shouldn't be too much of a stretch.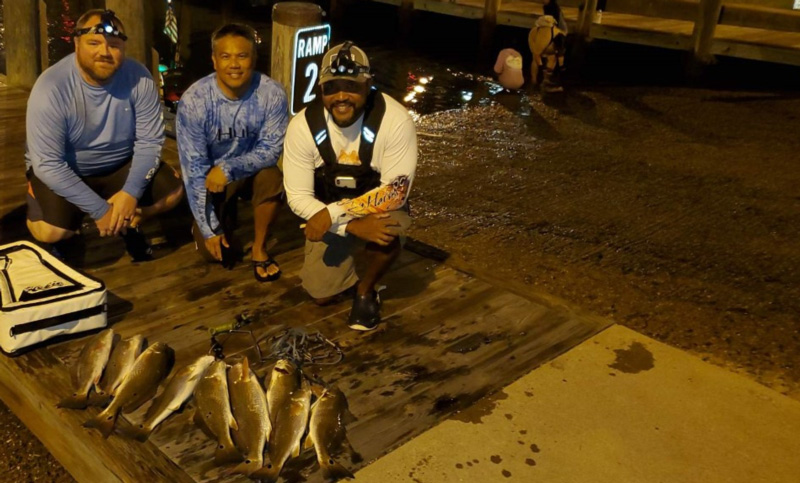 The inlets are holding some slot reds plus a few specks, but the heat of the day and weekend crowds can make the pickings difficult. Anglers hitting the night bite are doing best. Those putting bloodworms or Fishbites on bottom are also finding some croaker, including some keepers (though most are small) plus spot and a few roundhead.
The other favorite option right now is locating working birds and casting under them, with a big caveat. Make double-double sure you have your spoons or ZMans aboard. Throwing soft plastics through piles of fish right now is just asking for them to get slaughtered by the baby blues. Almost everyone we hit up for the report this week mentioned that the blues are a big issue under the birds. If you toss into the madness and come back with a shredded tail, switch to the spoon. You'll have better luck getting your target species on the lure or hooking up on a larger bluefish. Ocean's East reported that some large blues are being caught too, both on the troll and under birds. Striped bass and bull reds are hanging out with the birds on occasion as well. Finding birds and jigging under them has been a favorite way to target the reds.
---
Way South Chesapeake Fishing Report, August 20 Update:
Hampton Correspondent Chuck Harrison says that choppy winds made it tough to spot drum at the CBBT when he got out recently, but the second island is still "covered up" with bluefish, they're at the first island too, and casting to them also produced an 18-inch Spanish mackerel. He also noted that drifting for flounder didn't produce.
Spanish Mackerel numbers are excellent and some have been very chunky. Most anglers who are catching are sticking to pulling silver and gold Clark number-zero or number-one spoons or Drones behind number-one to number-three planers. Plenty of trollers are staying south of the CBBT, however, as many mackerel moved up the Bay, much of the fleet has as well. While the weekends are busy, there has been plenty of room to find your groove on the troll. Around the CBBT, Ocean's East also reports there are some fat drum and plenty of bluefish are in the area. They're quick to take trolled silver spoons and they note that some of the bluefish coming in right now are perfect eaters. Included in the CBBT chatter this week was talk of some small spadefish for those targeting them specifically with tiny hooks and clam bits, and a few larger sheepshead on fleas and crabs.
While we're hearing great things about the big blues, there remains a lot of noise about the pesky, smaller bluefish, too. They've been absolutely shredding soft plastics. If you spot birds and are planning to cast under them, be aware that there's a good chance you're going to lose a few soft plastics before coming up with a sizable fish and using metal or ZMans is the move. As many anglers are casting under working birds hoping to find large fish, the little blues have been a rather relentless nuisance at times.
---
Way South Chesapeake Fishing Report, August 13 Update:
Hampton Correspondent Chuck Harrison reports hitting the CBBT and enjoying a wide variety of action. Small spadefish and triggerfish were both biting near the second island, as well as bluefish. They also spotted a school of drum in the vicinity and ID'd two hookups as black drum, then broke off a third suspected to be a red. He also mentioned that they tried for the flounder at the CBBT as well, but struck out on that count. Oceans East mentioned all the aforementioned species, and suggesting going after the drum right now if you're into them. Quite a few schools were spotted this week and anglers targeting them were producing good numbers. Across the board, however, they said the flounder bite has slacked off a little in the past week. Anglers who drifted squid chunks or bounced soft plastics for them reported slow days, often turning to other species, confirming Chuck's report.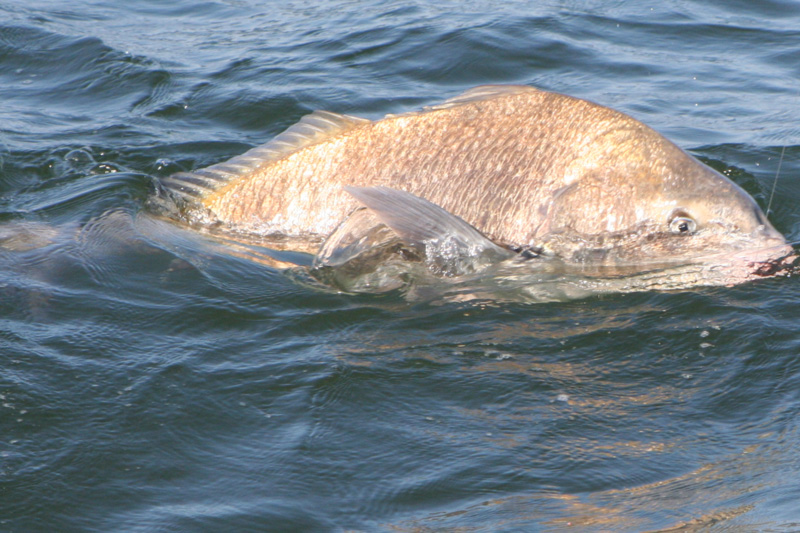 Trolling for Spanish mackerel and blues was popular again this week. Spanish mackerel catches were fair, and anglers trolling number one drones or gold Clark spoons hooked 'em up. Bluefish have been hitting spoons as well with some larger fish in the mix. Although there are large numbers of blues around, plenty are tiny and doing little more than destroying soft plastics. Anglers fishing for speckled trout have been encountering them, too, often reporting bluefish bite-offs while casting for the specks in grass beds and around the islands. Ocean's East reported that the speck bite was mixed this week, but that they're still coming in.
---
Way South Chesapeake Fishing Report, August 6 Update:
Big redfish continue to pop up here and there within the vicinity of the CBBT and Cape Henry, as to be expected, but the bigger news is that a couple of readers reported spotting schools of bull reds they could cast to. Sight fishers also remain on the prowl primarily for cobia, and although chumming bunker and fishing eels has been producing the bulk of the bites, as with elsewhere rays and sharks do seem to outnumber the cobia by at least 10 to one. Ocean's East echoed this, noting how near every boat is combatting skates and sharks to try and get a real hit. They also mentioned that the sight casting bite has been a bit touch and go recently, although it is certainly worth trying.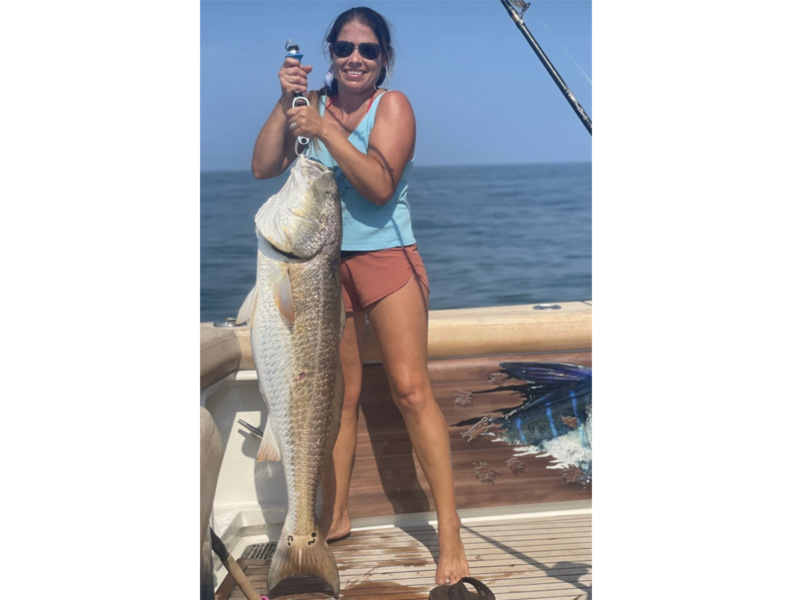 At the islands and along the pilings of the CBBT sheepshead have begun appearing in better numbers, with one reader reporting a fish of 12 pounds (photo verified) along with several in the five pound class hitting fiddlers. Spadefish are also along the structure (clam bits are the ticket) and at The Cell but the big ones continue to come mostly from the Light Tower as opposed to the Bay spots.
Spanish mackerel are popping off across the Bay right now, and anglers in Virginia waters have been on the prowl for them. Trolling number one or two gold and silver spoons and Drones behind planers is the move, across the board. Much of the fleet is sticking to the channel edges, where there's also been the possibility of picking up a chunky bluefish or two (or more). Spotting birds and working the area has been critical, as some anglers who haven't found the flocks have reported long stretches between lucking into fish.