Way South Chesapeake Fishing Report, January 30 Update:
It's the end of January, and we're still reporting speckled trout in the inlets? Well, yeah - and we aren't complaining. Ocean's East suggested that anglers hit up Lynnhaven, Rudee, or the Elizabeth River if you're looking for them – all these areas have had relatively consistent reports of fish and aren't showing signs of slowing down. They also reported that MirrOLures, ZMans, and Bass Assassins are all working really well. The inlets are also holding some puppy drum too, taking cut mullet and pearl or chartreuse GULP! soft plastic shad bounced off bottom. Outside the specks and puppy drum, a few stripers are showing up, but the bite has been inconsistent.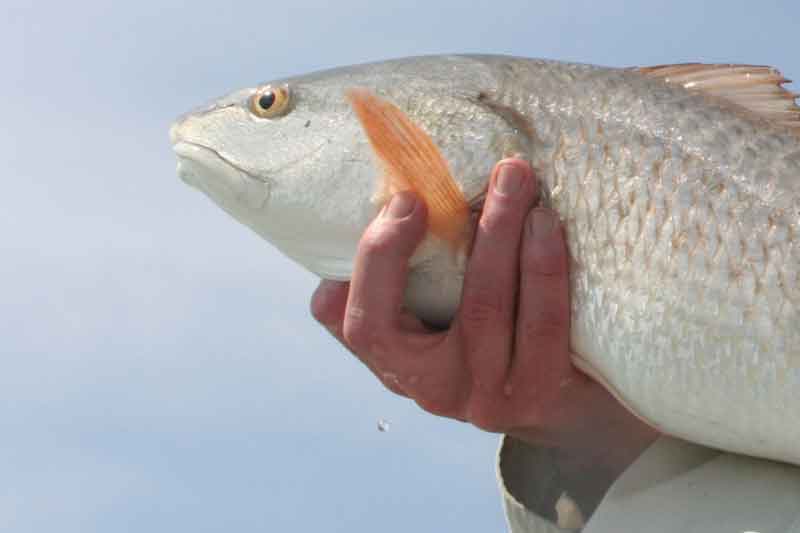 Up the tribs, meanwhile, Oceans East also mentioned that the yellow perch are beginning to move.
---
Way South Chesapeake Fishing Report, January 24 Update:
We expected that the last mention of trout we'd hear would've been at least a month ago, but they're still popping up again in the inlets. Ocean's East let us know that anglers are catching them sporadically on soft plastics, and although the bite is on and off with the weather, they're sure exciting to find this time of year. They reported that the majority of Virginia anglers have shifted their attention to freshwater, however, with tougher fishing in the Bay and off the coast right now, with the exception of a few tog that are still popping up around the CBBT. They've been taking peeler crabs, but if water temps fall much more (they're currently in the low to mid 40s) this bite is expected to slow to a halt.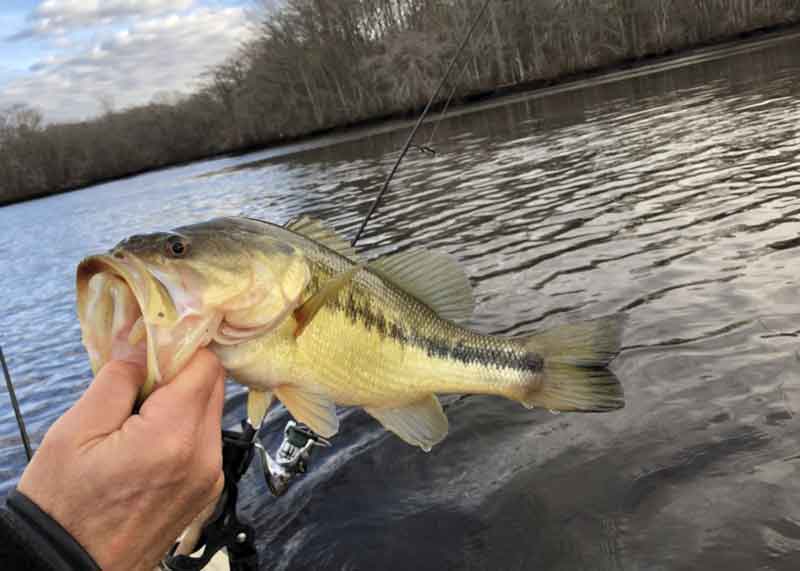 With the salty bite on the slow and chilly side, many anglers are headed inland and on the freshwater front, most inland lakes and ponds have been producing plenty of crappie and bass. Both are easily located from shore or by boat, taking everything from minnows to shad darts. Perch are also available in up-river tidal areas, mostly in channels and holes holding deep, where minnow fished on bottom rigs or behind shad darts will get 'em biting.
---
Way South Chesapeake Fishing Report, January 17 Update:
Although the catch and release striper bite was on this past weekend, throughout the week it slowed down and become a bit spottier, with fewer fish coming out of the water for a picture. Those putting in the effort, however, were handling fish up to the 50 pound class that were tempted mostly by live eels. Ocean's East reported that with the weather going from beautiful to blustery (and chilly), heading to the protected waters seems like it'll be the move for the immediate future.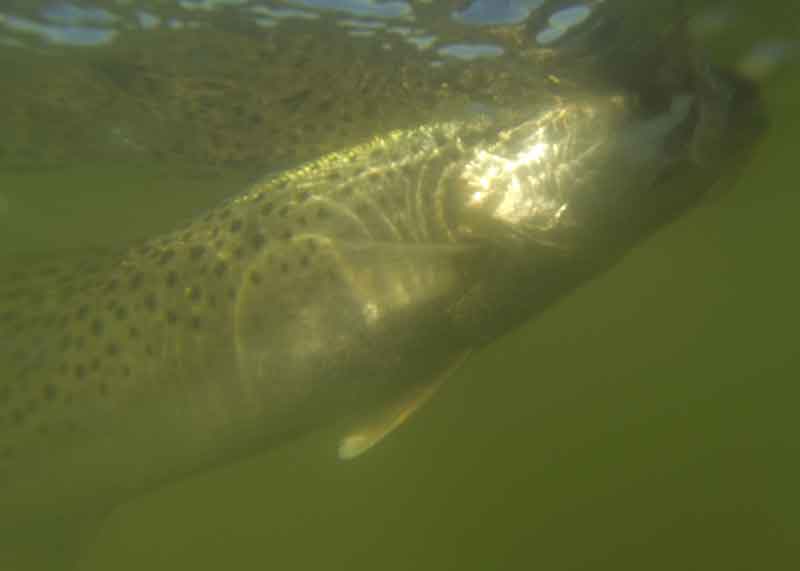 Speaking of protected waters: the warmth we enjoyed last week triggered a bit of a speck bite in the Elizabeth and the inlets. Anglers who made it out and found them during the "heat wave" caught up to a dozen or so fish by slow-rolling four- to six-inch soft plastics and sinking plugs near bottom. The recent change in the weather is likely to put the kibosh on that action for a bit, but during the next warming trend, keep this option in mind.
We didn't hear directly from any tog hunters who went to the CBBT this past week but the warm-up did raise water temps up to 49-degrees at one point. Unfortunately, it looks like that may be quickly reversed through the next week. Still, when the winds calm there's a hope for anglers willing to bundle up and drop crab chunks next to the pilings and rocks.
---
Way South Chesapeake Fishing Report, January 10 Update:
The catch and release striper bite in Virginia's waters is still on, and by many reports, is better than hoped for. Even all the way up at Tochterman's they've been hearing about anglers reporting large fish caught consistently, though in smaller numbers than the past week. Several fish in the 50 inch class were reeled up, photographed, and released this week. Most fishermen are reporting that what they're taking has been changing throughout the day, switching between an appetite for trolled soft plastics on parachutes and Mojos, and live eels. Trying to get a site-specific report was like trying to pull teeth (geeze guys, it is catch and release!) but the boats out of Cape Charles sounded to be doing the best.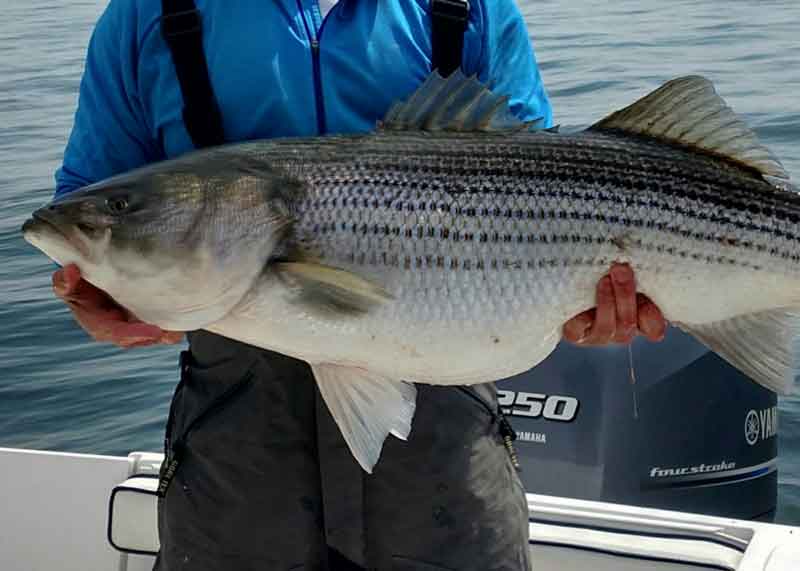 Anglers sticking to the inlets and back-bay area are enjoying the last of the tog bite, with a few still coming out of the water around the CBBT. Ocean's East reported that most are being caught on peeler crab. There are also a few scattered reports of anglers finding a speck or two in the Elizabeth and the inlets, and although it's generally a hit-or-miss proposition at best, the warming trend might well make this weekend a good time to try it (if the winds allow… ugh).
---
Way South Chesapeake Fishing Report, January 3 Update:
Welcome to 2020, anglers! We at FishTalk would like to wish everyone a happy new year and we hope you have some fabulous fishing adventures as a new season dawns. The old one certainly closed out with a bang, as a number of 50-inch-plus stripers were reportedly tempted by eels in the Cape Charles vicinity during the final days of December. A large body of big fish has been moving south, too (two weeks ago they were off Delaware and at last report they were off Ocean City) and there's an awful lot going on outside the Bay right now, so if you have an ocean-capable boat also be sure to check out the Coastal Report this week. Meanwhile, there's also still a shot at tog around the CBBT as water temps haven't yet sunk below the 45-degree mark (it actually has come up a hair the past few days, and at the moment is almost 48). But if it gets much cooler this option will start fading fast. Crab baits fished up close to the structure is the ticket; check out Rigging for Tautog: Precision Matters by local VA Beach sharpie Beth Synowiec, for some tips and tricks.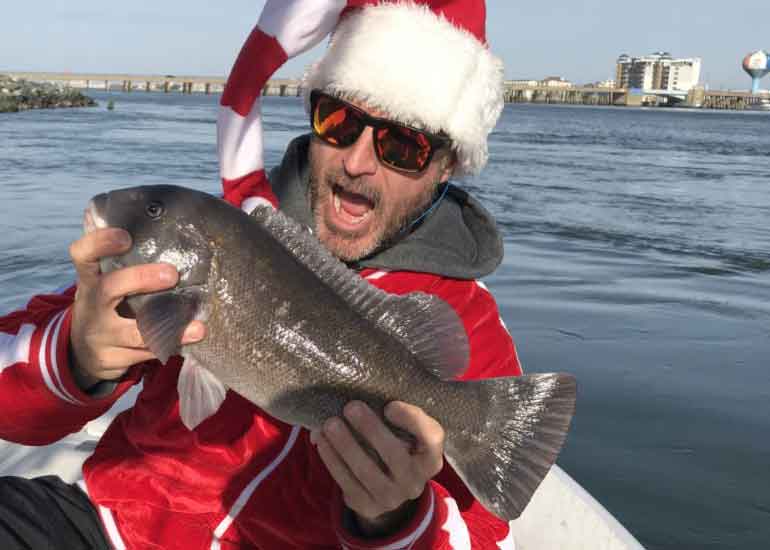 During some warm afternoons in the past week a few speckled trout have popped back up in the inlets. No, the numbers aren't great, and yes, the fish are acting a bit lethargic, but if you're heading out on a warm, sunny afternoon you could score your first trout of the new year this week.