Way South Chesapeake Fishing Report, May 26 Update:
Windy conditions last weekend and throughout the beginning of this week often made fishing difficult in the southern Chesapeake Bay, but anglers who found protected water and fishing during the decent weather windows reported good bites throughout the region. Speckled trout action is improving in many areas including Lynnhaven Inlet, Rudee inlet, and the Elizabeth River. Red drum are also biting well in these areas on both cut bait and artificial lures. One angler fishing Lynnhaven at night reported catching three under slot reds, two slot reds, and one over slot along with one bluefish. Another angler fishing inshore an inshore area from his kayak (though he didn't specify where) reported catching a 27-inch bluefish which took him for a ride on his light tackle rod. He also caught a 17-inch flounder. More bluefish are showing up in this area of the Bay and trolling drone spoons for them will soon become a popular option in deeper water.
Red drum numbers are steadily increasing with more fish entering the mouth of the Bay and heading north. Virginia Beach Sport Fishing reported that anglers fishing near the CBBT are having luck using fresh cut mullet, crab baits, and fresh clam while bottom fishing. Black drum are also available in these same areas and we have now seen the first cobia schools of the season move into the Bay. VBSF also let us know that the sheepshead bite at the CBBT slowed down this week, likely due to the weather, but that it should pick back up once water conditions improve.
Down at the Virginia Beach Fishing Pier, anglers have been finding steady action with several different species. Bluefish have been common and the first few Spanish mackerel are starting to show up along the oceanfront. Most of the bluefish have been between 12 and 16 inches. Despite windy conditions, one fisherman was able to land a 28.5-inch red drum during a trip this week. There will likely be a lot of boats out on the water for the holiday weekend, so if you are planning to fish, try to find waters that aren't being disturbed from all the boat traffic. You should find better luck in these areas.
---
Way South Chesapeake Fishing Report, May 19 Update:
The fisheries in the southern Chesapeake Bay can provide some of the best fishing along the East Coast and we are seeing these waters come to life as we near the end of spring. The local inlets have a variety of fish that light tackle anglers can target from shore or by boat. Virginia Beach Sport Fishing reports that speckled trout, gray trout, red drum, and flounder are all available inside Lynnhaven, Rudee and other inshore areas. A reader checked in from Rudee mentioning that the inlet was full of gray trout, and they're willing to hit Keitech paddleails. Most are in the 10- to 14-inch range, but a few larger ones are mixed in as well. We also received a report from an angler who limited out on speckled trout near the eastern area of the HRBT while throwing a white paddletail. Speck fishing should be in full swing once we reach the end of the month.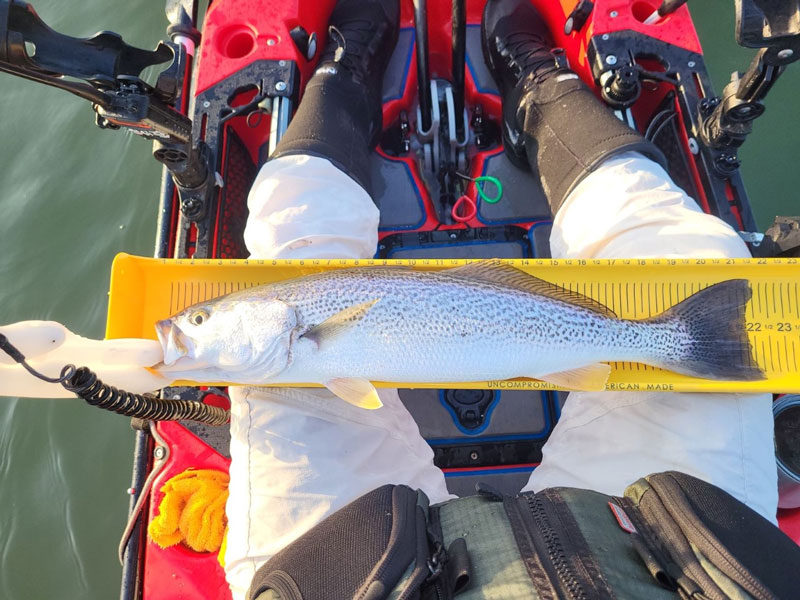 Hampton correspondent Chuck Harrison made it out on the water for a quick trip last weekend. He fished the Little Creek jetties in Norfolk and had a slow morning, but at the end of the incoming tide was able to catch a 19-inch flounder, a 25-inch red, and a 30-inch red. That's a great way to turn around a slow day of fishing! Flounder action at the inlets has also picked up over the past few weeks. Some nice keepers have been caught but most fish are 16 to 18 inches. One kayak fisherman worked hard to find quality fish and was rewarded for his efforts. He landed a 16, 17, and 22 ½ inch flounder using three-to-five-inch soft plastic curly tails on lighter jigheads. Recently, he has caught fish from two to 20 feet of water near muddy or sand bottom close to structure. The beginning of the incoming or the end of the outgoing have been most productive.
The CBBT can provide some world class sheepshead fishing and those fish are there for the taking right now. We recommend using fiddler crabs and dropping them close to the bridge pilons. While fiddlers usually work best, mole crabs, blue crab, and clam baits also work. These fish have strong teeth and put up a good fight so make sure to use sturdy gear. More bull reds are moving into the Bay, too, and we heard of multiple catches from the areas surrounding the islands of the CBBT up to Mobjack Bay. There are a few ways to fish for these beasts including chunking, jigging, or sight fishing. Big schools of reds will move up the Bay over the next month and provide anglers with a chance to catch the fish of a lifetime.
---
Way South Chesapeake Fishing Report, May 12 Update:
If you are looking for some fishing action, areas around the southern Bay region are the place to be this week. Puppy drum and speckled trout are being caught inside Lynnhaven and Rudee Inlets. Most fish are hanging near grass beds, oyster bars, and docks. Way South Correspondent Chuck Harrison got out last weekend for a quick trip. He and a friend looked all around the HRBT area and found bluefish near the Mugler Bridge in Hampton. They then headed to Mercury Blvd Bridge and found some small puppy drum willing to bite. The Virginia Beach Fishing Pier has seen anglers reel in red drum, rockfish, croaker, sea mullet, Spanish mackerel, and skates all come over the railings this week.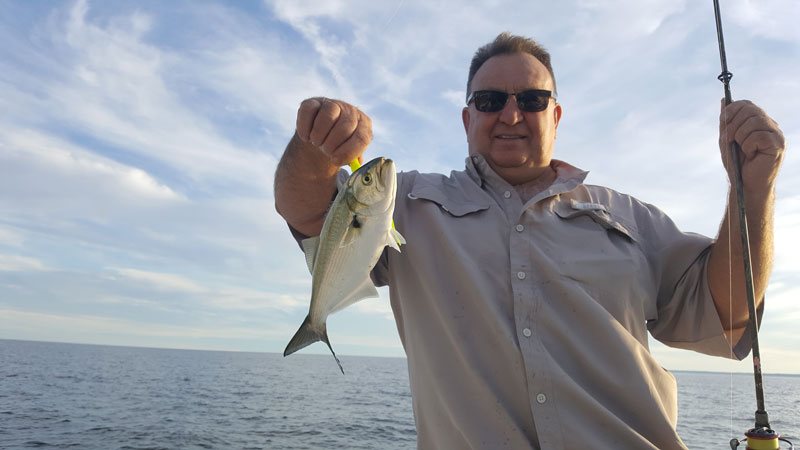 Virginia Beach Sport Fishing let us know that sheepshead are showing up at the CBBT in greater numbers as water temperatures rise. They recommend fishing crab baits like fiddlers tight against the pilons. This method will produce a variety of fish including tautog, drum, sheepshead, and many other species. One boat headed out to the CBBT and reported catching seven keeper tautog, a few throwback tog, and two sheepshead during three hours of fishing. An angler fishing last weekend at the second island on the north side of the CBBT caught a bull red on live spot. They didn't get a measurement because they wanted to promptly get the fish back in the water after a quick picture. Black and red drum are at their usual locations near the high rise of the CBBT, the Islands, and areas near Cape Charles. Expect to see an influx of bull reds into the Bay as we head towards the end of the month.
Various reports indicate that the inshore flounder bite is really starting to heat up. You can find them inside the inlets, in shallow water near grass beds or drop offs, and out deep near the CBBT. Squid and minnow are a reliable combo, but live spot and strips of bluefish also work well. An angler fishing an unspecified area of the shallows reports that there are quality fish lying in two to four feet of water. During a trip this week, they landed 12 fish. Eight of them were over 17 and a half inches with the largest coming in at 24 inches. All his fish were caught at the end of the outgoing tide, and they noted the fish were feeding on finger mullet and mud minnows.
---
Way South Chesapeake Fishing Report, May 5 Update:
The weather didn't make it easy on anglers in the southern Bay this week. Between the rain and the wind, conditions weren't favorable, but that wasn't going to keep dedicated anglers at the dock. There are a lot of great bites going on this week including the return of sheepshead at the CBBT. A boat fishing the pilings caught and kept nine during an outing last weekend. The biggest was almost 15 pounds. The CBBT has some of the best sheepshead fishing on the East Coast and the season is just kicking off for them!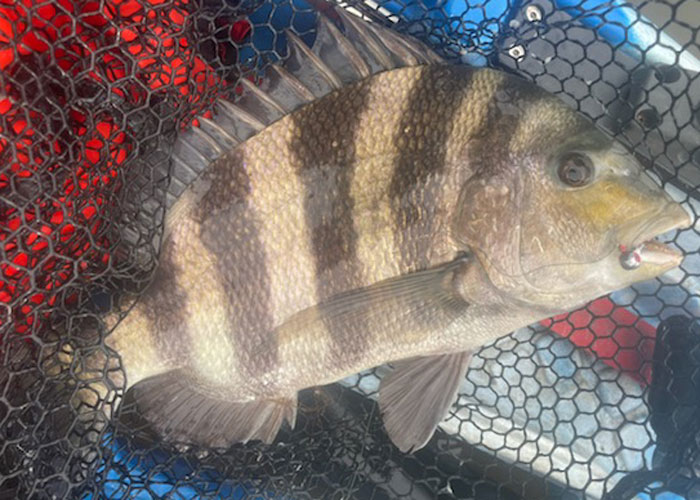 Red and black drum have made their way into the Bay and there are some very big fish being caught right now. Areas around Cape Charles are historically good grounds for black drum fishing but they can be caught at the high rise of the CBBT and other areas with structure. Some big schools of red drum have already been spotted and May is when these fish will show up in force. Both fish can be caught on crab baits or on jigs. Virginia Beach Sport Fishing says that smaller drum around the slot size are being caught at Little Creek, Lynnhaven, and Rudee inlets. Speckled trout are being caught in these same areas but there seems to be more drum around. It's always a good idea to throw a paddletail because there are a variety of species that love to hit them. White, pearl, and electric chicken are all colors that work well. Action has been steady at the Virginia Beach fishing pier where bluefish, black drum, red drum, and speckled trout have all been caught this week.
A major update to the coastal striped bass fishery was announced by The Atlantic States Marine Fisheries Commission and the Atlantic States Striped Bass Management Board who voted to take emergency action to reduce coastwide harvest of striped bass. This action requires states to lower the top end of the slot limit to 31 inches. Learn more about the measures in Striped Bass Maximum Size Capped.