Way South Chesapeake Bay Fishing Report, November 29, 2019 Update:
This week we were happy to hear that although the bite has slowed down, anglers are still enjoying getting in on the last of the fall speckled trout bite. They're leaving shallower and northern areas but Ocean's East reported that specks have moved into the inlets, followed by schoolie stripers that'll hit the same four-inch soft plastics. Chartreuse, sparkly green, pearl, and white have been by far the best colors. If you're looking to up your speck-to-striper ratio, sticking to sparkly curly tails is a great way to do so.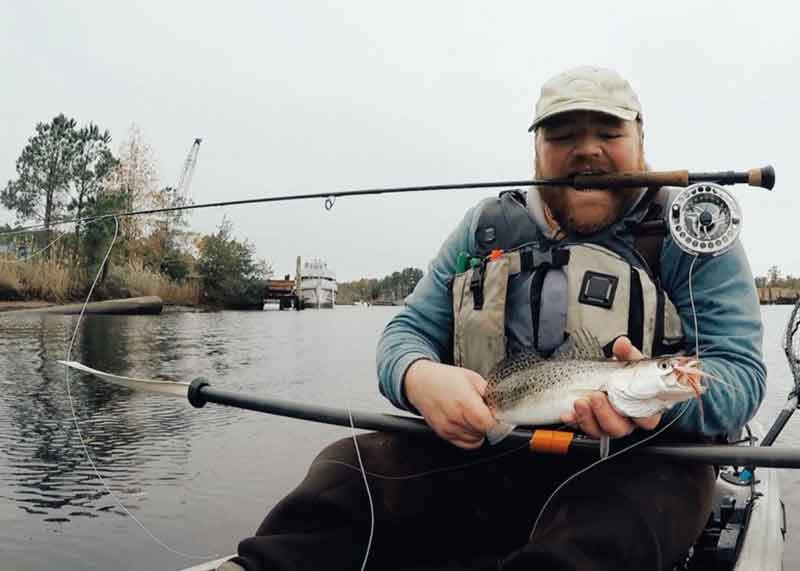 Ocean's East is getting plenty of reports of tog and puppy drum in the Bay, which are becoming more common. Tog have been taking green crab, and puppy drum are gravitating towards mullet and live gudgeon. The islands of the CBBT have been a solid option, though the tog are up tight to the structure and break-offs are common – bring plenty of rigs and bait.
Striper fishing for slot-fish remains do-able but on the slow side, with the best action coming at night. The big schools of migrators are still being reported in Jersey waters (though some fish are being caught off Delaware recently) so they should be heading down this way soon – fingers are crossed.
---
Way South Chesapeake Bay Fishing Report, November 22, 2019 Update:
Cold weather is thinning out the number of species available in the southernmost region of the Bay, but anglers are still catching, especially when it comes to specks. In fact, if you're not planning to go speck fishing asap, well, we just don't know what to think – the fall run of 2019 continues to be excellent, but fish are moving south and time is short. Besides, we heard of more sizeable fish this week with many in the mid-20-inch range showing up. Four- to five-inch plastics continue to be a top offering, especially twister tails in green sparkle colors. The HRBT, the inlets, and the Eastern Shore creeks all continue to be hot-zones, but the fact of the matter is that the fish have been all over the place – pick your favorite hotspot, while remembering that as the water temps drop shifting a bit deeper can be a good move. This action probably won't last a heck of a lot longer so get in on it while you still can!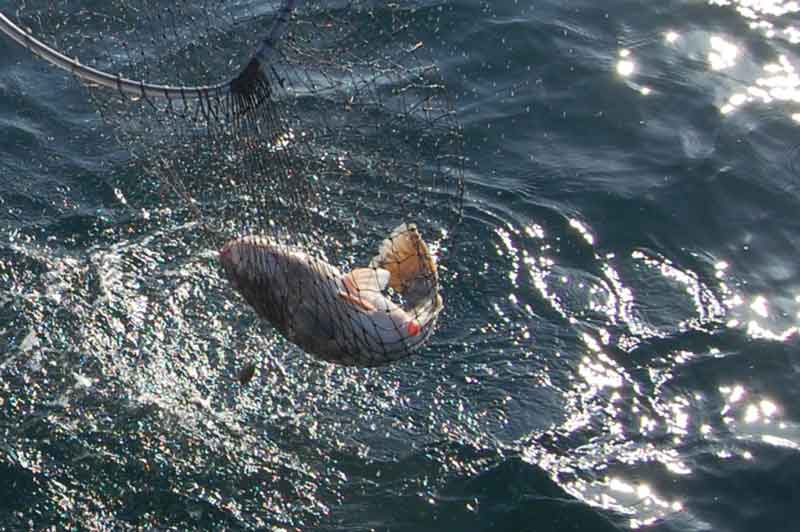 Around the CBBT, Oceans East reported that the taugtog bite is getting a bit better, with plenty of anglers catching them on green crab and fleas. Although it's taking a while to find keepers for the box, they're certainly around. Tog afish-ianados: keep your eyes peeled for the January 2020 edition of FishTalk, in which we'll have an in-depth tautog rigging and fishing article by Virginia Beach tog sharpie Beth Synowiec!
Anglers more interested in a striper for dinner have been keeping to the channel edges, trolling for stripers down near bottom. Pulling bucktails with shad tails, tandem rigs, and umbrella rigs weighted down with inline weights has been the ticket to landing them. Small fish may be spotted up top but with the vast majority of the keepers down deep, the inline weights have been a must-have if you want to go home with dinner. A few keeper rockfish have also popped up at the HRBT mixed in with the trout, though most of the fish there have been on the small side. (There's a better bet for keepers if you run up to the York and points north; more on that's in the Lower Bay report).
---
Way South Chesapeake Bay Fishing Report, November 14, 2019 Update:
The cold snap hasn't scared off the speckled trout yet, with Ocean's East reporting that they're still showing up around HRBT and the inlets as well as on the eastern shore creeks. Nicer fish have shown up recently, too, with some 25-inch-plus trout in the mix. Although they've begun to thin out slightly, we're hoping that they'll stick around for a bit longer. Most boats have been bringing them aboard with four-inch soft plastics and GULP! jigs or paddle-tails. Whites and greens have been standouts, especially glittery green twister-tail grubs. Swimming plugs and small half-ounce white bucktails dressed with chartreuse, pink, and purple twisters have also been effective.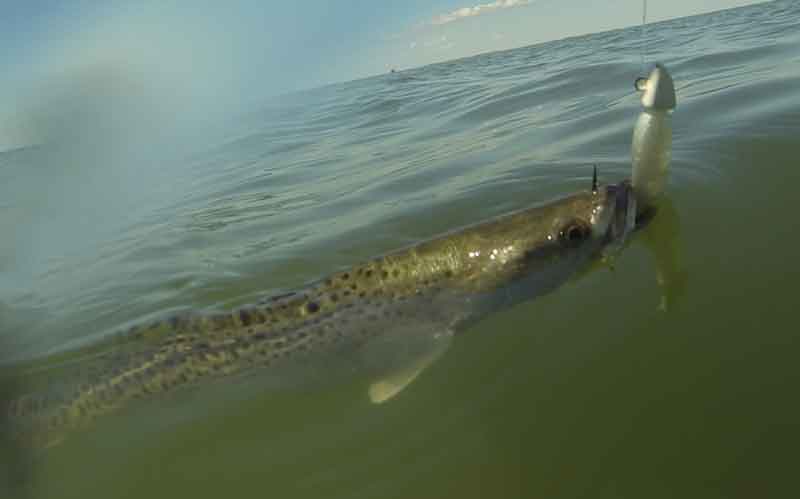 Ocean's East also reported plenty of taugtog around the CBBT, eager to take sand fleas. Although they said that many of the fish have been small, they suggested sticking with it if you want to take home some fish. Some keepers are mixed in, and working for them will eventually pay off. An oddball hold-out sheepshead or two still pops up here and there as well.
The channel edges have been cruised by plenty of trollers this week, many of whom caught plenty of schoolies but didn't bring home dinner. Anglers are also hooking into a fair number of stripers around the bridge (and the HRBT as well), too, and some hit the slot but the majority throughout the area are small. Reports from Jersey indicate that the bigger fish are still north (southern Jersey anglers also remain frustrated, to a large degree).
---
Way South Chesapeake Bay Fishing Report, November 8, 2019 Update:
Specks are still the name of the game where the Chesapeake meets the Atlantic, with the HRBT and the inlets providing the bulk of the action for anglers casting plastics including four-inch plastics and GULP! jigs or paddle-tails in whites and greens. Green glitter twister tails have been a stand-out recently, popping cork rigs are producing as well, and we also had a reader report of having luck with a red/white MirrOlure. Mixed in with the specks there are some stripers (mostly at the HRBT), but the majority don't come close to making the grade.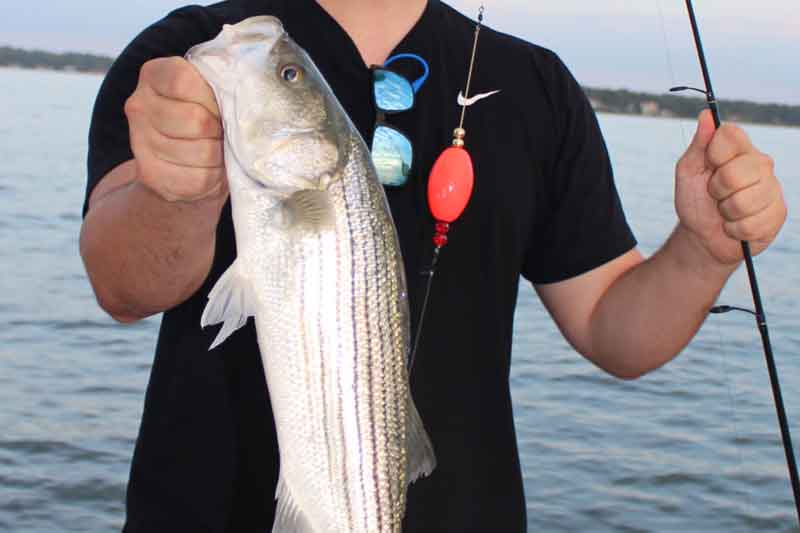 At the CBBT pilings and islands tautog are around in decent numbers, though the bulk of the fish are small, and some sheepshead remain in the area as well. Sand fleas and fiddlers are the ticket. Some striper-lovers are trolling these waters in search of keeper rockfish, too, but to date the vast majority of the catch has consisted of throwbacks. There are good reports from Jersey of 30-inch-plus fish heading south down the beach, so hopefully, some of those fish will hug the coast and end up in our waters sooner rather than later.
There are also a few flounder around, though not in the numbers one would hope for and we heard of more coming from the inlets than around the bridge this week. Added note: we also heard of a handful of slot reds from Lynnhaven, plus some larger specks in the mid-20-inch range. Nice.
---
Way South Chesapeake Bay Fishing Report, November 1, 2019 Update:
Although Spanish mackerel have headed south for the season, the hot speckled trout bite hitting around the HRBT and Hampton area is certainly making up for it. Small chartreuse, white, and green soft plastic BKD and Gulp! lures have been enticing the specks to bite consistently. The inlets have also been productive along with a few puppy drum mixed in. The specks been especially fond of green, sparkly twister-tail grubs and lures that have a bit of shine to them. Swimshad, metal lures, topwater plugs, and popping corks with shrimp have been working as well. Hampton Correspondent Chuck Harrison made it out last weekend and tied into a whopping 38 specks near the HRBT – plus a puppy drum – but noted that the bulk of the specks were between 12- and 16-inchers and the biggest fish was 22.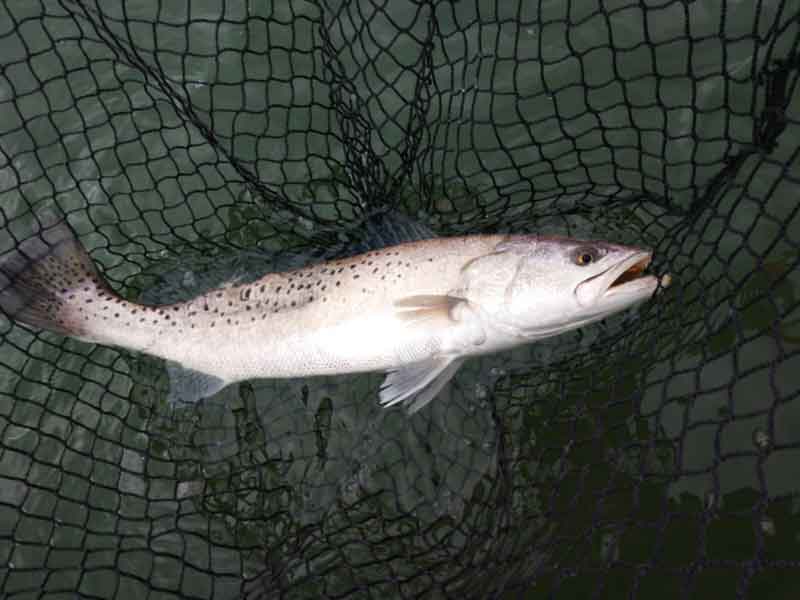 Ocean's East reported that anglers who went after the speckled trout were getting a few stripers in the mix, but most have been "minnows". They also reported that some bluefish and red drum are still in the area, but have been making their way south and are becoming less and less common as the days wear on.
We had a couple scattered reports of (mostly smallish) tog plus an occasional sheepshead at the CBBT on sand flea and crab baits, but few anglers seem focused on that bite right now with all the speck action going on.
Editor's Note: Many anglers have been cheering the news that Omega has been voted out of compliance by the ASMFC, after busting the cap on bunker. We're glad the ASMFC did so, but caution that any "real" enforcement action has yet to take place. Can you anglers imagine what the fishing might be like, with tens of thousands of tons more menhaden allowed to remain in the Bay every year? Hmmmmm?