Way South Chesapeake Bay Fishing Report, September 24 Update:
No doubt this front will be shuffling the deck, but even prior to the blow Oceans East reported that the Spanish mackerel bite had tapered off a bit, and anglers trolling the channel edges have been getting mixed results. Many are reporting fish on the larger end of things, however, so we aren't complaining. With that being said, it hasn't mattered too much where you've been as long as lines are in the water and you're on the channels. A push of fish should be heading south so there may well be another short flurry of action as they exit the Bay. Ocean's East assured us that pulling small Clark spoons, small Drones, and pink, orange, or yellow Hard Head Custom Baits Bombers behind number-one planers is still the best way to catch them. Many boats hitting the docks have been reporting that bluefish and a few ribbon fish were mixed in with their catch, with the odd bull red. And fortunately, many of the blues are eating size these days. Aside from catching them trolling, many anglers casting metal spoons under birds are landing them.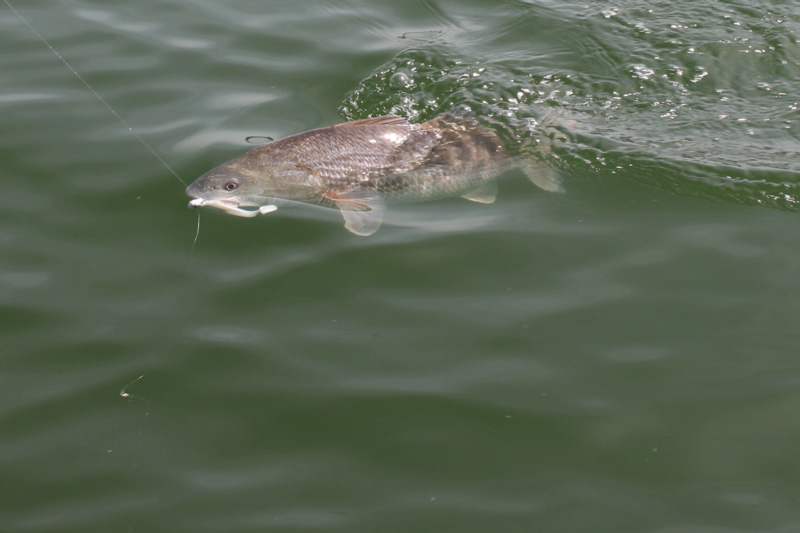 Speckled trout reports have been best from the eastern side. Oceans East heard that four-inch pink and white paddle and twister tails with some sparkle were catching. But on the west side Hampton Correspondent Chuck Harrison made a venture out to the HRBT and says there's mostly (small) spot and croaker there, along with tons of 12- to 14-inch grey trout. However, the speckled variety of trout remained elusive and the fall run has yet to kick in in that zone. He also noted lots of eel grass remained on the flats, making fishing difficult in some areas. Reports are similar from the inlets with specks still in relatively short supply, however, slot reds are more than making up for it with a strong bite including some over-slot fish. Soft plastics and cork rigs are both reportedly effective.
At the CBBT many anglers working the edges are finding flounder, though loading the box with keepers is not an easy task. Squid strips on Fluke Killers were reported best this week. Those dropping crabs and fleas close in to the structure are catching their fair share of sheepshead. We also heard from a reader who hooked into a bull red of 40-plus inches while casting soft plastics near the second island but broke it off boat-side.
---
Way South Chesapeake Bay Fishing Report, September 17 Update:
With cobia now off limits to harvest, bull red drum take the spotlight this week (also for release, of course), with Oceans East reporting them accessible under working birds and scattered near the edges of schools of blues and mackerel. Spoons and large jigs are enticing the bigger fish, although some boats are reporting they've had to cover significant chunks of water before getting a bite. Puppy drum are getting as much or more pressure as the bull reds — they're popping up in the inlets and also around the islands recently. Four-and five-inch paddletails in white and Electric chicken are favorites for 'em and the inlets have been the most reliable areas to find 'em. Speckled trout have also been eager to take pink, white, and rootbeer soft plastics bounced off the bottom or small wobbling spoons, though the fall run still hasn't kicked into high gear. In a couple-few more weeks, this bite should bust wide open. Plus, bluefish have been chewing on the plastics meant for specks or puppy drum occasionally, although less were reported than in previous weeks.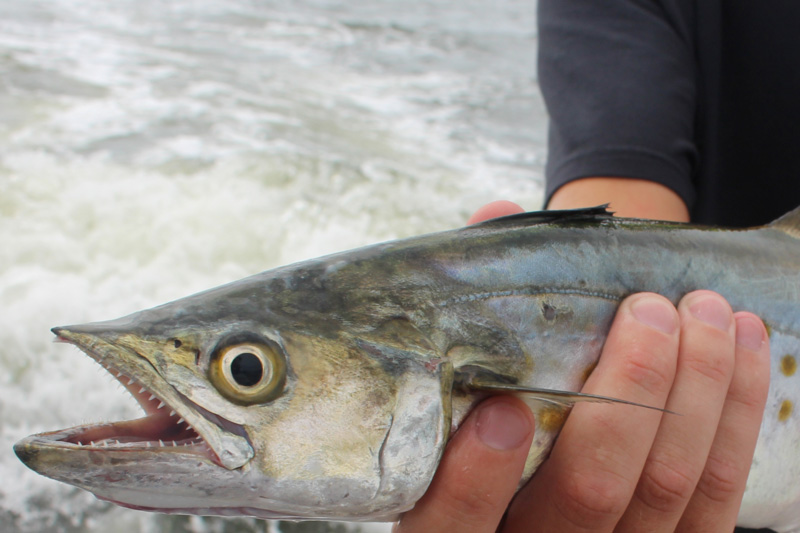 Anglers pulling spoons behind planers and with inline weights along the channels and outside the islands have been finding a nice mix of mackerel and bluefish. Some of the mackerel have been downright huge, with 26- to 28-inchers reported with some regularity, and while the bulk of the blues are small a few nice ones in the five pound range do show up now and again. We also had a reader report of some cutlass fish (ribbonfish) hitting while towing spoons north of Poquoson.
Bottom fishing is solid around the dial, with bigger eating-size spot in increasing numbers, a few croaker in the mix, some roundheads, and mostly small flounder (but some keepers) hitting on bottom rigs. Bloodworms, Fishbites bloodworm flavor, and peeler crab chunks are all proving effective for mixed-species catches; minnow on Fluke Killers or bouncing GULPs are best for the flatties.
---
Way South Chesapeake Bay Fishing Report, September 10 Update:
Hampton Correspondent Chuck Harrison says that he found some small flounder, weakfish, and specks at the HRBT and at Little Creek over the weekend, however, the fall run hasn't kicked into high gear as of yet. He notes that with the chilly air having passed through, it shouldn't be long now! When they're around, specks remain eager to take pink, white, and chartreuse soft plastics bounced off the bottom. The same types of lures are resulting in slot reds in the inlets. However, we didn't hear about a ton of success on them from sources other than our friend Tim, who is "putting off sleeping until the dead of winter." WTG, Tim!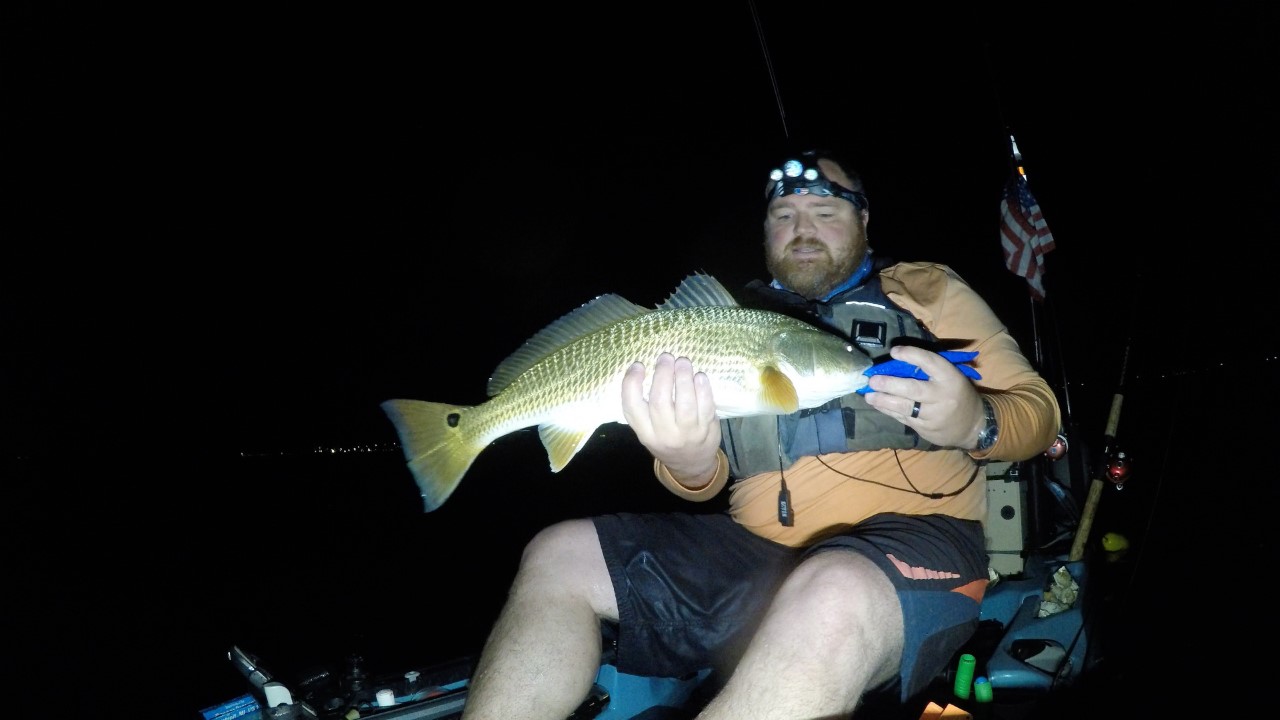 Good news on the bluefish catch from anglers using spoons was reported this week. They saw some larger blues coming onboard after a long season of little ones shredding rigs. Still, pesky small ones are wreaking havoc on anglers targeting flounder, stripers, or specks with soft plastics.
Cobia anglers who tried chumming out of Cape Charles have reported the same sort of difficulties, again thanks to bluefish. Setting out live eels and reeling in half-eels or eel heads is common. As a result, sight fishing or trolling red and pink hoses has been a better move. As we come into the final days of the season the cobia fishing in general would be better described as "decent" as opposed to "hot," but with a little luck the recent chill in the air will cause a push before the opportunity to take home cobia comes to a close.
Speaking of trolling: deploying spoons and planers will lead to a mix of blues and Spanish mackerel throughout this zone, and the bite should pick up in the next week or two as the Spanish begin to move south. This week we heard from anglers who had spectacular action and from some who didn't find the mackerel at all, so it does seem the fish have gathered into more concentrated pockets and covering lots of water until you locate fish is the move. If you spot birds, obviously, head for 'em!
---
Way South Chesapeake Bay Fishing Report, September 3 Update:
Anglers reported that early in the week the bull redfish bite was happening near the CBBT. Jigging for them with soft plastics produced reds for many anglers who spotted schools, with white the stand out color. We've also had reports that Electric Chicken is a tackle box essential if white isn't working, or if you'd just like to add some spice to your spread. Those looking for the fish from an elevated position spotted a few cobia this week as well and unlike those being caught farther north, many in this area have been hefty 60-pound-plus fish.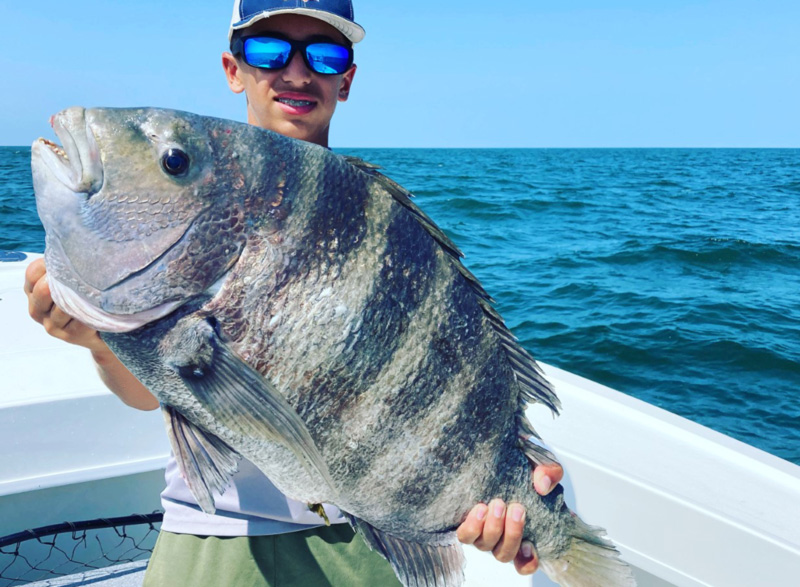 Anglers fishing fleas and crab close up against structure are finding sheepshead, both at the CBBT and at The Cell. Hampton Correspondent Chuck Harrison made it out to the CBBT again recently to look for the big reds, but rather, encountered piles of small bluefish yet again. There were also some Spanish mackerel and some better blues between one and two pounds reeled up while trolling between the second and third islands, plus small mackerel off Little Creek and some eating size spot off Old Point Comfort. Targeting flounder went unrewarded, although Ocean's East did hear of multiple throwbacks and a couple keepers early this week. 
Trollers working from the CBBT up to The Cell have been encountering a mix of bluefish and Spanish mackerel, hitting small spoons behind planers. Working birds can be spotted on occasion but reader reports indicate that the fish have often been up and down fast, and there usually isn't time for many birds to gather before the fish move on. However, working the areas where the fish have recently popped up and then disappeared is productive.