Way South Chesapeake Fishing Report, June 25 Update:
Anglers near the mouth of the Bay are all smiles right now with the cobia bite on fire and plenty of other species ready to eat, too. Ocean's East let us know that this week has been the best for cobia yet, with plenty of boats absolutely slamming them. They had reports of cobia topping out at 75 pounds, caught sight fishing. We also had at least five reader reports of great cobia action around the CBBT and Cape Charles, with catches of between four and seven a day, and up to a dozen sightings when the weather was cooperating. Sight fishers cruising around are wrangling the cobia with live eels, cast out to them or live-lined behind the boat in a chum slick. Bunker chunks fished on bottom also accounted for a good number of fish for the chummers. Bucktails with seven-inch twisters were the top lure this week. Ocean's East also heard of a few boats getting them trolling, pulling red and green surgical tubes. Ocean's East warned not to put too much stock into chumming, however, because at times cownose rays are absolutely demolishing some angler's baits.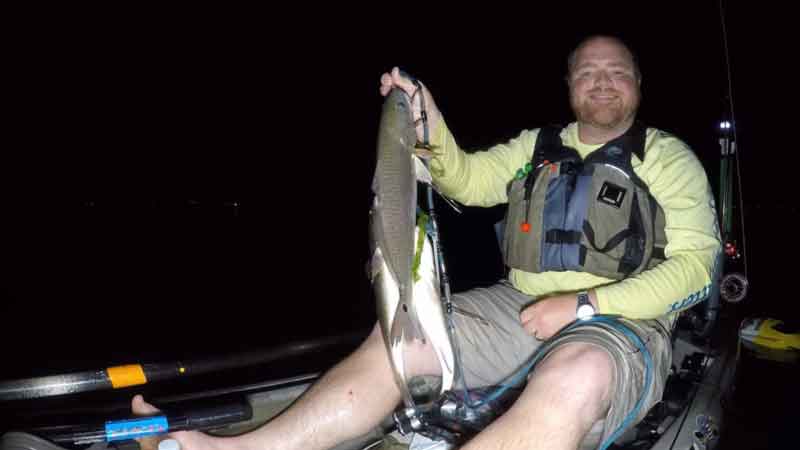 In the inlets, shallows, and near grass beds, speckled trout and a few puppy drum are providing steady action. Casting for them with four-inch twister tails and flashy, sparkly lures has been the ticket to bringing in the specks. We had one reader report catching four in Lynnhaven, and Ocean's East has been hearing about them everywhere there are shallow, grassy beds.
As we move into the last week of June, the Spanish Mackerel bite has picked up significantly. Angler's trolling Drones and similar spoons a few knots faster than they'd troll for rockfish are enjoying a healthy bite. The first of the season's ribbonfish appeared this week, adding some added excitement into the troller's catches. And around the CBBT, we also had a reader report good sheepshead action.
---
Way South Chesapeake Fishing Report, June 19 Update:
Well anglers, with the disclosure of wind limiting the options with some regularity this past week, the cobia bite is ON! Oceans East reported plentiful cobia catches from both sight fishers and chummers. With plenty around, we heard of cobia caught throughout the region but the CBBT to Cape Charles was mentioned as a hot zone more than once. They're taking live eels, cut bunker, and colorful white/pink/chartreuse color combination bucktails with twisters.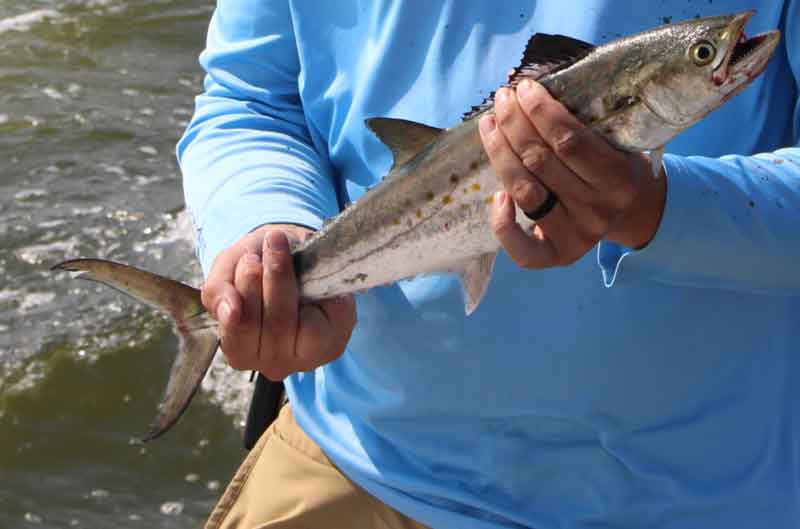 Spanish Mackerel are picking up in number as well. Although they aren't quite in prime form yet, we did hear of catches of a dozen-plus fish this week including one (from the ocean side) of 19. Will 2020 be another banner year for this species? It's too soon to say but the early indications are looking good. The red drum bite is still providing exciting opportunities as well, with schools beginning to pop on the surface. The shoals at Fisherman's Island and the channel edge drop-offs remain hotspots for the bulls, plus there have been pups in Lynnhaven, with clam and crab the top baits. Bluefish are moving into the area with greater numbers each day, accessible both by boat and by those casting cut bait from the fishing piers. Targeting them with Zmans and flashy metals is the way to get em on your line when you spot birds working. 
Spadefish anglers are doing very well on large fish at the Light Tower, and although we didn't get any confirmation of this species at the CBBT this week, we did get word that the sheepshead bite has improved for those dropping fiddler crab baits. A few flounder are also milling around the CBBT and in Lynnhaven.
---
Way South Chesapeake Fishing Report, June 11 Update:
The waters where the Chesapeake and the Atlantic do their mixing is just plain hot these days, with a huge range of opportunities. Drum of both sorts remain the centerpiece of Virginia's fisheries: both blacks and reds are abundant enough that Ocean's East reported that most anglers heading out aren't disappointed. In addition to hanging heavy in the area, the black drum have been coming in large and numerous fish over 50 pounds have been caught. The shoals at Fisherman's Island, Lynnhaven, and the drop-offs have been holding them. Clam and crab are top baits. In addition to the drum, bluefish are moving into the area in force and have begun proving a nuisance for those who aren't targeting them. While they taste darn good, they certainly offset their likeability with an ambition to destroy lures. Hampton Correspondent Chuck Harrison checked in after a trip to the CBBT this week, reporting that he wrangled multiple blues in the two to three-pound range. He noted that he also tried pulling Spanish Mackerel gear for a bit on the way home with no luck, however, he did stop by the HRBT and hooked into a 22-inch striper that he plucked from under a school of herring. (Remember that June 15 is the final day for the VA spring Chesapeake Bay striper slot season).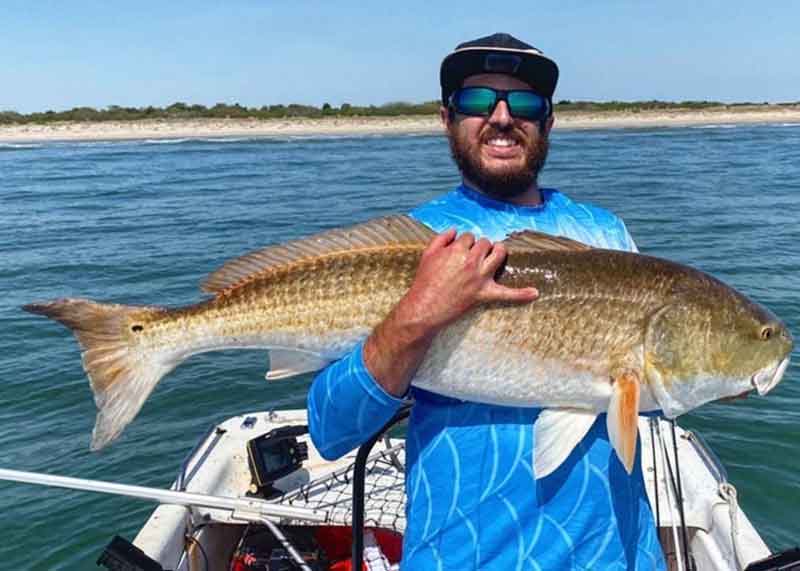 Cobia have started moving up the Bay in bigger numbers, with anglers reporting up to a half-dozen being caught in a day of fishing, though no one spot or area stood out in the reports we heard. Sheepshead have also moved in, too, particularly around the CBBT. If you haven't tapped into this fishery before and want to give it a shot, be sure to check out our July edition (hitting the streets in a couple of weeks) which has a how-to feature on the species.
While we haven't been hearing a whole lot about the Spanish Mackerel, Ocean's East did have reports of a couple coming in and one reader said trolling spoons off Virginia Beach produced a catch of over a dozen. Spadefish anglers have also had some good catches this week at the Light Tower; no reports of them at the CBBT as of yet, but they ought to be there. The striper bite has been good for jiggers and occasionally trollers, working the bottom and near the CBBT and channel ledges. Rudee Inlet was also a good spot for them this week, although the bite was mostly schoolies and included many blues. At the CBBT, specks were occasionally mixed in with the blues and stripers for those throwing soft plastics.
---
Way South Chesapeake Fishing Report, June 5 Update:
It's busting loose, people - with plenty of options throughout Virginia's waters, angler's heading out have been difficult to disappoint. Right now, anglers are enjoying the black and red drum fisheries, which are producing plentiful and sizeable fish. We had a reader this week report catching some very nice reds while jigging plastics around the drop-offs on the eastern side; three of their fish broke the 30-pound mark. Fishing bait around the shoals at Fisherman's Island has also been good, according to Ocean's East. Crab will take both species, but clam is usually best for the blacks. Puppy Drum are also popping up in Lynnhaven and Rudee Inlets. Both inlets are experiencing an influx of flounder, as well. Typically, anglers have been catching them jigging soft plastics or drifting bait. Rudee Inlet is also holding bluefish and stripers. While they're in there, the most popular place to go after them recently has been the CBBT, where anglers are doing well casting topwater and throwing jigs. In shallower water, speckled trout are biting. Readers this week report getting into them casting curly green-tailed jigs and white or green Gulp!s.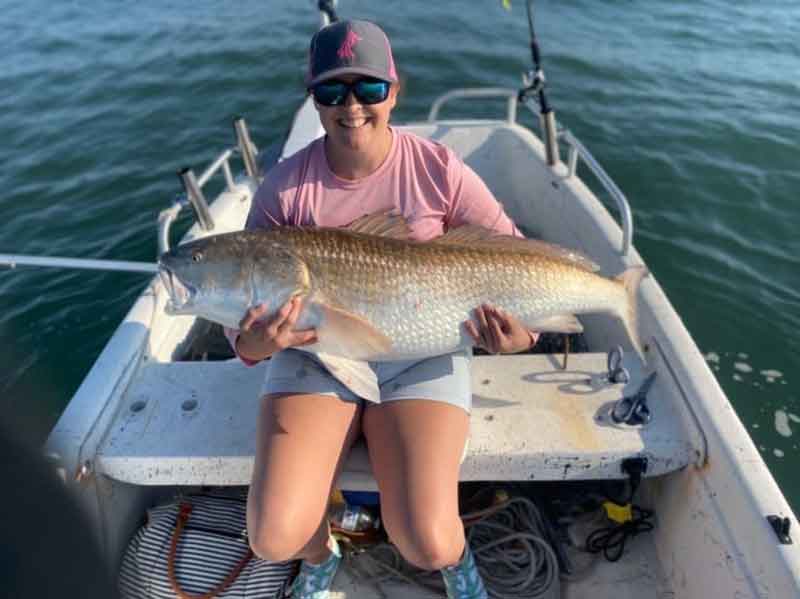 With waters warming, we're beginning to see cobia(!), Spanish mackerel, and spadefish move in. This week we heard our first reports of Spanish mackerel along the Virginia Beach oceanfront and off of Cape Henry. Spadefish were also caught at the Light Tower. Cobia fishing has been off to a good start, with one angler reporting six sightings and two catches in a day and chummers in the area of Poquoson on the west side and Kiptopeke on the east side reporting success. 20 to 25 feet of water has been the zone for the chummers.